Well, folks, another wonderful Marvel movie's in theaters now, and we have a bevy of new cameos and characters to sift through. But just for the benefit of all of you guys who watch these movies without reading the comics on which they're based, here's a rundown of Ant-Man and the Wasp's comic book-based characters, all lined out in nice, easy-to-understand formatting. We'll go from the big to the small – or, in this case, the small to the extremely small.
Spoiler Warning: We're not going to purposely spoil the movie, but we will talk about its characters and how they relate to their comic book counterparts, so we'll probably spoil some major plot events in the process. Apologies for all that.
Notes: While we'll cover characters from the first Ant-Man, our main focus is on the sequel. So, no Yellowjacket or Falcon. Just Scott, Hope, Hank, Janet, Bill, Ghost, Elias, Jimmy, Cassie, and Sonny. Is that too many names for you? Because we're about to dive into the minutiae beneath the Quantum Microverse, which is smaller than anyone is even capable of caring about.
                          Source: comicvine.gamespot.com
1. Ant-Man
First, let's talk about our co-star. Scott Lang, aka the astonishing Ant-Man!!!!!
While both the comics' and the movies' Scotts were burglars who were caught and sent to jail, they had different motives for becoming Ant-Man. The MCU's Scott decided to rob Hank Pym so he could become financially stable and see his daughter again. The comics' Scott stole the Ant-Man costume so he could break into Cross Technologies and rescue the only surgeon who could help with his daughter's heart condition.
When Pym witnessed Scott's heroic actions, he gave him his permission to continue as Ant-Man. Scott became an Avenger, a Stark Industries employee, a Fantastic Four member, and a Hero for Hire. He also dated Jessica Jones off and on, until she broke it off to resume her relationship with Luke Cage.
Scott was killed when his former teammate Jack of Hearts became a suicide bomber and took out most of Avengers Mansion. But then some time-traveling shenanigans on the part of his daughter and her Young Avenger friends brought him back.
Scotty spent a long time on the Fantastic Four backup squad before he struck out on his own in Miami, Florida. There, he started Ant-Man Security Solutions. After that company went bust, he found a new home touring the universe with the Guardians of the Galaxy. Long, full life, that Scott Lang.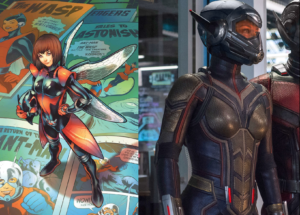 Source: comicvine.gamespot.com
2. The Wasp
So here's the thing: Hope Pym doesn't really exist in the comics. Kinda.
However, the closest comparison point would be Nadia Pym, who's a recent addition to the Marvel Comics universe. Hope Pym was the daughter of Hank Pym and Janet van Dyne. She wanted to use the Ant-Man suit when her father got in trouble, but was denied, only to be given a new Wasp suit later on. Alongside Scott, Hope was able to use her badass training and knowledge of the suit to save the day and her mother.
Nadia, however, was the daughter of Hank Pym and his first wife, Maria Pym. Maria was kidnapped and murdered by During her honeymoon with Hank, Russian agents kidnapped and murdered Maria, and as it turned out, she was pregnant. Her child was raised by the Red Room, the Soviet spy programming organization that shaped Black Widow. Nadia eventually learned how to use Pym particles to escape, and she made her way to Avengers mansion.
She made herself a Wasp outfit and met Janet van Dyne. After explaining her story, she was given a shot at joining the Avengers as the latest Wasp.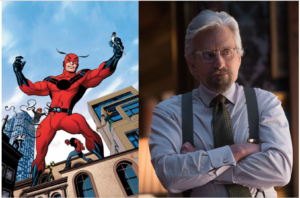 Source: comicvine.gamespot.com
3. Hank Pym
Hank Pym was the first Ant-Man, first Giant-Man, first Goliath, first Yellowjacket, and second Wasp. He liked to change names and costumes.
The MCU's Hank Pym was a Cold War operative who used his size-changing technology for covert operations. He eventually had to retire due to the strain the process put on his body. At that point, he became Scott Lang's mentor. In the comics, Pym was a scientist who invented the Pym Particle and used it to go hang out with ants. He would also join his wife (we'll get to her in a minute) as a bit of a superhero – after he peer-pressured her into doing it.
After a year or so of this, Hank had an incredible breakthrough: If I can make myself small, could I make myself big? And that was when Giant-Man was born.
Hank also had a history of mental health issues that resulted in several psychotic breaks. The guy's just not well. He also built Ultron, so all blame is on him for that. Hank isn't great, you guys. I like him well enough, but it wasn't until Scott came along that we had a shrinking superhero who wasn't a domestic abuser.
Hank is currently fused in a horrible way to Ultron, which gives him the opportunity to be a straight-up supervillain.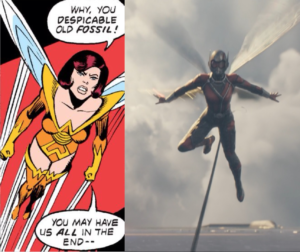 Source: comicvine.gamespot.com
4. Janet van Dyne
Ant-Man and the Wasp brings the original Wasp back into the fold, so let's talk about her and her comic book counterpart next.
Like the MCU version, the comics' Jan was the Wasp alongside Hank for a long time. She was even a founding Avenger AND the person who came up with the name Avengers in the first place. She also went through more costume changes than anyone else, owing in part to her day job as a fashion designer. But although she continued as an Avengers staple for decades, she has more in common with her MCU counterpart than you'd think.
During the Skrull-led Secret Invasion, Janet gave her life to save the others during the final battle in Central Park. Or so it seemed. It turned out that she had just been lost in the microverse (the same thing as the Quantum Realm – just more complicated). The Avengers recovered her just before they disbanded.
Wasp also romanced many of her Avenger cohorts after her divorce from Hank. My favorite pairing during that era was when she got together with Hawkeye; I thought they were cute together.
She also had a solid relationship with Cyclops' brother Havok while they served together on the Avengers Unity Squad. She was happier after that.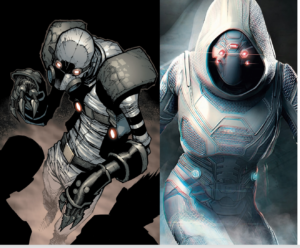 Source: comicvine.gamespot.com
5. Ghost
Villains are fun. But here's another diversion: The Ghost in the comics and the Ghost in the MCU are entirely different characters.
The MCU's Ghost, aka Ava Starr, was the daughter of Elihas Starr (we'll get to him). A quantum tunneling accident left her horribly altered and out of sync with our dimension. But it also left her with the power to phase through solid matter, and she used it to steal with the aim of fixing herself.
The Ghost in the comics – we'll call him Ghost because he had no name – was a corporate saboteur who enjoyed disrupting large corporations with his intangibility technology. Iron Man stopped him, and the two became mortal enemies. Their feud led Ghost to spend a lot of time in his intangible state. That severely messed with his mind, and he became kind of loopy. He joined the Thunderbolts for a short time, then turned his corporate saboteur skills toward Parker Industries.
Both versions of Ghost are wonderful. They're just wonderful in very different ways.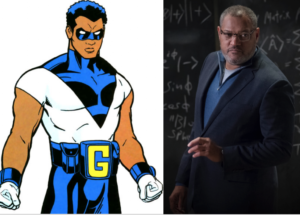 Source: comicvine.gamespot.com
6. Bill Foster
Although he never dons the costume in the film, Dr. Bill Foster is an important character in Ant-Man and the Wasp.
In the film, he's a former Hank Pym colleague who helped with Project: Goliath, an early attempt at Giant-Man technology. But after tension developed between him and Hank, Bill went off on his own. At that point, he met the newly powered Ava Starr and helped her build the Ghost suit.
Bill was Hank's lab assistant in the comics. He helped Hank when he was stuck at a height of 10 feet. He then found a way to give himself growing powers and took the name Black Goliath.
Bill's wife was Claire Temple, whose MCU doppelganger hangs out with the Defenders a lot. He changed his code name to Giant-Man for a while, then lost his powers for a time. He regained his powers and took the code name Goliath.
In the end, Ragnarok – a malfunctioning Thor clone in operation during Civil War – killed Bill, but his nephew assumed the Goliath identity and costume.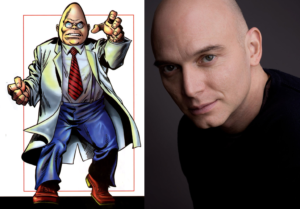 Source: comicvine.gamespot.com
7. Elihas Starr
Yes, we're going into the cameos; they're important.
In the film, Elihas Starr, aka Egghead, was Hank Pym and Bill Foster's cohort until a rift occurred. He was either a traitor who leaked secret information or just another scientist Hank ran out of the field. Starr tried to do some quantum tunneling on his own, and he died in the resulting explosion, leaving behind his daughter Ava.
In the comics, Starr was an unquestionable spy who was fired for trying to smuggle and sell atomic research notes. After that, he found himself in the criminal underworld. He decided to prove himself by defeating Hank Pym while the latter was still running around as Ant-Man. He was largely an Ant-Man villain, although he was also a Hawkeye villain from time to time. He died when Hawkeye fired an arrow into the barrel of his laser gun, causing it to misfire and explode.
But no one stays dead, so Egghead's up and kicking once again.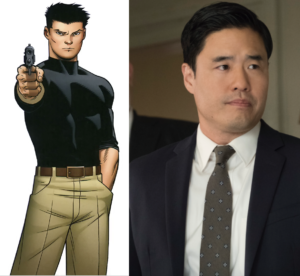 Source: comicvine.gamespot.com
8. Jimmy Woo
Jimmy Woo is so great. I love that he's finally part of the MCU.
The MCU's Jimmy Woo was a low-level FBI Agent tasked to keep an eye on Scott Lang during his two years of house arrest. Jimmy liked magic.
Jimmy started off as an FBI Agent in the comics, too, but he faced off with the suuuuuuuper racist Yellow Claw during the 1950s. During that time, the Claw (I'll just use his modern name, Golden Claw, because it's slightly less racist) kidnapped the president, and Woo was assigned to put together a team. He gathered the god Venus, M-11 the Human Robot, the alien Marvel Boy (later named The Uranian), and Gorilla-Man and called them the Agents of Atlas.
And they rule super hard.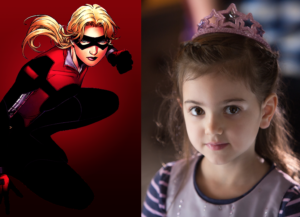 Source: comicvine.gamespot.com
9. Cassie Lang
Cassie is so great. I really hope the movies let her age into adulthood so she can take on her comic book identities.
Cassie had a heart condition, which inspired Scott to steal the Ant-Man outfit so he could save her. The teenage Cassie lost her father during Avengers: Disassembled, and she started messing around with Pym Particles. She met up with the Young Avengers, started dating the teenage Vision, and used her new size-changing powers as Stature. A pretty good name for a new Ant-Hero.
She used that identity off and on for a long time. But after more dealings with her revived father (and she died and came back as herself) she took on a new name: Stinger.
Of course, she'd already been going by Stinger in the MC2 Marvel alternate future. Because comics are confusing.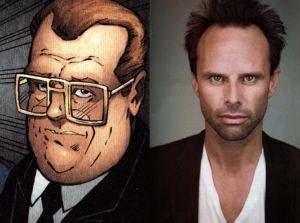 Source: comicvine.gamespot.com
10. Sonny Burch
Sonny Burch could easily be mistaken for an original MCU character, but that's only because he was killed off after appearing in a grand total of five Iron Man issues.
In the movie, he was a black market arms dealer played by the always perfect Walton Goggins.
But in the comics, Sonny was in charge of Cross Technologies (sound familiar?) and sold weapons to the government. Sonny used legal trickery to acquire the Iron Man armor patent, and his exploitation of Stark's tech got a bunch of people killed. Then he committed suicide in front of a press pool. And then Tony Stark became the Bush Administration's Secretary of Defense. Comics are weird. Really weird.
And that's it. This is what they pay me for, folks. It was fun, and I look forward to doing another one for Aquaman or Venom or whatever comes next!