Marvel Comics. At this point, they've published so many great comics that people forget about some of them. So I wanted to take the time to recommend some comics that, if you've only been reading two or three or even five years, you might not know about. Admittedly, not all of these are for everyone, but if you can't find at least one of these you like, I'd be shocked. And if you pick up all of these for that nice Thanksgiving weekend, you're gonna have a lot to be thankful for.
                                               Source: comicvine.gamespot.com
10. The Twelve
(The Twelve #1-12)
I've never been a huge J. Michael Stracynski fan. I don't, like, hate the dude, but I've always had trouble connecting with (or staying connected with, in the case of Rising Stars) his work.
But I kinda love The Twelve. It's clearly a riff on Watchmen, both in structure and concept. But it feels like its own thing, although SUPER DUPER fails to have even an ounce of Watchmen's depth. It's deeper than the movie, though, so there's that.
The premise follows twelve World War II era Marvel Heroes who were cryogenically frozen at the height of the war and resurrected in the present. It's sort of a Captain America riff, but one that shows the darker side of the concept. Some of The Twelve are outdated. Racist, homophobic, just A-holes in general. Some aren't super stable. Some are just unable to persist in a modern world. And it's a murder mystery. The more I talk about it, the more obvious it is that this comic is just Watchmen, but without the craft.
But hey, it's still a fun little time.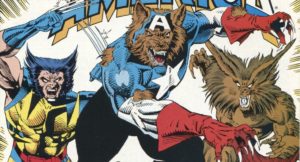 Source: the13thfloor.com
9. Captain America: Man And Wolf
(Captain America #402-408)
Some really fun comics slip through the cracks, mostly because they're too weird to be "cool".
If you have some sort of inferiority complex about your love for comic books, and you have to justify your love by talking about how grim and dark and "mature" superhero comics are, maybe you aren't going to get anywhere by talking about that time Captain America turned into a werewolf and fought Wolverine and Cable. But those comics are a joy to read, so they're the kind of stuff I recommend.
Man and Wolf, which ran from Captain America #402 to #408, features Steven Rogers going on a search to find his friend, astronaut-turned-werewolf who fought Spider-Man John Jameson. In his quest, Steve eventually finds himself all werewolf-ed up. Which is amazing.
As I type this, I have a werewolf-Cap action figure on my desk, snarling back at me. Very much worth the money.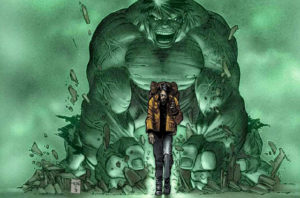 Source: oldmansgym.com
8. Hulk: Boiling Point
(Incredible Hulk #40-43)
Bruce Jones's Hulk run is one of the most hidden-away and underrated comics of the 2000s.
And no story is more worth checking out than issues 40 through 43, named in the trade as Boiling Point. In the issues, Boiling Point was just the title of the first issue, and the rest had their own names. But the story itself is pure high concept. Bruce Banner, on the run, steps into a convenience store"¦only to be caught up in a hostage situation.
Everything starts to spin out of control, the pressure builds, and Banner has to do all he can to keep a lid on the monster inside to avoid risking the lives of the other hostages. It takes the normal tension of a hostage story and pumps it through the roof. There are two (count "˜em, two) Hulk appearances in these four issues, and the build-up to each feels suitable.
This arc is real good, and hey, if you like it, you can just check out the rest of that Jones run. It's good. Has some Lee Weeks art, too.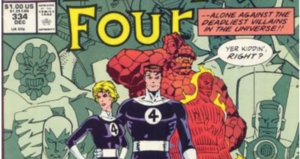 Source: mycomicshop.com
7. Fantastic Four: Acts of Vengeance
(Fantastic Four #324-326)
Acts of Vengeance is one of the all time great crossover ideas. All of the villains got together and decided to just switch heroes.
Ultron took on Daredevil, Vulture fought the New Mutants, a buncha D-list Avengers foes took a crack at Spider-Man…You get the idea. But the best one was a part of the Simonson Fantastic Four run.
In the story, the FF are in court, battling a new superhero registration act (decades before Civil War, I might add). But F-list villains from across the Marvel Universe keep interrupting their case. And, of course, the Fantastic Four, who have already beaten the almighty force of universal destruction multiple times, very easily beat them. It's really funny.
It's one of the funniest Marvel stories of its era, and although it isn't easy to find collected unless you wanna pay top dollar for an omnibus like I did, it's well worth it to track down the issues.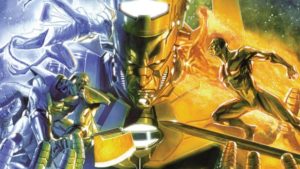 Source: wallpaperup.com
6. Annihilation
(Annihilation #1-6; Annihilation Prologue #1; Annihilation: Nova #1-4; Annihilation: Silver Surfer #1-4; Annihilation: Ronan the Accuser #1-4, Annihilation: Super Skrull #1-4; Drax the Destroyer #1-6)
Admittedly, a lot of this list is composed of 80s books, because those seem to have fallen far enough into the forgotten crevices of memory for them to be considered hidden gems. Annihilation is fairly recent, and a lot of people have read it. However, that will become less true the farther we get into the future because THE DAMN THING IS STILL OUT OF PRINT.
What the hell, Marvel? Fix that!
And it's not like it's an easy one to track down on your own. It's composed of four official tie-in miniseries, one event miniseries, and one prelude miniseries, plus a prologue one-shot and some assorted bonus books. And there's no way outside of the internet to track down what order the whole thing is supposed to be in.
Jesus, Marvel, just let people read about Annihilus leading his monsters through the cosmos, only to be stopped by Nova, Super Skrull, Ronan, Silver Surfer, Drax, Gamora, and Star-Lord. This isn't complicated.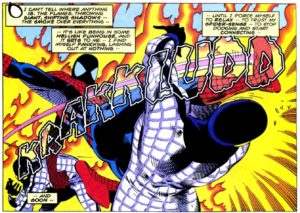 Source: chasingamazingblog.com
5. Untold Tales of Spider-Man
(Untold Tales of Spider Man #1-25)
If you want some classic Spider-Man comics that you probably haven't read, Busiek and Oliffe's Untold Tales of Spider-Man is an easy go-to.
The comic was intended to be a flashback series taking place between the issues of the original Amazing Spider-Man run. Busiek is one of superhero comics' greatest writers of all time, and it definitely shows here. When I talk about hidden gems, this is exactly what I'm referring to. Great talent, a wonderful take on a beloved character, and woefully under-discussed.
Unfortunately, it's really hard to find in its entirety, unless you wanna drop some serious cash on the omnibus. Which you might. Any Spider-Man fan should have at least the collected first eight issues. The book introduces many new characters, and gives us even more adventures with classic foes in classic time periods.
If you were a fan of the similarly short running Spidey series that Marvel put out a year or so back, this is even better.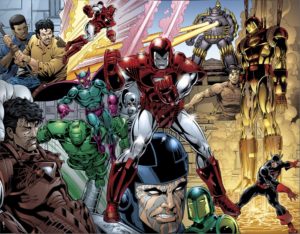 Source: pinterest.com
4. Iron Man: Armor Wars
(Iron Man #225-232)
I was gonna leave this out, because I thought, "No, everybody knows Armor Wars; Armor Wars isn't underrated." Then I found out that not everybody knows Armor Wars. And that's a crime.
Demon in a Bottle gets its due, but this one is incredible. Maybe my favorite-ever single Iron Man story. In it, Tony Stark discovers that his technology has been ripped off and is being actively used by numerous supervillains.
This causes Tony to absolutely flip his lid. He's devoured by anger at the situation, and goes out to beat the hell out of everyone who is even maybe using his tech. Even if they're one-time Avenger Stingray. Or if they're standing in his way, like Captain America.
If you're looking for the Tony/Steve fight that inspired Captain America: Civil War, don't read Civil War, read this. Mostly because Civil War is actively bad, and this isn't.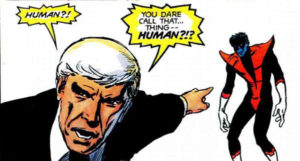 Source: imgur.com
3. X-Men: God Loves, Man Kills
(Marvel Graphic Novel #5)
I know Dark Phoenix is the most famous X-Men story, but pound for pound, I'd say God Loves, Man Kills is as good, if not better.
After all, it was heavily riffed upon as the source material for X2: X-Men United. Of course, the film did dilute the social commentary a bit by shifting the villain's career path. Reverend William Stryker is a striking (pun!) condemnation of bigotry in the name of religion. He is Fred Phelps with a distaste for mutants. And some of the book's most powerful moments come from seeing him at his most venomous.
The climax has him ranting before his assembled masses about the evils of mutantkind, and it's tense and spooky. For five years in either direction, "Human? You dare call that"¦thing, human?!" was the best depiction of bigotry we got in superhero comics.
In the writing department, Claremont was at the top of his game. Steve Oliff, whose painterly style doesn't look like anything else on the stands was also in excellent form. But the breakout star was a pre-Astro City Brent Anderson, who absolutely killed it. That panel in which Magneto descends into the dome where Stryker is speaking like a falling angel of vengeance is gorgeous and haunting at the same time.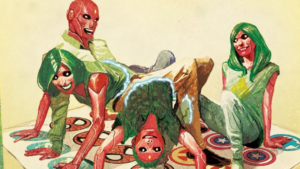 Source: i09.com
2. The Vision
(The Vision #1-12)
If you'd told me that one of my favorite comics of the last two years would be about the freaking Vision, I would have laughed and laughed. And yet"¦
The Vision is easily the most recent book on this list, and while it has a hefty buzz from critics, it feels like the public isn't checking it out as heavily as they should be. Because this is an all-time great run.
In the series, The Vision wants a family and a normal life. So he builds one. A family of androids like himself. And it goes horribly wrong. The Vision is not a superhero book. King and Walta tell the tale as a horror story, and it vibrates fear down your spine with the best of them. It's a finely tuned machine of a story, and everything pays off in ways you never would have expected.
It's the best comic The Vision's ever been in, and if you're loving some of King's more recent work like Batman or Mister Miracle, you owe it to yourself to go check it out.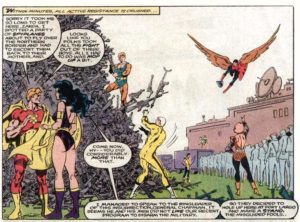 Source: momcomics.wordpress.com
1. Squadron Supreme
(Squadron Supreme #1-12)
Squadron Supreme is incredibly good.
Like, mind-numbingly, "How have more people not read this?" excellent. The series is a wonderful companion piece to Watchmen, if you're interested in deconstructionist storytelling about super heroes. The Squadron had existed in the Marvel Universe for a couple of years. They were allegories for the Justice League, as you can tell if you've ever spent more than ten seconds looking at them.
What makes the maxi-series so good is that writer Mark Gruenwald always loved the Justice League and wanted to write them. Unfortunately, he was a Marvel guy right up until the day he died, and never got the chance. So Squadron Supreme was his chance to show what he'd do with the JLA. And the result is better than anything he would have ever been allowed to do with the actual team. It's an amazing, deep, dark story that rests safely on its intelligence. Deconstruction at its finest.
And there ya go. A short list of some fun hidden Marvel Comics. Check "˜em out, you probably won't regret it.