Last week, I broke out my copy of 1988's The Greatest Batman Stories Ever Told and went through a few of them to celebrate the book's 30th anniversary. What we found was that a couple of them actually were the greatest ever but some were not great. So to recap last time we looked at that time Batman fought a monk vampire, the time Batman lynched a Frankenstein, when Joker and Penguin became bros, Penguin and his aunt, Batman finally closing his parents' murder case, Batman getting a new plane, a story Batman was not in, Catwoman riding a tiger, Thomas Wayne doing cosplay, and Superman being a huge tool. This time, we're looking at stories released between 1963 and 1978. And I'm excited because this is peak weird Batman era. Batman fights some aliens, guys. Hopefully this whole thing either has or will give you a greater appreciation of Batman as a character. The silly stuff is just as fun as the super serious stuff. Now let's get right to that silly stuff.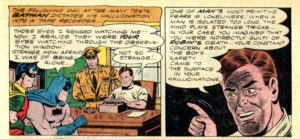 Source: thebatmanuniverse.net
10. Robin Dies at Dawn
Batman # 156 (1963)
You know, for a classic famous Batman story that gets quoted and referenced all the time, this one is weird as s**t.
If you've never read Robin Dies at Dawn, I don't think you're quite prepared for this one. We open with Batman finding himself suddenly on another planet with no memory of how he got there. Robin appears and the duo are attacked by a cadre of alien monsters, including tentacle creatures and a huge-ass stone giant. Batman and Robin drive the giant off a cliff, but he drops a boulder on Robin, killing him.
Stricken with grief, Batman seeks out a giant eyed monster and lets it kill him. And then he wakes up. You see, this was all a sleep experiment Batman was participating in with a local scientist. It was supposed to gage the mental effects on astronauts left in isolation. Turns out you have nightmares about space monsters. I feel like Neil Armstrong might have mentioned that at some point. The next night, Batman and Robin go out on a case.
There have been a group of robberies carried out by the Gorilla Gang, who all wear gorilla costumes (please just roll with it) and the dynamic duo need to stop them. But every time they get close, Batman has PTSD from his nightmare and bungles the case trying to save Robin from hallucinations. Struck by his inabilities, Batman decides to retire until he can fix himself. This lasts 6 panels until Robin gets kidnapped. Batman overcomes his fear and saves Robin, breaking out of his hallucination for good. I told you it was weird.
One of the Greatest Batman Stories of All Time?: Probably not. It's good and it's fun, but it's way too overcomplicated.