Last week, I broke out my copy of 1988's The Greatest Batman Stories Ever Told and went through a few of them to celebrate the book's 30th anniversary. What we found was that a couple of them actually were the greatest ever but some were not great. So to recap last time we looked at that time Batman fought a monk vampire, the time Batman lynched a Frankenstein, when Joker and Penguin became bros, Penguin and his aunt, Batman finally closing his parents' murder case, Batman getting a new plane, a story Batman was not in, Catwoman riding a tiger, Thomas Wayne doing cosplay, and Superman being a huge tool. This time, we're looking at stories released between 1963 and 1978. And I'm excited because this is peak weird Batman era. Batman fights some aliens, guys. Hopefully this whole thing either has or will give you a greater appreciation of Batman as a character. The silly stuff is just as fun as the super serious stuff. Now let's get right to that silly stuff.
                                                                           Source: thebatmanuniverse.net
10. Robin Dies at Dawn
Batman # 156 (1963)
You know, for a classic famous Batman story that gets quoted and referenced all the time, this one is weird as s**t.
If you've never read Robin Dies at Dawn, I don't think you're quite prepared for this one. We open with Batman finding himself suddenly on another planet with no memory of how he got there. Robin appears and the duo are attacked by a cadre of alien monsters, including tentacle creatures and a huge-ass stone giant. Batman and Robin drive the giant off a cliff, but he drops a boulder on Robin, killing him.
Stricken with grief, Batman seeks out a giant eyed monster and lets it kill him. And then he wakes up. You see, this was all a sleep experiment Batman was participating in with a local scientist. It was supposed to gage the mental effects on astronauts left in isolation. Turns out you have nightmares about space monsters. I feel like Neil Armstrong might have mentioned that at some point. The next night, Batman and Robin go out on a case.
There have been a group of robberies carried out by the Gorilla Gang, who all wear gorilla costumes (please just roll with it) and the dynamic duo need to stop them. But every time they get close, Batman has PTSD from his nightmare and bungles the case trying to save Robin from hallucinations. Struck by his inabilities, Batman decides to retire until he can fix himself. This lasts 6 panels until Robin gets kidnapped. Batman overcomes his fear and saves Robin, breaking out of his hallucination for good. I told you it was weird.
One of the Greatest Batman Stories of All Time?: Probably not. It's good and it's fun, but it's way too overcomplicated.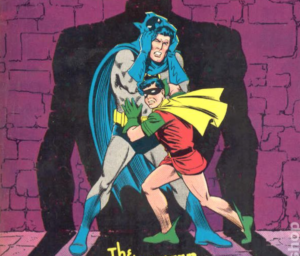 Source: mycomicshop.com
9. The Blockbuster Invasion of Gotham City
Detective Comics # 345 (1966)
While exploring a strange Island off the coast of Gotham, Bruce Wayne rescues a young Mark Desmond from quicksand. He drops the boy off with his older brother Roland Desmond and goes back home. Soon after, he and Robin begin hearing about a series of robberies carried out by a Hulk-like monster called Blockbuster. The dynamic duo seek him out and try in vain to fight him, with little to no success.
They trace him back to the island from the beginning and realize that the monster is actually Mark Desmond, operating under orders from Roland. Batman changes back into Bruce Wayne and uses Mark's debt of gratitude to him to make Blockbuster stop attacking. Meanwhile Robin knocks out Roland.
They take Roland to jail, but when they return for Blockbuster, he's gone, to return eventually.
One of the Greatest Batman Stories of All Time: No. I will say that the Infantino art is very good but the story is pedestrian and boring and the character beats are underwritten. It's not, like terrible, but it's fairly average.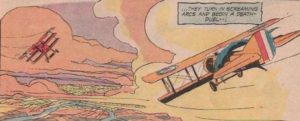 Source: theaerodrome.com
8. Ghost of the Killer Skies
Detective Comics # 404 (1970)
You know, of all the character I expected to talk about today, Enemy Ace was not one of them.
In Spain, Bruce Wayne is producing a feature film made about Klaus Von Hammer, the World War 1 fighter pilot known in DC Comics lore as the Enemy Ace, an honorable pilot who lived for chivalry. In the course of filming, one of the stunt planes crashes and the pilot is found strangled in the wreckage. It seems a string of misfortunes have befallen the set, causing damage and budget issues delaying production.
Batman solves the mystery, leading to a possible descendent of Von Hammer who doesn't like the way the movie portrays him and Batman and this new Enemy Ace square off in the skies, dueling in air combat. In the final moments, the new Ace gets his scarf caught in the plane propeller and falls out to his death.
One of the Greatest Batman Stories of All Time?: Yeah, I think so. This one goes beyond solid into great. The O'Neil writing is clever and engaging and Neal Adams art really shines here. In fairness, it's kind of an Enemy Ace Story more than a Batman one in terms of what's important, but it's a great mystery with some fun air combat scenes.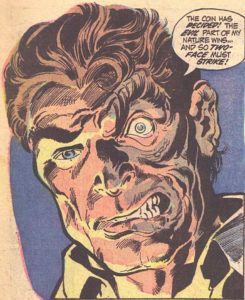 Source: thoughtco.uk
7. Half an Evil
Batman # 234 (1971)
Oh boy, a Two-Face story! And it's"¦ fine? It's fine. It's fine. That could be this whole paragraph.
Two-Face steals a hot dog balloon, uses it to steal an old ship and loot it. Batman arrives but is knocked out and tied to the mast as the ship is sinking. Also onboard is a homeless Gothamite who cannot swim. Batman insists that Two-Face needs to flip his coin about whether or not to save the man.
Two-Face does, it comes up clean side, Two Face returns to the boat where Batman beats him up. Pretty basic. Again, the quality of the story mostly comes from the creative work put into it and less the overall plot. Buuuuut in all those fields it suffers in comparison to "Ghost of the Killer Skies" which is by far the better O'Neil/Adams story.
One of the Greatest Batman Stories of All Time?: Nope. It's a solid little yarn, but again, we've seen better already from this era.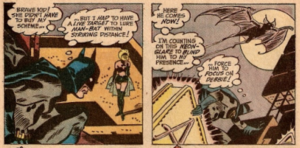 Source: comicvine.gamespot.com
6. Man-Bat Over Vegas
Detective Comics # 429 (1972)
I like Man-Bat. More than most people, I'd imagine because most people do not like Man-Bat.
In this story, a "vampire" has been striking and killing people all around Las Vegas and by coincidence Doctors Kirk and Francine Langstrom are in the area investigating a newly unearthed cave of bats. Batman goes to investigate but discovers that Kirk Langstrom isn't the Man-Bat this time"¦ it's his wife!!
This was very loosely adapted into an episode of Batman: The Animated Series which, like the comic, is pretty good. Frank Robbins is a great writer and artist and he knows how to work well with himself I really love his Man-Bat, who gets a couple real horror movie moments in here.
One of the Greatest Batman Stories of All Time?: not quite, but it's totally worth reading. It just doesn't have the kind of zing that I'm looking for. But as a Batman story, it's a fun time and one of the better Man-Bat tales.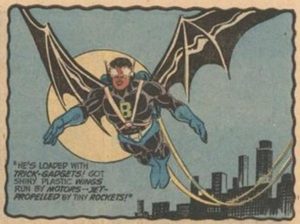 Source: comicvine.gamespot.com
5. The Batman Nobody Knows
Batman # 250 (1973)
Oh this is a classic. Another Frank Robbins written story, but this one has some gorgeous Dick Giordano art.
In the story, Bruce Wayne has taken three inner-city youths on a camping trip as part of a charity event. Around the campfire, the boys begin discussion the Batman, all with very different perspectives on what he is. The first boy sees Batman as a supernatural vampire monster, using his Spectre-like powers to protect the city. The second boy imagines him as a tech based black hero, using advanced gadgetry to clean up the city while being cool as hell.
The third boy, spurred on by a former criminal friend Batman arrested, thinks of him as a ten foot tall monster with super hearing and a bumbling demeanor. After they've all gone, Bruce Wayne leaps out, dressed as Batman to show them what he REALLY looks like"¦ only for all three kids to roll their eyes and tell him that he doesn't even look like the real Batman. It's a cute story that winds up giving a great perspective on the character. The one black kid imagining a Batman that looks like him is super ahead of its time, even if that's probably accidental. One of the
Greatest Batman Stories of All Time?: Yes! I'd totally say so. It's fantastic and fits really nicely into this collection. Totally deserving.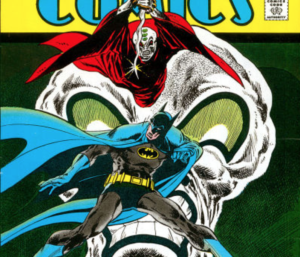 Source: comicvine.gamespot.com
4. Deathmask
Detective Comics # 437 (1974)
Another one that's just sorta fine.
Bruce Wayne is attending a museum opening which is already a bad idea. Museum openings in the DC Universe go well precisely zero percent of the time. They will always get robbed or have some sort of evil curse. In this instance, both happen!! There's a robbery and that robbery is stopped by someone wearing a cursed mask. Batman tracks the cursed mask and eventually solves the myst""I'm very bored by this.
It's not just a fine story, I think it's kind of actually bad. It's really deeply boring. I started reading it and had the impulse to start cleaning my apartment. I developed a deep interest in watching the grass grow. I was so friggin' bored. It's weird that this is even included in this collection of great or important Batman stories. And it's a shame because it has good Jim Aparo art and it's written by Archie Goodwin who is a phenomenal writer. His Manhunter is glorious. It just feels like two great creators coming together and whiffing on all three pitches.
One of the Greatest Batman Stories of All Time: Sadly, no.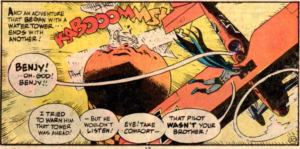 Source: alextotharchives.com
3. Death Haunts the Skies
Detective Comics # 442 (1974)
Man, why are stories about Batman fighting World War 1 fighter pilots so good? I dunno but they are!
And this makes me happy, because I can give props to an Archie Goodwin story. Because this one is great!! And it has art by f**king ALEX TOTH!!!!! If you don't recognize that name, go look it up, you won't regret it. In this story, a mysterious assailant in a World War 1 fighter plane begins attacking rich businessmen.
Batman discovers that they all belonged to the same group of rich old plane enthusiasts and this all might tie back to the suicide of their founder, some years before. A good rule of thumb: half of all great Batman stories are just Scooby-Doo episodes with significantly more punching.
One of the Greatest Batman Stories of All Time?: No, but it is very good. I do recommend it pretty highly, it's just not an all time classic.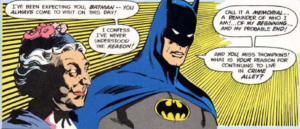 Source: littlestuffedbull.com
2. There is No Hope in Crime Alley
Detective Comics # 457 (1976)
Here's another famous classic.
In this story, on the anniversary of his parents' deaths, Batman returns to Crime Alley to visit Dr. Leslie Thompkins. He apparently does this every year and has made an impact on the neighborhood by doing so. Dr. Thompkins has devoted her life to community work, helping the city one person at a time. After Batman finds her and talks to her a bit, we learn why he's there: on the night his parents died, Dr. Thompkins was the person who consoled him and helped him through that horrible experience.
At the end of the night, Batman asks her why she helps the community the way she does. She responds that many years ago she witnessed a young boy lose his parents to a robbery gone wrong. Seeing that horrible event made her devote her life to reforming the city, to ensure that it never happen again. And it's a really wonderful moment. Seeing someone else witness the same tragedy and respond to it with a completely different method of do-gooding. It's earnest and sweet and good.
One of the Greatest Batman Comics of All Time?: I think so. It deserves to be in here.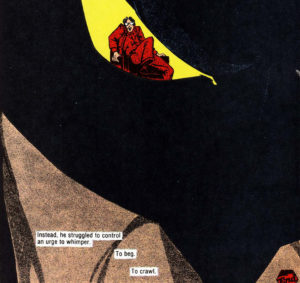 Source: batman-news.com
1. Death Strikes at Midnight and Three
DC Special Series # 15 (1978)
Hey, can I confess something to you guys? Like, is this a safe space? Ok, lean in. I'm trusting you with this information. "¦This was the first time I'd read this.
Like, it's a classic Batman story, I've owned it in various collections multiple times, but every time I get to it, I just kinda skip over it or leaf through it. And it's not because I don't like reading prose, I friggin' love it. I buy World War 2 non-fiction for fun! I spent all yesterday reading a book about a serial killer (I'll Be Gone in the Dark, if you're curious, it6's well worth a read). But when I'm reading comics and I'm in the mood for comics and then I get to this dense prose piece, I just kinda glaze over.
For those who don't know, this story is not really a comic book, but more of an illustrated prose short story. And having read it for the first time just now"¦ it's really good. It's a solid Batman story presented in a format that makes it feel special. The writing is solid and flourishes and the art, allowed to be a bit more abstract, gives us some incredible imagery that you wouldn't normally see in a Batman comic. There are a couple pages burned into my mind permanently.
One of the Greatest Batman Stories of All Time?: It very much is, and I'm happy I finally read it.
That's all for this time, next time we'll finish up the collection and recommend some great Batman stories that got left out!