Comics and celebrities go together like peanut butter and actual butter: every once in a while it works out, but it's usually a really bad idea. But certain events this week got me thinking about the greatest comic book/celebrity crossover of all time and that led me to thinking about other great/weird ones which got me to thinking, "Hey, that might be a good article idea!" And here we are!
PS: "That might be a thing I could write about" is literally where all of my articles come from.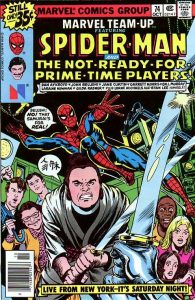 Source: pinterest.com
10. SNL Meets Spider-Man
The first story on our list (from Marvel Team-Up #74) is one of the weirder ones.
The premise? Peter Parker takes Mary Jane to see Saturday Night Live and winds up helping the SNL cast fight the Silver Samurai. Yes, this means that there is a comic book in which Spider-Man meets Bill Murray, John Belushi, Gilda Radner, and Dan Aykroyd!
If you aren't 100 percent into how amazing that is, I'm sorry, but we can't be friends. I'm a giant TV nerd, so seeing Spidey rescue Lorne Michaels is like reading a scene that was especially written for me. This one is so high up on the list because, while it's really weird, it's almost too weird. Like, it crosses over into the land beyond the strange, where everything in the book makes perfect sense.
But yeah, fun comic book, give it a read if you get the chance.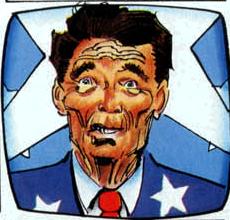 Source: dc.wikia.com
9. President Reagan in Dark Knight Returns
Wouldn't be one of these lists without at least one US president. And this isn't the only president on this list, but we'll get to that when we get to it.
For now though, let's talk about The Dark Knight Returns. DKR is pretty good and arguably set the precedent for Batman vs Superman fistfights for the rest of time. But why are they fighting? Because Superman is a personal soldier for President Ronald Reagan, acting as the US's greatest asset and not-so-secret weapon.
Miller draws Reagan as a desiccated corpse of a man, the ultimate personification of the dying government of DKR's America. For how little he actually appears in the book, Reagan feels like a huge presence in Dark Knight Returns, mostly through his influence over and puppeteering of Superman.
Miller tends to write him as a doddering, slightly goofy old man, because his political beliefs have never been exactly subtle, but it's an interesting depiction nonetheless.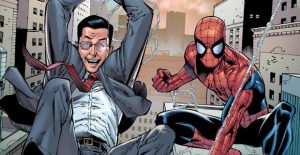 Source: screenrant.com
8. Stephen Colbert and Spider-Man
Stephen Colbert was and to some extent remains one of the most influential figures in television. Among people my age, I Am America (And So Can You) was a must read and the last episode of the Colbert Report was a serious event.
But back in 2008, at maybe the high point of his influence, Colbert started a joking run for President of the United States of America. To tie in to this, we got a back-up story featuring Colbert campaigning to be president, having a crisis of faith, and then helping Spider-Man defeat F-List villain The Grizzly by throwing an eagle statue off a roof.
It's a fun little story and Spider-Man's responses to Colbert's shenanigans are delightful. But of course that's because it's written by Mark Waid and Mark Waid is rad as hell. But Colbert feels in character and making him an official part of the Marvel Universe feels right. And making the villain of the piece The Grizzly is perfect.
Bears were always the number one entry on the Threatdown, after all.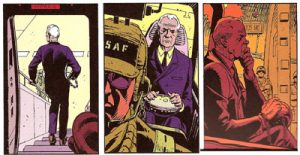 Source: watchmen.wikia.com
7. Richard Nixon in Watchmen
I mean, of COURSE this one was gonna be on here.
Nixon's role in Watchmen goes beyond glorified cameo and is full-on important to the narrative. In the universe in which Watchmen takes place, Nixon was able to serve multiple consecutive terms, due mostly to the political assassinations carried out by masked crimefighter The Comedian. Using these terms, he won Vietnam (with Dr. Manhattan's help) and ushered in an age of civil unrest and slow descent into seemingly inevitable nuclear war.
He also signed into law the Keane Act, which banned costumed heroes from carrying on with their activities, unless they were specifically sanctioned by the government. Throughout the book, Nixon's presence is constantly felt, especially in terms of the sense of ever present dread that fills each page.
Nixon's reign is one of the key signifiers, upon first reading Watchmen, that something in its universe has gone terribly wrong.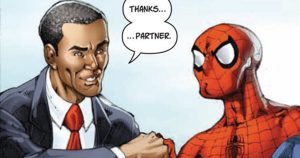 Source: theguardian.com
6. President Obama and Spider-Man
You had to know that at least ONE Obama crossover was gonna make this list. And I picked the best one.
In a back-up story in Amazing Spider-Man #583, Peter Parker is sent to cover Obama's inauguration, but, OH NO! There are two Obamas! How can this be! Needless to say Obama clearly proves he's the real one while the other is revealed to be The Chameleon. Spider-Man beats him up and fist bumps the president, and there's the story. It's really funny and charming and it's a great way of giving the Coolest President since Clinton (and definitely for the foreseeable future) the official Marvel seal of approval.
Also, here's where we get the sadly never-explored feud between Joe Biden and Spider-Man. That is maybe the best sentence I've typed in a long, long time. I am fully convinced that real life Joe Biden also believes he has a feud with Spider-Man.
It just makes so much sense.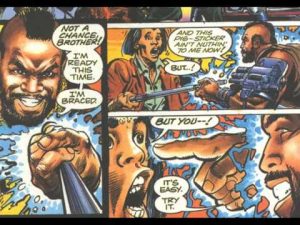 Source: youtube.com
5. Mr. T and the T-Force
"It's a crack baby"¦Fool!"
Yeah, this is one of those comics that is more a meme than an actual published work. Most of the book is composed of Mr. T lecturing people on the streets like a mediocre PSA comic. And threatening people. And committing acts of physical violence. Setting a good example for the children and what not.
But yeah, this is one of those comic book oddities that people love to dredge up and mock frequently, because it is hilarious.
Not as funny as that rap he did about respecting one's mother, but close. If you haven't seen that video, I would maybe check it out right now. Because, to be honest, it's hard to say anything about this comic that hasn't already been said.
There are no new jokes for me to make.
So"¦yeah.
You win this round, Mr. T and the T-Force.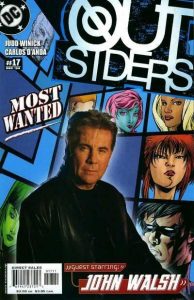 Source: forums.rpg.net
4. America's Most Wanted's John Walsh and The Outsiders
So there are some weird comics on this list, for sure. But there are none as mind-blowingly head scratching as this one.
Hey, so remember America's Most Wanted? The show? With the reenactments and the phone line and all that stuff? Right, that one. Ok, so remember John Walsh, the host of that show?
Yeah, so he was in a three issue arc of The Outsiders. No, not as a cameo, like Anderson Cooper in Black Widow. No, Walsh is a MAJOR part of the arc, which is even called "Most Wanted".
In the story, The Outsiders are hunting a child sex trafficker. I know, sounds fun, right? But bear with me, it gets weird. So, as opposed to going out on their own, doing recon, shaking down criminals, and tracking down the guy (you know, like superheroes do) Nightwing suggests they go ask America's Most Wanted to do a show about the guy.
So in comes John Walsh to help the team find the guy, using the most basic of technology. Walsh also winds up giving the team a tip about the guy's location, instead of giving it to the police, so they can go about some good old-fashioned vigilante justice. I honestly just don't know why these comics exist. Like, I actually can't figure out in the slightest how this weird thing came to be. I actually want to know! I want this mystery solved for me! It's very frustrating!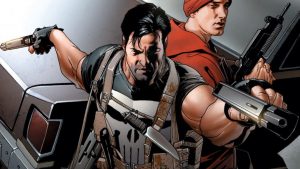 Source: youtube.com
3. Eminem X The Punisher
This one is weird too.
But Marshall Mathers, alias Eminem, had a classic superhero team up with the Punisher back in 2009's Eminem/Punisher #1. Mathers was performing when Frank Castle showed up and murderized all his bodyguards. Fleeing the scene, he was "rescued" by Barracuda, and old associate of his. Eminem lures the Punisher into a trap (because plot) only to find out that Barracuda has been hired to kill him on behalf of the Parents Music Council.
Weird that this happened in 2009, when he arguably had the least amount of influence and success, but whatever; I guess Relapse was even less popular with fictional parents than it was with real-life critics.
So Slim Shady himself turns on Barracuda and murders him, with the Punisher's help. Punisher goes off to massacre the Parents Music Council and the story ends.
Weirdly enough, I actually would recommend reading this one-shot. Partially because Writer Fred Van Lente has fun with the weird premise he's been handed, and partially because Artist Salvador Larroca absolutely kills it, as he does everything he's ever done.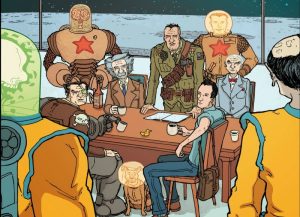 Source: comicsverse.com
2. Manhattan Projects
This list would be a complete and utter travesty if I failed to include Manhattan Projects.
Created by Jonathan Hickman and Nick Pitarra, the series is essentially historical sci-fi starring the team behind the real life Manhattan Project, which resulted in the atomic bomb's creation during World War II. The book starts from there, but spins off into a hundred thousand super weird directions you never could have anticipated from the get go.
Einstein the interdimensional barbarian? Check. The robot-armed Wernher von Braun? Check. The not quite human Enrico Fermi? Check. FDR AI, freemason Truman, talking space dog Laika? Check, check, and check.
Seriously, if you're a history geek and want some obscenely nerdy science fiction you need to have this sitting on your shelf. And even if you aren't, this is the kind of balls to the wall fun that you undoubtedly need more of in your life.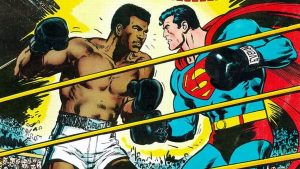 Source: polygon.com
1. Superman vs. Muhammad Ali
Come on, you KNEW this had to be number one. Of course it is.
After Ali's tragic passing last week, I really wanted to give this one a re-read, and once I did, I wanted to find an excuse to write about it. Not only is Superman vs Muhammad Ali an amazing comic in its own right, it's also a loving tribute to both of its title characters.
In the story, an alien overlord comes to earth to abduct earth's greatest fighter. Superman and Ali argue over who exactly that is, so the aliens abduct them both and make them fight. Supes is under red sun radiation to make it a fair fight, so of course Ali kicks his butt.
While Clark sneaks around the spaceship, searching for a way to take out the aliens, Ali is pitted against the greatest alien champion. After a tough fight and some wonderful monologuing, Ali wins and single handedly topples the alien government by being awesome.
They return to earth and Ali reveals that he almost immediately figured out that Clark Kent and Superman are the same dude but he won't tell anyone because he's the perfect person.
Ali was the greatest, so it's fitting that his comic book appearance would be as well.