Comic books have a lot of events. A LOT of events. Honestly, maybe too many. But with that many big crazy series of insane circumstances, of course there will be some that no one remembers and some that had no lasting influence. So I wanted to list a whole bunch of those!
Now, here are the criteria: It must be a labeled event, meaning some kind of promotional material calling it such. It also has to be a crossover with either one main miniseries OR a crossover between multiple series. It must be a crossover between at least two ongoing books, but it doesn't necessarily need to feature multiple characters. This means that crossovers between the different Superman or Batman titles are eligible. Okay, with that out of the way, here we go!
                                                         Source: dc.wikia.com
10. Millennium
In Millennium, a Guardian and a Zamaron show up to pick random people to give superpowers to and make into the next generation of perfect humans, who are supposed to breed or whatever.
But The Manhunters don't want that, so they activate their sleeper agents, who've been living among various superheroes forever. In the tie-ins, the DC heroes realize that some of their closest friends are secretly Manhunters. These include Justice League International member Rocket Red 7; Wally West's dad, Rudy West; and Booster Gold's manager, Dirk Davis.
So yeah, Wally West's dad was an alien robot. As was Manhunter's granddaughter. It was like Marvel's Secret Invasion, only not as good.
Lasting Impact: This event launched the New Guardians series, which you don't need to read (and really shouldn't). Also, it reveals that a bunch of people were evil robots, although like half of those have been retconned. So yeah, nothing really.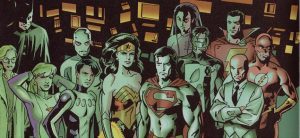 Source: dc.wikia.com
9. Final Night
Look, sometimes the sun just goes out because something ate it, and you just gotta deal.
Final Night really comes to be great in its tie-ins. The Flash and Hitman ones, in particular. Seriously, seeing the Noonan gang barricade the bar and decide that if the world's ending, they're just gonna drink until it does, is brilliant.
As the earth gets colder, winter storms sweep the nation, and the oceans freeze over. The Justice League panics, and tries to find a way to beat the Sun Eater (the thing eating the sun). They eventually figure out that they have to reignite the sun to blow the Sun Eater out of the solar system. However, whoever does it will probably be atomized in the nova explosion.
And who volunteers but Hal Jordan, aka Parallax. Hal does it to redeem himself after going all super crazy during Emerald Twilight. Hal dies in the event, and is mourned as a hero who totally didn't kill almost all of the galaxy's police force because he was mad at things.
Lasting Impact: Hal Jordan stays dead for a while. Also, although it doesn't happen DURING the event, it's later revealed that Oliver Queen is brought back to life during Final Night.

                                            Source: howtoarsenio.blogspot.com
8. Day of Judgment
Hey, this one was written by Geoff Johns! It's pretty good!
In the story, The Spectre gets bonded to Asmodel, which results in Hell freezing over and a buncha demons being released. In the crossover tie-ins, various DC characters have to deal with magic, ghostly, or demonic foes.
Anarky meets the Haunted Tank; Green Lantern fights the Enchantress; and Superboy and Etrigan fight a magical gauntlet-possessed Guardian. Sidenote: In that Superboy issue, Superboy meets Etrigan, and immediately assumes that his rhyming is actually rapping, and I LOVE that.
Eventually, the dead Hal Jordan convinces the Spectre to let him be his new host, and this solves the problem. Also, Neron possesses Superman for a bit there. Worth talking about, but not a super big deal.
Lasting Impact: The Hal Jordan-is-the-Spectre thing has stuck out for a couple of years, mostly in the Green Lantern and JSA books. The idea that The Spectre needs a host also comes from this, and would come back when Gotham Central's Crispus Allen took on the role. Also, Day of Judgment got a pseudo sequel called Day of Vengeance during the Countdown to Infinite Crisis.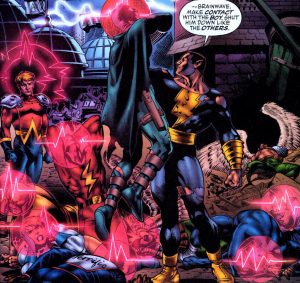 Source: comicvine.gamespot.com
7. Black Reign
Hey look, a Justice Society of America and Hawkman crossover!
One of the long-running arcs in Geoff Johns' Justice Society run is about Black Adam's role as an ally and enemy of the Society. So, when the JSA releases the terrorist known as Kobra in order to prevent him from unleashing a wave of Suicide Bombers, Adam gets pissed. He and the equally pissed Society member Atom Smasher quit the team.
The duo grab up some of Atom Smasher's former Infinity Inc. cohorts, including Northwind and Brainwave Jr., who drops the junior in the intervening time. This new team tracks down and executes Kobra, and they appoint two new members: Nemesis (the lady one) and Eclipso (with Alexander Montez as the host).
The group goes into Black Adam's former homeland of Kahndaq and conquers it. So the JSA heads in to stop all of that. Between the JSA book and Hawkman's comic, the crossover is really more of a JSA story that Hawkman is also in. But it's a really fun book!
Lasting Impact: The aftermath of the story would continue to play out in the JSA for a while, until it got a sequel in the later story, Black Vengeance. Which is also good!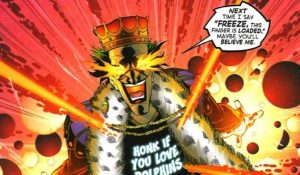 Source: cinemablend.com
6. Emperor Joker
Hey, look, it's a Superman book crossover! One that ran through all of the Superbooks for a couple of months!
It opens with Superman waking up in Arkham Asylum, where he's been imprisoned for supposedly murdering Lex Luthor. He breaks out, but is apprehended by Earth's greatest hero, Bizarro. Needless to say, someone's been screwing with reality.
And that person was the Joker. Superman and Mr. Mxyzptlk (plus Steel, Supergirl, and Superboy) fight back against the suddenly all-powerful, reality-warping Joker. A Joker who has turned the rest of the Justice League into parodies of their former selves. Eventually, Superman defeats the Joker by pointing out that no matter what he does, he can't truly get rid of Batman, since the universe is spawned from Joker's mind, and he can't get Batman out of his head. And then they strip Joker's powers and have The Spectre break his mind.
Lasting Impact: Well, this crossover was adapted into a pretty good episode of Batman: The Brave and the Bold. Also, the Bizarro'd Justice League would see another take in the Geoff Johns Action Comics story about Bizarro.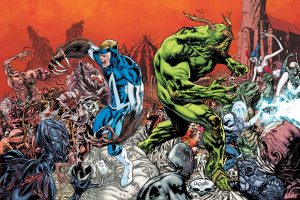 Source: lasertimepodcast.com
5. Rotworld
The Jeff Lemire-written Animal Man and the Scott Snyder-written Swamp-Thing are two of the best New 52 DC comics. And they crossed over about a year in!
Both deal with The Rot, an encroaching mass of death and decay masterminded by Anton Arcane. The crossover starts with a prologue, then splits off into two separate storylines. In The Red Kingdom, Animal Man uses his animal powers to seek out heroes like Steel and Beast Boy to take out Arcane, while The Green Kingdom stars Swamp-Thing as he traces his route through Gotham and the Man-Bat filled Batcave.
Eventually, the heroes meet up again to fight Arcane and defeat his Rotworld, once and for all. Oh, and there are also some tie-ins with the Frankenstein, Agent of S.H.A.D.E. series. But for a two book crossover, this one's pretty fun.
Lasting Impact: Arcane continues to be a threat in Swamp-Thing, and Animal Man continues the battle against The Rot. Nothing super much other than that, though.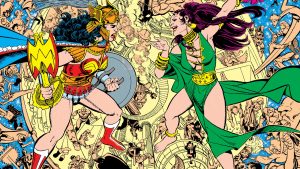 Source: dccomics.com
4. War of the Gods
Hey, a Wonder Woman-centric event! We don't get those as often as you'd think!
In this one, Circe decides to get rid of Wonder Woman by enlisting the help of ALL OF THE OTHER GODS FROM EVERY PANTHEON. Including Roman, Greek, and Egyptian. Oh, and Thanagarian, Kryptonian, and Apokalyptian, as well. Oh, my God.
And it's exactly what you'd want. Zeus and Jupiter have a lightning fight, the Roman pantheon makes Captain Marvel fight Wonder Woman…Everything is hell of badass. Circe and Wonder Woman fight on the beaches of Themyscira, where Circe destroys Wonder Woman and turns her back into clay. Superman and the heroes of earth storm Mount Olympus, doing battle with the Romans and the Greeks. Meanwhile, Circe, banished to limbo, fights against a reconstituted Wonder Woman, who kicks her butt, but good.
Lasting Impact: Not too much, honestly. Like, it's a good event, but it's super duper self-contained, which is cool.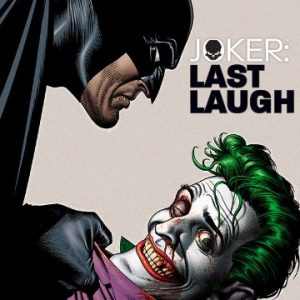 Source: comixology.com
3. Joker's Last Laugh
Here's a good one that's always forgotten.
In the story, The Joker is an inmate at The Slab. A doctor gives him some news: He's suffering from an inoperable brain tumor, and he's going to die. So he decides to go out with one final big boom by infecting the other inmates with his own Joker Venom to Jokerize them. So a bunch of C and D-List villains pop up, looking all Joker-y, and try to kill some superheroes.
He eventually figures out a way to Jokerize people through the rain, which is flipping terrifying, and his rampage intensifies. While investigating, Black Canary finds out that the Joker's X-rays were doctored (heh) to make it look like he was dying, in hopes that it would give him a new lease on life. Sooooooooo, those doctors are fired, right? Like, sooooooooo fired.
Lasting Impact: Not a ton. Some villains die, but for the most part nothing's changed. But, hey, who says anything has to?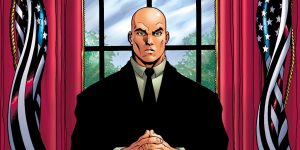 Source: herocollective.com
2. President Lex
Well, look at this story that maybe everyone should be checking out at this point in time for no real reason. It's set in the year 2000, when there's an election. In the DC Universe, noted businessman with no political experience Lex Luthor wins it.
This is a brilliant move from a storyline standpoint. Luthor had been rebooted post-crisis, so no one other than Superman knows that Luthor is really a bad guy. In fact, when Luthor had supposedly died in a rocket crash years earlier, everyone in Metropolis mourned him as a fallen hero. But giving Luthor the amount of power that comes with the presidency makes him a true equal of Superman, just in a different field.
It becomes about practical power vs. societally created power. Pretty smart. Luthor keeps the presidency for a couple of years, until he's caught using a combination of Venom (the drug that makes Bane not the Spider-Man villain) and a green and purple battle suit to try and kill Superman (and, to a lesser extent, Batman). At this point he's impeached.
Lasting impact: Not really anything, actually. Like, people mention the Luthor presidency every once in a great while, but it's mostly ignored.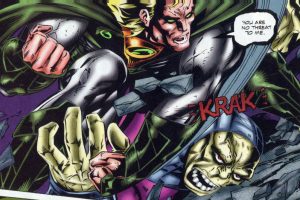 Source: sites.google.com
1. Underworld Unleashed
Demons!!
This one starts with a mysterious figure named Neron as he calls up a TON of D through F-List villains and brings them to an underground cavern filled with green fire. He tells them that he can seriously upgrade them into superbadasses if they will only do one thing: Sell him their souls. A bunch of these villains decide that there's absolutely no way whatsoever that this could go bad in any serious way, and they sign right up!
In the tie-ins, various DC Comics heroes find themselves menaced by upgraded versions of their least-threatening villains. In the main series, Neron puts his plan into action to get the "purest soul in the DC Universe" (who that is winds up being a pretty clever twist that I'm not gonna spoil here).
However, the protagonist of the mini actually winds up being Flash villain The Trickster, who is the only one Neron trusts as his apprentice.
Lasting impact: Neron sticks around for a while, a lot of the changed villains stay upgraded, and Blue Devil is turned into an actual demon in this book, which has become an enduring part of the character.
And there you go, the best event comics people have by and large forgotten about. Go track one of them down! Even if it's not reprinted, digging through back-issue bins looking for all the tie-ins is half the fun!!