Oh, Batman, who DOESN'T love you? As many internet words have been written about him as there have been about Jesus, if not way way more. So let's look at his supporting cast to find the best members of the Batman Family and shower them with the praise they so rightfully deserve. Because when you follow the Bat, you do tend to have an insane life.
                                                         Source: dccomics.com
10. Selina Kyle (Catwoman)
Selina Kyle was an orphaned street urchin who survived on the streets of Gotham City.
As an adult, she took up prostitution, because Batman: Year One was a Frank Miller comic, and Frank Miller doesn't know how to write a lady unless she spends half her time on her back and the other half collecting money (No shame to sex workers; it's just that maybe Frank could stand to improve his range a bit).
While in this lifestyle, she met and trained with Ted "Wildcat" Grant and…OH, WAIT, Zero Hour means the prostitute thing is no longer in continuity. Fine, cool.
She would later become a costumed cat burglar and run afoul of the Batman. They dueled on and off for years, but she took on a more romantic role in his life and eventually became a fully fledged ally. An ally who occasionally robbed museums for ancient Egyptian cat statues, but still.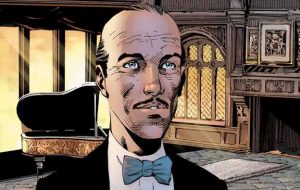 Source: cbr.com
9. Alfred Pennyworth
Alfred Pennyworth is a former MI7 butt-kicker with intense acting and combat training.
Basically, this guy was fully equipped to be a night-stalking vigilante in his own right, but instead of doing that, he did something better: He raised Bruce Wayne. After the deaths of Thomas and Martha, Alfred raised Bruce to be a good kid, allowing him to train and study the way he wanted to.
When Bruce decided to dress up like a giant Bat and punch people in the throat, Alfred was supportive. For years, he attempted to keep Bruce on a healthy path, and encouraged him to not stray into the darkness that fringed his soul. He was always there for him.
Whether he was monitoring Jean-Paul Valley to make sure he wasn't going to build a bat-shaped murder suit (he was), or forming a new team of Outsiders to compensate for Batman's apparent death, Alfie was a preeminent part of the Bat team, now and forever.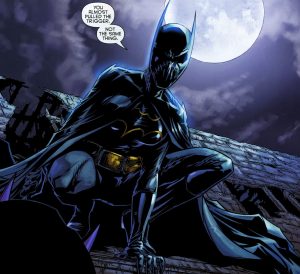 Source: pinterest.com
8. Cassandra Cain (Batgirl/Black Bat)
Cassandra Cain is hands down the most underrated Batman supporting character of all time. She NEVER gets the credit she deserves.
Cassie was born to David Cain and Lady Shiva, which was about as badass a pedigree as one could get. Like, you couldn't be a better killer if your parents were a ninja and a handgun. But after being raised as an assassin and taking her first life, Cassandra realized she never wanted to do it again. So she ran away.
Unfortunately, she had literally been designed as a weapon, with all of her skill being devoted to killing, leaving her mostly unable to talk or read. And, as it turns out, there aren't a lot of opportunities for a teenage girl who's mute, illiterate, and really good at murder. She sought out Oracle, and eventually earned a role as the new Batgirl, a badass crime fighting machine unlike any other.
What made Cassandra unique was that while the other batboys and girls decided not to kill based on the abstract concept that it was bad, Cassandra dealt with it as a practical reality and decided she hated it. What a badass.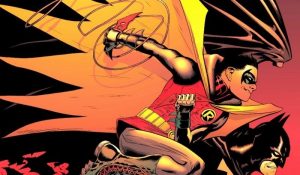 Source: comicsverse.com
7. Damian Wayne (Robin)
This is a controversial one, I suppose.
But deciding who got this spot came down to which Robin I felt was better, Jason Todd or Damian Wayne. And while both were snarky jackasses, Damian was the one who became LESS of a jackass as time went on, while Jason became MORE of one, so Damian got the spot.
The son of Bruce Wayne and Talia al Ghul, Damian had his aging hyper-accelerated, until he was ready to be a little assassin boy. When his dad was blasted into the past by Darkseid's Omega Sanction, Damian became the Robin to Dick Grayson's Batman. He stayed on as Robin even after Bruce Wayne's return, and recently took up a post with the Teen Titans. He was also best buddies with Superman's son Jonathan, which was adorable.
Damian was trained in all sorts of scary murder stuff, which made him stand out among the Robins. But he was still just a child, and that contrast between assassin and eight year old was what made Damian such a fantastic character.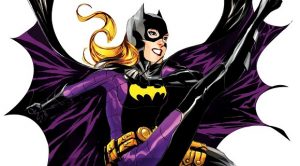 Source: talkingcomicbooks.com
6. Stephanie Brown (Spoiler/Robin/Batgirl)
SPOILER ALERT!
Look, we all have our favorites, and Stephanie Brown, aka Batgirl, is hands down one of mine.
Steph was the daughter of failed game show host Arthur Brown. But when she discovered his dual identity as supervillain The Cluemaster, she created a secret ID of her own. She took to the night as The Spoiler, and foiled her dad's activities for good, befriending Tim Drake along the way. For a while, she only got to work whenever her dad was making trouble. This included a Knightfall stint picking up escaped Arkham prisoners.
She also managed to give her baby up for adoption after discovering her own unplanned pregnancy, which I'd imagine was a seriously hard thing to go through, so more props to Steph. She temporarily took on the identity of Robin before being murdered by the Black Mask. But she was actually alive as Spoiler again, until Cassandra Cain stepped down from the role of Batgirl, which Steph filled perfectly.
That Bryan Q. Miller run on Batgirl is one of my favorites ever. It's so gosh-darn fun that I couldn't leave Stephanie off this list.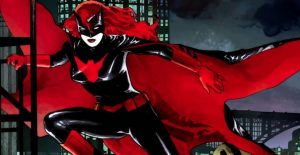 Source: newnownext.com
5. Kate Kane (Batwoman)
Kate Kane is rad as hell.
I mean, first of all, look at that costume! The costume is so artful and pretty and simple.
Kate was the daughter of two military intelligence agents, but she lost her mother to tragedy at a young age. She went to West Point and enlisted in the Marines, but was dishonorably discharged for being gay, which seems super unfair. She dated Gotham City Police Department detective Renee Montoya for a time, but when that fell apart, Kate took inspiration from Batman and decided to become a vigilante. After undergoing years of training, she returned to Gotham, only to find that it was in the middle of The Missing Year, during which Batman was absent from Gotham City.
She became The Batwoman, and kicked some Intergang ass alongside Renee Montoya, with whom she re-entered a relationship. Renee would eventually take up the identity of The Question, and the two would fight crime together. Aww, love at its purest.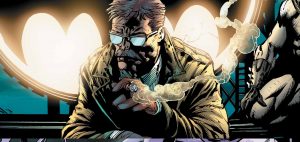 Source: dccomics.com
4. Jim Gordon
James W. Gordon was a police officer's police officer. The father of James Gordon, Jr. (by birth) and Barbara Gordon (by adoption), James, Sr. was a Gotham cop until he killed a dirty cop and was transferred to Chicago to cover it up (the kid of said dirty cop would eventually grow up to become The Wrath).
After exposing MORE corruption, he was transferred right back to Gotham, this time as a Lieutenant. Around this time, Batman popped up, and although they didn't get along at first, they would eventually learn to work together, mostly through giant rooftop flashlights.
Third in their partnership was District Attorney Harvey Dent. That is, until Harvey went all murdery and started basing said murders on his own coin flipping. But after that, the Gordon/Batman relationship only strengthened. Gordon resigned from the GCPD after getting shot, but later returned to the force.
Then there was a reboot, and then Gordon became GCPD-approved Batman for a while, "˜cause Batman got Endgamed, and then he was just a cop again. *Deep breath in.*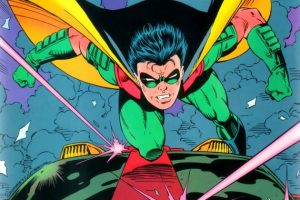 Source: comicsalliance.com (Dearly missed)
3. Tim Drake (Robin/Red Robin)
There have been better Robins, but no one was a better Robin than Tim Drake.
Tim was a brilliant kid, who began to take notice of Batman's actions and found them troublesome. At the time, Bruce had just lost Jason Todd, and was being especially brutal about it. So Tim decided that Batman needed someone to lighten him up a bit and keep him grounded. He needed"¦a Robin. So he deduced exactly who Batman really was, and went off to aid him.
He joined up as the new Robin, and had a long and valued career, becoming the first Robin to have his own solo series (a pretty excellent solo series, too, I might add). Tim was there during Knightfall, and he was the first to realize that Jean-Paul Valley was a bad Batman replacement. Although to be fair, everyone should've realized this the second they remembered that he used to go around trying to kill people with a fire sword, under orders he received from voices in his head, which he believed to be religious deities.
Tim was Robin for a long time, and was one of the most iconic characters to possess the identity.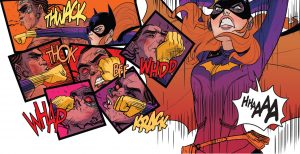 Source: retconpunch.com
2. Barbara Gordon (Batgirl/Oracle)
Barbara!!!!! Barbara is the double best. She's so great.
Babs was born to Roger and Thelma Gordon, but when they were killed in a car crash, she was taken in by her Uncle James, who adopted her as his daughter. Having moved to Gotham, Barbara immediately became entranced with the concept of The Batman. Using her photographic memory, she learned criminology and trained in self-defense. Eventually, she was ready to make her debut, and faced off against Killer Moth, my favorite underrated Batman Villain.
From that point on, she was one of Gotham's protectors, operating on her own until Batman took her in. She would later be tragically paralyzed by the Joker, but that didn't stop her from being a hero. She took on the identity of Oracle, and worked with the Suicide Squad and the Justice League of America before helping to form the Birds of Prey, her longest-lasting legacy.
She'd later regain her mobility and go on to reclaim the identity of Batgirl, presently keeping Burnside safe from Gotham's spillover.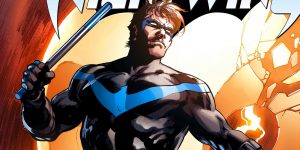 Source: screenrant.com
1. Dick Grayson (Robin/Nightwing/Batman/Agent 37)
Dick Grayson was a circus acrobat whose parents were killed, giving him an urge for vengeance. But when Bruce Wayne adopted him, and began training him in his methods, Dick lightened up quite a bit.
He became the first Robin, and set the tone for what it meant to be a superhero's sidekick. During that time, he founded the Teen Titans alongside buddies Kid Flash and Aqualad. He remained in contact with the team for years, even when he wasn't an active member. During that time, he stepped out of the identity of Robin and became his own man as Nightwing. Despite losing his fabulous disco collar, he'd keep the name to this very day (with some breaks in between).
When Bruce Wayne died – sorry, "died" – Dick took over as Batman, with Bruce's son Damian as Robin. When Bruce returned, Dick went back to being Nightwing until his identity was exposed. He faked his death and became a secret agent for S.P.Y.R.A.L. under the codename Agent 37, and went back to being Nightwing again. But no matter the name, Dick Grayson never stopped being the best of Batman's supporting cast.
And there you have it, the ten best non-Batman Batman characters. From pretty awesome to crazy awesome. If you like all of these characters, I'd recommend picking up Super Sons to read about Damian, Nightwing for Grayson, Batgirl for Barbara, and Detective Comics for the rest. Lots of great comics out there for a Bat-fan right now.