I've written a lot about Marvel comics lately, but don't get me wrong, I'm a huge DC nerd as well. The DC Universe bleeds through my love of comics like bad ink through bad newsprint. And a big source of this love were the DC Showcase collections, huge phone books of black and white reprints of classic silver age comics. Through these, I fell in love with the odd characters and wacky events of the Silver Age. The classics like Flash, Green Lantern, and the Atom for sure, but also the transitional oddities like the science heroes and the war stories. Wanna learn about the Sea Devils or the Unknown Soldier? Have a burning need for some info on G. I. Robot or the original Suicide Squad? Well let's kick it into gear with some classic DC icons.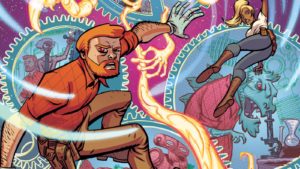 Source: blogspot.com
10. Cave Carson
Deep under the earth, there are still dangers that need to be addressed. There's new territory to explore. And who better to do that exploring than Cave Carson?
Calvin Carson and the Mighty Mole excavation vehicle, crew in tow, blasted through the earth on exploratory missions throughout the silver age before vanishing into the mist. Most recently, he saw a revival through DC's Young Animal imprint with the series Cave Carson Has A Cybernetic Eye and it's follow-up Cave Carson Has An Interstellar Eye.
Both of these were fun looks at the characters that really gave me a modern feel for what Cave Carson could be in the present. A smart guy, an explorer, a failed family man who needs to pull his life together. And his robot eye.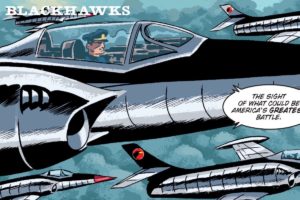 Source: polygon.com
9. Blackhawks
Supposedly, this one is getting turned into a Steven Spielberg movie but with DC's track record of announcing projects and then drastically changing them, we don't know for sure.
But the Blackhawks were a crack squad of aerial aces devoted to taking out Nazis with vicious air fire. Their super cool planes and awesome "Hawk-A!" battle cry made them stick out long enough to find a foothole in the memories of writers and audiences. That's why, while you probably never heard of Cave Carson or the Sea Devils before right now, there's a good chance you actually know who the Blackhawks are. They stuck around for a long time, with Lady Blackhawk eventually becoming a member of the Birds of Prey, but the majority of the team got forgotten and drifted off into to abyss.
During the New 52, there was an attempt to bring them back as more of a G.I. Joe strikeforce but that never really took off. Heh. "took off", get it?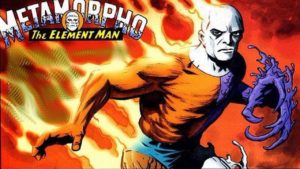 Source: youtube.com
8. Metamorpho
Metamorpho is the greatest forgotten DC character of all time.
It's DC using all the talent at their disposal (mostly Ramona Fraidon but with bashful Bob Haney as well) to take a crack at doing a Marvel Comic for DC. And boy did they! Rez Mason, world travelling explorer, is exposed to the orb of Ra and gifted amazing elemental powers, but with a deforming twist.
He's the entire fantastic four rolled up into one. But his humor and tragedy together make him a pertinently iconic character.
If you've never gone out of your way and read those old Metamorpho Stories, you totally should. There's an old Showcase Presents volume for sure but that is depressingly out of print. But as comics go, they are way way ahead of their time.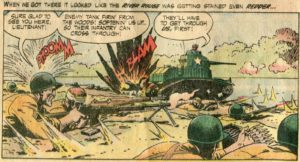 Source: blogspot.com
7. Haunted Tank
Two rad words that come together in one beautiful combination.
The Haunted Tank was a World War 2 tank, crewed by a group of misfits and captained by Jeb Stuart. But his great grandfather, also named Jeb Stuart, is a confederate ghost general who came back from the dead to possess the tank and lead it to victory over the Nazis.
So, they didn't really like to address the whole "the ghost was probably deeply profoundly, upsettingly racist" thing in the original comic, but I'd love to see a version that did. Maybe Ghost Jeb dies seeing the horrible wrongs of the confederacy and is forced to earn his place in the afterlife by helping to defeat another great evil.
Or, hear me out, they could just make the ghost"¦ not have fought for the Confederacy? Weird take, I know. There are ways to make the idea work, is what I'm saying.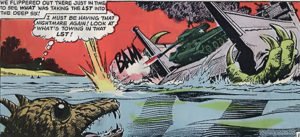 Source: writeups.com
6. The War That Time Forgot
This. Comic. Is. Rad.
American soldiers during World War 2 get lost in the mists and wind up on the mysterious Dinosaur Island, an island filled with, you'll never guess this, Dinosaurs. Each story is a life or death battle between man and beast, between the best weapons man has to offer and the killing machines nature bred before us.
Look, if dinosaurs fighting in World War 2 isn't something that immediately appeals to you, I don't think we can be friends. And if there was ever a time for a comic that involves dinosaurs eating Nazis, that time is most certainly now. Everyone loves dinosaurs! Everyone hates Nazis! It's a match made in heaven! Ok, hang on, I'm getting word that apparently not everyone hates Nazis. That's"¦ incredibly horrifying.
But I'm pretty sure everybody loves dinosaurs so"¦ so that's a positive.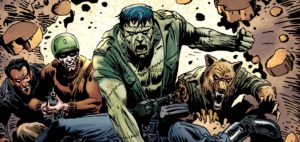 Source: dccomics.com
5. Creature Commandos
Guys this is a World War 2 team of universal horror monsters that fight Nazis. That is the best idea of all time.
So the monsters aren't exactly the specific universal brand ones but they're close. No Dracula but we do get a vampire, there's A Frankenstein Monster but not the, you know, notable one. And also one (1) Medusa and one (1) Mummy. And sometimes G.I. Robot joins in for some fun.
The Creature Commandos get more love than a lot of the other characters I'm discussing because they're a hyper weird concept so they stick out in the memories of a lot of folks. So they get brought back when people want some weird silver age goodness back in their lives. Recently they got mixed in with Grant Morrison's Frankenstein and his Bride into the agents of S.H.A.D.E. and the rest is"¦ history?
Not really. It's often forgotten history.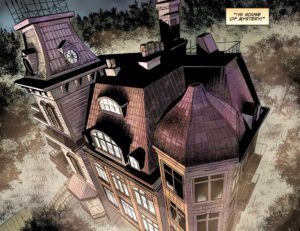 Source: comicnewbies.com
4. House of Mystery/House of Secrets
I love these comics and no one else cares about them.
So when Horror Comics were a huge deal, DC wanted to get into that game hard. So they created two softened horror anthologies, those being the House of Mystery and the House of Secrets. The gimmick was that each had there own horror host who would introduce you to the stories within.
The owners of the houses were Cain and Abel. Yes, THOSE Cain and Abel. No, they do not like each other.
It's a silly gimmick but it given both books a unique character. Cain's the more vicious and brutal one, coming off as frightening as the stories he tells. Whereas Abel is more of a haunting wraith, a spectre that presents tales of woe. And they bicker a lot and it's incredibly fun. Give "˜em a read sometime, they might scare up some good times.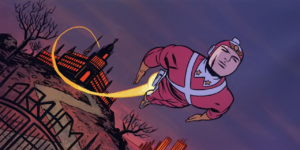 Source: dc.wikia.com
3. Adam Strange
Adam Strange should be a way bigger deal than he is. He's like Buck Rogers meets Indiana Jones.
Adam was an archeologist who accidentally stumbled upon an energy warp to another world. This Zeta Beam, as it was called, sent him to the planet Rann, where he became their greatest champion.
But the Zeta Beams were only temporary, meaning Adam kept returning to earth and having to find his way back to his true home. It's world travelling high adventure with "˜50s space age aesthetics and that is so of a time and yet so classic. It's so dated that it becomes timeless. And while he's had a couple mini-revivals, he's never quite caught on.
Maybe it's because he's not really a traditional superhero and as such doesn't quite fit in with the Justice League caliber dudes.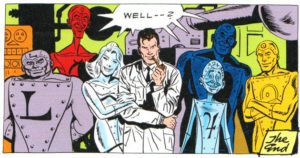 Source: amazon.com
2. Metal Men
The Metal Men deeply need an animated movie. They're such dynamic, fluid, characters and I wish they were more seen. Doctor Will Magnus invented the Responsometer, a technology that enabled him to imbue robots with personalities. And so the Metal Men were born.
Gold, arrogant and full of himself, but a competent leader nonetheless. Mercury, the only metal that's liquid at room temperature, and the team troublemaker. Lead, who's dense in more ways than one. Iron, the kindhearted team strongman. Platinum, the lovelorn ladybot who wants to be human. And Tin, the stuttering nervous wreck who's just a good boy. Oh, and sometimes Copper, the one no one remembers.
The Metal Men are fun characters that bounce off each other while teaching everyone science facts. Because science is cool.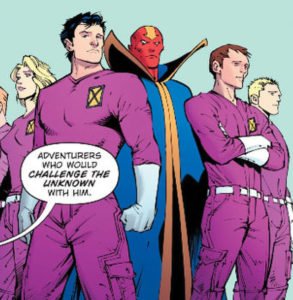 Source: purch.com
1. Challengers of the Unknown
The Challengers of the Unknown are maybe the peak "silver age concept that can't catch on in the present".
A group of people, caught in a horrible plane crash, but emerging without a scratch on any of them. A Pilot, a scientist, a boxer, and a stuntman. Four men who escaped death. Four men living on borrowed time. Who decide to use that time to plunge into the mysteries of reality and go on some badass adventures.
Because if you escape death, why not use it for some purpose? Prof, Ace, Rocky, Red, and eventually, June, all fight giant monsters and investigate islands of mad science, operating as the normal people who like to"¦ challenge the unknown.