Back in the nineties, DC had an awesome series of mini-series and graphic novels called Elseworlds, in which major DC heroes and teams are placed into foreign times and settings. Typically, these are immensely fun playgrounds of weird ideas and awesome stories that never get the credit they deserve. I've already done pieces on the Batman and Superman installments (which you can read by clicking on those very words), but I figured I should do some of the general DC Universe ones.
So let's take a look at some weird and crazy alternate universe stories once more. And let's ask that question you want answered.
"What if…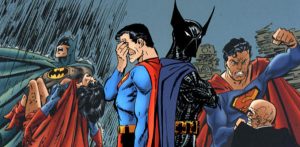 Source: mtv.com
10. Superman and Batman: Generations
…Superman and Batman aged in real time?"
GETTING THIS OUT OF THE WAY RIGHT UP FRONT: Writer/artist of this one, John Byrne, is kinda terrible as a person. Like, wildly transphobic, offensively racist, called Christopher Reeve 'no hero' the DAY HE DIED levels of terrible. Good writer, great artist, garbage person. So if you do not want to support him or his work, I completely understand.
Buuuuuuut, Superman and Batman: Generations is pretty decent in concept and execution. The book starts in 1939, with the first meeting of Batman and Superman. Then, it jumps to 1949, followed by 1959, and so on and so forth, jumping in ten year increments to see what Supes and Bats are up to each time.
As Clark slowly grows older, Bruce passes the mantle of the Dark Knight on to a series of wards. But it is at its core a story about Clark and Bruce and their shifting relationship to each other.
The art on this one is great and worth the price, if you can find it a little discounted. The writing is a bit stilted and Byrne is a legit terrible dude, but if you can stomach all of that, this is a pretty decent little story that is at least full of imagination.