Back in the nineties, DC had an awesome series of mini-series and graphic novels called Elseworlds, in which major DC heroes and teams are placed into foreign times and settings. Typically, these are immensely fun playgrounds of weird ideas and awesome stories that never get the credit they deserve. I've already done pieces on the Batman and Superman installments (which you can read by clicking on those very words), but I figured I should do some of the general DC Universe ones.
So let's take a look at some weird and crazy alternate universe stories once more. And let's ask that question you want answered.
"What if"¦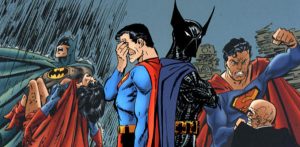 Source: mtv.com
10. Superman and Batman: Generations
"¦Superman and Batman aged in real time?"
GETTING THIS OUT OF THE WAY RIGHT UP FRONT: Writer/artist of this one, John Byrne, is kinda terrible as a person. Like, wildly transphobic, offensively racist, called Christopher Reeve 'no hero' the DAY HE DIED levels of terrible. Good writer, great artist, garbage person. So if you do not want to support him or his work, I completely understand.
Buuuuuuut, Superman and Batman: Generations is pretty decent in concept and execution. The book starts in 1939, with the first meeting of Batman and Superman. Then, it jumps to 1949, followed by 1959, and so on and so forth, jumping in ten year increments to see what Supes and Bats are up to each time.
As Clark slowly grows older, Bruce passes the mantle of the Dark Knight on to a series of wards. But it is at its core a story about Clark and Bruce and their shifting relationship to each other.
The art on this one is great and worth the price, if you can find it a little discounted. The writing is a bit stilted and Byrne is a legit terrible dude, but if you can stomach all of that, this is a pretty decent little story that is at least full of imagination.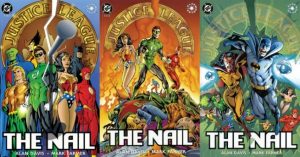 Source: retroist.com
9. JLA: The Nail
"¦there wasn't a Superman?"
JLA: The Nail has a very simple, and yet very great premise: One day, Jonathan and Martha Kent are driving through Smallville when they run over a nail and get a flat tire. Because of this, they never find the rocket containing the baby Kal-El, and Superman never comes into being.
The story focuses on the Justice League, who are all dealing with the massive public hate campaign targeted at them by Lex Luthor (sidenote: I love the idea that, without a Superman, Lex Luthor went on to become crazy successful). As things go very, very badly for the heroes of the DCU, the JLA begin down a dark path with dangerous outcomes.
Of course, the real reason to buy this book isn't the plot, as good as that may be, it's the art. Alan Davis is one of the best comic book artists of his day and oh, my god, is his stuff fantastic. And with a story like this that allows him to draw tons of DC characters, it really is worth the price of admission.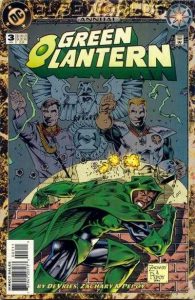 Source: comicvine.gamespot.com
8. Green Lantern: Ring of Evil
"¦all the Green Lanterns were Nazis except John Stewart?"
No, not the Daily Show host, you guys, that's Jon Stewart. John Stewart was the Green Lantern of earth. Well, the fourth one.
And in this story, Hal Jordan and Guy Gardener are Nazis using magic rings for eeeeeeevil. Stewart is the last surviving member of the Green Lanterns, a tribe of forest dwelling Robin Hoods led by Oliver Queen. Then, when all'a them are murderized by Hal and Guy, John has to go out on his own as the champion the world needs. The one true Green Lantern.
The writing on this one is fun and fast-paced and the art is peak for the time. Also, like, Nazi Green Lanterns, how do you turn that one down if you see it in a quarter bin? Ah, the quarter bin, regular site of exciting and new treasures that no one wanted for some reason.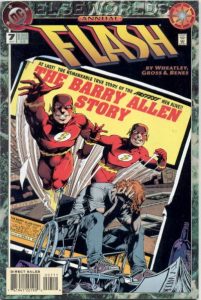 Source: dc.wikia.com
7. The Flash: The Barry Allen Story
"¦Wally West took advantage of his fame?"
So this one is kinda complicated plot-wise, so I'll take some time to break it down.
So while he was Kid Flash, Wally West starred in a reality show and used his fame to get on top, publicity wise. But, after a horrible fight with Captain Cold, Barry Allen was killed and Wally was crippled. Now, years later, Wally has been asked to direct a television movie about Barry's life and death. But when the film starts to run over budget and behind schedule, the network campaigns to bring in Captain Cold himself to finish the film, in accordance with his trashy tell-all memoir.
As a film student myself, a story about Wally West failing to keep continuity and worrying about losing the light is kind of perfectly up my alley. The story itself is heartfelt and well written and hey, its climax is two guys in wheelchairs punching each other, so if that was something you really wanted, A: I have some serious questions, but B: this is the story for you.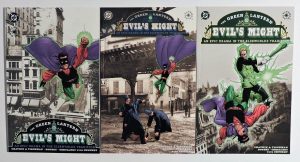 Source: diamondgalleries.com
6. Green Lantern: Evil's Might
"¦Green Lantern fought political corruption in the 1920s?"
Kyle Rayner is an NYC political cartoonist known as "Rain or Shine", who ridicules the corrupt elite from a perch of anonymity. But when he finds a mysterious ring that grants him seemingly unlimited power, he uses that power to take on Boss Tweed and his cronies. Kyle romances Carol Ferris and battles corrupt policemen Hal Jordan and Alan Scott for the betterment of the city.
Plus, BOSS TWEED! If you are a serious history dork like me, your mind is totally blown. And if you aren't"¦then I guess you're missing out on some good hidden references in mass media. Like, this is a fun book, but its really only truly worth it if you are fully in for being the deeply nested history joke it is.
BOSS TWEED, you guys! Ugh, that's some good history right there.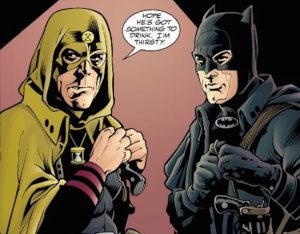 Source: deadbeatspanel.com
5. JSA: The Liberty File
"¦Batman and the JSA starred in an Indiana Jones movie?"
Okay, okay, that's not the EXACT premise, but it's about Batman, Hourman, Dr. Mid-Nite, and Mr. Terrific foiling a Nazi plan in the Middle East during WWII. That's pretty Raiders of the Lost Ark-y, you guys.
So the actual story goes like this: The Joker, on his way to be interrogated by the US government, disappears in Cairo. Three JSA agents (Hourman, Dr. Mid-Nite, and Batman) are sent in to get him and the valuable information he carries out of the country. Meanwhile, a mysterious Nazi super-man is about to make his debut on the warfront and time is running out to come up with a way to stop him.
This one is just fun and pulpy start to finish. Along with a really great final reel twist that actually managed to impress me, this one also contains some truly great comedic moments. Batman burning his journal in front of Hourman when asked about it is maybe the comedic highlight of my week.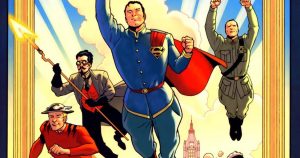 Source: voyagesextrordinaires.com
4. JLA: Age of Wonder
"¦the JLA existed in the late 1800s and early 1900s?"
I was totally blown away by how much I liked this one when I went back to re-read it for this article. I remembered it being okay, but it's really kinda fantastic. The kinda fantastic that has Lois Lane say, "Bully for you" in its opening scene. If there's one thing I love as much as superhero comics, it's old timey dialogue.

So in this story, Superman first makes his presence known at the centennial exhibition in 1876 and winds up touching off the superhero boom at the turn of the century. We get weird and cool versions of the Flash, Starman, Green Lantern, Plastic Man, the Atom, and so many more.
The sheer imagination on display is impressive to say the least and it finds itself perfectly at home with some of the best Elseworlds stories on my shelf. So incredibly worth a read, I can't recommend it highly enough.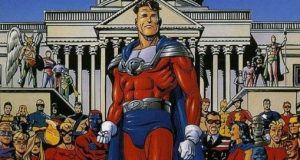 Source: lessthannegative.com
3. JSA: The Golden Age
"¦the JSA had to live through the red scare?"
Wow, is this one great. It reads like a novel more than anything else. But then, writer James Robinson is full stop excellent at comic book writing. And since Golden Age heroes are kind of his bread and butter, this one is, of course, gonna be great. Also, the Paul Smith art is so great it makes me feel uncomfortable new feelings I'm gonna have to come to terms with soon. Not today though!
The story focuses on the retired and disillusioned JSA after World War Two and the personal crisis they all must suffer through. We also get the stories of Johnny Quick, retired documentarian, Starman, scientist crippled by guilt, Tex Thompson, former Mr. America and current state senator with a dark secret, and Paul Kirk, Manhunter driven to madness by what he saw overseas.
This one I can't spoil because it takes a left turn into Crazy Town in the last act, but it is well earned and legit fan-frickin-tastic.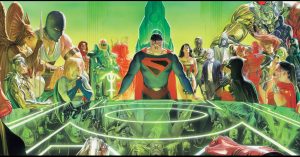 Source: sequart.com
2. Kingdom Come
"¦the Justice League had to face off against the "˜90s antihero craze?"
Yeah, yeah, OF COURSE this one was on here. How could I not? Mark Waid is one of the best superhero comics writers of all time, and Alex Ross's art is always spellbinding, so a collaboration between the two is invariably gonna be one of my favorite Elseworlds stories of all time.
This story is essentially a big parable about how nineties grim-n-gritty heroes are stupid and true heroes are needed to save the comic book industry. In the near future, after a series of horrible tragedies, Superman has gone into seclusion. But when things get so bad he can't ignore them anymore, the world's greatest superhero returns to the fold, bringing with him a new wave of classic superheroes.
Supes must face off with the new breed of "heroes", as well as Batman's black ops hero squad, to bring about a new age of heroes. Its full of inventive ideas and great moments. And it's also one of those stories that successfully affected the comic book landscape.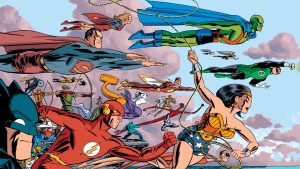 Source: tumblr.com
1. DC: The New Frontier
"¦the Justice League formed in the "˜50s and '60s?"
Since I've called New Frontier "the greatest Justice League story of all time" and also consider it the best superhero comic of the 21st century, its spot as number one on this list should come as literally zero surprise.
New Frontier, made by the immensely talented and tragically deceased Darwyn Cooke, is novelistic and beautiful and incredible and perfect. A love letter to the silver age incorporating the red scare, the space race, racism, and everything else into one epic story that turns the superheroic experience into the American one. Aside from being literally gorgeous (Cooke's art makes me tear up, its so pretty) the book is also wonderfully written.
Focusing on Green Lantern, The Flash, and Martian Manhunter, with supporting plays from Superman, Batman, and Wonder Woman, as well as most of the DC universe, New Frontier is the pinnacle of a DCU story. If you haven't read it, you really really need to. Please do.
It's so, so goshdarn friggin' good.
So here's another list of DCU alternate universe stories. There are totally enough to get a bunch more lists like this done, so if you liked this one, give it a share and maybe I'll do another one soon.