If the biggest crime of DC's New 52 was that it eliminated the concept of legacy from the DC Universe, then the Justice Society of America was the most damaging casualty. But, gone though they may be, the JSA will never be forgotten. And they especially won't be if we promote the greatest generation's greatest heroes with one of these fun lists. So, without any further ado, here's my personal list of favorite JSAers. Hard one to narrow down, this list.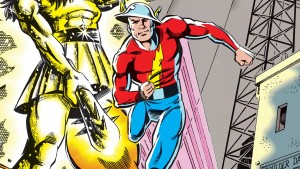 Source: dccomics.com
10. The Flash
The kindest man in the DC Universe.
A founding father of the team and the first of the Flashes, Jay is the pinnacle of a good guy. Not just a father figure to Barry Allen, Wally West, and Bart Allen, Jay also provided guidance to JSA young'uns like Stargirl and Jakeem Thunder. Affected by hard water fumes (no, not ice. Yes, there actually is a thing called hard water that isn't ice), Jay gained super speed, making him (at the time) the fastest man alive. Jay's top speed varies, based on the writer and story, but it's usually around Mach One.
But even when he was lapped by much faster Flashes, Jay always remained lovable and upbeat. And completely unwilling to retire. But Jay is easily the heart of the JSA, running with the willpower and earnestness the rest of the team needs as motivation.
People mistakenly view the JSA as old, uptight, "perfect" heroes and for the most part, they aren't. But Jay Garrick is. And that's why he's the bestest.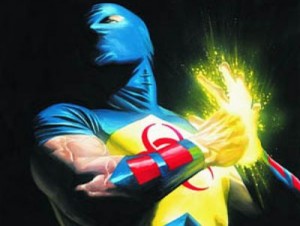 Source: Craveonline.com
9. Damage
Another young hero serving with the JSA, although this one might've needed it more than most.
Grant Emerson was raised normally, until he discovered his super power. He blows stuff up. Violently. After trying frantically to control it for some time, Grant eventually discovered he was the son of Al Pratt, the original Atom. He soon decided to live up to that legacy by joining the Titans as the ward of former and future troubled youth Roy Harper.
After leaving that team, Grant joined up with the Freedom Fighters, where he finally seemed happy. Until the Freedom Fighters ran into an advance squad of the Injustice League and most of "˜em wound up dead. Grant didn't, though! No, he just wound up hideously deformed.
Read More: Best Justice Society Comics & Stories
At this point, Grant was taken in by the JSA, who helped him work on the resulting anger and helped him find love with his teammate, Judomaster. After which he found himself in serious conflict with the Black Lantern Corps. That time he died.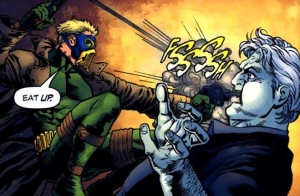 Source: dc.wikia.com
8. Sand
Not often you see a gas mask on a good guy in comics, huh? Typically they're on supervillains or every serial killer in Ex Machina. But Sanderson Hawkins is just playing to tradition.
Sanderson was originally the sidekick to Wesley Dodds, alias The Sandman, a dude who sleeping-gassed villains right in the face. Sanderson, as a teen sidekick named Sandy the Golden Boy, spent a while kicking butt despite being, like, thirteen.
Unfortunately, Sandy screwed around with an experimental weapon and turned himself into a giant sand monster that eventually fought the Justice League. Y'know, like most of us did during puberty.
Wesley eventually managed to turn Sandy back to normal, leaving him physically in his early twenties and with the power to turn himself into sand. Sanderson took the codename Sand and adopted the prophetic visions of his mentor. He also served as Chairman of the JSA for a time. A true successor to a true hero, Sand has literally saved the planet on his own once or twice.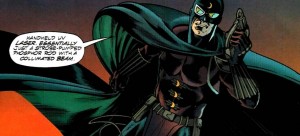 Source: dc.wikia.com
7. Doctor Mid-Nite
While I do like Charles McNider, It's Pieter Cross who holds the title of "my favorite Doctor Mid-Nite".
As a doctor running a free clinic, Pieter ran afoul of some drug dealers selling A39, which was a new drug and sadly not an indie production house distributing a bunch of cool movies (That was a joke for my film nerd pals). Said drug dealers engineered a car accident to get rid of Cross, who survived, blind, but with the ability to see in infrared and ultrasonic spectra. He decided to take up a position as crime-fighting super doctor for the capes and tights set.
He also has an owl. Because if you thought he couldn't get any better, you were dead wrong.
The Doc is the dude you hit up if you need an autopsy performed or need a superintelligent virus extracted from your brain. Plus he's a master of youth outreach, so points for that!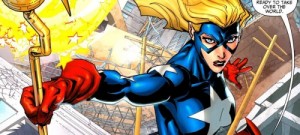 Source: comicbookresources.com
6. Stargirl
The most deserving successor to Jack Knight who's ever been created. And coming from me, that's saying something.
Courtney Whitmore was a typical fifteen-year-old girl in Blue Valley. She had recently moved in with her new stepfather, Pat Dugan. But when she discovered Pat's former secret identity as Stripesy, adult partner to teen hero The Star-Spangled Kid, Court stole Pat's former partner's cosmic converter belt and took up crime-fighting to bother him.
When Pat unveiled a giant armor suit and took the codename S.T.R.I.P.E. he and Courtney teamed up as heroes. Eventually, Courtney was offered a spot on the new incarnation of the Justice Society, alongside at-the-time Starman Jack Knight. When Jack retired, he gave his cosmic rod to Courtney and asked her to take up his legacy.
She did, and did the history of the Starmen and women proud, acting as one of the best and quite literally brightest in the JSA.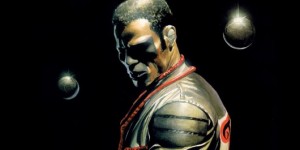 Source: wegotthiscovered.com
5. Mr. Terrific
It's always cool when the successor proves to be a more interesting and enduring character than his predecessor.
The original Mr. Terrific, Terry Sloane (and, no, I didn't have to look that up, because I have wasted large portions of my existence on this planet) was an all-around master of everything. An athlete and an intellect. But he died without doing really anything else of note. So when his identity was applied to gold medal Olympian and dude with 14 freaking doctorates Michael Holt, it made perfect sense.
Holt, known as the third-smartest man in the DC Universe after Lex Luthor and Batman, created his wonderful T-Spheres and made himself invisible to all technology. The guy is seriously talented. He was elected chairman of the JSA for his level-headedness and ability to take charge of any situation – a role he easily grew into.
Plus, he's one of the few openly atheist superheroes, so that's kind of interesting.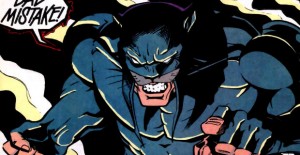 Source: screenrant.com
4. Wildcat
Well, we've already talked about one of the JSA's two dads (with the other one to come up later), so we should now take some time to talk about the team's foul-mouthed uncle.
Ted Grant was a championship boxer who decided to fight crime as Wildcat. He would later be cursed with nine lives. You know, like cats don't have. Eventually, he – and several other JSAers – found his way through a time loop to the modern day DCU. There, he resumed his crime fighting and even started an on-again off-again relationship with Selina Kyle, AKA Catwoman.
Ted's gruff and mean-spirited exterior covers a big heart, and his training of the JSA's younger members is a much-needed part of his role. But my favorite thing about him, aside from that one issue where he seriously messes up the entire Injustice Gang, is his off-color sense of humor. He's basically your cool uncle who ignored your parents and talked to you like an adult.
And every family needs one of those.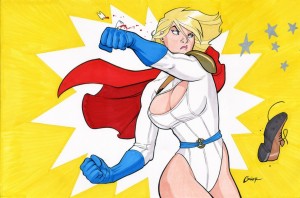 Source: nerdist.com
3. Power Girl
No, she isn't on this list for the reasons YOU'RE assuming she is. I'm not thirteen, thank you very much.
Power Girl's post-crisis, pre-other crisis backstory was remarkably confusing, so I'm not even gonna acknowledge it. Atlantians were involved. It's THAT kind of confusing. But her retconned/original origin was simple: she's earth-2's version of Supergirl. See? Simple.
She's older and much more brash and direct, but she is the dimensional counterpart to good old Kara Zor-El. And that brashness is why I love her as a character. She's unapologetically forthright, and never regrets speaking her mind, even if it turns off others.
There's a wonderful issue of Geoff Johns's initial JSA run in which Power Girl talks about her personal philosophy with Hawkgirl and Stargirl and confronts the fact that many of her male counterparts may find her very unpleasant because of her unwillingness to roll over and take a backseat just because of her gender. In response, she tells the girls that, no matter what, they should "always show them what you got."
Good advice for us all.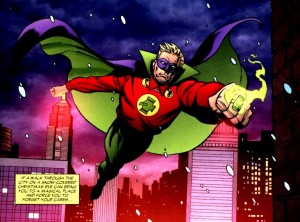 Source: dc.wikia.com
2. Green Lantern
The first and most underrated Green Lantern, Alan Scott is a weird character to talk about. Alan was originally a radio station manager who found a magic ring and lantern that allowed him to create giant green stuff projected from the ring, usually tinged with fire, so that the whole "lantern" thing actually makes some semblance of sense.
Post-crisis, DC tried to tie Alan's history into the Green Lanterns we actually know about in some really confusing and complex ways through the Starheart, or a rogue Green Lantern Corps member, or other things, but that's not important.
What's important is that Alan is more or less the father figure of the JSA, providing guidance or stern direction when needed. But he's also the absolute big gun of the team.
Although the JSA has always had a vast array of strong and invulnerable heroes, they're nothing compared to the burning might of the Green Lantern.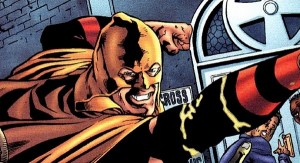 Source: cinemablend.com
1. Hourman
I decided to write this article after doing a full re-read of the Robinson/Goyer/Johns JSA run, and only once in that re-read did I tear up. That once was in relation to Rick and Rex Tyler. The Hourman featured most prominently in the series and its follow up, Rick Tyler is great, and I've always loved the android Hourman Tyler, but it's Rex who earns the spot here.
One of the golden age heroes, Rex invented a pill called Miraclo that gave him super strength and durability, but only for one hour per day. It's a cool idea, even if "Miraclo" sounds like the name of the generic version of Viagra.
But Rex is a great character because he ISN'T a great person.  Not only was he a canonical bad husband and worse father, he was also a major drug addict. Turns out that when you have a super power pill at your disposal, that's an easy thing to get addicted to.
But he was able to kick his addiction and eventually become the husband and father he always should have been. The hug shared between Rex and Rick in JSA made tears come to my eyes, and then flow out of my eyes, and then run down my face as I was totally crying.
And there we go! Later this week, I have another JSA article planned, so look out for that, if you enjoyed this one!