As I mentioned earlier this week, I just finished a complete re-read of Geoff Johns, David Goyer, and James Robinson's JSA run. It's one of the best comics DC's ever published, and you absolutely should go find it as soon as possible and read it! But I wanted to take another article this week to go over my favorite stories from the 80-plus issue run like I did after my Gotham Central re-read. And so, if you want the highlights of the series, read on.
WARNING: I won't spoil the stories IN THEIR ENTRIES, but explaining the basic setups for some of these will wind up spoiling earlier stories in the run. So if you want to go in fresh as a newborn baby, come back to this article after reading the comic books.
                                                Source: comicvine.gamespot.com
10. "Blinded" (JSA #53)
This is a one-off focusing on Wildcat and Power Girl and "Whatever happened to her after this" character The Crimson Avenger.
This Crimson Avenger, the second to take the name, carries cursed pistols that force her to re-live the death of someone killed before their time before dispatching her to take vengeance. She appears in JSA to take vengeance on Wildcat for supposedly framing a man who was later issued the death penalty.
We get some great Ted and Power Girl character beats, and the Avenger herself is an awesome character in her own right. It's her self-exploration that drives this issue, which plays out as a tense chase through the JSA brownstone, and a bloody one at that.
And the situation might not be what it seems, after all, not everything can be seen in black and white when it comes to human morality.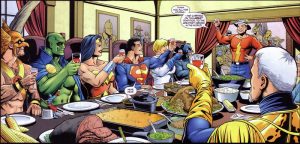 Source: tumblr.com
9. "Virtue, Vice, and Pumpkin Pie" (JSA #54)
Hey, look, it's the Justice League! Good, now I can justify putting them in the tags of this article.
No, but in all seriousness, this is one of the better JLA/JSA crossovers, specifically because it mostly avoids fight scenes throughout. It's just pure solid character interaction. And it's sublime.
It'd be worth it for Batman and Mr. Terrific picking up pizzas ON ITS OWN. The rest is just icing on the cake. Superman and Wildcat, Jakeem Thunder and Impulse, Hawkman, the Atom, and Green Arrow, every scene is gold. I could watch guys in capes and tights sit down to Thanksgiving dinner every month for the rest of my life. No part of that sentence is a joke.
The JLA/JSA crossovers of the past were always some of my favorite comics, so reading something like this brought me back to those great stories of the past. Plus, it's just really funny.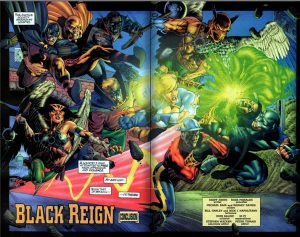 Source: comicvine.gamespot.com
8. "Black Reign" (JSA #56-58, and Hawkman #23-25)
I LIKE BLACK REIGN MORE THAN BLACK VENGEANCE, OK? I'm sorry, but it's just the truth! Because in this arc, a JSA/Hawkman crossover, the Justice Society goes to war.
Black Adam leaves the team with Atom Smasher to take back the nation of Kahndaq through exceedingly violent means. So when Hawkman leads the rest of the team into the country, things get bloody very quickly. Especially when the rest of Black Adam's team gets involved. Northwind is a fun visual design, Eclipso is the payoff to a long arc throughout the preceding series, and Brainwave Jr. rocks.
Oh, and this one has a classic DC Universe twist that made me yell something out loud that rhymes with "Oh, spit". It's a really good arc that splits the team in some painful ways and goes a long way towards completing Atom Smasher's long term character arc.
Plus Hawkman scares me and Nabu is frightening in general.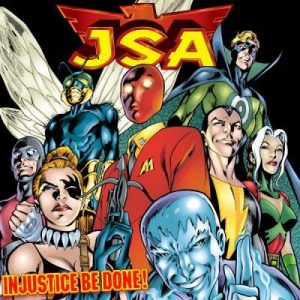 Source: comixology.com
7. Injustice Be Done (JSA #16-20)
So, this one's pretty intense. Like, "lovecraftian nether-god reigning horrors upon the world" intense.
So after his team got beaten down in a story we'll cover later, Johnny Sorrow returns with his pals in Injustice Unlimited to go to town on the JSA. But, unfortunately for them, the JSA stands ready to kick some butt.
This is, like I said, a sequel story to something I'll get to later, and it takes the concept in a completely different direction. The original was a man on the run story, where as this one is an all out siege. The members of Injustice Unlimited separate and eliminate the JSA in a coordinated attack designed to bring them to their knees. But they didn't count on the JSA's uncanny ability to rally and get back in the game. Plus a truly wonderful Doctor Mid-Nite moment.
Johnny Sorrow is a wonderfully terrifying villain who doesn't get nearly as much credit or celebration as he deserves, so its nice he gets a story like this to really shine. Just don't look to closely at that shining if you value your life.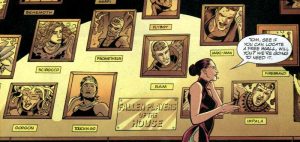 Source: dc.wikia.com
6. "Fair Play" (JSA #28, 30)
Game on. When the JSA are captured by a mysterious figure known as Roulette, they find themselves pitted against each other in a plethora of deathmatches, both intellectual and physical.
Black Adam and Atom Smasher stuck in single combat, Mr. Terrific and Doctor Mid-Nite competing in the ultimate high stakes chess game, Sand and Hawkman powering through a deadly obstacle course on their way to rescue Hawkgirl.
This is another one of those great stories that makes itself so good through commiting to character relationships. The Atom Smasher/Black Adam one will be majorly important for the rest of the series, the Mr. Terrific/Doctor Mid-Nite one is a nice character builder for them both, and the Sand/Hawkman one resolves a recent plot thread that really needed resolution.
The really big moments here come for Mr. Terrific, who truly gets to be seen as the hyper-intelligent person that he is. Although I do wish Roulette's story had gotten a better resolution in the book, though that's not this arc's fault.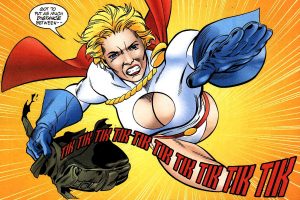 Source: dc.wikia.com
5. "Power Crush" (JSA #39)
God, I love Power Girl. I mean, she was my third favorite Justice Society member of all time, so like, you should have assumed that.
This issue focuses on Lucius Funk, aka Da' Bomb, an ultramasculine moron with a gross Power Girl obsession. He breaks out of prison, goes after her, gets the ever loving stuffing kicked out of him, and gets sent right back where he came from. It's a nice little issue that really works as the PG character piece the series needed. Her brash attitude really sells the tone of the issue, and makes her an immensely likable character.
And again, her advice at the end of the issue to "always show them what you got" really hit home with me.
Lucius is the perfect foil to Power Girl, as filled with testosterone as it gets, he is the ultimate overbearing egotistical dudebro that you can't help but hope for Power Girl to smack around a bunch. And when it finally happens, it's just as satisfying as you'd hope.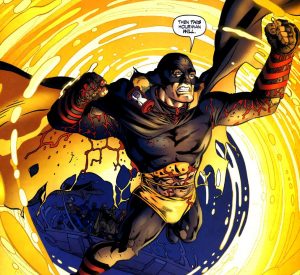 Source: scifinow.co.uk
4. "Out of Time" (JSA #65-66)
Man, is the Don Kramer art in this one gorgeous. Like, so so pretty.
Buuuut, we're here to talk about the story which totally DIDN'T make me cry. This is the big Hourman story the book spent some time building up to.
The first half focuses on Dr. Mid-Nite, Hourman III, and Hourman I (Rex Tyler) trying to save Hourman II from the injuries he sustained in Black Reign. Once that's done, it takes a turn for the sci-fi time travel-y fun stuff we all love.
Time, fatherhood, responsibility, and the character arcs of all three Hourmen all come to a head in one beautiful story. It ends perfectly and heartrendingly with a farewell to an underrated character. Plus it does a whole lot of redeeming of all that Zero Hour character death stuff. And this was a story that had to be dealt with ever since the Hourman switchout back in Black Reign, and this is the best possible version of that story. Ugh, so goshdarn good.
I'M NOT CRYING, YOU'RE CRYING, AND ALSO SHUT UP.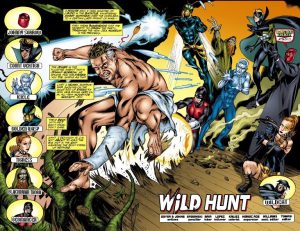 Source: markperigard.com
3. "Wild Hunt" (JSA #10)
"˜Member how I said that Injustice Be Done was the sequel to an even better story? Well here that one is! In all its rad glory.
So in this one-off, Injustice Unlimited storms the JSA Brownstone, and Wildcat takes them down SINGLE-FREAKING-HANDEDLY.
Not only is it a great character piece, it also really shows just how much of a serious badass Ted Grant is. This is a home invasion story along the lines of something like "You're Next", where it isn't so much a horror story as a "how is our hero gonna take these guys down" story. Grant is always one step ahead of his pursuers at every turn, which is something to say for an old timer like him.
It's the best single issue of the run, and with singles like "Fathers' Day", the final issue, and the previously discussed "Power Crush" and "Virtue, Vice, and Pumpkin Pie", that is really truly, saying a hell of a lot.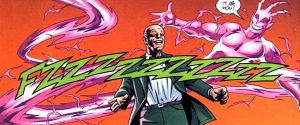 Source: dc.wikia.com
2. "Stealing Thunder" (JSA #32-37)
Ok, I'm spoiling this one. Sorry, but if I don't give away the twist at the end of Part 1, there's not much for me to talk about. Don't worry, I'll give you a nice warning before I blow the twist, ok?
So Stealing Thunder starts with the dementia plagued former hero Johnny Thunder returning to the JSA, seemingly fully healed. He finds his successor, Jakeem Thunder, and asks him for the magic genie known as the Thunderbolt back. Jakeem relents and Johnny takes back the Thunderbolt only to reveal that – SPOILER ALERT –  it's not Johnny, but instead serious supervillain the Ultra-Humanite mind controlling Johnny's body! And he's just been given a genie with almost unlimited power.
Oops.
The rest of the story features a ragtag squad of JSA-ers operating as an underground rebellion against the Ultra-Humanite and his band of mind-controlled superheroes. And if that doesn't sound like a good time to you then quite honestly what is your problem with fun?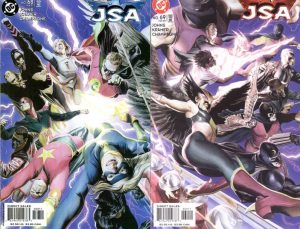 Source: Comicbookresources.com
1. JSA/JSA (JSA #68-69)
When I sat down to write this article, there was absolutely no question what the number one pick would be.
JSA/JSA is the perfect expression of the themes of legacy that power the entire run. In this story, the modern JSA has to go back to 1951 and convince the at-that-time disbanded JSA of the past to reunite in order to defeat Per Degaton. Each modern JSA-er hops back to convince his or her predecessor to throw on the cape and tights once more.
We get Stargirl helping Ted Knight out of his post-atomic bomb depression, Atom Smasher talking Al Pratt out of turning to crime, some more resolution to the Roulette storyline, and so much more. It's a staggeringly beautiful piece that really takes the core themes of the series and shoves them front and center. The Jakeem and Johnny Thunder stuff hits hard on an emotional level, and the Doctor Mid-Nite stuff is really, goofily fun.
Seriously, if there's one story that is at its heart a pure JSA tale, it's this one. There was no other answer for which one was the best.