America the beautiful, where the citizens of the nation vote on who they want to be their all powerful leader. And, since we have an election cycle coming up, it's time to talk about the men and women who've run for President in the wide, wide world of comic books. Some of them won, some of them lost, but all of them wanted to rule the free world. There's no easier way to get aggressive angry hate on the Internet than talking politics or talking comics, but I don't learn lessons, so let's do it anyway.
It'll be fun.
                 The Demon # 27 ( Source: Comicvine.com)
10. Etrigan The Demon
(The Demon, DC Comics)
Etrigan the Demon is one of my favorite underrated comics characters. He is a demon whose gimmick is speaking in rhyming verse. I don't care who you are, that's just fun. Etrigan tends to hop back and forth between hero, antihero, and legitimate villain, depending on the writer and story. But hey, being a flip-flopper doesn't exclude you from being President (even if bein' a demon probably means he isn't a United States citizen, but whatever).
When Etrigan is asked to run for President by the founder of the American Liberty Institute, all hell breaks loose (PUN!). Etrigan kicks his campaign into high gear, mastering spin and political maneuvering, and even surviving an assassination attempt. He eventually accepts a position as Vice President, intending to get rid of the President and take over as soon as possible, but his plans are discovered and shut down by his political assistant, defeating Etrigan, albeit temporarily.
The story, "Political Asylum", was written by the late, incredibly talented Dwayne McDuffie, and is fairly difficult to track down. But hey, who doesn't want to see a rhyming demon from hell take over the country?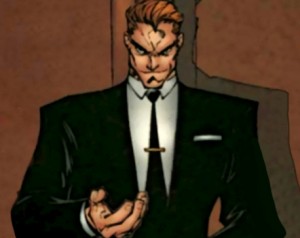 (Source: Marvel.com)
9. Graydon Creed
(X-Men, Marvel Comics)
Well, I had to have at least one X-Men villain on this list. X-Men villains love to take positions as high-ranking authority figures, from senators to reverends to presidential candidates. But let's talk more specifically abut our pal Graydon. Turns out that Graydon was the kid of German Espionage Agent Leni Zauber and mercenary assassin Victor Creed, aka Sabretooth. Oh, but it gets more complicated, because "Leni Zauber" was actually just Mystique in disguise. She got pregnant and gave the child (who turned out 100% human) up for adoption.
When Graydon learned he was abandoned by his mutant parents, he grew enraged and founded the domestic terrorist organization The Friends of Humanity, a group dedicated to suppressing mutant rights through acts of violence. Eventually, this led to a presidential campaign, fueled by hate and fear. At one of his presidential rallies, however, he was shot and killed by an unknown assassin. And that was the official story until it was later revealed that the assassin was actually a time-traveling Mystique (Graydon's mother), who killed Graydon in revenge for the Friends of Humanity's attack on Mystique's lover Destiny's grandson, Trevor.
Look, X-Men comics are convoluted, ok?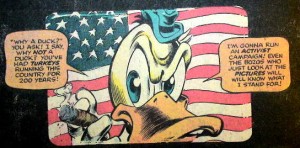 Source: (hoboes.com)
8. Howard The Duck
(Howard the Duck, Marvel Comics)
"What?!" I can hear you shouting, "Howard the Duck? That lame joke character whose only detail of note was his terrible George Lucas movie? THAT Howard The Duck?" Ok, now calm down and stop yelling. Partially because yelling at an article on the Internet makes you look crazy, and partially because you're wrong about Howard the Duck.
It's ok, most people are, it's just a case of being tragically misinformed. Howard's roots trace back to comics legend Steve Gerber, who created Howard as the ultimate counter-cultural character. Howard was edgy and cool and opinionated. He mouthed off about the "˜70s economy, about dangerous religious cults, about whatever was annoying Gerber that month. And because of that, it was a perfect choice to run him for President in the 1976 election.
Howard had a successful campaign, trying to force the American people to answer the questions they didn't want to about the world around them. But eventually, after a faked photograph of Howard acting illicitly was "leaked" to the press, controversy killed his campaign. To quote the slogan imprinted on his buttons "Get Down America" because it's time for President Howard to finally take center stage.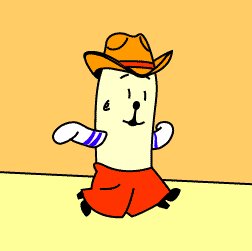 Achewood (Source: Swupper.wordpress.com)
7. Philippe
(Achewood)
Our next candidate hails from the world of webcomics. Chris Onsted's Achewood is one of those things that isn't for everyone. If you like it, you'll love it, and if you hate it, you will detest it. I love it with all my heart. And one of the reasons why is Philippe, the five-year-old otter whose innocence never gets old.
Philippe ran for President in the 2004 election with many campaign promises. Foremost of which was the promise to cure sadness by giving everyone a puppy named Mr. Poopytime. I fully support this plan. Also, his mascot was a gorilla Philippe named Homosexuals because he liked the way it sounded. This is also incredibly charming. To quote Philippe's campaign ads, "I think everyone agrees it's time this country was run by someone who is five." I sure do, Philippe, I sure do.

                   Squadron Supreme (Source: Marvel.com)
6. Nighthawk
(Squadron Supreme, Marvel Comics)
Kyle Richmond, aka Nighthawk, was a founding member of the Squadron Supreme, Marvel's analogues to the Justice League. Nighthawk served as the team's Batman, unpowered but highly trained and skilled. The Avengers traveled to the Squadron's dimension to help them overpower an evil cabal controlling the President. In the aftermath, Richmond decided to retire from his heroing to help the nation recover as a political official.
He eventually won the presidency and started making headway. Unfortunately, he was then mind controlled himself, by an evil alien intelligence, until the Defenders showed up and saved him. Lotta mind-controlling of Presidents in this universe. After the Defenders left, Hyperion and the Squadron Supreme decided to use their power to fix the world as they saw fit. President Nighthawk did not like this plan and quit the Squadron, vowing to do everything in his power to stop his former friends.
Nighthawk eventually won the battle based on ideology, but that's not the point. The point is that, as much as I like Nighthawk, spending half your presidency mind controlled and then doing battle with all your former friends as they try to bend the world to their will isn't the BESTEST track record.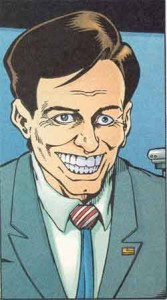 Transmetropolitan (Source: Comicvine.com)
5. Gary "The Smiler" Callahan
(Transmetropolitan, Vertigo/DC Comics)
Warren Ellis's Transmetropolitan is easily the best political satire in all of comics, if not most of fiction. And at the beginning of the series, it seems like the current President in the series, nicknamed The Beast by series protagonist Spider Jerusalem, was the worst the country could offer. And then, at the end of the first story arc, Gary Callahan is elected.
Callahan, nicknamed The Smiler due to his rictus grin, initially passes under Spider's radar, but turns out to be much more terrifying as the series progresses. He at one point makes it clear that he only wants to be President to oppress people, because he hates everyone. He hires literal assassins to go after Spider. EVERY TIME HIS APPROVAL RATINGS SLIP, HE HAS SOMEONE CLOSE TO HIM KILLED, SO HE CAN GET SYMPATHY!
The Smiler is terrifying at every level. He is the worst parts of all of the worst politicians ever created, rolled into something inhuman and scary as heck. And he does it all while hiding behind that smile. That sinister, calculated, smile.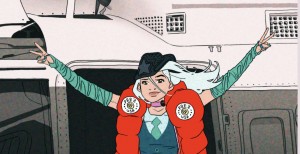 Prez #2 (Source: legionofleia.com)
4. Bethany Ross
(Prez, DC Comics)
Beth Ross, aka Corndog Girl, is one of the better characters to come out of the last year, and was part of one of the best things DC Comics has published in the last three years, combined. Prez, based on the "˜70s comic series about a teenage president, is a fantastic update of that core concept. After Beth Ross gets famous as an internet celebrity, and is written in as a joke presidential candidate, a series of events leads her to be mistakenly elected as the President of the United States overall. Driven by a desire to shape the world and eliminate the super villainous corporations in the political landscape, Beth decides to use her new powers for good. The most recent Prez series is political satire at its finest, each page and panel cutting and sharp and expertly crafted. I can only hope that DC brings Beth back for more adventures sometime in the near future. Fingers crossed.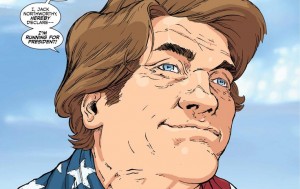 Citizen Jack #1 (Source: pintrest.com)
3. Jack Northworthy
(Citizen Jack, Image Comics)
What would you do to be President? Would you"¦sell your soul? Or, barring that, would you…make a deal with the devil to get to that place? Jack Northworthy did. To be fair, as of the time of this writing, the miniseries isn't done, but Citizen Jack is one of my favorite things coming out and its protagonist is simply a delight to read about. Jack had the distinction of being the first mayor in Minnesota history to be impeached. He's that bad at politics.
But when he makes a deal with the unholy demon known as Marlinspike, his shot at the presidency becomes a hell (PUN!) of a lot more likely. He slowly gains followers and supporters, despite his own idiocy and incompetence. Fighting for his version of "The Real America" and riding his demonic advantage, Northworthy is sure to shake up the political landscape. Also, Citizen Jack is a fantastic comic, and you should be reading it. There's only three issues out, you could catch up. Do it. Marlinspike will be pleased.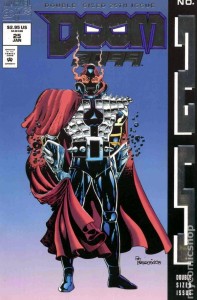 Doom 2099 #25 (Source: mycomicshop.com)
2. Doom 2099
(Doom 2099, Marvel Comics)
We've got a long way to go before he begins his campaign, but Doom 2099's presidential bid is one of the more interesting ones on the ticket. This version of Doctor Doom was just our regular Doom flung into the far future. Maybe. His backstory is VERY CONFUSING.
Either way, future Doom conquered the United States during the couse of his series and took over the world of 2099. Once in charge, he fought to take down evil multinational corporations. And rebuilt S.H.I.E.L.D. And gave the X-Men a safe haven. And fought against slave trading and human experimentation.
Guys, why is Dr. Doom among the best presidents on this list? That"¦shouldn't be. Eventually Doom moved away from his role as President and into a role as one of Kang the Conqueror's time and space traveling henchmen. Not a terrible post-presidential career, if I say so myself. Plus, President Doom is easily the best named on this list. Hands down.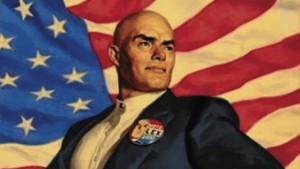 Superman: Lex 2000 #1 (Source: io9.gizmodo.com)
1. Lex Luthor
(Superman, DC Comics)
In real life, the 2000 election was a controversial one that led to much anger and infighting. In the DC universe, a literal supervillain took the presidency. To be fair though, its not like the people of the DCU knew Luthor was a supervillain, they just thought he was a businessman. Which I guess is the same thing to a lot of people, but whatever.
The cool part about Luthor being the president was that there honestly were a lot of good Superman stories that came out of it. It is a great story idea to give Luthor as much power as possible. People always complain that Superman is too powerful, and while I personally think that's a ridiculous complaint, one solution is to give Luthor a comparable amount of power in a different field.
Of course, Luthor was eventually impeached, mostly because he kinda sorta got hopped up on Venom (the thing that makes Bane all strong and stuff) and put on a green and purple armored battlesuit. That is not the kinda thing the American people easily forgive. Although it would be ENDLESSLY HILARIOUS if an actual US President got kicked out of the White House for putting on a battlesuit and trying to kill Superman.
No part of that isn't funny.