Hello folks, welcome back to this fun little segment about how things started. The premise is simple, I go through the first ten issues of a long or short running comic book series and talk about how it's finding its footing and changing throughout its early life span.
Up until now, I've only ever done Marvel or DC comics but today we will look at something new: the hit indie comic Scud: The Disposable Assassin. The series ran for 24 issues"¦ kinda. The original run began in February of 1994 and fell into a hiatus after issue 20, published in February of 1998, exactly four years after it began. Even before that, though, it never had a consistent monthly publishing schedule, achieving bi-monthly at its height. However, ten years to the date of its ending and fourteen after it began, Scud returned for issue 21 in February of 2008 for a four issue run that ended the entire series. Scud ended for good in May of 2008 and was collected into Scud The Disposable Assassin: The Whole Shebang, which includes the entire series from beginning to end.
The Series is the brainchild of writer/artist Rob Schrab, a comedy writer known for The Sarah Silverman Program, Parks and Rec, and Workaholics. The series was drawn by Schrab and written by him with occasional co-writer work from Mondy Carter and Dan Harmon. Does that last name sound familiar? It should if you like Community or Rick & Morty. But this book is Schrab's through and through. And it is glorious.
                                                                                Source: my.comicshop.com
1. "The Kid With the Broken Halo"
Writer/Artist: Rob Schrab
I feel like every time I do a series, it has an even more intense first issue. And oh my god this one is a doozy.
So the series takes place in a future where murder has become a commodity. On every corner is a vending machine. You pop in a couple quarters and out steps a Scud unit, a robotic assassin that will kill whoever you want and explode as soon as the job is complete. In our first issue, our Scud is "hired" to kill a weird mutant monster lady named Jeff.
He heads off to do this and gets into a huge fight with Jeff. But in the middle of this, he spots the warning on his back and realizes that if he kills Jeff, he will himself explode. And Scud does not want to explode. So he shoots Jeff, but drags her to a hospital where she's put on life support. The hospital, however, needs payment to keep the life support active. So it looks like Scud's going freelance.
This first issue is great. It builds a very weird world but throws enough at you fast enough that you don't really mind, you just accept it.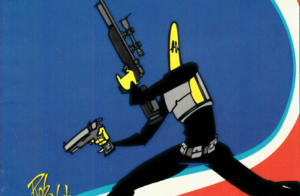 Source: my.comicshop.com
2. "On the Right Track"
Writers: Rob Schrab & Mondy Carter
Artist: Rob Schrab
For our next issue, we get more premise set up.
Scud needs work in order to pay Jeff's medical bills so he tries to hire himself out. Scud gets a job working for the mob, who want him to sneak into a prison and assassinate a terrorist who's stuck there for blowing up the Don's daughter. Scud nails the infiltration and guns the guy down, but he's shot through the hand and chest in his escape.
Which seems to cause something to"¦ snap within him. And that's where we check out of the issue. We get some more key info here: Scud is now working for the mob, he can take gunfire, but laser fire damages him, and he can feel pain and suffer psychological damage. As well, he can take a good amount of punishment and keep on ticking.
It's a solid second issue but we're still waiting for the book to really find its own voice.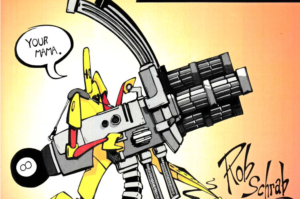 Source: my.comicshop.com
3. "On the Right Track, Pt 2"
Writers: Rob Schrab & Mondy Carter
Artist: Rob Schrab
And with this issue we are in high gear awesome mode.
Scud has lost his mind and he fully unleashes on the law enforcement troops chasing him. To quote our favorite murder robot: "I'm Jesus with a laser gun"¦ and you're all going to hell!" I clapped after reading that page. Scud guns his way out of there and finds a new home in a weird cult on the edge of a cliff.
Buuuuut as it turns out, Scud just finished murdering their leader so that doesn't work out too well. But Scud lives to fight another day. But he's made some mortal enemies. I find that Scud works best when it rides what I like to call The McNinja Line. Dr. McNinja is a comic that has such deep silliness that it embraces fully and as a result its wonderfully charming.
Scud making a crown of thorns out of barbed wire and yelling that he's Jesus Christ is exactly that kind of silly fun.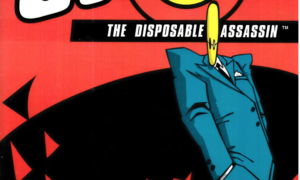 Source: comicvine.gamespot.com
4. "The Kid From Left Field"
Writers: Dan Harmon & Rob Schrab
Artist: Rob Schrab
Scud's workin' for the mob now, boys.
And the mob boss he's allied with really really hates another kingpin named Voodoo Ben. And Voodoo Ben is sending zombies to do his bidding. Scud's complete inability to give a s**t about anything other than his own income is hilarious and really character building. Oh also, remember Jeff?
Scud's target from the first issue who is on life support because if she dies, Scud will explode? Yeah, she's waking up. So Scud finally faces off with this Voodoo Ben"¦ aka Ben Franklin. I love this comic.
Franklin unleashes a zombie robot dinosaur at the mobsters and by the end, the don is dead and a giant robot samurai has been assembled. I think this is maybe the silliest issue of the first ten but it pulls it off. It borders on the axis of too silly but doesn't tip over, thankfully.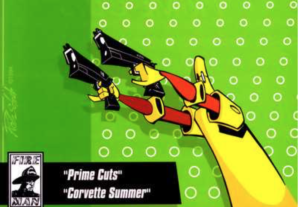 Source: my.comicshop.com
5. "Prime Cuts"
Writer: Dan Harmon
Artist: Rob Schrab
Scud's fighting Ben Franklin but at the same time, Jeff is flatlining.
It appears as if Jeff could be saved via surgery, but that's not what matters now. What matters is some backstory stuff. Ever since Scud started his rampage, he's been kickstarting a fearmongering campaign amongst the people of this world about the Scud robots.
ScudCo responds by discontinuing the Heartbreaker AKA Scud's model and introducing the new and improves Sol. And in order to save his own ass, Ben "Voodoo Ben" Franklin hires q Sol to take out our favorite Heartbreaker.
Turns out Sol is a lot more powerful and better equipped than Scud, with Scud just barely managing to scrape by. I mean, he also loses an arm and gains a big hole in his chest, but that's its own thing. Poor Scud. Oh also, Jeff is alive again but now she's free.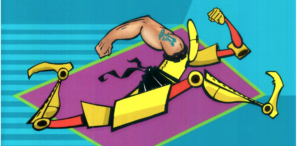 Source: my.comicshop.com
6. "The Big Red One"
Writer/Artist: Rob Schrab
Scud has a mission to get to but there's one thing wrong: he's missing an arm.
And since his arm won't be repaired for another week, he has to get a loner from the shop. And that loner is a very beefy human arm. He just needs to keep it fed and happy. So Scud rolls into a western town to take care of a gang of hideous mutant monsters. Scud's personality is really wonderful and is solidifying nicely.
Scud manages to murder one of the gang before getting pinned down in a warehouse. But it's night, and moreso it's a full moon. And that's when we learn an important fact about Scud's new arm. It came from a werewolf.
This is the McNinja line in earnest, folks. So let's sit back and enjoy the show.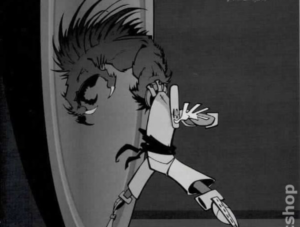 Source: my.comicshop.com
7. "Midnight Ride"
Writers: Mondy Carter & Rob Schrab
Artist: Rob Schrab
Scud's new arm and it's werewolf powers are pretty great.
Mostly because it takes over Scud's mind and makes him speak in Pseudo-Shakespearian monologues which are written pretty darn well. They're fun and silly but also solidly memorable. Also this issue introduces us to a character I like a whole ton: Drywall. Drywall is a little kid robot/ monster/ existential void or something.
He is covered in zippers, each of which are portals to some sort of infinite realm full of meticulously organized supplies. He speaks in Peanuts Woodstock dialogue and is really cute and I love him. In this issue we also meet the rest of the weird mutant gang, including the twin swordsmen with no facial expressions, who are truly fantastic.
The end of the issue, however, we get a bigger development. That being that Jeff has broken free and is ready to go on a rampage! Oh no!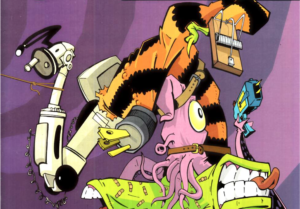 Source: my.comicshop.com
8. "Black Magic Woman"
Writers: Dan Harmon & Rob Schrab
Artist: Rob Schrab
As Drywall and Scud are about to face off with the final Mutant gang leader, Jeff appears and things touch off in the small town they've all wound up in.
Also, this town has cowboys with sword guns which is pretty friggin' solid. Scud and Jeff have a great fight and I think I need to take some time to talk about the art.
Schrab's drawing style has improved immensely from the first issue to the present and there's so much goodness hidden in its chaotic flow.
It's amazing just how easy it is to follow the rhythm of action given how insane everything is. There're wacky characters and props and insane sight gags everywhere but as a whole, it's very easy to grip the events once you let go and let the crazy plot wash over you.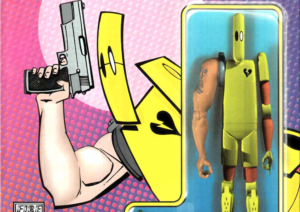 Source: my.comicshop.com
9. "Village of the Damned"
Writers: Dan Harmon & Rob Schrab
Artist: Rob Schrab
What a great cover.
I love that fake action figure variant cover gimmick. At the end of the previous issue, Sud dove into Drywall's never-ending chasm to escape Jeff and this issue opens by showing us this wasn't the best idea. Because Jeff follows right along.
Scud and Jeff face off hardcore in the middle of Drywall's never-ending categorized supplies. But Drywall might need them more, since the remaining residents of the town think all Jeff's destruction was his fault.
Scud tries to make peace with Jeff but it is not going great. Also, I have to take a beat here to say that Scud watching Drywall grab the Atomic Bomb is a great joke. Scud uses it to hitch a ride out and threatens the entire town with a nuking. That sure is a way to end an issue.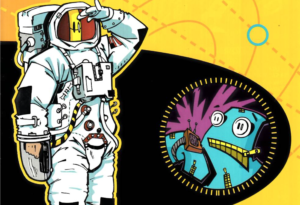 Source: my.comicshop.com
10. "Dimension of Blood"
Writer: Mondy Carter
Artist: Rob Schrab
This is a weird one to end on.
It's the first part of a multi part story and it's one of the few Scud issues to not pick up directly from the previous one. For you see, Scud wants his arm back. He is very done with the werewolf arm. His real arm is attached to an astronaut on the Bifrost Space Station. And Scud needs to get up there.
Slowly, as the series progresses, we get the full story of how Scud got from threatening a whole town with an atomic bomb to knocking on the window of a space station which is where this tale winds up, to be continued.
I have to say, this was really fun. Doing a First Ten for an Indie comic is different and a lot weirder, especially an indie comic from this time period. The next First ten I do won't be for a little while, but it'll be back to a Marvel comic.
Something, not with a MCU movie, but maybe with a Netflix series. And not necessarily a good Netflix series.