Hello folks, welcome back to this fun little segment about how things started. The premise is simple, I go through the first ten issues of a long or short running comic book series and talk about how it's finding its footing and changing throughout its early life span.
Up until now, I've only ever done Marvel or DC comics but today we will look at something new: the hit indie comic Scud: The Disposable Assassin. The series ran for 24 issues… kinda. The original run began in February of 1994 and fell into a hiatus after issue 20, published in February of 1998, exactly four years after it began. Even before that, though, it never had a consistent monthly publishing schedule, achieving bi-monthly at its height. However, ten years to the date of its ending and fourteen after it began, Scud returned for issue 21 in February of 2008 for a four issue run that ended the entire series. Scud ended for good in May of 2008 and was collected into Scud The Disposable Assassin: The Whole Shebang, which includes the entire series from beginning to end.
The Series is the brainchild of writer/artist Rob Schrab, a comedy writer known for The Sarah Silverman Program, Parks and Rec, and Workaholics. The series was drawn by Schrab and written by him with occasional co-writer work from Mondy Carter and Dan Harmon. Does that last name sound familiar? It should if you like Community or Rick & Morty. But this book is Schrab's through and through. And it is glorious.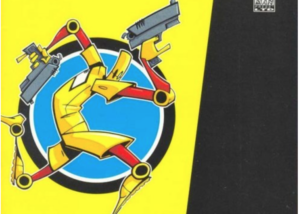 Source: my.comicshop.com
1. "The Kid With the Broken Halo"
Writer/Artist: Rob Schrab
I feel like every time I do a series, it has an even more intense first issue. And oh my god this one is a doozy.
So the series takes place in a future where murder has become a commodity. On every corner is a vending machine. You pop in a couple quarters and out steps a Scud unit, a robotic assassin that will kill whoever you want and explode as soon as the job is complete. In our first issue, our Scud is "hired" to kill a weird mutant monster lady named Jeff.
He heads off to do this and gets into a huge fight with Jeff. But in the middle of this, he spots the warning on his back and realizes that if he kills Jeff, he will himself explode. And Scud does not want to explode. So he shoots Jeff, but drags her to a hospital where she's put on life support. The hospital, however, needs payment to keep the life support active. So it looks like Scud's going freelance.
This first issue is great. It builds a very weird world but throws enough at you fast enough that you don't really mind, you just accept it.