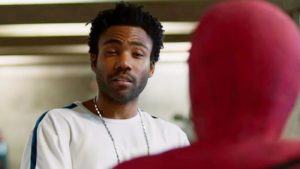 Source: latimes.com
The Prowler
Man, Spider-Man: Homecoming is just chock-full of villains who don't live up to their full potential, isn't it?
At one point in the film, Spider-Man disrupts an arms deal between the Vulture's crew and burglar Aaron Davis. He traces Davis, interrogates him a bit, and then leaves him be.
In the Ultimate Universe (and ours, too – I guess maybe Secret Wars did weird things to the timeline), Davis is better known as The Prowler, uncle of Miles Morales, aka the Spider-Man. Miles even gets a mention in the movie. But Davis is still out there, ready to get his hands on some tech and Prowler up. They could even take cues from the Hobie Brown Prowler, and let him redeem himself as a hero if they wanted.
Look, all I'm saying is that with a rising star like Donald Glover playing him, Marvel might wanna give The Prowler a bigger role in the future of the franchise.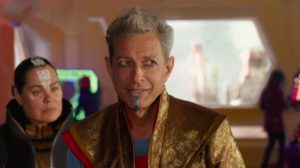 Source: heroichollywood.com
The Grandmaster
More Jeff Goldblum, please. I would like much more of that, if at all possible.
The Grandmaster is an incredibly weird character, and Taika Watiti leaned into that hard in Thor: Ragnarok. An Elder of the Universe who enjoys contests and competitions more than anything else, he's peak idle rich.
I'm a little disappointed that we didn't get to see him hanging out with his bro the Collector. Del Toro and Goldblum together is just too much weird to fit on one screen. True, the Grandmaster is in a pretty bad spot at the end of Ragnarok, but he's not dead. He's almost definitely in prison on Sakaar, but that just gives him time to plan his revenge on Hulk and Thor.
And maybe he'll draw even more heroes into his game next time.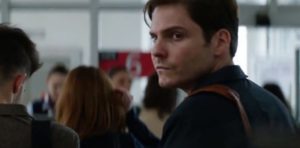 Source: reelworldtheology.com
Baron Zemo
Baron Zemo is a phenomenal villain. Thankfully, they left him alive at the end of Captain America: Civil War.
Although he's locked up under heavy lock and key, the Sokovian baddie still has the ability to do some damage. I'm hoping that if that happens, he'll put on that sweet purple mask.
Or maybe a different costume? Maybe he can come back as Citizen V. Maybe we can get some Justice Like Lightning. MCU Thunderbolts would make up for every flaw in the film series. Plus, it might mean that we'd see a good Thunderbolts comic again, something that hasn't happened since, like, 2014. Charles Soule's run, I think? Yeah, that sounds about right. Anyway, Zemo and Thunderbolts would be a match made in heaven.
So there you have it: ten villains who could return if Marvel wanted to do that sorta thing. Hopefully, some of them will pop up sooner rather than later.
Click for more installments:
MCU Villains Who Could Make a Comeback in Phase 4, Part One
MCU Villains Who Could Make a Comeback in Phase 4, Part Two