Mutant Town could now have a new face, thanks to the Teenage Mutant Ninja Turtles who are now going to team up with their oldest enemies. Ninja Turtles' greatest enemies have joined forces and this is going to bring a gloomy day for them. So it's best for Ninja turtles to accumulate any allies who come their way. They have decided to bury the hatchet with their oldest nemesis by setting aside their grudges. Turtles are already working alongside the likes of the former Shredder to make this happen. But Raphael has called it amends with Old Hob, making this the most shocking turn of events in the entire Armageddon Game.
Teenage Mutant Ninja Turtles: The Armageddon Game #3 by Tom Waltz, Vincenzo Federici, Alex Sanchez, Matt Herms, and Jake M. Wood has the Rat King already plotted against Armageddon Game. But the Old Hob is also set to face everything that comes their way. Raphael and Old Hob have come together to prepare for anything that comes after them one way or another. Hob is making preparations to turn the long-deserted North Brother Island into a haven for mutants like them.
Raphael and Old Hob Have Become the Most Unlikely Allies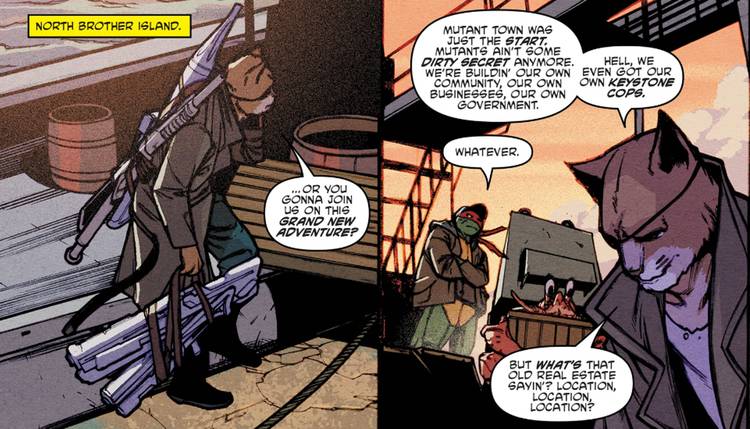 Old Hob made his first appearance on screen in 2011's Teenage Mutant Ninja Turtles #1 and has been a part of the community ever since. When he first came to Ninja Town, he was nothing but a miserable stray without a home. Hob was exposed to the same mutagen ooze which created the Turtles when he came across them by chance. He wanted to be a part of the Heroes in a half shell by attempting initiative with Raphael but an encounter left him to cost his eye, thus making him an ally.
Later, Hob found a kindred spirit in Baxter Stockman but turns out, he got shot and left dead by his supposed ally. Just as with Splinter before him, this put Stockman square in Hob's sights. This led to Hob being extremely impatient, full of anger and desperation. He went on to push his limits and become what was not expected of him. From leading the Mighty Mountains in street-level scuffles, he went on to carry out a bombing that created a mutant town. Thus, leading Raphael and Old hob to become the most unlikely enemies. But now that they are working together, this is shocking yet overwhelming.