Recently, Patty Jenkins gave her testament regarding Wonder Woman 3's cancellation news, totally dropping the rumor that she was the one who quit and walked away from the DC Universe sequel.
When The Hollywood Reporter reported that Wonder Woman 3 was dead, it came as a surprise last week. This meant Patty Jenkins won't be playing the role anymore and has made an exit from the DC project. Refuting all rumors in the air, she stated that she wasn't the one to walk away. But she has recently submitted her treatment for the superhero threequel that she co-wrote with Geoff Johns.
Wonder Woman 3's Cancellation: The Reported Story So Far
According to THR, however, new DC Studios bosses James Gunn and Peter Safran, as well as Warner Bros. Pictures bosses Michael De Luca and Pamela Abdy, informed Jenkins that her pitch "did not fit in with the new (but still unfolding) plans" for the DCU.
But there is another side to this. TheWrap and Deadline apparently claimed that Jenkins is the one to part ways from the DC project. According to them, Warner Bros. Pictures bosses Michael De Luca and Pamela Abdy did have some concerns about her treatment but this had nothing to do with her not continuing with the role. Gunn and Safran also shook heads at this statement.
Another insider story states that Jenkins was given an opportunity to come back with a new Wonder Woman 3 pitch, but the director refused. This was on the grounds of her original pitch being better and opting to walk away instead. This anonymous report is totally opposite to what Jenkins stated.
According to an anonymous insider, Jenkins also "doesn't want to allow Gunn and Safran to have a seat at the table to have an opinion on something new that she might come up with." Gunn wrote a reply to Jenkins original post stating, "I can attest that all of Peter and my interactions with you were only pleasant and professional."
Jenkin's Statement On The Story Reported
"Sigh… I'm not one to talk about private career matters, but I will not allow inaccuracies to continue," Jenkins wrote in a statement posted to Twitter. "When there started being backlash about WW3 not happening, the attractive clickbait false story that it was me that killed it or walked away started to spread. This is simply not true. I never walked away. I was open to considering anything asked of me. It was my understanding there was nothing I could do to move anything forward at this time. DC is obviously buried in changes they are having to make, so I understand these decisions are difficult right now."
Jenkins continued, "I do not want what has been a beautiful journey with WW to land on a negative note. I have loved and been so honored to be the person who got to make these last two Wonder Woman films. She is an incredible character. Living in and around her values makes one a better person every day. I wish her and her legacy an amazing future, with or without me. Walking side by side with Lynda Carter, an absolute legend and beacon of goodness and light have been a thrill. I have learned so much from her and will always cherish her as a friend and mentor. My crew has been like family and fought every day to give the world the best films they could."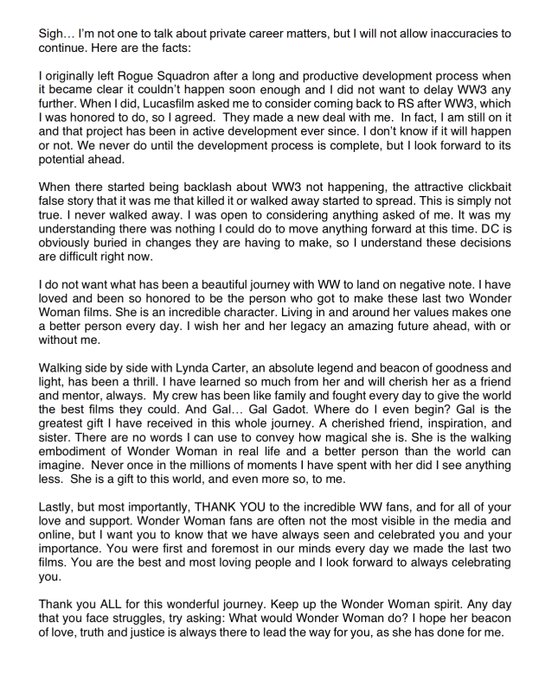 The director also praised the Wonder Woman star Gal Gadot. "And Gal… Gal Gadot. Where do I even begin? Gal is the greatest gift I have received in this whole journey," she wrote. "A cherished friend, inspiration, and sister. There are no words I can use to convey how magical she is. She is the walking embodiment of Wonder Woman in real life and a better person than the world can imagine. Never once in the millions of moments I have spent with her did I see anything less. She is a gift to this world, and even more so, to me."
Jenkins thanked her fans in conclusion saying, "Wonder Woman fans are often not the most visible in the media and online, but I want you to know that we have always seen and celebrated you and your importance. You were first and foremost in our minds every day we made the last two films… Keep up the Wonder Woman spirit. Any day that you face struggles, try asking: What would Wonder Woman do? I hope her beacon of love, truth, and justice is always there to lead the way for you, as she has done for me."
Could Wonder Woman 3 Still Happen?
As far as Jenkins' testament is concerned, she stated, "A few years ago it was announced that I was going to play Wonder Woman. I've been so grateful for the opportunity to play such an incredible, iconic character… Can't wait to share her next chapter with you." This definitely means that her exit is a possibility and now her fans will witness another new story of hers.
The first Gadot-led Wonder Woman solo film was first released in 2017 and was critically acclaimed by her fans, gaining financial success to another level. Further, she continued her role as the Princess of Themyscira in Wonder Woman 1984. Then Jenkins directed a role she wrote with Johns and Dave Callaham.