Marvel has released a new preview of Falcon & Winter Soldier. Not to be confused with the upcoming Disney+ show, The Falcon and the Winter Soldier, this is a new comic book miniseries that will see Sam Wilson and Bucky Barnes teaming up once again. But this could help give fans a taste of what's to come in live-action later this year.

The publisher has revealed several preview pages that showcase some of what to expect from the upcoming comic, which is written by Derek Landy with art by Federico Vicentini. Have a look.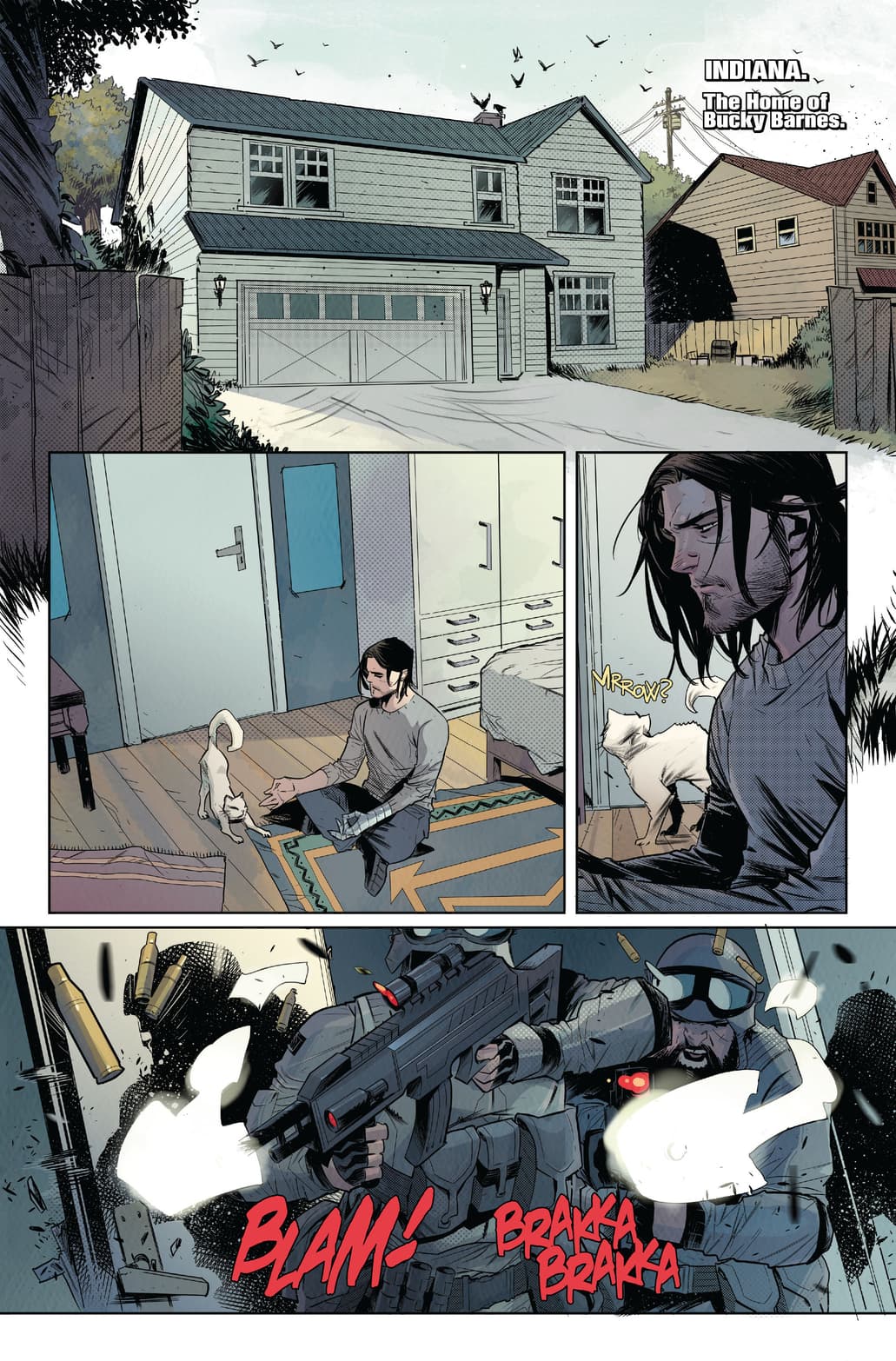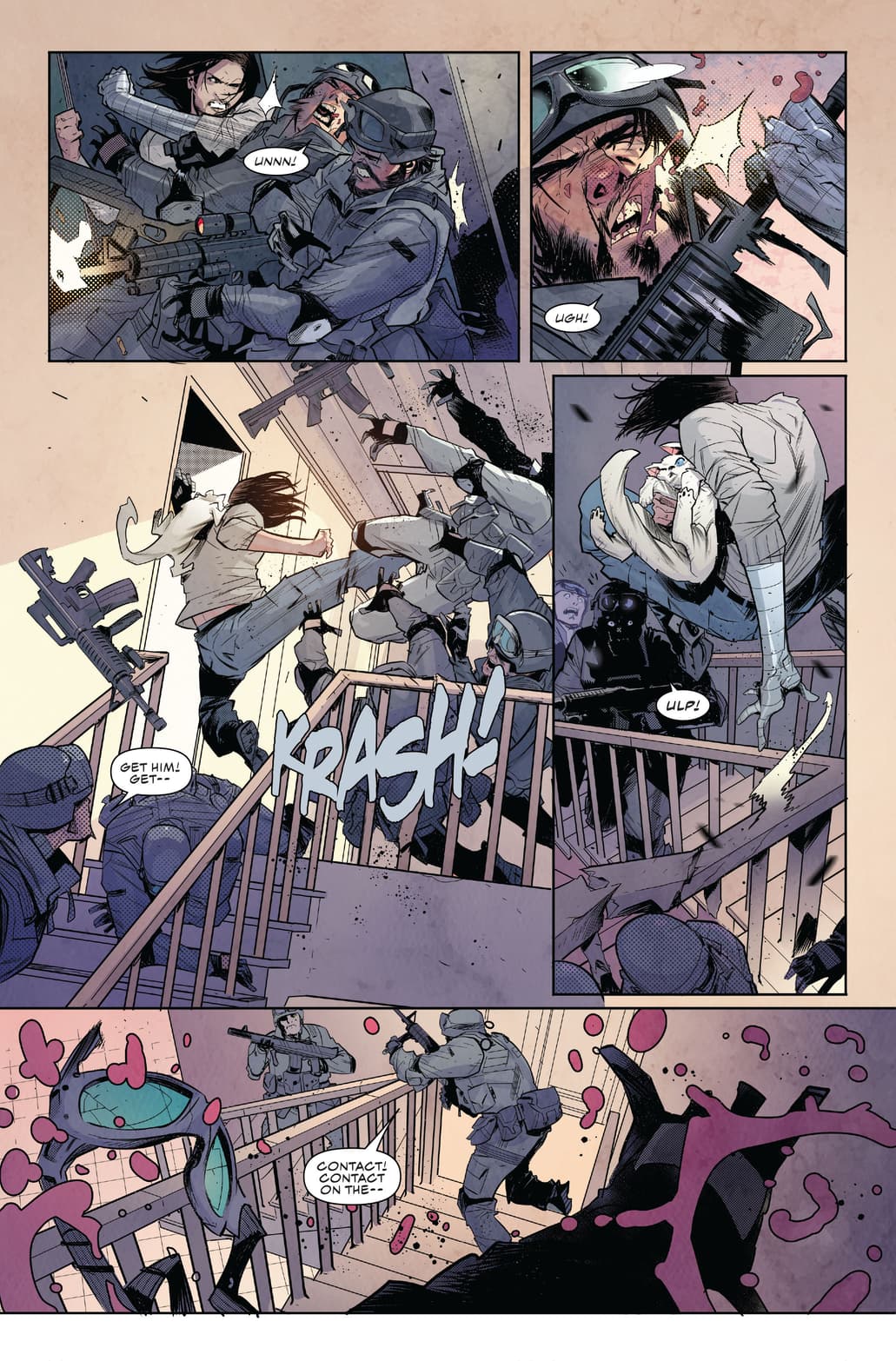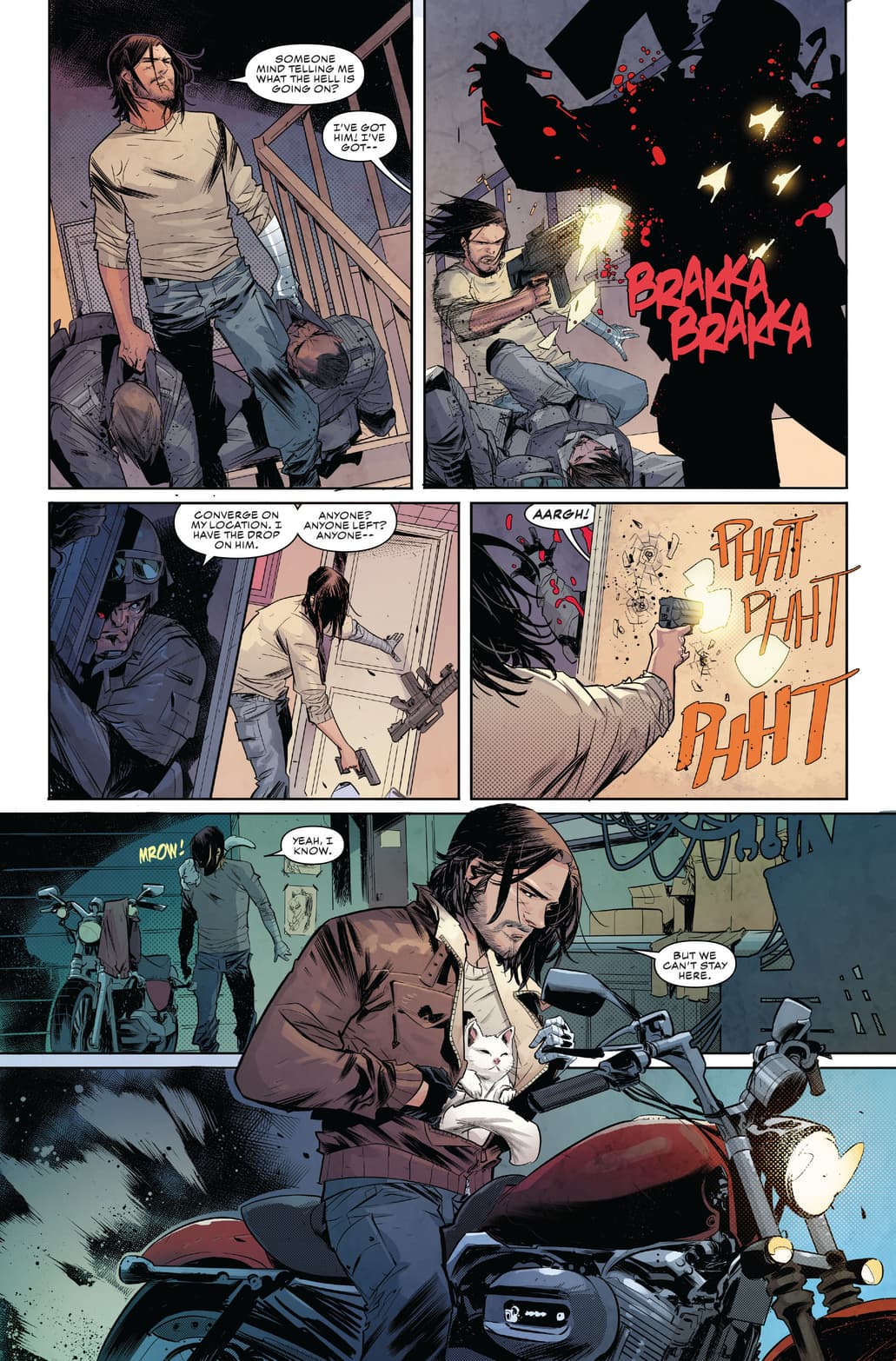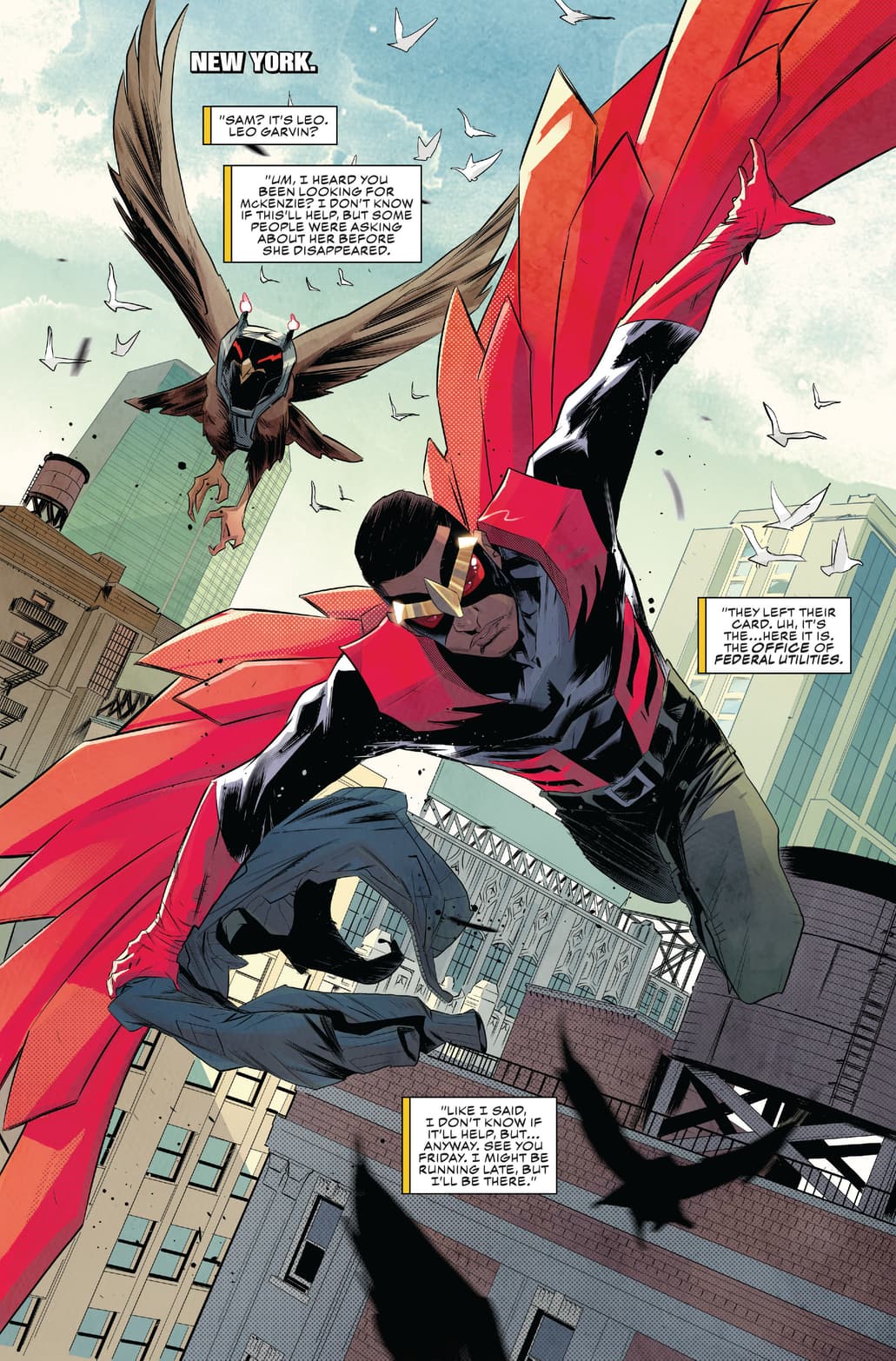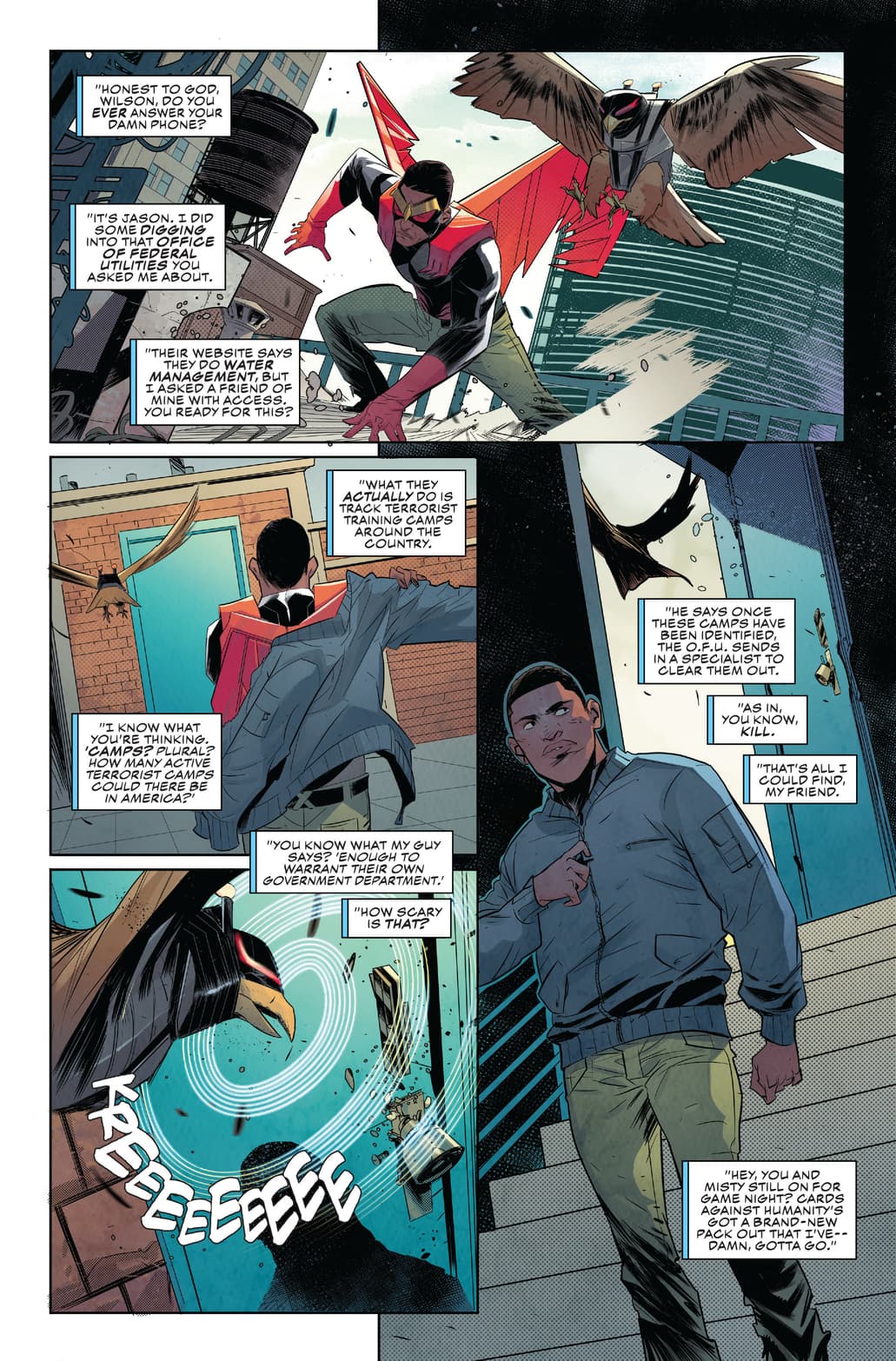 As we can see, there are some strong Captain America: Civil War vibes going on here. The two old friends are reunited after someone makes an attempt on the Winter Soldier's life. It's violent and aggressive. Marvel isn't being overly shy about the bloodshed. The preview ends as the two come back together under less-than-ideal circumstances.

Here's the synopsis for Falcon & Winter Soldier #1

"An office of dead government agents. A gifted new killer. Two ex-Captain Americas…
When a dramatic attempt on the life of Bucky Barnes reunites him with Sam Wilson, the two old friends are plunged headlong into a race to uncover the new leader of Hydra before a mass casualty event announces the terror group's resurgence to the world. The clock is ticking… Derek Landy (BLACK ORDER, SECRET EMPIRE: UPRISING) and Federico Vicentini (ABSOLUTE CARNAGE: MILES MORALES) team up for a pulse-pounding action spectacular!"

The book is set to run for five issues, which should take us through July. Marvel Studios hasn't yet revealed a release date for The Falcon and the Winter Soldier on Disneyy+, but it's quite possible the comic could line up nicely with the show's premiere.

"We saw Old Man Cap hand that shield to Sam Wilson at the end of [Endgame], and the question is, what did he do with it next? What does it mean for Sam Wilson and that shield?" Marvel Chief Creative Office Kevin Feige said at Brazil's CCXP19 last year. "That's a big responsibility, and that's very much what the show focuses on and is about."

Anthony Mackie and Sebastian Stan are both set to return for the show, which is just one of several live-action Marvel series being produced for the Disney+ streaming service. Unlike previous Marvel shows, these will be more firmly rooted in the MCU. Some other upcoming projects include WandaVision, Loki, Hawkeye, She-Hulk, Moon Knight, Ms. Marvel and the animated What If?

Falcon & Winter Soldier #1 hits shelves on February 26.

So what do you think? Are you excited about this new team up between Sam and Bucky? Will you be picking this book up next month? Join in on the conversation over on Facebook or Twitter!