With less than 48 hours remaining before Dark Phoenix rolls into theaters, the first reviews for the movie have surfaced on web. Sadly, those are overwhelmingly negative.
Not too long ago, 20th Century Fox executive Emma Watts described Simon Kinberg's directorial debut as a perfect sendoff for the X-Men team. However, hardly any critic seems to be of the same mind. As of writing, the movie has a mere approval rating of 18 percent at Rotten Tomatoes, with 49 reviews counted.
Even the most positive reviews don't suggest that Dark Phoenix is on a par with X-2, X-Men: First Class or X-Men: Days of Future Past. They would only point toward the movie being superior to X-Men: The Last Stand and X-Men: Apocalypse.
Some of the critics believe that Sophie Turner's titular superhero is a standout. But there are many others who haven't found anything special about her performance. The other mutants or Jessica Chastain's mysterious new character are unimpressive, according to most.
A few critics are showing some love for Kinberg's story and direction, but most seem to agree that they are quite mediocre. Check out excerpts from as many as 15 different reviews below!
Associated Press' Lindsey Bahr: The good news is "Dark Phoenix" is neither an apocalypse nor is it "X-Men: Apocalypse," but this latest installment is not exactly a solid step forward or a satisfying ending for anyone.
Empire's Ian Freer: Better than Last Stand or Apocalypse but never hitting the heights of X2, Dark Phoenix thrives when its heroes are front and centre. If this is the end, it's a solid rather than spectacular goodbye.
The Wrap's William Bibbiani: For a story as big as the one "Dark Phoenix" wants to tell, it's a very tiny motion picture, full of events that could have transpired (and many of them did) in just about any other X-Men movie. Turner makes the most of her increased screen time, trying with some success to infuse the simplistic and irrational storyline with some humanity, but everyone else looks like they're more interested in what craft service made for lunch that day.
Collider's Matt Goldberg: In the comics, having Jean go dark meant something because she had been around since the beginning of the X-Men and that turn had a serious effect on her fellow mutants. Here, that connection doesn't really exist and the result is a horrendously muddled picture that doesn't know what it wants to be about as it clumsily tries to weave in set pieces and a battle among X-Men.
The Playlist's Rodrigo Perez: "Dark Phoenix" has good intentions about wanting to tell an adult, character-driven story with emotional texture and it certainly views "Logan"""the last Wolverine/X-Men movie""as its exemplary beacon of inspiration. Unfortunately, Kinberg, thought-provoking story concepts notwithstanding, is out of his depth, and his map to that north star is a fundamentally flawed and patchy mess, wrapped in superficial layers of dark grittiness.
The Hollywood Reporter's Todd McCarthy: The men who have anchored most of the X-Men outings are just spinning their wheels here, and while Jean's central dilemma is certainly dramatic enough, and is most closely entwined with the actions of two other women, what should have registered as genuinely powerful instead plays out in a pretty low-key way. In no way does this feel like a fulsome, satisfying destination to a journey that started two decades ago and logged about 30 hours in the telling.
LA Times' Justin Chang: But not even Turner, with her radiant screen presence and her ability to make strength and vulnerability seem indistinguishable, can ultimately save "Dark Phoenix" from its own failures of imagination.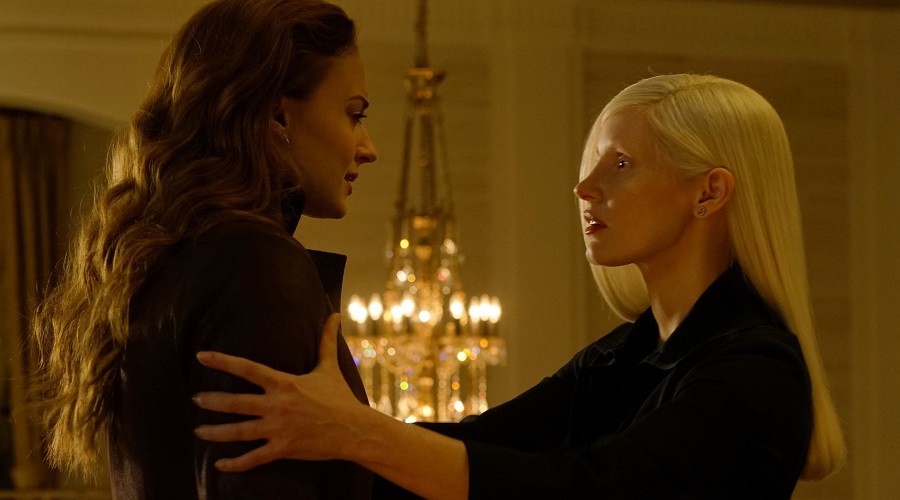 Tribune News Service's Katie Walsh: While the long-running, time-scrambling Fox "X-Men" franchise has been showing diminishing returns since "X-Men: Apocalypse," "Dark Phoenix," the directorial debut of writer Simon Kinberg, is the dud of all duds, a boring, flat film that doesn't seem to even start before it's over. With this final installment, the franchise goes out with a resounding thud.
Variety's Owen Gleiberman: Yet "Dark Phoenix" took me by surprise. Simon Kinberg, who wrote and directed it (he was the co-screenwriter of "The Last Stand" "" this is his first time helming a feature), is a more sensual and intuitive filmmaker than Brett Ratner. He doesn't pad out a generic story with the rollicking eye candy of mutant effects. He uses effects to tell the story.
Uproxx's Mike Ryan: Sadly, everything about Dark Phoenix just feels unnecessary - and it shows in the performances, as everyone just seems to be going through the motions, wondering how on Earth their contracts aren't up yet. It's a stark contrast to Matthew Vaughn's rip-roaring, excitingly cool X-Men: First Class that kick-started this new cast. Now everyone looks bored.
Mashable's Angie Han: Turner puts a mighty effort into her performance as Jean, but can only do so much to elevate the stilted dialogue and muddled character motivations she's given. McAvoy does a capable job of delivering slightly better material, but is shortchanged by the film's divided attention. The other characters, including Beast (Nicholas Hoult), Mystique (Jennifer Lawrence), Cyclops (Tye Sheridan), and Magneto (Michael Fassbender), are just there to serve as set dressing, and accordingly, most of them give performances as wooden as the mahogany furniture lining Xavier's mansion.
USA Today's Brian Truitt: "Dark Phoenix" is one of the more emotionally intense of the X-Men flicks, thanks to Turner running the gamut from fear to self-loathing to rage. Even if the film on the whole is lackluster, she delivers as a young woman whose feelings and life barrel out of control, as well as a superhero (or supervillain?) you believe holds the world's fate at her whims.
The Washington Post's Michael O'Sullivan: There are some kicks, here and there. The character of Peter Maximoff "" a super-fast mutant known as Quicksilver (Evan Peters), who stole the show in "Days of Future Past" "" is mostly sidelined here, despite getting in a couple of mildly funny lines. That, in a nutshell, is the problem with "Dark Phoenix." There's way too much darkness, and not enough quicksilver wit.
Den of Geek's Don Kaye: Some of the fight scenes, as well as the early space shuttle rescue mission on which Jean encounters the Phoenix, are energizing because we at least get to see the X-Men work as a team in the latter and utilize their powers faithfully in the former. The perpetually underused Storm (Alexandra Shipp) does get to whip up some lightning and wind, and it's kind of cool to see Beast and Nightcrawler (Kodi Smit-McPhee) leap and "bamf" around in a more comics-friendly fashion. Kinberg does bring some flair to those sequences, but his attempt to elevate things to the scale of a Civil War or Infinity War are held back by the relatively small setting (outside a Central Park apartment building in Manhattan) and, again, the lack of weight in what we're watching.
Vanity Fair's Richard Lawson: Maybe a fuller, longer cut of this movie is extant somewhere, in which Chastain's character is satisfyingly explained. But in the version being released in theaters, she barely registers. Here we have a powerful female-presenting being entering a sort of mentorship with a really powerful younger woman as she leaves the aegis of men to grapple with her new sense of wild individuality. That's a lot to mine!
Last we heard, Dark Phoenix was eyeing a franchise-low $50 million North American debut. With the critics not being kind at all to the movie, it might even fail to earn that much in its opening weekend. But of course, we have seen movies like Suicide Squad and Venom thrive at the box office, despite being brutally slammed by the critics. The same could be the case for the final Fox-produced X-Men installment.
Are you willing to give Dark Phoenix a shot despite its unfavorable reviews? Share via comments and stay tuned for the latest updates!