The Marvel Cinematic Universe (MCU) has come a long way from its relatively humble origins. What started with ordinary men doing ordinary stuff like getting a grip on anger issues and escaping from terrorists by building suits of armor has evolved into a multiversal spectacle filled with god-like entities and cosmic stakes.
Perhaps no other character in the MCU better represents its ever-expanding scope than Thanos, played by Josh Brolin. A galactic conqueror belonging to an advanced race, Thanos is obsessed with his plan to rid the universe of half of its population for the ostensible purposes of resource preservation. This quest becomes the reason for Thanos and his army coming into direct conflict with Earth's Avengers.
What makes Thanos such a compelling villain is that his actions are never random. The Mad Titan wholeheartedly believes in his twisted logic and sees himself as a savior rather than a destroyer. However, the Thanos that audiences saw on the big screen is a very different version of the character that appears in Marvel Comics. Here are some major ways the MCU's Thanos differs from his comics counterpart.
Thanos was not always called Thanos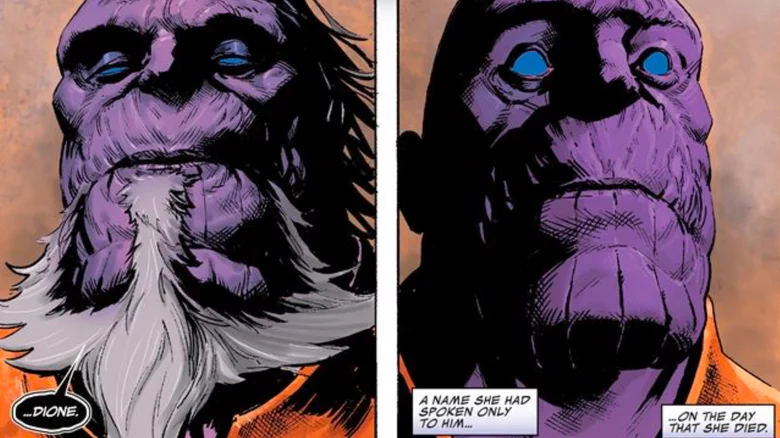 A great villain must start with a great name on a superficial but essential level. Darth Vader would not be nearly as scary if his name had been "Doug" instead. On that front, Thanos establishes himself quite well with a name that sounds alien and fearsome when you hear it for the first time.
But just like Darth Vader used to be called "Anakin" and even "Ani" at one point in his life, Thanos did not start with an awesome and terrifying name. In the comics, the creature the universe would one day come to know as the Mad Titan was born with the name "Dione," given to him by his mother.
That's right. The guy who would someday make the Avengers quake in their boots was born with a name that sounds like it belongs to a barista at a slightly pretentious coffee shop. Fortunately, the mother of "Dione" took one look at his ugly little mug after he was born and realized he looked like a monster and needed an appropriately fearsome name. And so, Dione's mom quickly changed his name to "Thanos," kickstarting his journey towards becoming the supervillain audiences know and love-slash-hate.
He was not always a badass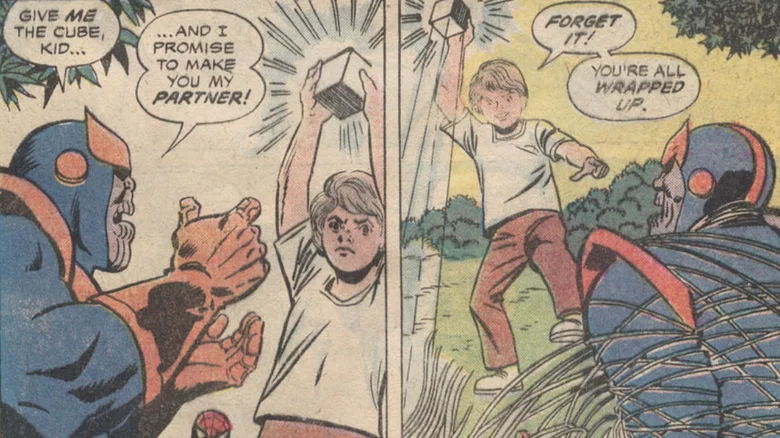 The MCU has given us some pretty badass entrances, from Iron Man blasting out of the cave in 2008's "Iron Man" to Thor blasting into Wakanda with his new weapon Stormbreaker in 2018's "Avengers: Infinity War." But no entry scene is more badass than Thanos' arrival in 2018's "Avengers: Infinity War," in which he effortlessly subdues Loki, makes Thor his captive, and manhandles the Hulk.
That single scene makes it utterly clear that this is one guy who is not only equal to the Avengers but far above them in terms of strength, intelligence, and resources. And yet, this cool and collected specimen of badassery is not how Thanos has always been depicted in the comics. He starts in a much sillier state that can be best summed up with the phrase "Thanos-Copter."
The Mad Titan was created for Marvel Comics in the '70s. When he shows up in 1978's "Spidey Super Stories" #39, due to the importance of branding, he uses a regular-looking helicopter with his name written across it to search for the Cosmic Cube. In the story, Thanos is defeated by a tween skateboarder who attacks him with grass. After this humiliation, Thanos attempts to recruit the tween and is rejected. After that, Thanos is hauled off to jail in handcuffs by the police. Thanos doesn't seem so inevitable now, does he?
He does not want to help the world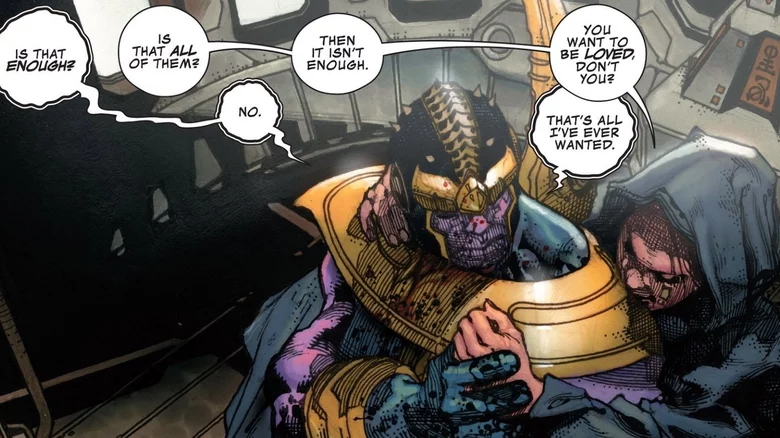 The biggest trick that the MCU played on fans of Marvel Comics was completely changing the motivation that drives Thanos the Mad Titan. In the movies, Thanos is a type of eco-terrorist who thinks killing off half of all life is the only way to save the rest of civilization from collapsing due to depleted resources.
The plan has a deeply twisted, but theoretically magnanimous logic. Thanos comes across as someone who thinks of himself as saving the universe, even if he wants to do so through horrific means. But the Thanos from the comics has a far more selfish and bizarre motivation. He wants to impress the physical embodiment of Death, with whom he is loved, by destroying life on a cosmic scale.
This motivation was referenced in the mid-credits scene of 2012's "The Avengers." When Thanos' servant tells him that "to challenge [humans] is to court death," Thanos turns and smiles, indicating that he likes the idea of courting Death. This motivation was changed by the time "Avengers: Infinity War" came around because the writers felt Thanos' relationship with Death in the comics would prove too complex for general audiences to wrap their heads around.
Thanos had way more children than two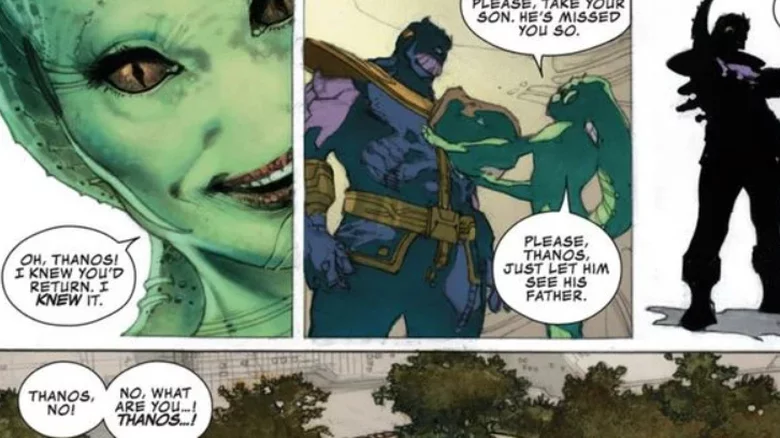 One of the biggest factors that make Thanos in the MCU a debatably sympathetic figure is his apparent love for his daughter Gamora. Even though he ends up killing her to obtain the Soul Stone, it's later made entirely clear that she is the most important thing in the world to him, and killing her tears him up internally.
In the comics, Thanos has many more children than Nebula and Gamora, and unlike his adopted assassin daughters from the MCU, he sires a lot of them personally. Thane, the secret son of the Mad Titan and an Inhuman, is probably the most well-known of Thanos' numerous offspring. But Thane's secret history pales in comparison to the sordid story of Thanos with the rest of his children, as detailed in the 2013 miniseries "Thanos Rising" by Jason Aaron and artist Simone Bianchi.
The series shows Thanos attempting to turn away from his violent path by becoming a navigator on a pirate ship. In that capacity, Thanos meets and beds women from several planets. Many of these women have children. At first, Thanos does not harm any of his intergalactic descendants. But after becoming besotted with Death yet again, Thanos vows to prove his single-minded devotion to her by tracking down every one of his children and their mothers and slaughtering them all.
The Black Order is not his actual children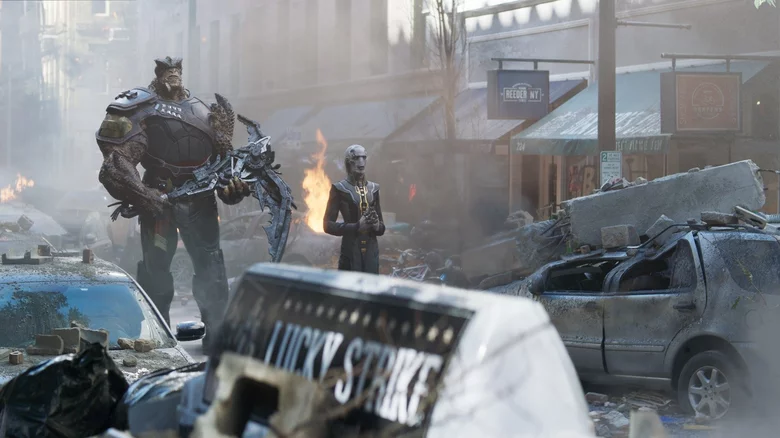 The MCU has seen its fair share of fearsome extraterrestrial menaces, but none approach the might of the Black Order. Consisting of the diabolical likes of Cull Obsidian, Proxima Midnight, and Corvus Glaive, the Order is led by the wizard-like Ebony Maw. In "Avengers: Infinity War," Ebony Maw makes his destructive intentions clear by declaring, "You are about to die at the hands of the children of Thanos."
This line makes it seem as though Ebony Maw and the rest of the Black Order are Thanos' genetic offspring. But the answer is not so straightforward. Just like Thanos took Gamora and Nebula from their home planets to train them as members of his guard, the Black Order was handpicked by Thanos to be his special disciples.
Think of them as the Death Eaters to Thanos' Lord Voldemort, who pledge fealty to the Mad Titan above all else. But the Black Order is not brainwashed into blindly serving Thanos. At different points in the comics, Ebony Maw betrays the Mad Titan to free Thane, and Corvus Glaive creates his version of the Black Order to set himself up as the replacement for Thanos.
Drax poses a serious challenge to Thanos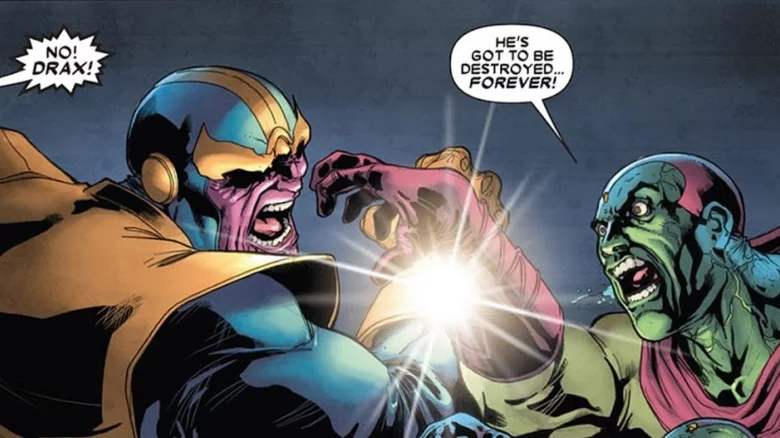 Perhaps no other character in the MCU associated with Thanos got shafted during the transition to live-action as much as Drax the Destroyer. In the first "Guardians of the Galaxy" movie, Drax reveals that Thanos killed his family. As a result, Drax has sworn to exact ruthless vengeance on the Mad Titan.
After that, Drax's vendetta against Thanos is completely sidelined and he never poses any direct threat to Thanos at all. Whereas in the comics, Drax is very much a big deal for the Mad Titan. According to his origin story, Drax was created by Thanos' father to be the one person who could put a stop to his terrible son's universe-scale rampage.
Again and again, Drax fights Thanos and ruins his plans, even managing to personally facilitate the death of Thanos at one point. It is a shame the MCU never fully realized just how big a threat Drax posted to Thanos, something that the onscreen Drax, Dave Bautista, is not stoked about. The famously shirtless actor has gone on record saying he's disappointed by the MCU's very limited amount of interaction between Drax and Thanos.