We have a new poster for WandaVision. Marvel has released the latest sneak peek at the upcoming show online in anticipation of its release next month. It will mark the return of Elizabeth Olsen as Scarlet Witch and Paul Bettany as Vision. Have a look.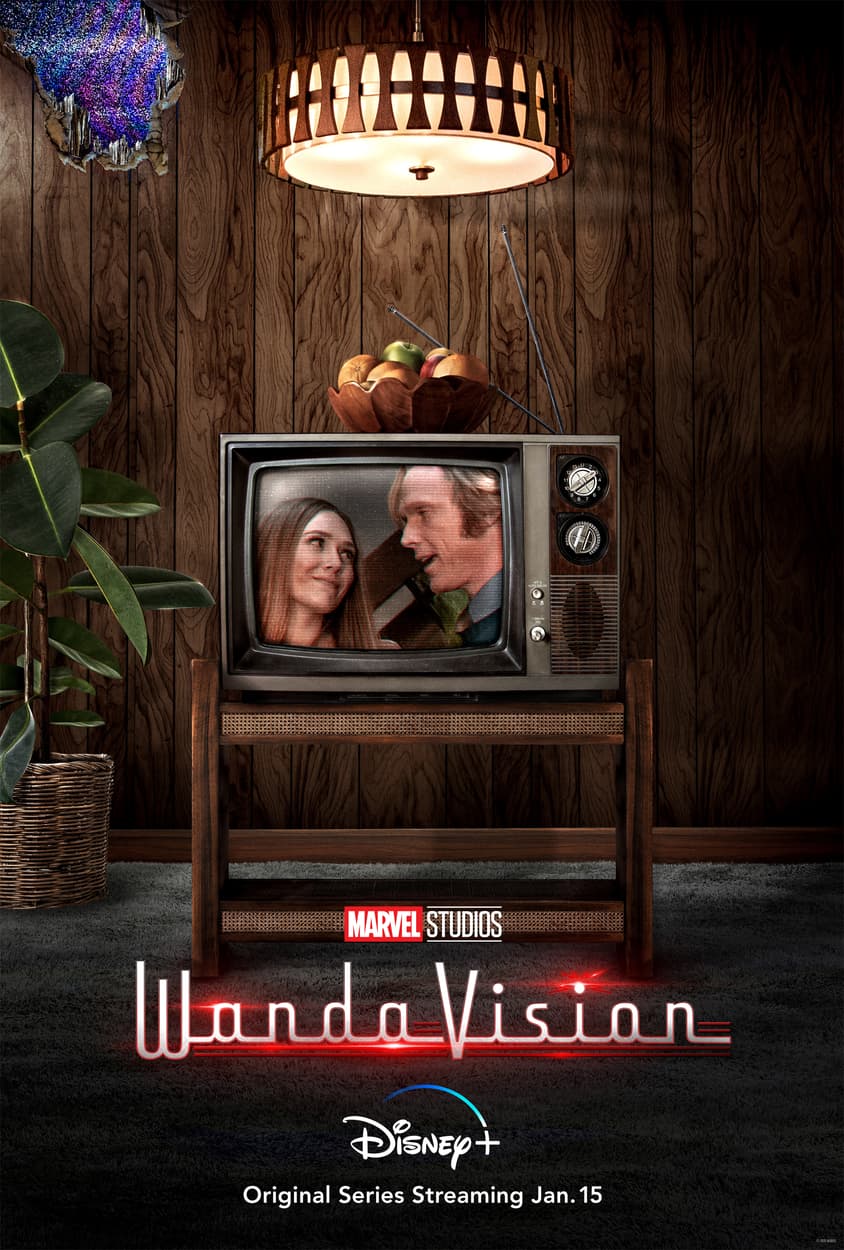 The show will be a unique blend of Marvel Cinematic Universe action and classic sitcoms. This particular poster is playing on what looks to be 70s TV, with both Wanda and Vision in color. Previous posters had them in black and white, much like classic sitcoms. Beyond that, not much else was revealed in the poster. 
Between the one-sheets and the trailer it is clear that Marvel Studios is playing this one close to the chest. But this will be the first live-action MCU show to debut on Disney+, which will mark a new era for the franchise. 
Here is the synopsis for
WandaVision
. 
"Marvel Studios' captivating new series 'WandaVision,' which premieres in late 2020 on Disney+. Starring Elizabeth Olsen and Paul Bettany, 'WandaVision' marks the first series from Marvel Studios streaming exclusively on Disney+. The series is a blend of classic television and the Marvel Cinematic Universe in which Wanda Maximoff and Vision—two super-powered beings living idealized suburban lives—begin to suspect that everything is not as it seems." 
The cast includes Kat Dennings, Kathryn Hahn, Randall Park and Teyonah Parris. Dennings will be returning as Darcy from the Thor movies, with Park reprising his role as Agent Woo. Parris, meanwhile, is playing an adult Monica Rambeau, who we previously met as a child in Captain Marvel. 
Other live-action MCU shows currently in development for Disney+ include The Falcon and the Winter Soldier, Loki, Hawkeye, She-Hulk, Moon Knight and Ms. Marvel. The Falcon and the Winter Soldier was originally supposed to arrive in August of this year but was delayed due to the pandemic. Loki has wrapped filming and Hawkeye recently began production, as did Ms. Marvel. 
With that, it seems the small screen is set to be a big part of the future of the MCU. On the movie side, Phase 4 consists of Black Widow, Eternals, Shang-Chi and the Legend of the Ten Rings, Doctor Strange in the Multiverse of Madness and Thor: Love and Thunder. Phase 5 will include Captain Marvel 2, Black Panther 2, Guardians of the Galaxy Volume 3 and the Blade reboot, as well as reboots of the X-Men and Fantastic Four. 
WandaVision
is set to debut on January 15, 2021. 
So what do you think? Are you going to be tuning in? Which MCU show are you most excited about? Join in on the conversation over on Facebook or Twitter!