Deadpool was bestowed with the powers of Thor, the God of Thunder, by Marvel's God of Mischief, who lived up to his name in a phenomenal way.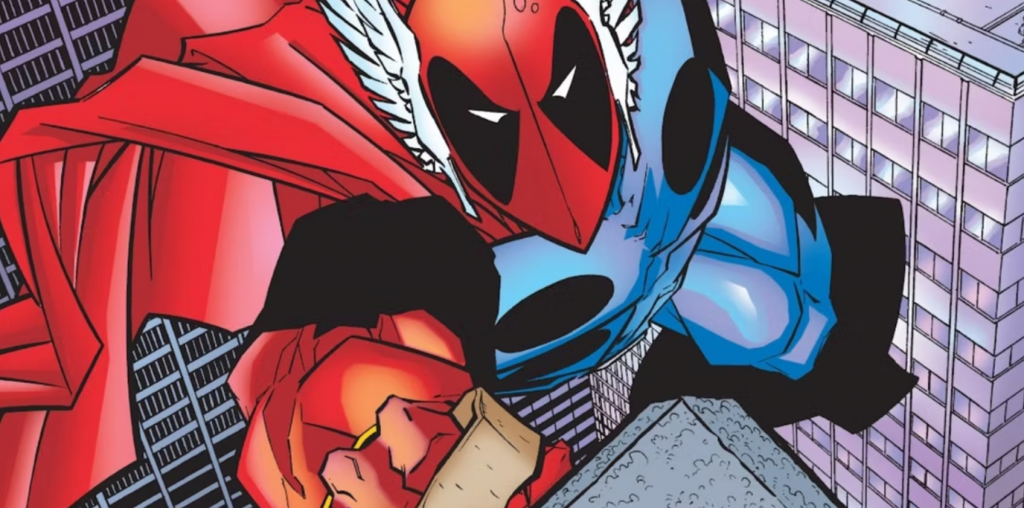 One of Marvel's strongest figures throws Deadpool into a match in an early story, as the character's place in the Marvel Universe is supremely fluid, easily fitting in all sorts of places across the world. Although he has a deep connection with the X-Men, he has forged plenty of bonds and rivalries with other heroes and villains.
Loki, who was once a villain, attempted to take down Thor but instead recruited Deadpool for a mission that turned out to be surprisingly effective. During the mission, Loki equipped Deadpool with his own version of Mjolnir and all of Thor's abilities, giving Deadpool one of his biggest power boosts ever.
Loki Grants Deadpool Thor's Powers: A Surprising Mission
The writers Christopher Priest, Paco Diaz, Andy Smith, Jim Calafiore, Mark McKenna, Shannon Blanchard, Sharpefont's PT, Jon Holdredge, and Rich Perrotta presented a transitional time for Deadpool in issues #36 and #37. Deadpool, who was initially introduced as a villain only a few years prior, was slowly transforming into a more heroic but still chaotic and occasionally cruel mercenary in his solo series. During this period, Deadpool also unexpectedly developed a romantic relationship with Death, infuriating Thanos. As his impact grew, he became involved in a scheme by the villainous Loki to defeat his brother Thor. Loki, who was purely a villain at the time, attempted to convince Deadpool that he was his father. However, after briefly capturing Death, Loki offered her full release on the condition that Deadpool would work with him.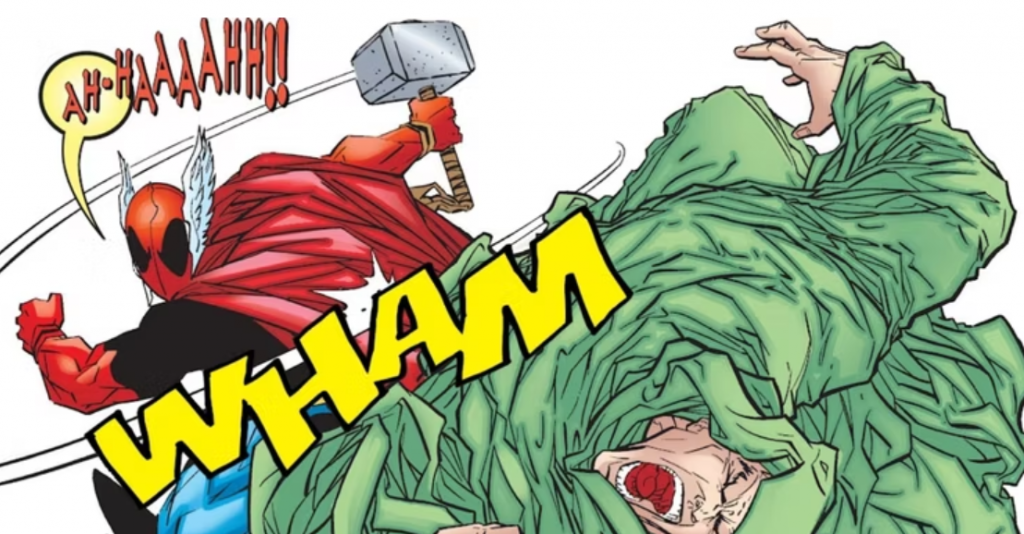 Loki arranged an explosion to distract Thor while he was vulnerable and separated from his hammer, which would have caused him to revert to his human form. Instead, the distraction allowed Deadpool to find Mjolnir. Next, Loki convinced both Thor and Deadpool that the latter had claimed the hammer using an illusion. Then, using his magic, Loki replicated Thor's powers without his knowledge, granting Deadpool new abilities.
During this process, Thor was weakened and fell prey to Loki's true scheme. If not for Deadpool's intervention, Loki would have succeeded in taking Thor's life. However, Deadpool discovered Loki's duplicity and reacted by returning Thor's powers to him, ultimately saving his life.
Deadpool Held His Own Against Thor
Loki's spell gave Deadpool plenty of Asgardian upgrades, which explains the Merc with a Mouth's brief power boost. This included flight, enhanced strength, and an Uru metal hammer capable of allowing Deadpool to fight toe-to-toe with Thor.
Despite his newfound abilities, Deadpool continued to behave like himself. Rather than training, he indulged in flying around, eating tacos, and trying to pick up women. He visited Avengers Mansion without any real purpose and spent the rest of the time goofing off.
During the climax of the story, Thor attempts to strike down the avatar of Death. In a desperate attempt to hold him off, Deadpool, who was still empowered, engaged in a fight with Thor. However, he painfully lost the battle and got his head crushed between two Uru hammers. This is another example of the effectiveness of "Mjolnirs," especially when used in sync.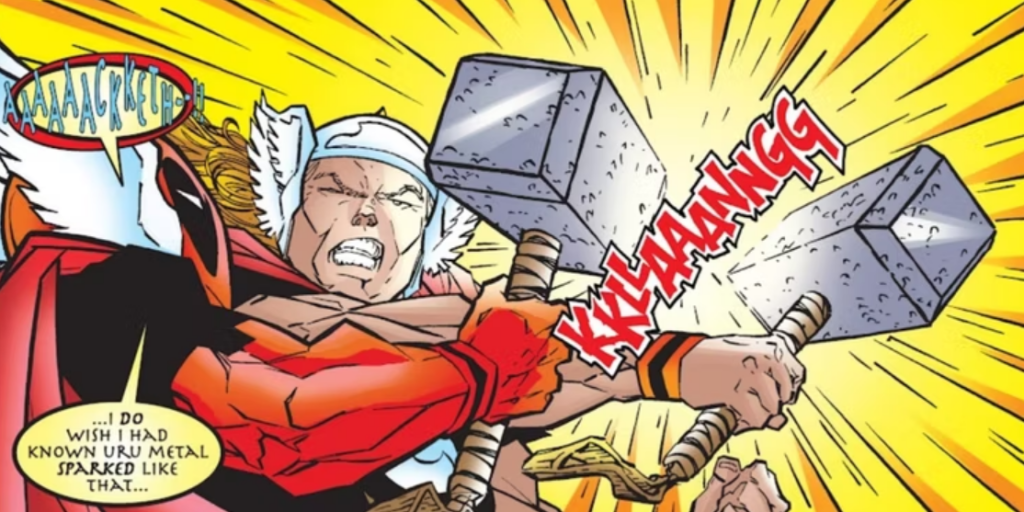 When Deadpool woke up, he had reverted to his usual unkillable self and lost all his Asgardian powers. Nonetheless, it remains a fun footnote in the character's history.
Across the multiverse, most Marvel heroes who have been worthy enough to wield Mjolnir properly have been major leaders such as Captain America or Storm or even morally conflicted figures like Rogue. Deadpool's power boost may have come from an unlikely source, but it was the only way he could have earned it. However, considering how he attempted to use it, it may be for the best that the power stays out of his hands.