Marvel has released a brand new trailer for X of Swords: Creation #1. This is the first major X-Men event to come around in a long time. It is being spun from Jonathan Hickman's X-Men and Tini Howard's Excalibur. As we can see from this trailer, it looks to be an epic, mutant-filled crossover. Have a look. 
All of the X books that are part of Marvel's current lineup will be included in the X of Swords event. Every current X-Men writer, Hickman, Howard, Gerry Duggan, Benjamin Percy, Ed Brisson, Zeb Wells, Leah Williams, and Vita Ayala, partnered to craft a modern epic that will, per the publisher, "go down in X-Men history!" Carmen Carnero, Pepe Larraz, R.B. Silva, Viktor Bogdanovic, Matteo Lolli, Mahmud Asrar, Phil Noto, and Rod Reis are contributing art to the crossover. 
X of Swords kicks off this September and will roll on in October with Chapters 3-11. The whole thing hinges on a "mysterious group of swordbearers come from the land of Arakko, and the X-Men will have to draw swords of their own to defend the new mutant nation of Krakoa. Arakko and its visitors are shrouded in mystery, and none more so than the group's leader. " 
Here is the synopsis for
X of Swords: Creation
#1. 
"Ten swords. Ten challengers. The victors take the world. X OF SWORDS, Jonathan Hickman's X-Men crossover of the year, begins this September with X OF SWORDS: CREATION #1!"
Marvel has also released a complete X of Swords checklist, which we've included below.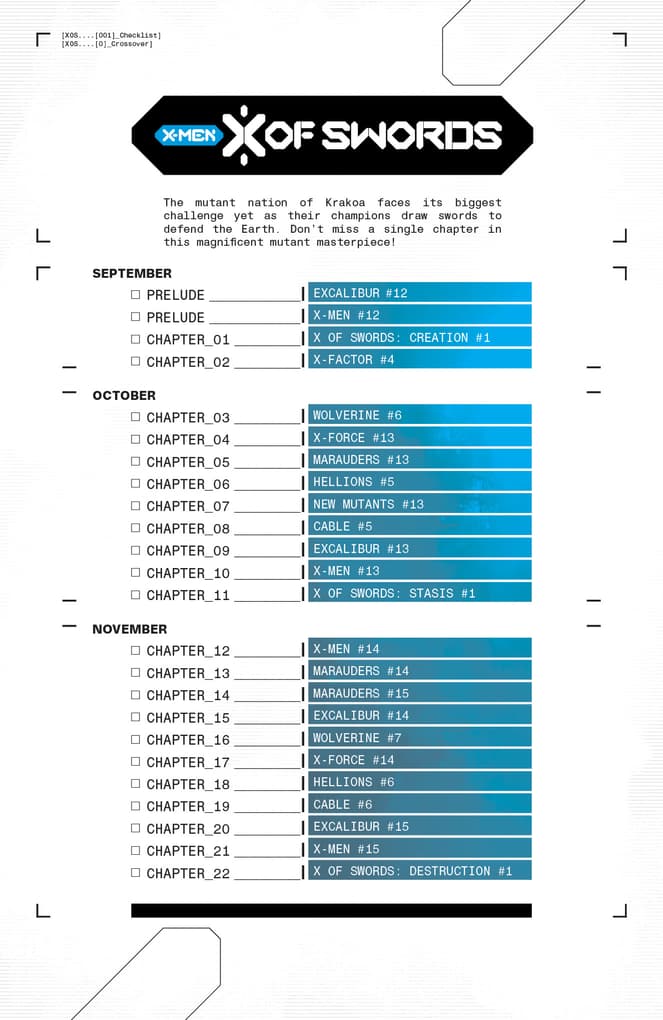 This comes as the X-Men have had a much larger role to play in the Marvel Comics universe lately. For years, Marvel wasn't featuring the mutants as prominently, likely due to the fact that 20th Century Fox controlled the screen rights to the characters, along with the Fantastic Four. Unsurprisingly, when the Disney/Fox merger closed last year and the character rights ended up back in the hands of Marvel, a new wave of X-Men books emerged, with Hickman serving as the mastermind behind the relaunch. 
On that same front, Marvel Studios is planning to reboot the X-Men and the Fantastic Four within the Marvel Cinematic Universe. There is no official word on when the reboots are coming but Kevin Feige confirmed they are indeed happening last year. 
X of Swords: Creation #1 arrives on September 23. 
So what do you think? Are you excited for a new X-Men event? Will you be reading along? Join in on the conversation over on Facebook or Twitter!