They fight to protect a world that hates and fears them! They fight villains and discrimination in equal measure! And they're the whitest of all civil rights metaphors until, like, the mid-80s!
Ah, the X-Men, comics' most convoluted and confusing superteam. A while back, I explained the X-Men to my girlfriend by saying, "Half of the X-Men are just alternate future versions of/children of the other half." And that's only a slight exaggeration.
But after really getting into Jay and Miles X-Plain the X-Men this past week, and hitting up my local comic shop to buy a foot-high stack of various X-comics, I'm finally starting to get a grip on these characters. So I decided to pick a few of my favorites who don't get enough love and show you why they're great. Marvel's Merry Mutants may be numerous, but they're all special. Just an aside, but X-Men as used here is more of a general term.
I'll be talking about characters from numerous X-teams, including, but not limited to, X-Men; the New Mutants; X-Force; X-Factor; Generation X; X-Club; the other, completely different, X-Factor that was a detective agency; Excalibur; and finally, any and all students of the Xavier or Jean Grey schools for gifted youngsters.
                                          Source: slashfilm.com
10. Multiple Man
This one isn't first on my list because I don't love him. He's in this spot because he's the least underrated. Hell, they were going to make a movie about him, but that fell apart.
Jamie Madrox, aka The Multiple Man, is one of the few hyper-powerful mutants who's had his powers from birth. In fact, he spawned his first clone when the doctor spanked him to check his lungs (yep, they used to do this; ask your parents or the internet). Madrox's clones, usually referred to as duplicate – or dupes for short – operate under a very specific set of rules: They're produced through physical contact.
The dupes are created when kinetic energy is applied to Madrox, and they're defined by certain aspects of his personality, such as his faith, his opportunism, or his libido. The dupes exist until they die or Jamie re-absorbs them, at which point he takes on all their memories and knowledge. Jamie eventually served as support on Muir Island, and joined the government-run second incarnation of X-Factor. After that, he bounced around a bit, then founded his own private detective agency, XXX Investigators.
Later, after he recruitsed some friends and realizes that the name of his business sounds like the kind of magazine you can't sell on newsstands, he changed it: to X-Factor Investigations.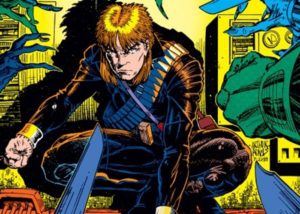 Source: pinterest.com
9. Longshot
In a universe called the Mojoverse, life's terminal boredom is alleviated only through the creation and abduction of slaves to entertain the masses, otherwise known as Spineless Ones. They look gross.
Longshot, a creature gifted with the power of luck, is one of those slaves. Seriously! He's just really, really lucky. Well, he's lucky as long as he's not trying to use his power to do evil. As you might have picked up, what's neat about this is that Longshot isn't a mutant! Yeah, he's one of the few non-mutant X-Men. He joins the team right after the Mutant Massacre, and remains with them through the Australia years.
Unfortunately for Longshot, his memories tend to be wiped on an incredibly frequent basis, so he doesn't remember many of his adventures. But he's also left with a sort of tabula rasa adorableness and innocence. He's just a good egg. A good egg who can throw knives at people with precise accuracy. Also, women canonically love him, and his costume inspired every bad 1990s costume trends, even though he can pull it off.
                                        Source: cinemablend.com
8. Warlock
Self-Friend Warlock is just the best, you guys!! And he's actually an alien AND a mutant.
Specifically, he belongs to a race known as the Technach, in which obsolescence is king and each subsequent generation must murder and conquer their creators/parents. But Warlock's a mutant Technach, and his mutation is basically his conscience. He's just a good kid who wants a nice life! He doesn't want to kill his dad.
Warlock fled, and wound up on earth, where he was found by the X-Men and more specifically, the New Mutants. He wound up joining the team, and he and Doug Ramsey, aka Cypher, became the best of friends. Warlock has shape-shifting powers and typically uses them to become a sort of living cartoon character – especially when Bill Sienkiewicz is doing the drawing.
Also, Warlock's childish innocence is how we got New Mutants #64, which is the saddest comic for ten years in either direction. In it, Warlock, who doesn't understand death, has to learn about death at his best friend's funeral. Typing out that sentence makes me sad in its own right.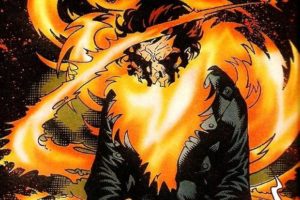 Source: denofgeek.com
7. Chamber
Of all the X-books, the one I have the least experience with is Generation X. I know some of the characters, and I'm familiar with them in other contexts, but as far as the team itself goes, I'm a bit lost. However, I absolutely love Chamber.
Jono Starsmore's mutant awakening is quite horrible. And by that I mean that he had to explode to gain his powers. Yeah. He's essentially so filled with energy and power that it tears him open and blows up his lungs, heart, and lower jaw. Thankfully, he also develops telepathy, so he can still talk to people.
But his mutation means that he's among the most physically changed and hard-to-assimilate mutants. Just as he's getting used to having a nuclear trench instead of a chest cavity, M-Day happens, and he loses his powers. At the same time, he doesn't regain his heart, lungs, and lower jaw to compensate. So he was on major life support for a long time. Eventually his powers did return,back and has been glowing below the voice box ever since.
I personally love the Vaughn/Ferguson Chamber miniseries from 2002. In it, Chamber goes undercover to solve a mystery at Empire State University. It's a fun little detective story that you should check out if you get a chance.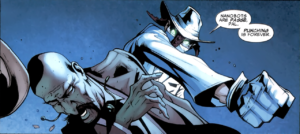 Source: xplainthexmen.com
6. Doctor Nemesis
His name is Doctor Nemesis, and he'll put his science into you.
Doctor Nemesis is one of those comic book characters who I'm not convinced wasn't exclusively written for me. He's a good old fashioned science bastard. Born in 1906, James Bradley's one of the first recorded mutants. As a hypergenius, he's capable of so much brilliant invention. Plus, he fights and kills a lot of Nazis during World War II.
Around this time, he finds a way to give himself a longer lifespan and becomes the best mutant scientist of all time. He's eventually approached by his fellow best mutant scientist, Hank McCoy (The Beast), who invites him to join a group of mutant super-scientists. This was the X-Club.
If you can track down the X-Club miniseries, you absolutely should, because it includes some phenomenal Doctor Nemesis moments.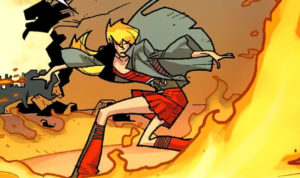 Source: 1979semifinalist.blogspot.com
5. Boom Boom
Tick, tick, boom!
Tabitha Smith is a young mutant who can create time bombs (explosive balls of energy that follow her commands), and she desperately wants to escape her tragic home life. She goes on the run to find a place she can call home, and falls in with mutant thief The Vanisher for a while. Then X-Factor picks her up and trains her, although she's never made an official member.
She eventually transfers to the New Mutants, and remains with them when they become X-Force. She also goes through a couple of name changes, first Boomer and then Meltdown. Later, she ditches the code name when H.A.T.E. recruits her for their squad, and dubs her Nextwave.
In this role, she's the best she's ever been, and she kicks so much ass. She also wins a psychic battle because she has no mind. I love Nextwave. She eventually returns to the X-Men and re-adopts the Boom-Boom identity, but she'll forever retain her Nextwave cred.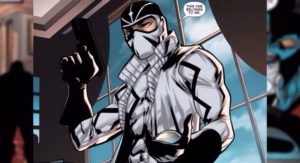 Source: aminoapps.com
4. Fantomex
I've said before that I think the whole it wasn't Weapon X; it was Weapon 10 thing is mega dumb, but it gave us Fantomex, so I'll grudgingly accept it.
Created by the Weapon Plus Project, Fantomex's official designation is Weapon XIII. Note to self: Do a list titled Top Ten Weapon Plus Creations.
Anyway, Fantomex is a master thief and assassin who also has a wonderful friend/transport bio-ship in the form of E.V.A. When he eventually runs afoul of the X-Men, he's recruited into X-Force, specifically the team that includes Wolverine, Archangel, and Deadpool.
He remains on various X-Force squads before he gets the nod to head on up to the X-Men, specifically the current Astonishing X-Men team.
Powers-wise, he possesses the standard Weapon Plus healing factor and enhanced senses. In addition, he doesn't smell like anything, which makes him hard to track. It also means that he doesn't really have to worry about showers.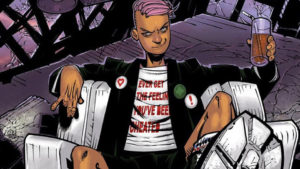 Source: marvel.com
3. Quentin Quire
Controversial choice, I know, but I love the hell out of Quentin Quire.
To be honest, I think I love him for the same reason other people hate him: He's a total, unmitigated a**hole. And can you blame him? He's a hyper-powerful psychic who's also a super genius.
Under the handle Kid Omega, Quire becomes the Xavier School's resident bad boy, doing drugs, leading riots, manifesting psionic shotguns…You know, all the things the bad kids did at your high school.
Quire also leads the Omega Gang as they beat the hell out of Xavier himself and kick off a school-wide riot. He's beaten down and winds up in jail. Later, he breaks out and publicly humiliates the entire United Nations before he's beaten down and thrown in jail again. Sensing a pattern here? But in an attempt to be the kind of mentor figure Xavier is, Wolverine gets Quire out of jail to attend the newly opened Jean Grey School for Higher Learning. Quire slowly matures and becomes kind of a hero.
Oh, yeah, and he possesses the Phoenix Force. Because Quentin Quire is great.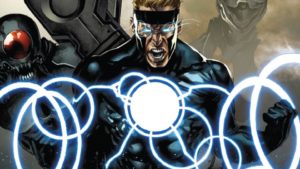 Source: nerdist.com
2. Havok
I may or may not have written this entire list just so I can talk about Havok. I ADORE Alex Summers.
And that's sad, because his brother perpetually overshadows him. Even though Cyclops and Havok are brothers, Havok's powers activate much later in life and are much more controllable. Havok emits similar energy to Cyke, but he uses his hands and chest in more of a ring pattern. He also really doesn't want to be part of the X-Men.
And the poor dude keeps getting dragged back into doing X-Men things. Havok comes very close to becoming a geophysicist!! Dude has potential!!!! But crazy things keep happening, and he has to keep going off to be a superhero. Hell, he even fakes his death and moves to Australia for the X-Men.
Still, he'll always be seen as Cyclops' brother, and that's just sad! The guy's led an Avengers team, spent a chunk of time in an evil mirror universe, and even gone to space! Havok rules, you guys; it's just that no one acknowledges it.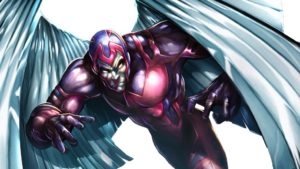 Source: nerdist.com
1. Angel
Angel is super underrated. And it's weird to think about that.
Dude is a founding X-Man, but he never gets his due. Cyclops has always been an X-Men mainstay. Jean Grey's the heart of the most famous X-Men story of all time. Beast is an Avenger. Hell, even Iceman held down a solo series for a while. Warren Worthington, III has never really been recognized in that way, but he's fascinating! Especially once he gets to X-Factor and his wings are amputated. And then Apocalypse turns him into the Horseman of Death.
BTW, that Archangel costume is phenomenal. Walter Simonson can draw one hell of a costume. In the ensuing years, Warren's gone back and forth and switched identities numerous times, but he's never found the relevance that his friends have enjoyed.
But he's still a fantastic character with a fantastic history.