Although Loki has recently transitioned from supervillain to anti-hero, the God of Mischief hasn't forgotten his roots. As both the King of Jotunheim and personal advisor to Thor, Loki has put his skills as a trickster to use, protecting the Ten Realms from Asgard's many enemies. However, the infamy he cultivated while terrorizing the Marvel Universe continues to plague him. Even now, many still view him as a traitorous coward who's simply biding his time until the perfect opportunity to betray Asgard arrives.
In Spider-Man 2099: Exodus #2 (by Steve Orlando, Marco Castiello, Antonio Fabela, and VC's Joe Carmagna), Miguel O'Hara learned from Loki's successor Valkyrie that he ultimately lived up to his reputation by abandoning his people when they needed him most. However, by turning his back on Asgard during its darkest hour, Loki unwittingly set in motion a chain of events that allowed a new generation of Asgardians to re-build and start again, ensuring that his family's legacy would survive.
In its quest to eliminate all opposition to its rule over the Earth, Alchemax launched an all-out invasion of Asgard near the end of the "Age of Heroes". Creating an army of genetically-modified soldiers and monsters molded after warriors and beasts from Norse mythology. Although Loki initially led Alchemax's assault, the adopted son of Odin found he couldn't bear to watch his home and family fall. Rather than try and help them stop the invasion, however, he instead fled the battle to save himself.
After spending years wandering through the wastelands of Earth tormented by guilt, Loki eventually came across Valkyrie and the struggling band of survivors she protected. Although he didn't recognize Valkyrie and questioned the legitimacy of her identity, Loki convinced her to help him avenge Asgard. After convincing Valkyrie that his intentions were pure, she admitted that she was one of Alchemax's soldiers. After witnessing the nobility and courage of the true Valkyries, she fled the battle in shame and took it upon herself to help those in need and keep the Valkyries' legacy alive.
With Valkyrie's help, Loki was eventually able to acquire a sample of water infused with the DNA of a Celestial that could revive Asgard. Using what remained of the Bifrost to the travel to Asgard, Loki and Valkyrie worked together to slay the last of Alchemax's artificial dragons. Loki ultimately sacrificed himself and took the finishing blow. With his dying breaths, Loki entrusted the future of Asgard to Valkyrie, who used the water to create a new Asgard inhabited by oppressed human outcasts rescued from Earth and imbued with Asgardian divinity through Loki's blood.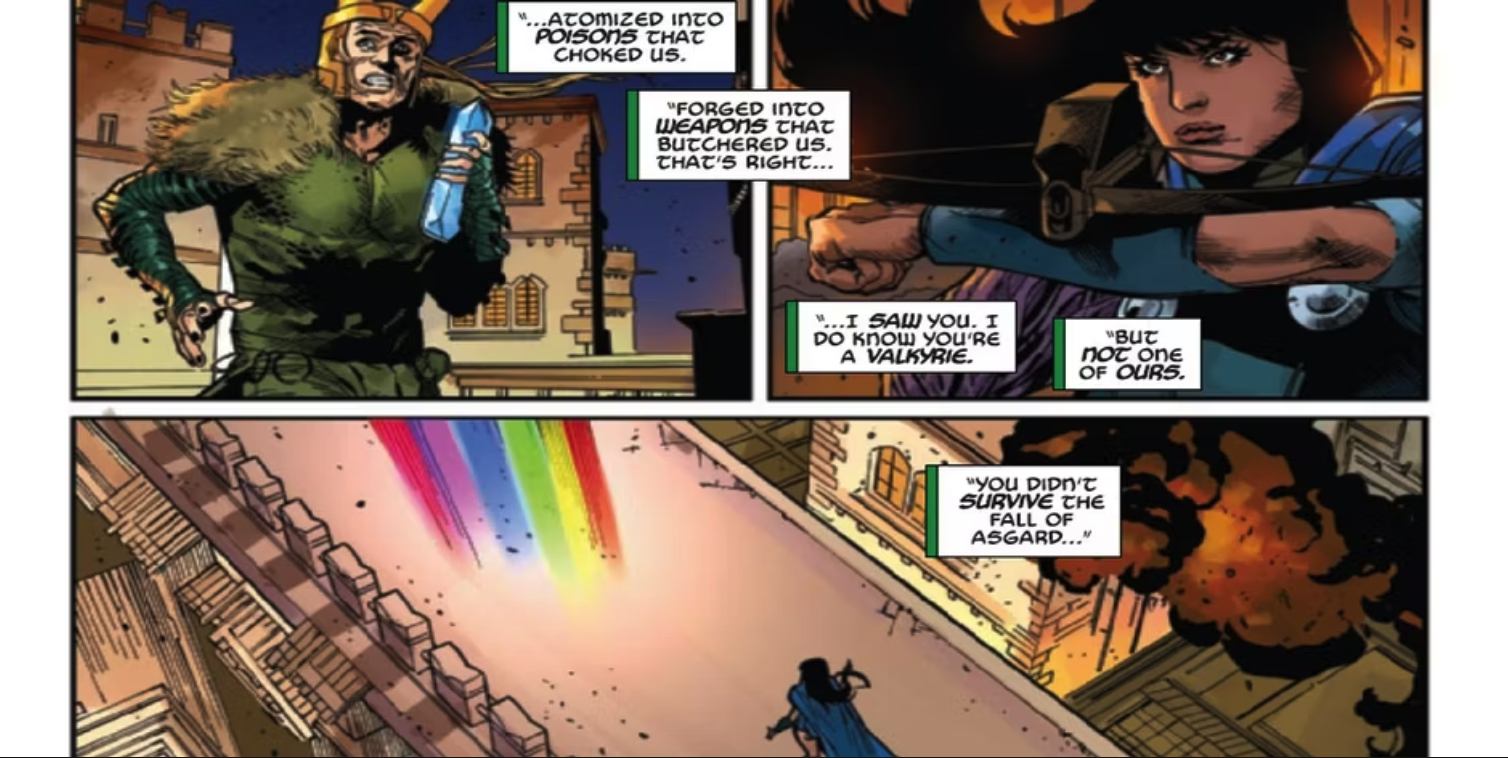 The similarities between Loki and Valkyrie are so overt that they were what motivated Loki to trust her. Like him, Valkyrie is a born deceiver who built her identity on a lie, albeit a well-intentioned one. Each of them also played a role in the invasion of Asgard, but neither she nor Loki could bring themselves to finish the job and fled. Finally, they both sought redemption for their misdeeds and their way of doing so took the form of helping outcasts.
Despite Odin's best attempts to make his adopted son feel welcome, Loki was routinely shunned by his fellow Asgardians during his childhood. This caused the deeply rooted belief that he didn't belong and turned him into the bitter and vengeful person he became. However, despite his claims that his adopted home meant nothing to him, Loki always wanted to be accepted by his family. In his final moments, Loki admitted that he saw his role as the God of Outcasts as the most important part of his divine identity and that he wanted to help other outcasts find the acceptance and sense of belonging that he never did.
In fulfilling Loki's dying wish, Valkyrie ensured that the Asgard that rose from the remains of the old would be a more open and accepting place than its predecessor. Thanks to Loki's efforts, the inhabitants of "New Asgard" not only have a new home but they've also been given the ability to protect themselves and prove to be invaluable allies in the Spider-man of 2099's quest to overthrow the Green Goblin. While he may be remembered by some as a coward, Loki's final act of cowardice proved to be Asgard's salvation.