Marvel Comics just dropped a bombshell about Star-Lord. In Guardians of the Galaxy #9, which hit stands earlier this month, a huge reveal was made about the popular hero. 
Warning: Major SPOILERS ahead for Guardians of the Galaxy #9
The issue, written by Al Ewing, is titled "I Shall Make You a Star-Lord." The story sees Star-Lord, aka Peter Quill, spending nearly 150 years on a planet called Morinus. During his time there, he meets two humanoids, Aradia and Mors. One female and one male. After 12 years, he begins a romantic, polyamorous relationship with them. Have a look.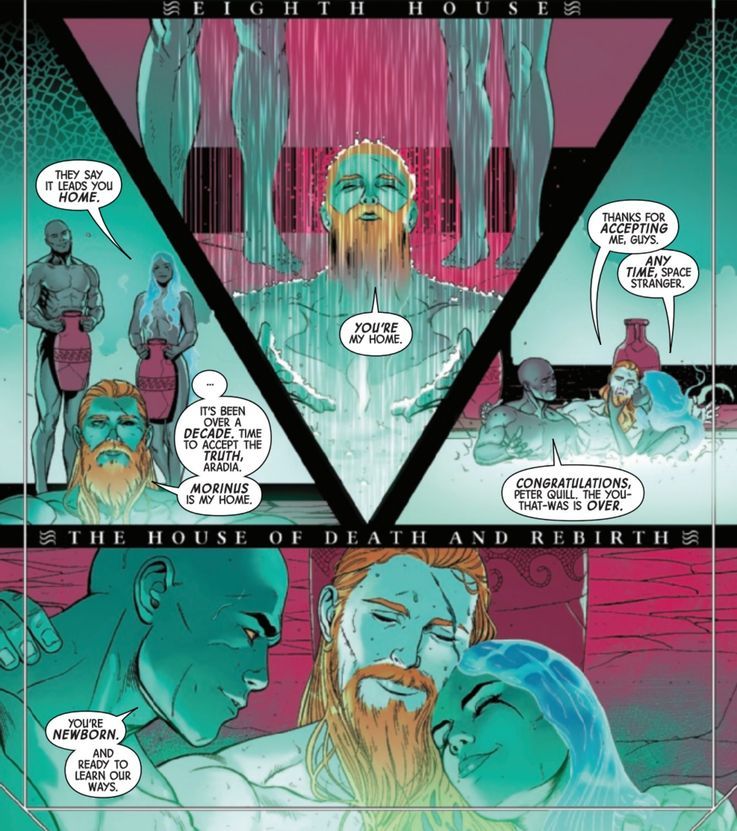 Yes, Star-Lord is bisexual. For those who are mostly familiar with Chris Pratt's version of the character from the Guardians of the Galaxy Movies, this will probably come as a shock. Peter Quill seemingly only has, or had, eyes for Gamora. 
"It's been over a decade. Time to accept the truth … Morinus is my home. You're my home," Star-Lord says to his two lovers in the issue. 
Here is the synopsis for Guardians of the Galaxy #9. 
"Everyone thought he was dead. They were wrong. Now Peter Quill journeys through a mythic world on the other side of our reality. But is he still Peter Quill…or is he the legendary Star-Lord? Get ready for a GUARDIANS tale unlike any you've ever seen before – as the clock starts ticking for the last stand." 
One might wonder if this will have any effect on Star-Lord in the Marvel Cinematic Universe. What happens in the comics does not often directly reflect what's to come in the movies. Especially since writer/director James Gunn has had the script mostly written for Guardians of the Galaxy Vol. 3 for years. There are other implications as well. 
Chris Pratt, beloved though he may be in the role, has faced some controversy in the past. The actor is a member of Hillsong Church, which has been accused of being anti-LGBTQ. Pratt defended his church in February 2019 after comments made by actor Elliot Page. 
"It has recently been suggested that I belong to a church which 'hates a certain group of people' and is 'infamously anti-LGBTQ.' Nothing could be further from the truth. I go to a church that opens their doors to absolutely everyone," Pratt said at the time on Instagram. 
Despite what Pratt may or may not feel about it, this is a bold reveal for the Marvel universe. Time will tell what it means for the ongoing series. 
Guardians of the Galaxy #10 hits shelves in January. 
So what do you think? Do you like the big reveal? Does this change your view of Star-Lord? Join in on the conversation over on Facebook or Twitter!