Marvel is giving Beta Ray Bill a chance to shine. The publisher has announced that the character will be getting a new ongoing series in 2021. This time, he will not be taking a backseat to Thor
Daniel Warren Johnson (Wonder-Woman: Dead Earth, Murder Falcon, Extremity) is penning the series, which wil spin directly out of the current King in Black event. Donny Cates is behind King in Black, where Beta Ray Bill recently appeared. Johnson will be joined by colorist Mike Spicer. 
"I have known Dan for almost a decade now," Cates said. "We both got our start together a long time ago on a crazy little book called Ghost Fleet, and I knew all those years ago that I was absolutely 'marrying up' in regards to an artistic partner on a book. Dan is brilliant. Pure and simple. He's just built differently. He's not the same species as the rest of us mere mortals. And if you went back in time and told me that Dan and I were both now playing in the world of Thor like this, the only thing that would surprise me is that they let me in to play as well."
"This Beta Ray Bill book that Dan has built is special. And beautiful and heartfelt and chainsaw-razorblade-guitar-riff-to-your-bones metal," Cates continued. "It is, in fact, what I always knew Dan would be doing. I couldn't be more proud, and more excited, for him to unleash this book on you. You aren't ready."
Here is the synopsis for
Beta Ray Bill
. 
"Beta Ray Bill is tired of playing second fiddle to Thor – and with Beta Ray's famous hammer Stormbreaker recently destroyed at the new All-Father's hands, tensions are higher than ever. The mighty Korbinite must strike out in search of a new weapon… and a new destiny. Assuming he can first defeat a Knullified Fin Fang Foom!" 
"Beta Ray Bill is literally my favorite Marvel character, so it's a dream come true, and there are images in this book I've been wanting to illustrate for years. It's even more exciting that I get to write this series in the context of the current Thor universe," Johnson said. "There's a lot to unpack with Beta Ray and I can't wait to share my story with you all."
Beta Ray Bill #1 will be an oversized issue. Aside from the main story, it will contain an exclusive conversation between Johnson and the character's creator, Walter Simonson. As an added bonus, Simonson also provided a variant cover. Have a look.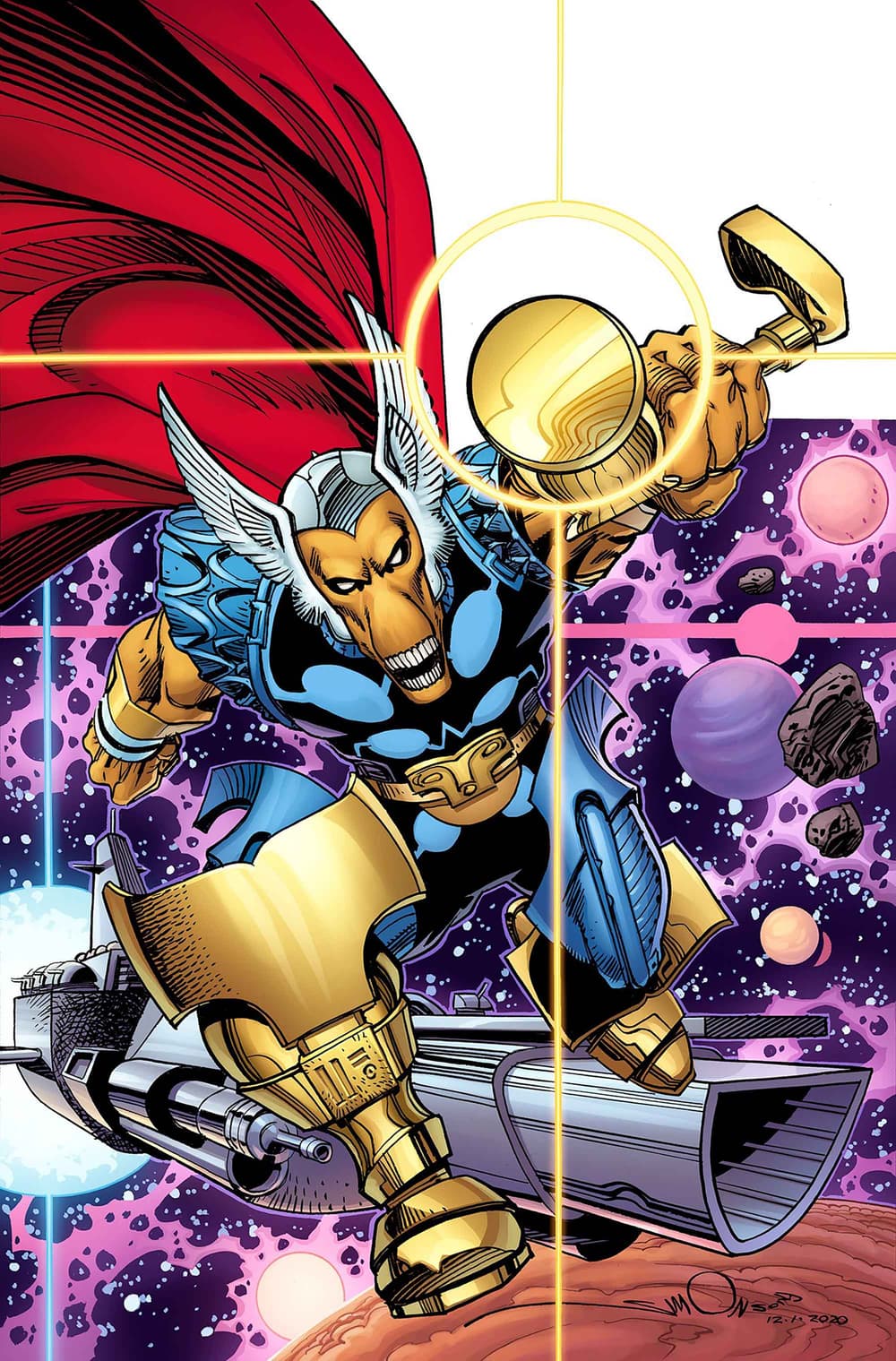 The character originally debuted in the pages of Thor #337 in 1983. Beta Ray Bill is one of a relatively small number of characters to wield Thor's hammer Mjolnir. Even though he was not initially thought of as a major player in the Marvel universe his popularity has endured and grown over the years. 
Beta Ray Bill
#1 hits stands in March. 
So what do you think? Are you excited for the new series? Have you been keeping up with King in Black? Join in on the conversation over on Facebook or Twitter!