Captain Marvel Encounters an Iconic Villain in a New Light in "Captain Marvel: Dark Tempest" (Caution: Spoilers Ahead). The upcoming series will showcase our cosmic champion, Carol Danvers, as she confronts the formidable Nitro. This reintroduction of the explosive adversary from the early days of Captain Marvel's adventures comes with a noteworthy revamp, presenting him with a striking and contemporary appearance.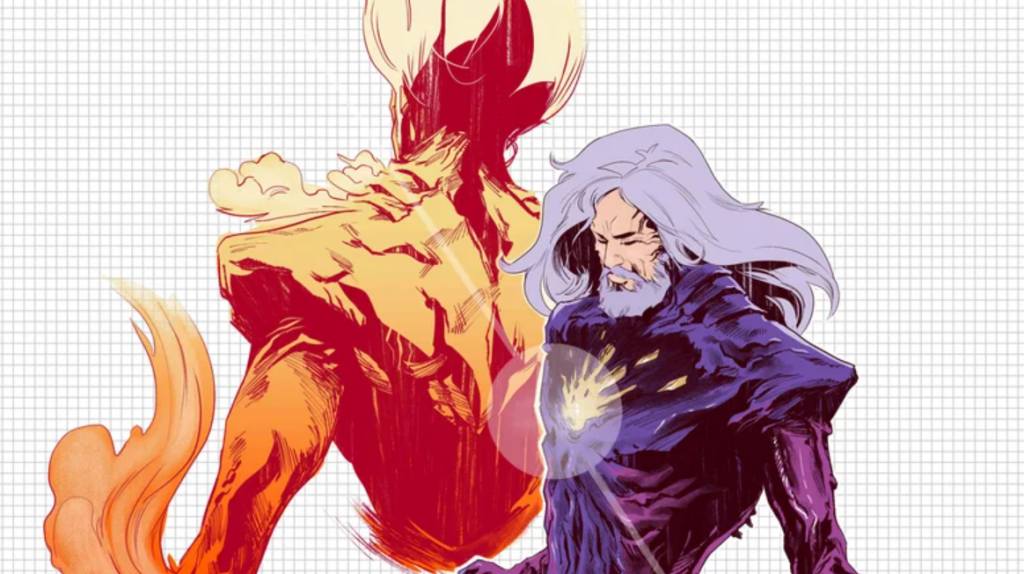 After the conclusion of the ongoing "Captain Marvel" series by Kelly Thompson, Carmer Carnero, Lee Garbett, Javier Pina, and other talented artists, and with her upcoming leadership role in the Avengers, Carol Danvers is set to embark on a thrilling new miniseries penned by "Daredevil" writer Ann Nocenti. This new cosmic adventure will pit our heroine against fresh extraterrestrial menaces. However, the primary adversary in this five-issue comic is a character with whom she has had limited encounters, despite the rich history shared with her namesake, Mar-Vell. Nitro, the explosive antagonist, takes center stage, making a grand return to the Marvel Universe as the main antagonist in the initial installments of "Dark Tempest."
Who is Nitro, and what's the connection to the original Captain Marvel?
Nitro, a classic nemesis of the original Captain Marvel, made his debut in the pages of "Captain Marvel" #34 in 1974, skillfully crafted by Jim Starlin and Steve Englehart. Initially, an unassuming retired electrical engineer, Robert Hunter's life took an unexpected turn when a band of Kree rebels noticed his potential. Subjected to their experimental procedures, Hunter transformed into Nitro, a living weapon capable of detonating his body at will. Astonishingly, he could then reconstruct himself using the residual gas, ensuring his survival and presenting a formidable challenge for his adversaries.
Nitro, renowned for encountering numerous Marvel heroes such as Daredevil, the New Warriors, and Iron Man, etched his name in infamy through a particularly significant act of villainy perpetrated against Mar-Vell, the original Captain Marvel.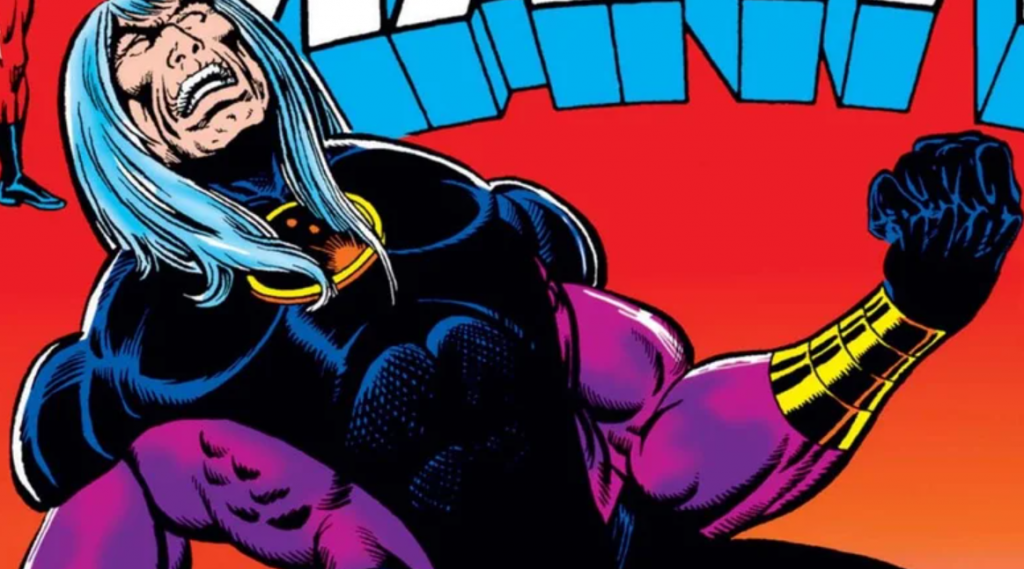 Nitro's malevolent gases held a devastating consequence for the original Captain Marvel, as they were the catalyst for his cancerous affliction. This tragic turn of events culminated in the poignant storyline "The Death of Captain Marvel" in 2019, penned by Starlin. In a rare departure from the typical superhero narrative, Mar-Vell has remained deceased since then, allowing his legacy to reverberate through the Marvel Universe. Nitro's actions not only shaped Mar-Vell's fate but also set in motion a series of events that led various characters to assume the mantle of Captain Marvel. Among them are Monica Rambeau, Mar-Vell's son Genis-Vell, and the current and prominent embodiment of the hero in the Marvel Universe, Carol Danvers.
Presently, Ann Nocenti and artist Paolo Villanelli join forces to reintroduce Nitro in the gripping series "Captain Marvel: Dark Tempest." In this iteration, the villain undergoes a striking transformation, deviating from his conventional and eerie visage.
Nitro is coming after Carol Danvers
The nefarious antagonist receives a revitalized look, maintaining the original color scheme of his costume while incorporating an armor-like design that enhances its visual appeal and lends a more pronounced form. Additionally, the emblem adorning his chest undergoes a transformation, evolving from a gold circle into a representation more closely resembling an explosive blast, adding to the overall dynamic aesthetic.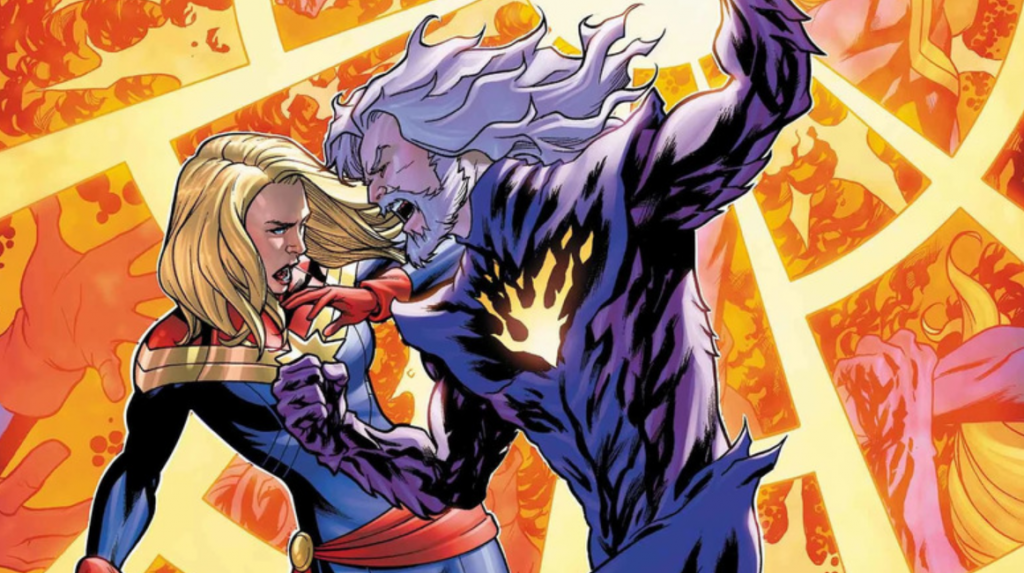 Despite retaining his characteristic long grey hair, Nitro's appearance receives a significant update in "Captain Marvel: Dark Tempest." His hair now appears thicker, accompanied by an overgrown beard, imparting a more rugged and imposing aura. Furthermore, Nitro's gaseous form undergoes a transformation, as depicted on the design page, showcasing both his regular and more menacing visage side-by-side. This redesign effectively diminishes the previously whimsical elements associated with the character, presenting him as a more formidable and befitting adversary, aligning with his explosive powers.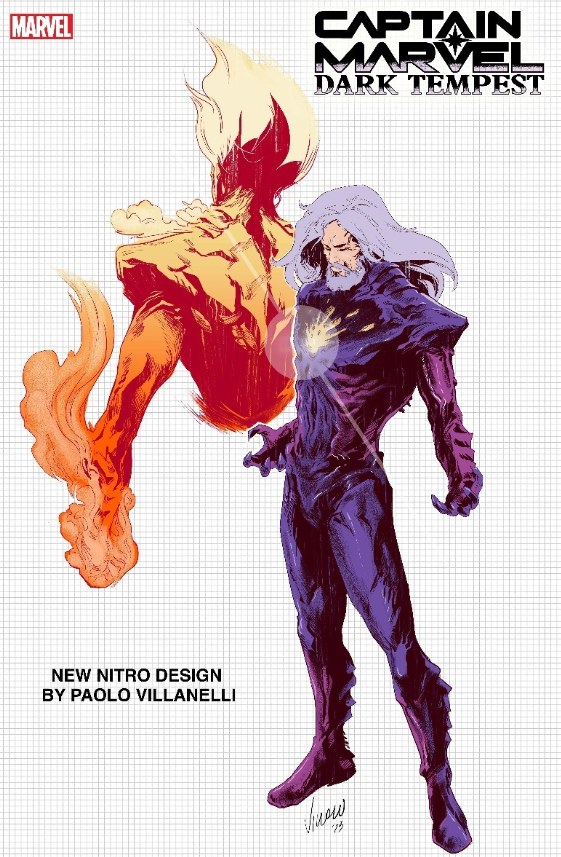 In the thrilling solicitation for "Captain Marvel: Dark Tempest" #2, Carol Danvers, aka Captain Marvel, confronts a formidable test that could alter the course of her heroic journey. Challenged by a group of pessimistic adolescents who dismiss heroism as futile in a dying world, Carol embarks on a mission to prove them wrong. However, the situation takes an unexpected turn when they are suddenly transported to a treacherous alien realm. As Spider-Woman seeks aid from Earth's finest champions, the explosive villain Nitro, accompanied by his enigmatic extraterrestrial companion Nada, seizes the opportunity to make their malevolent move. Trouble looms on the horizon, promising an action-packed and suspenseful installment.
In "Captain Marvel: Dark Tempest," Captain Marvel finds herself encountering a fresh and formidable foe in the form of Nitro, distinct from the villains she has faced in Mar-Vell's past. The outcome of this clash will be fascinating to witness, as Carol's energy-absorbing powers come into play against Nitro's explosive abilities. The stakes are high, and there is a sense of uncertainty as to whether Carol will overcome this new threat or find herself in a situation similar to Mar-Vell's fate. Brace yourself for this captivating new adventure penned by Ann Nocenti and brought to life by the artistic prowess of Paolo Villanelli. "Captain Marvel: Dark Tempest" is set to debut in July, captivating readers in both comic book stores and online retailers.