Groot's transformation has rendered him nearly unrecognizable within the comic book realm, placing him in the realm of formidable villains such as Galactus within the expansive Marvel Universe.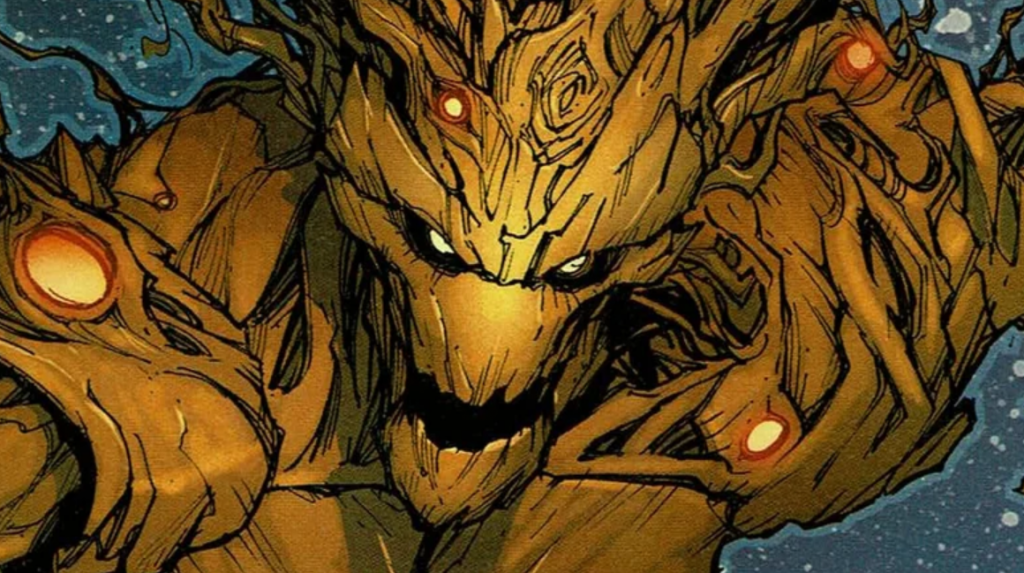 In the latest installment of the ongoing "Guardians of the Galaxy" series, our beloved superhero team embarks on a harrowing mission to save a desolate planet from an imminent catastrophe of cataclysmic proportions. However, to their astonishment, the menacing threat they face is none other than Groot himself. Transformed into a colossal arboreal behemoth, Groot ravages the world, entwining it with his sprawling roots, vines, and branches, setting ablaze everything in his path and seemingly devouring the entire planet. While the origins of Groot's transformation remain a mystery, Marvel unveils a formidable contender for Galactus in the realm of planetary consumption.
The revelation of Groot's astonishing transformation leaves us pondering the enigma behind its cause. However, the pressing question that arises is not so much "how?" but rather "Who possesses the power to halt his rampage?"
The Guardians know Groot is a major problem
In "Guardians of the Galaxy" issue #2, penned by Collin Kelly and Jackson Lanzing, illustrated by Kev Walker and Matt Hollingsworth, with lettering by VC's Cory Petit, Marvel Comics takes us on a gripping journey. Amidst the chaos, Star-Lord endeavors to caution an alien civilization about the imminent devastation brought by a Groot-based menace. He elaborates on the concept of Grootfall, an entity of colossal proportions that engulfs entire worlds in its path of destruction.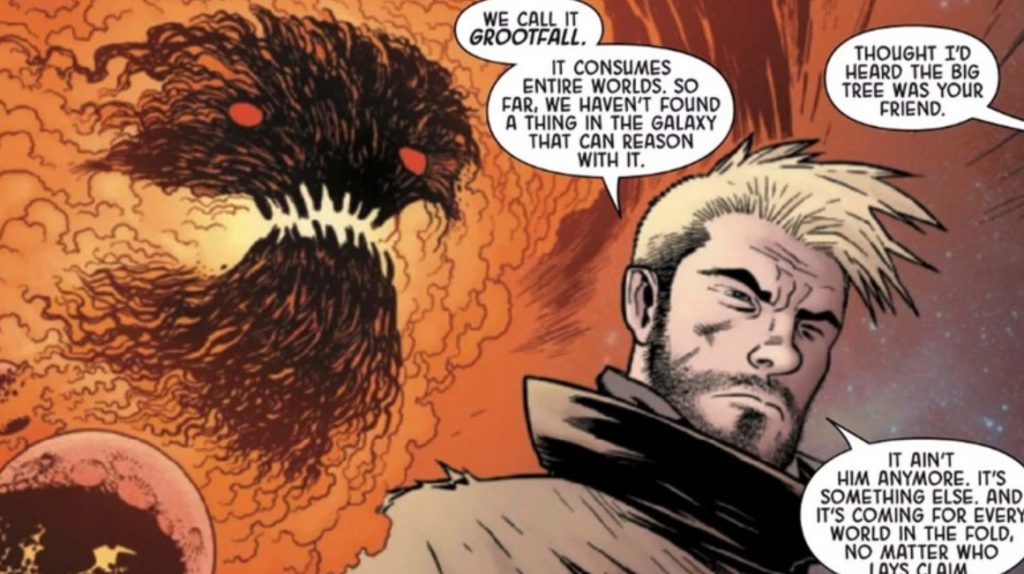 Star-Lord admits to encountering nothing in the vast expanse of the galaxy capable of reasoning with this formidable adversary. When questioned if Grootfall is his former comrade, Star-Lord clarifies that it is an entirely new and distinct entity driven by an insatiable desire to unleash chaos throughout the cosmos. Urgently, Quill implores the red-skinned alien and his people to retreat before it's too late, fully aware of the impending catastrophe that awaits them.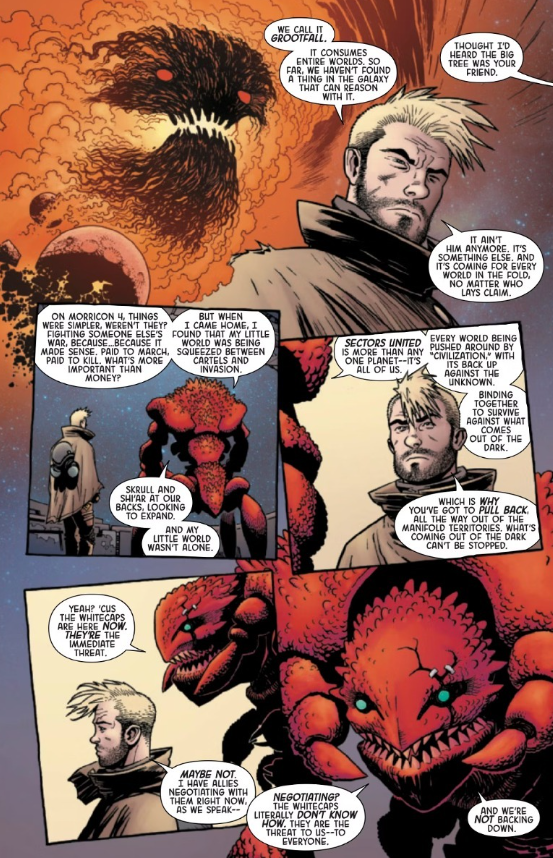 Fully aware of Grootfall's destructive capabilities, Star-Lord musters his final plea, emphasizing to the unnamed alien that disregarding these warnings imperils the lives of everyone in his world. As a dedicated Guardians of the Galaxy member, Quill asserts his unwavering commitment to battle and safeguard the cosmos. While Star-Lord's underlying objective is to prevent his former ally from annihilating yet another civilization and planet, persuading a war-weary population familiar with cosmic turmoil proves to be an arduous task. The forthcoming interaction hints at a grim scenario where the populace views him as an adversary rather than an ally, unwilling to heed his cautionary words, potentially sealing their tragic fate.
Can anyone stop Groot before it's too late?
Star-Lord's admonition carries profound weight, for the emergence of Grootfall poses a grave menace to the entirety of the Marvel Universe. The absence of any known individual within the galactic expanse capable of reasoning with this former member of the Guardians indicates that Groot has ascended to the level of a Galactus-like threat. Nonetheless, it is crucial to distinguish between Galactus' planet consumption, driven by his cosmic hunger and the need for balance, and Grootfall's actions fueled by an apparently arbitrary desire to sow destruction. While Groot's newfound inclination for devouring worlds suggests a purpose behind it, the true motivations remain undisclosed, awaiting revelation.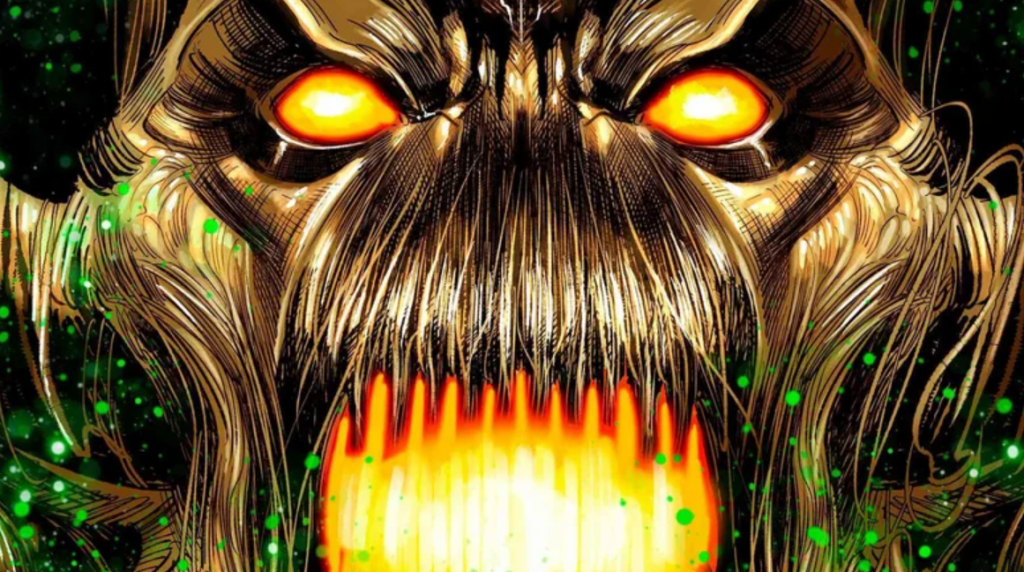 In their present state, the assembled Guardians lack the necessary power and resources to halt the relentless onslaught of Grootfall. However, as Groot continues to lay waste to planets, they face the urgent task of discovering a means to counter this formidable threat. One potential strategy involves alerting Galactus to the existence of another entity devouring viable worlds, potentially provoking his intervention against Groot. Nevertheless, Star-Lord and the Guardians are likely reluctant to pursue this course of action unless absolutely necessary, as it would inevitably result in Groot's demise. However, if it transpires that Grootfall surpasses Galactus in terms of power, the universe finds itself in dire peril.
Currently, it seems unlikely that the regular incarnation of Groot will make an appearance in the ongoing series. However, it's worth noting that the recent "Guardians of the Galaxy" issues have been replete with unexpected twists and turns, leaving room for surprises yet to come.
Be prepared for the arrival of "Guardians of the Galaxy" #2, crafted by Collin Kelly and Jackson Lanzing, illustrated by Kev Walker and Matt Hollingsworth, with lettering by VC's Cory Petit, as it hits both local comic book stores and online retailers this upcoming Wednesday.