In Lazarus Planet: Assault on Krypton, the global Lazarus Storm affects the Superman Family and gives Power Girl an unthinkable new ability. In these series of events, Power Girl added another ability to her set of powers.
DC's Lazarus Planet event is undergoing, surround the earth in a mystical storm that not only affects the heroes but also their powers. Different heroes are affected differently in this situation. In the debut issue Lazarus Planet: Alpha #1, the storm caused sunlight which in-turn affected Supergirl's powers as opposed to fueling them. Power Girl doesn't have the same issue. She goes through her own changes and becomes a telepath. This as shown in Lazarus Planet: Assault on Krypton #1.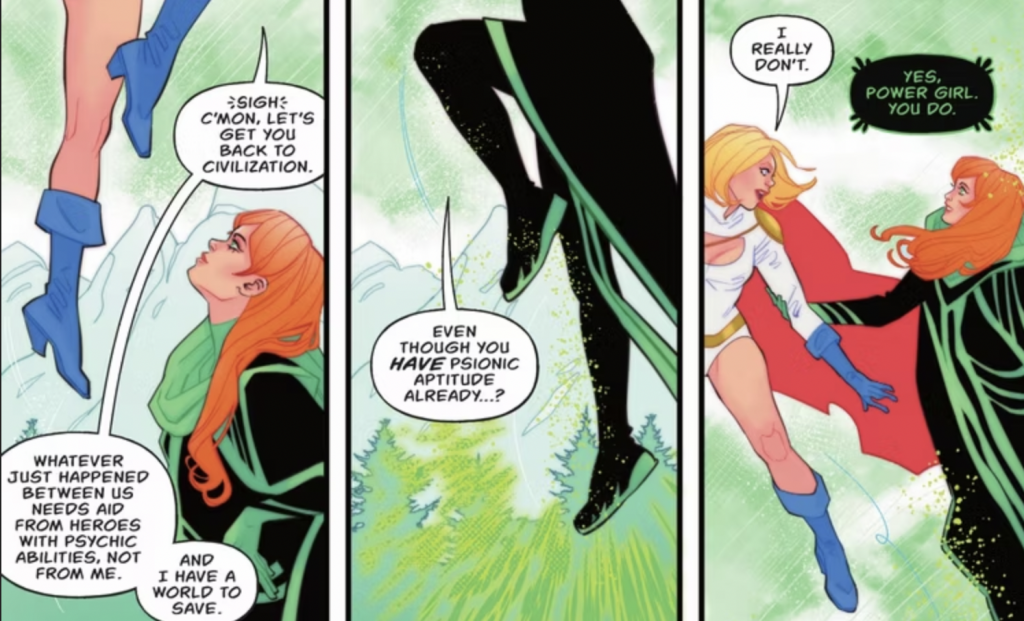 Leah Williams and artist Marguerite Sauvage's "Deus Ex Magicka" story showed Power Girl in a nightmare along with Lilith Clay, AKA Omen, a Titan with psionic abilities ranging from telepathy to telekinesis. When the two meet each other, they have an interesting conversation.
Power Girl is seen saying, "Whatever just happened between us needs aid from heroes with psychic abilities. Not from me." Omen responds with, "Even though you have psionic aptitude already…?" and helps Power Girl realize that she can now hear Omen's thoughts on her own. Omen tests Power Girl by thinking, "If you can hear me right now, say 'Whangdoodle,'" and Power Girl does say the word aloud.
Power Girl Only Had Superman's Powers for Five Decades
DC Universe has been home to the Power Girl for almost 50 years now and this magic was created by Gerry Conway and Ric Estrada in the 1976 issue All-Star Comics #58. Before Lazarus Planet came into the story, she powers were consistent with heat vision, flight, vulnerability, and other Kryptonian abilities. This was in sync with the Superman Family. Now, for her new powers, whether to not they extend to telekinesis and related powers, like Omen's, this is still unknown.
Look Out for Power Girl in Action Comics
Power Girl will now be seen in her next solo adventure film with Omen. That is a buildable action and power packed underway work. Action Comics will be seen switching its format to having a main story and two backup tales. One of the tales will focus on Power Girl and involve Omen.
Written by Williams and illustrated by Sauvage, Power Girl's three-part backup story will give the main hero and Omen new costumes to wear. Along with Williams and Sauvage, "Deus Ex Magicka"also has inputs from Becca Carey.
Lazarus Planet: Assault on Krypton #1 includes three other stories contributed to by writers Nicole Maines, C.S. Pacat and Frank Barbiere, interior artists Skylar Patridge, Scott Godlewski and Sam Basri, inker Vicente Cifuentes, colorists Nick Filardi, Alex Guimarães and Hi-Fi, and letterers Morgan Martinez, AndWorld Design and Dave Sharpe. With main cover art by David Marquez and Alejandro Sánchez, variant cover artwork by Mario Foccillo, Prasad Rao, Nathan Szerdy, Jen Bartel and Ariel Colón, the anthology issue is now on sale from DC Comics, you should not miss it!