Superhero pets exist in almost every universe, in countless issues, and even have their own leagues– The Pet Avengers and the Legion of Super-Pets. Some of them are crowd favorites, but for the most part, superhero pets are the butt of many jokes. Whether it is their appearance, their attitude, or their actions, comic book fans have a hard time getting behind the furry friends of our favorite superheroes and villains.
It is perhaps this viewpoint that keeps moviemakers from including superhero pets in their film adaptations of comic books and superheroes. The risk of being corny or cheesy is high when it comes to super monkeys and bulldogs with the ability to teleport. But superhero pets also tell us something about our heroes that nothing else can– that they have the ability to bond to something, anything. Many of our heroes are rogue, unable to maintain healthy relationships for any reason, but with pets, they're brought closer to us.
While we understand the risk of putting pets into a movie is high and honestly pretty improbable, we thought it would be fun to introduce our favorite Superhero Pets and imagine what it might be like to have them in some of our favorite comic book movies. Would they ruin the stories? Or, with the proper CGI and direction, could the enhance all of our experiences?
Redwing the Falcon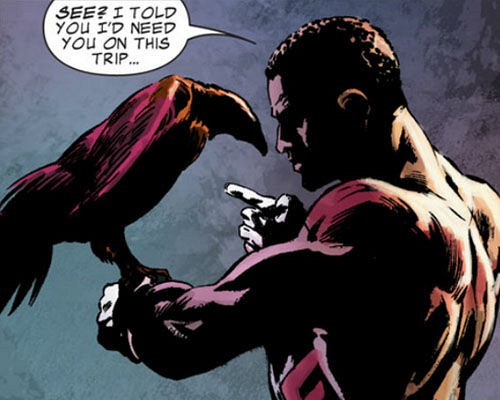 To make a case for pets in comic book movies we have to start with one of the most visually interesting ones out there. Without a doubt that pet is Redwing, the pet falcon of the superhero Falcon. Telepathically connected to Redwing, the two understand each other beyond a normal bond between man and pet. Redwing understands commands in English and they can see through each other's eyes to see what the other is seeing. Falcon often refers to Redwing as one of his best friends. Redwing did not appear in Captain America: The Winter Soldier, which for such a close bond is a huge disappointment. Though it is rumored that Redwing will join Falcon in Captain America: Civil War but as a drone. Fans are wary if a drone version of this beloved pet will work on screen because their bond of friendship won't be an important part of the storyline any longer. One can't be best friends with a drone"¦ can they?
Throg the Frog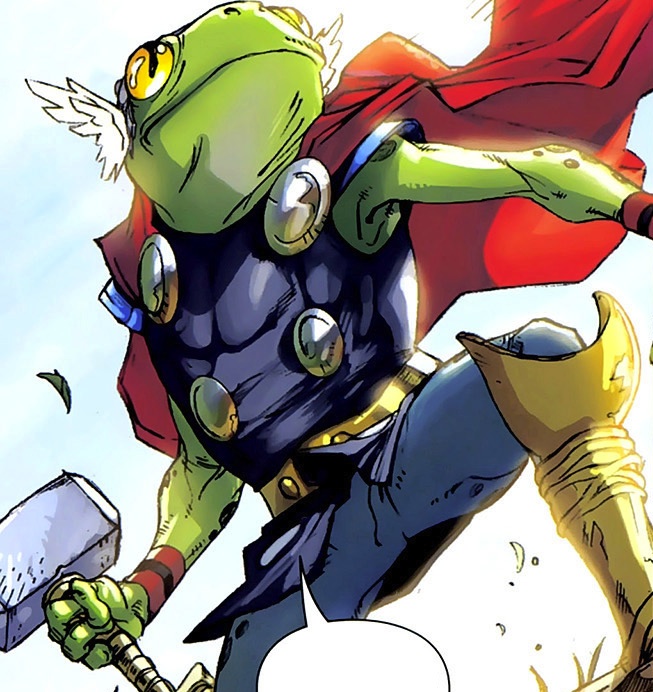 At first we all want to giggle at Throg the frog. With his tiny hammer and cape you can't help but want to look at him and say "Aww." But his backstory is actually much more interesting and complex than just a tiny frog imitating Thor. Before he was Throg, and even before he was the frog Puddlegulp, our little frog superhero was a human man. So he has human emotions and thoughts. Thor and Puddlegulp first meet when Thor is also turned into a frog by Loki. It is then that Thor helps the frogs defeat the rats in a territorial dispute and after Thor returns to being a man, the little green guy finds a piece of Thor's hammer that turns him into Throg the Frog of Thunder. Quite a story for such a tiny and underappreciated superhero. With this one we can see the difficulty of inserting a frog into any of Thor's storylines on the big screen, but if they can turn Redwing into a drone, they can certainly dress up Throg.
Jumpa the Kanga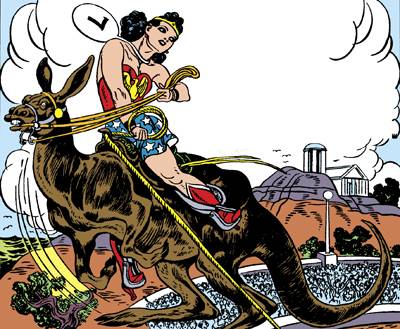 This whimsical creature could be quite hard to work into the increasingly darker world of DC on screen, but make it a little bit more vicious and realistic and you could have one hell of a sidekick. Jumpa is the Kanga of Wonder Woman. The Amazons used Kangas much like we humans use horses for work and play and companionship. Wonder Woman often used Jumpa to help her fight. Though Kangas altogether disappeared post-crisis, it could be interesting to have them return a little bit meaner and more capable than your average pet. But as much as we want to dream about turning this silly little thing into a crime-fighting hero, it would be too much of a challenge with too little return to actually go through with it.
Ace the Bat-Hound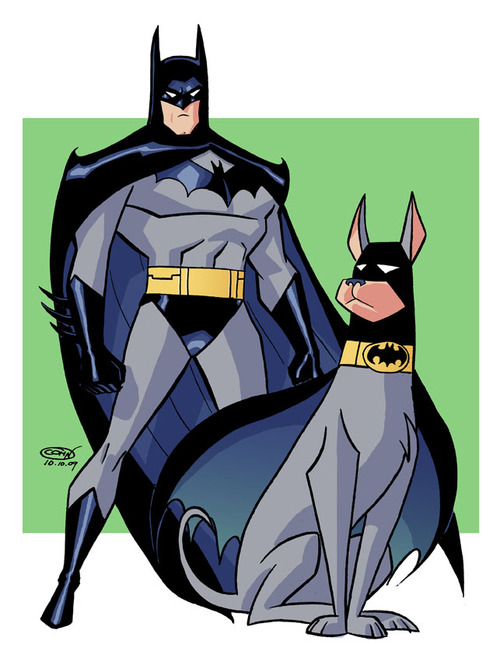 We 100% stand behind bringing in Batman's dog Ace into the fold and soon. There's something a little bit for believable about a badass Great Dane than a alien Kangaroo or powerful frog living in Central Park. Ace has had several permutations over the years starting in the fifties, but our favorite has to be the 2005 version. This Ace was complete with Batmask, Batcape, Batgadgets, and a Bat Wing Glider so he could fly. He isn't just an ordinary dog in this version but a full-on mini me of Bruce Wayne. And considering Superman has his own dog Krypto as well, this could have been a nice extra layer to add to Batman vs Superman. However, we would probably avoid adding Jumpa in for Wonder Woman.
Krypto the Superdog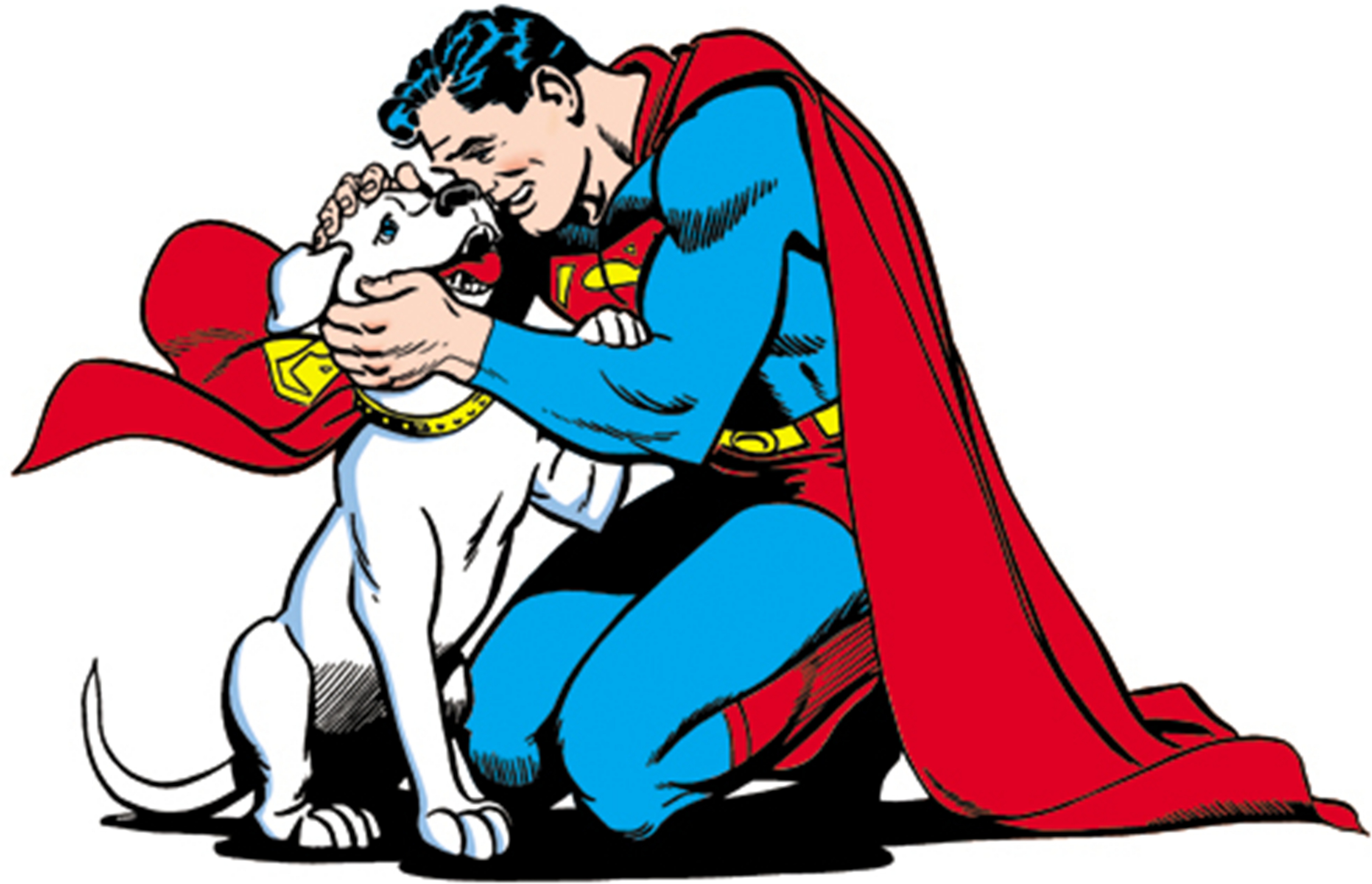 Following Batman's best friend Ace, we have to discuss Krypto. Krypto is without a doubt one of the most famous of all superhero pets having had his own television series and comic book series. Like many of the superhero pets on this list, Krypto has appeared several different times in several different ways. In his first and original appearance, he was the pet of toddler Kal-El and was sent to Earth first as a test for Kal-El's own eventual departure. In the end, Krypto gets knocked off course and arrives to Earth long after Kal-El but is finally reunited with the teenage Superboy.
Krypto has all the same super powers as Superman, just for a dog. And just like Ace he has his own disguise. He wears a brown dot over one eyes as his alternate identity "Skip", the Kent family dog. As we mentioned before, having Ace and Krypto join their owners would be a nice touch in film to show that Batman and Superman have, at least, one thing in common.
Storm the Seahorse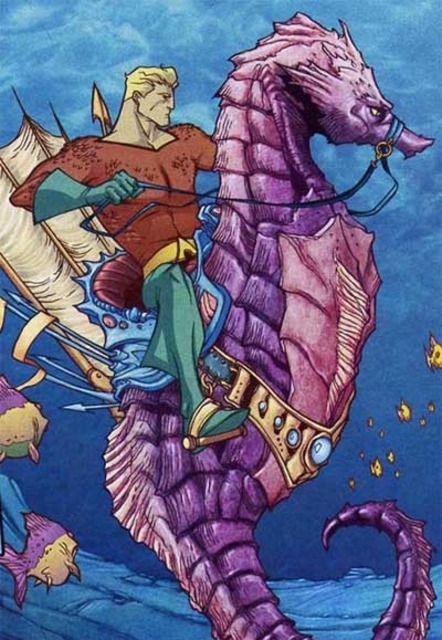 This is where we take a turn back to the sillier of our superhero pets. Aquaman's seahorse Storm has been the butt of many jokes over the years. But we really do believe that a CGI version of this character could be insanely cool. Imagine Storm as more of a dragon and you've got one frightening pet that doubles as sidekick and weapon. Like Falcon and Redwing, Aquaman and Storm are telepathically linked, making Storm a valuable asset to the hero. Storm is not only able to swim with Aquaman mounted on top under water but is able to skim above the sea as well at top speeds. Out of all the silly pets on the list, Storm is perhaps the one that actually deserves a little bit more respect than he gets.
Lockheed the Dragon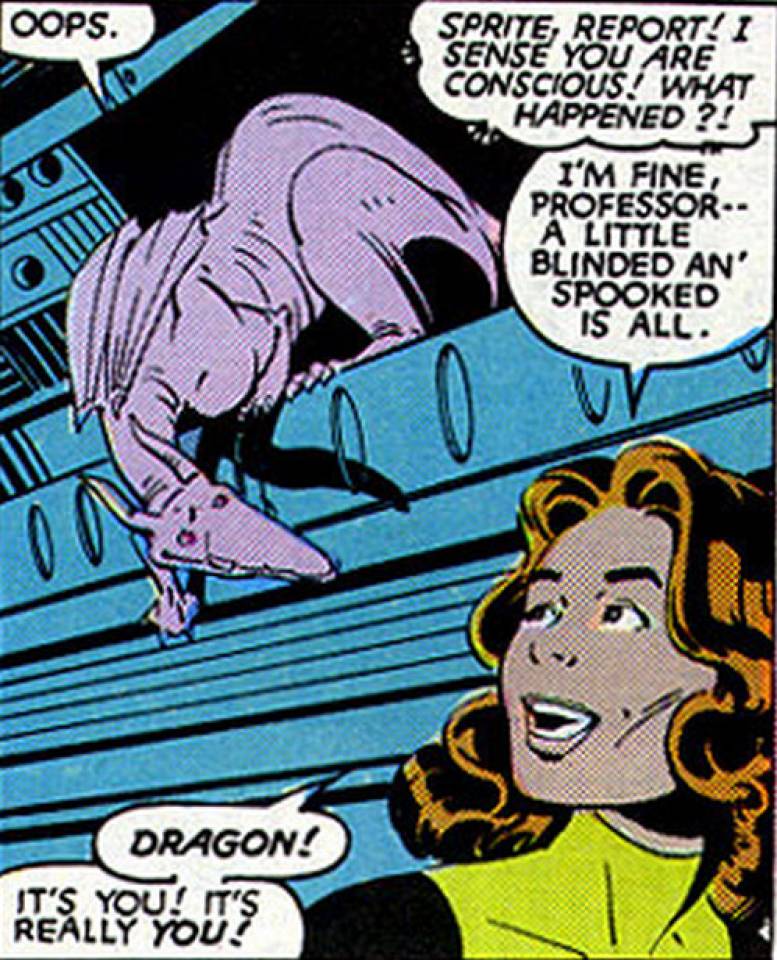 Kitty Pryde's dragon Lockheed has had as much as a complicated past as any of the X-Men but remains a favorite. After the dragon saves and frees her in space, Shadowcat and the dragon become almost inseparable for many issues and over many years. Most recently however, Lockheed betrays the team in Joss Whedon's Astonishing X-Men, surprising almost everyone. Lockheed is highly intelligent and has the ability to block telepathic probing, like that of Professor X. He can understand English, and even speak it if he chooses, which he does rarely, and can understand and speak a multitude of languages including alien languages. And let's not forget he is a dragon so he can most definitely breathe fire. Lockheed has yet to appear in any films, but with such a complicated history and important standing with Kitty Pryde, it will be important for him to eventually make his way on screen.
Beppo the Super Monkey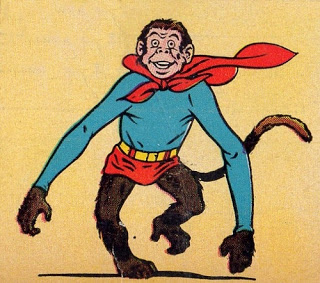 Perhaps the most painful of the pets on this list, but necessary to add for a good laugh, we have Beppo the Super Monkey. Beppo, like Krypto, was sent from Krypton as a test trip before Kal-El's own departure. He also gets knocked off course, as it seems everyone does, and it is some time before he is reunited with toddler Clark Kent. For the most part, Beppo is a source of hijinks and trouble for little toddler Kent, who gets blamed for most of his bad behavior. Beppo isn't around long, maybe because people were sick of his general annoyances, and he finds himself launched out back into space.
Beppo briefly returns at the hands of Supergirl who introduces him to Krypto. He joins the Legion of Super-Pets and like all the pets of DC Universe, goes completely missing post-crisis. Beppo is slated to make a small return to some books this year, if he isn't totally annoying, perhaps he could exist on screen in some sort of flashback, but for the most part. We don't stand behind this joker. At all.
Comet the Superhorse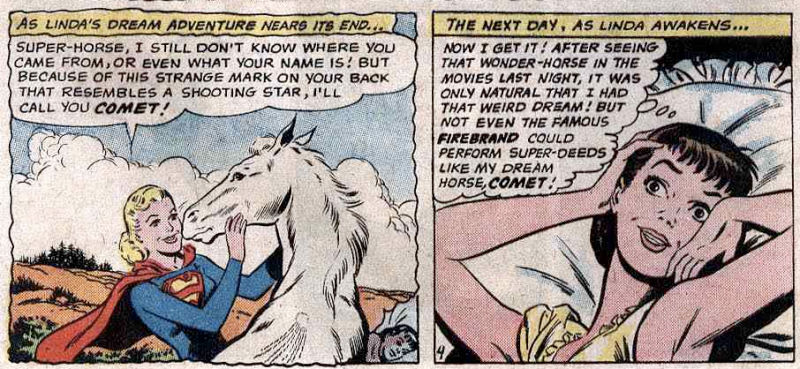 Like Beppo, Comet the Superhorse has all the same powers as Superman and Supergirl, including flight, and is also a member of the Legion of Super-Pets. Unlike Beppo, however, Comet occasionally turns into a man. In fact, he turns into a man only when a comet passes through whatever solar system he is in. When the comet passes, he turns into a Rodeo Trick Rider. (Yes, this is all true.) Supergirl, of course, falls in love with him as a man, but he is always turned back into her trusty Superhorse. Comet also has a love story with Lois Lane in her comic book. I without a doubt want to see Supergirl fall in love with a horse-man on television. This is the wackiest thing I've ever heard and would love to see TV producers try and legitimize it. I have a feeling, though, that this is one they may choose to keep on the page.
Lockjaw the Bulldog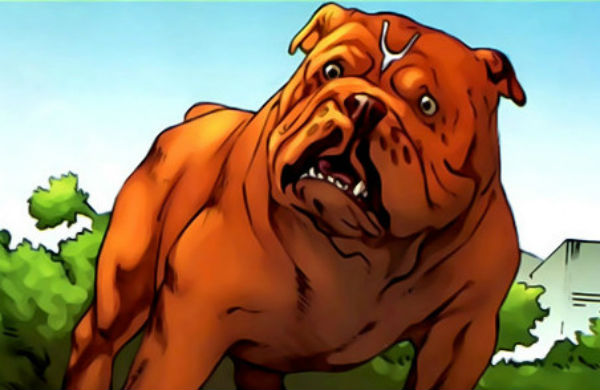 Rounding out our list is Lockjaw, the leader of the Pet Avengers and perhaps the most powerful Bulldog you will ever encounter. A part of the Marvel universe and the Inhumans royal family, Lockjaw has the insane ability to teleport. In fact, his main task for the royal family was to teleport them to wherever they wanted to go. It seems his teleportation has no limits in terms of distance. It is after that Lockjaw meets Mr. Fantastic that he decides to leave his life as a royal pet and go off in search of the Infinity Gems, alongside the Pet Avengers, including Throg the frog. Now tell me a giant teleporting Bulldog wouldn't be cool onscreen.