A lot of people seemed annoyed that Captain America 3 would be a "loose" adaptation of the Civil War storyline. I was not annoyed, because here's the thing. Civil War isn't very good at all. I know, I know, Civil War got you into comics so you have a soft spot for it. That's totally cool. I was brought in by 2004's Avengers: Disassembled which owns my heart forever. But sometimes it's time to take off those rose-colored glasses and take a look at why Civil War isn't as great as many people remember. In fact, it isn't very good at all because…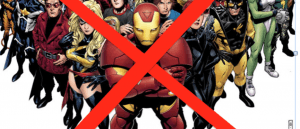 10. It Didn't Change Anything
Comic books are by their very nature, mutable. Changes come and go, but for the most part they don't last. But Civil War's changes didn't even make it a year. Civil War is the comic book equivalent of that friend you have that gives up on his New Year's resolutions mid-February.
Seriously, what came out of Civil War? Tony Stark, Director of S.H.I.E.L.D.? Lasted almost a year, but it was barely a factor in any stories. Peter Parker's identity being public knowledge? Made it about six months before the Spider-Man writers nuked it from orbit. The Punisher becomes Captain America? The preceding sentence lasted longer than what it described. And what of the most interesting change: Steven Rogers in prison? Oh, that one lasted less than one issue before Ed Brubaker killed "˜im off in accordance with his original plans.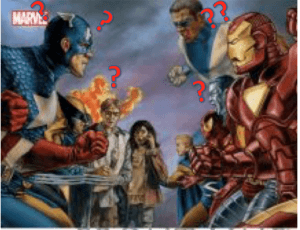 9. Every Character Relationship Is Wrong
I like Mark Millar's writing, but Civil War is not a shinning example. And a lot of this is because all of the characters are written as if they've been separated from the greater marvel universe, existing only in a vacuum. The characters' relationships to each other are poorly conceived at best. Cap's Secret Avengers are Daredevil, Goliath, Falcon, and Hercules? I don't think Goliath and Cap have even met more than twice. And that ISN'T EVEN DAREDEVIL!! Seriously, the guy in the suit in this story is actually Iron Fist, since Matt Murdock was in prison in his own series.
But it was like Millar didn't look into the wider universe at all. Goliath is treated like everyone's friend (we'll get into why in a bit), Characters who should know each other don't and those that shouldn't are all too chummy. The failed clone of Thor knows who Dagger is. I bet YOU don't even know who Dagger is, and you weren't cobbled together out of metal and god dandruff. Speaking of which"¦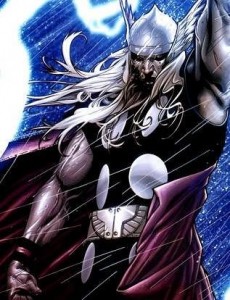 8. Clor
As a longtime comic book scholar, it is my pleasure to introduce Clor, THE DUMBEST THING OF ALL TIME. Y'see the thing is, when Civil War came out, Thor was dead. So Millar had Reed Richards and Tony Stark create a part-clone part-robot version of Thor. "Clor". Yeah, he's been given an actual name, that name being "Ragnarök," but I'm not callin' him that. No, he deserves a name of equal terribleness value to his very concept. Clor's very existence is out of character for his creators. I mean, Tony and Reed have done some morally questionable stuff in the past, sure, but this is actual supervillain behavior. Never mind the fact that they're cloning one of their dead friends, they're also cloning a dead GOD.
Cloning a god is always evil. LITERALLY ALWAYS. Also, he does not act even a bit like Thor. He's a robot who murders people with lightning. That's not Thor, that's the villain from "The Surrogates". He also serves almost no purpose in the storyline.  He shows up, kills Goliath and sticks around until Hercules caves his head in. All he does is dramatically discredit Tony and Reed. Oh, and the credibility of the plot as a whole. That too.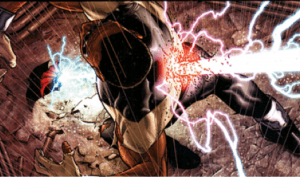 7. Goliath Is Only There To Die
Bill Foster AKA Goliath is an F-list marvel character at best. His last appearance before Civil War was SIX YEARS EARLIER. The only reason he appears in Civil War at all is so he can die. The preceding story only takes time to build up how great Goliath is and how much everyone totally cares about him as a cheap tactic to make his death seem like it mattered. But in reality, Goliath's death has about as much weight behind it as when Goldbug and The Plunderer get gunned down.
Who?
Exactly.
Goliath is the gigantic sacrificial lamb Civil War cuts down to give itself artificial weight. Way to waste a character.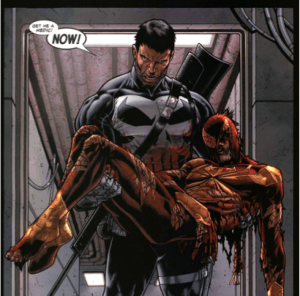 6. The Punisher Is Unnecessary
I've seen a couple people online disappointed that Frank Castle alias The Punisher won't be in Cap 3 since he's on Netflix lockdown but I don't think it'll make a real difference. Here is the Punisher's entire role in Civil War, beginning to end: Issue 4- Punisher is seen in the background watching events unfold from afar while wearing a ski mask. Issue 5- Frank saves Spider-Man and brings him to Cap's hideout. Cap lets Frank join up. Issue 6- When two Z-list supervillains try to join up with Cap's team, Frank murders the hell out of them and Cap kicks his ass and kicks him out. Issue 7- Frank stares at Captain America's abandoned mask. That's it.
There, I just summarized for you EVERY SINGLE APPERANCE OF FRANK CASTLE IN CIVIL WAR. With all that stripped out, the story looses exactly nothing. But that's the problem with Civil War, so much of it is just needless space filler.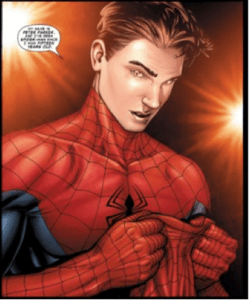 5. Spider-Man's Unmasking Is Pointless
Another one of those "fans are sad this part of Civil War won't be realized onscreen" moments is probably the most iconic moment in Civil War: Spider-Man's unmasking. In the second issue of the series, as a publicity stunt, Tony Stark calls Spider-Man up and Peter Parker unmasks himself in front of the entire assembled press. And again, like the Punisher's appearance, it adds absolutely nothing to the story overall.
Peter's public identity is not mentioned at all after the unmasking scene in the main series, and like I said before, it only lasted six months or so in the Spider-Man books. Not only that, but it goes against one of the core tenants of Spider-Man. The secret identity and the guilt and drama it brings are part of why the character works so well. Without it, Peter Parker loses some of his defining attributes. It'd be like having Batman just "˜get over' the deaths of his parents. You can't just strip a character down as a cheap shock tactic. And that's all this was.

4. The Ending Is Stupid
Civil War's ending is one of the biggest anti-climaxes in comic book history. I have issue 7 laying open in my lap right now as I type this and it actually hurts me to look at it. It's such a fundamental misunderstanding of character and story arc that I am literally jumping for joy at the idea that Cap 3 will change it.
For those who haven't read it. The story ends when, after a big knock-down drag-out fight, Steve Rogers gives up and cries. Not joking. Just as Steve is almost done beating the living hell out of Tony, he is tackled by a group of multicultural civilians belonging to various branches of emergency services. He then looks around at the collateral damage to the city in an "oh my god, what have I done" manner and surrenders. This is despite the fact that BOTH SIDES were bouncing around the city wrecking things and Tony brought literal supervillains to the fight, but no, it was Steve who was in the wrong. Steve takes off the mask and lets himself get arrested, still crying like someone stepped on his lollypop. Ugh.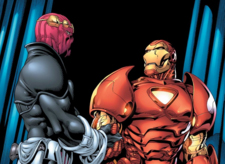 3. Iron Man Is A Supervillain
And now we get down to the core complaints about Civil War: EVERYONE IS OUT OF CHARACTER. This is gonna take up all three of the top spots, so let's get started on our first victim of character assassination: Tony Stark.
Here's the thing; the central conceit of Civil War, that Tony supports the idea that the US government can be trusted to regulate all superhumans, goes against Tony's entire history as a character. One of my all time favorite Iron Man stories is the "˜80s classic "Armor Wars", in which Tony discovers that his technology is being used by numerous organizations, most of them supervillainous, and flips out. When he discovers the US has been using Stark technology, he finds those using it, beats the heck out of them, and forcibly shuts down their tech, not trusting the government farther than he can throw them.
But why even go that far back when I can look to the early 2000s for an example. When Tony discovered that, yet again, the US was using his tech without his permission, he wormed his way to a position as the Secretary of flippin' Defense, because (say it with me now) he did not trust the government. But once Civil War comes around, he's more than happy to pledge his undying loyalty to the US. He also, y'know, builds an evil space prison and recruits murderous supervillains, but if I got into THAT, we'd be here all day.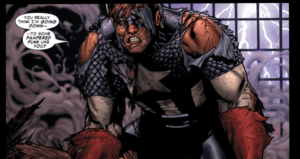 2. Captain America Is A Thug
But Tony isn't the only one to be depicted completely against his decades long portrayal, Steven Rogers is hit just as hard. Civil War depicts Steve as a thug, and a dumb one at that. Even if we don't address the whole "durrr, I didn't know people could get HURT" tone to the ending, Steve is still shown as brutal, stupid, and completely unheroic.
In the first issue, he beats the hell out of a squad of SHIELD agents, not pulling any punches.  In issue two, he practically cripples The Vulture who, if you needed reminding, IS LITERALY JUST AN OLD MAN WITH WINGS!! Not cool, Steve! In issue three, he plays dirty by EMP-ing Iron Man during a cease-fire, which is a literal war crime!
He avoids being out of character in issue four, bit then he IS unconscious for most of it. Issue 5 sees him draft The Punisher and then assume he's not gonna kill anybody in a REMARKABLE display of stupidity. Issue 6 sees him beat up the Punisher for doing the only thing the Punisher is known for doing. But in issue 7, things reach a new height. Not only does Steve command his troops like cannon fodder, but he also beats down Tony to the point where it looks like he's going to kill him. Oh, and he calls Tony a "pampered punk" which might piss me off most of all because"¦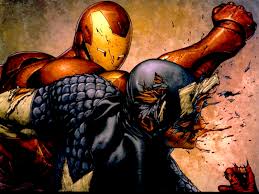 1.The Captain America/Iron Man Relationship Is Painfully Wrong
The best Captain America vs Iron Man story of all time already exists. Back to "Armor Wars" again, in that story the dynamic between the two characters is that of two friends who do not want to fight but neither will back down from their own positions. They pull their punches and when Tony eventually fights dirty to win, he feels legitimately bad about it. In the final battle of Civil War, Tony at one point looks up at Steve and says:

               "What are you waiting for, Steve? Finish it."
The fact that Tony would believe EVEN FOR A SECOND that Steve would kill him shows just how wrong their relationship is here. I mean, god. As a lifelong fan of both those characters, that panel makes me physically ill to look at. Friends and heroes for decades, turned into a thug and a supervillain beating on each other surrounded by a bunch of cardboard cutouts with no purpose or impact.
Civil War, everybody.
Hopefully I've done a decent job of convincing you all why maybe a loose adaptation of Civil War isn't the worst idea. And I fully trust the Russos to take this material and turn it into a truly great movie. Good luck guys, I'll be rootin' for you, because that trailer looked fantastic.