I love recent trend of comic book movies, but even with all the great ones we've got, there are still a few more that would be a dream come true to see adapted to film. The following ten comics are full of cinematic concepts and fully realized characters. You listening, Hollywood? Why do we need Gambit or the Inhumans when we could be getting"¦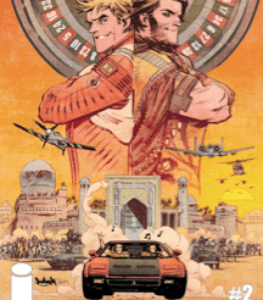 10. Chrononauts
(Image Comics)
Chrononauts, by Kick-Ass and Kingsman creator Mark Millar and Punk Rock Jesus creator Sean Murphy, is a time travel story made purely of fun. A friend of mine described it as Bill and Ted meets Lethal Weapon, and I feel like that's the best way to put it.
The story follows Corbin and Danny, the world's first time travelers, operating under the financial support of the U.S. government. After things go wrong and Corbin gets thrown off course, Danny is sent in to get him back"¦ only to discover that Corbin doesn't want to go back. Instead, the duo decide to use their time machines for the purpose of"¦ fun and money.
What follows is a fun, charming story that crisscrosses the time stream, bouncing around history at an exhilarating pace as Corbin and Danny try to outrun the military while having as much fun as they can. Admittedly, this one IS sort of in development to be a film, but if that goes through, I will be first in line for tickets. Also, there is a scene where an F-14 strafes a T-rex. What more could you ask for?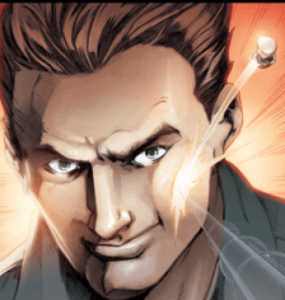 9. Brilliant
(Icon Comics)
Brian Michael Bendis and Mark Bagley's Brilliant is"¦ well quite frankly it's brilliant. It's a unique take on the superhero genre that veers into more of a cerebral thriller. But with superpowers. A college student returns to discover that his old friends have been hard at work on one project: figuring out how to give themselves superpowers. But one of the group might not have exactly waited until it was safe to try it out. Things go straight to hell, as you probably could have assumed, and the series touches off into a tense, nerve-racking thrill ride where no one is safe, not even the ones who seem bulletproof.
The only reason this book is so low on my list is because the series still isn't done yet. But once it's complete, a big screen adaptation would be a super-powered thriller that could surpass even films like 2012's excellent Chronicle.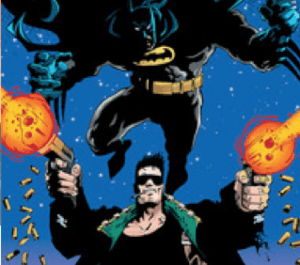 8. Hitman
(DC Comics)
With Preacher coming to AMC in the spring, I thought I'd talk about another of Garth Ennis's works, specifically his 60 issue series with artist John McCrea for DC Comics. Tommy Monaghan is a hired assassin working in "The Cauldron" the worst section of Gotham City. And in Gotham City, that's saying something.  After an alien invasion, He's left with incredible superpowers"¦ that he decides not to use in favor of just shooting people. Along with his pals at Noonan's Bar, Tommy eschews the capes and tights crowd of the DC universe to club zombie baby seals and run from pissed off SAS veterans in this deliciously dark comedy with some real heart to it.
Hitman is the first of two comics on this list to actually make me cry. The supporting cast is wonderful, including the demented superteam Section 8, which includes Dogwelder, a superhero whose superpower is to"¦ weld dogs to people. Yep, that sounds like something Garth Ennis would write. Also, Ennis takes an entire arc of the series just to make fun of how dumb he thinks Green Lantern is and it's kinda amazing. A Hitman film would be exactly the kind of fun, irreverent flick the DC cinematic slate needs right now.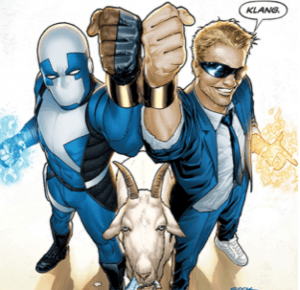 7. Quantum & Woody
(Valiant Comics)
Although Quantum & Woody debuted in the nineties, the run that cemented their place on this list was the recent one by James Asmus and Tom Fowler, which is one of the most laugh out loud funny comics I've ever read.
Eric and Woody are adopted brothers who hate each other after years of being apart. When they both get brought back together by the death of their father, the duo's arguing get them caught up in a mess of science and intrigue.  After an accident, both brothers discover they've been granted superpowers with one caveat: if they don't make physical contact at least once every 24 hours, they'll both disintegrate.
And so were born Quantum and Woody, the world's worst superheroes. The duo fight crime and insane mad science when they aren't actively trying to kill each other. This series is the superheroic equivalent of a buddy comedy, and a really goshdarn good one at that. I would give my left arm to see it made into a film. Also, it prominently features a goat. Named Vincent. Vincent van Goat. He is the best.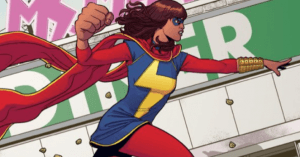 6. Ms. Marvel
(Marvel Comics)
This is most definitely the highest profile comic on this list, at least for the moment. The 2014 Ms. Marvel series by G. Willow Wilson and Adrian Alphona will go down in comic book history as something truly special.  I think it gets a lot of credit for its diverse cast, and while it deserves that credit, I don't think it gets enough credit for just being really damn good. Which it truly is.
The series tells the story of Kamala Khan, a teenage girl living in New Jersey. After she's given superpowers by a comic book event you don't really need to know about, she decides to take after her hero: Carol Danvers aka Captain Marvel. Using Carol's original codename and a brand new set of superpowers, Kamala becomes the hero New Jersey has so long been denied.  With a lovable supporting cast and some fantastic guest appearances, Ms. Marvel is downright perfect. A movie based on Kamala would lend the MCU that street-level small-time superhero quality it's missing.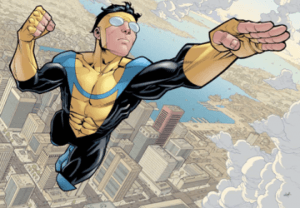 5. Invincible
(Image Comics)
Invincible, written by Robert Kirkman of Walking Dead fame, is one of the best superhero comics you're likely to read. It's fun, dramatic, and engrossing as hell. Mark Grayson is the son of Omni-Man, the world's greatest superhero. One day, while enduring his fast food service job, his superpowers awaken and it's all uphill from there. Mark, now known as Invincible, takes flight in a series that captures the magic of classic Spider-Man with Kirkman's own unique touch.
As Mark learns his powers, grows closer with his father, and even joins a superteam or two, his life looks like it couldn't be better. But after a shocking revelation about someone who Mark thought he could trust, he will have to truly see if he has what it takes to be a hero. Don't let this book's fun artwork (Courtesy of first Cory Walker and then Ryan Ottley) fool you. When things get dark in Invincible's life, they get pitch black.
The series has been running nonstop since 2003, and I haven't even covered the first 20 issues here. It's worth reading for yourself, trust me, and out of everything here, I'm most surprised that this one hasn't already been adapted to the big screen.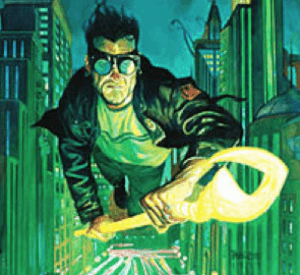 4. Starman
(DC Comics)
Starman, by James Robinson, Tony Harris, and Peter Snejbjurg is my favorite thing DC Comics has ever published. It's protagonist, Jack Knight, is one of my top five favorite characters of all time. I"¦love"¦ Starman.
A little backstory: the series revolves around the Knight family, specifically father Ted Knight (an aging inventor who operated as the superhero Starman back in the 1940s), older son David Knight (who has always looked up to his father and has decided to become the new Starman), and younger brother Jack Knight (a misanthropic antiques dealer who finds the Starman name and costume dumb). On page one of issue one, David is murdered on his first night as Starman. As a result of this, Jack decides to bring David's killer to justice, and in the process begins a journey that will turn Jack into the hero he has always secretly wanted to be, while at the same time, repairing his relationship with his father and changing the path of his life for good.
Starman has made me laugh, made me cry, and its stories about the past and future make it an 80-issue celebration of everything great about comic books. And with a little effort, a film adaptation of it could give the DC cinematic universe the sense of history and heroism that defined the comics.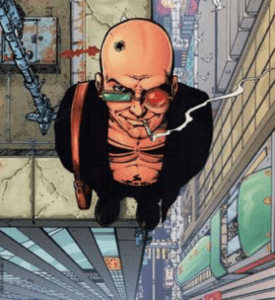 3. Transmetropolitan
(Vertigo)
Spider Jerusalem, a Hunter S. Thompson-esque writer living in the 23rd century is in self imposed isolation when he finds out something distressing: he still owes his publisher two more books. Now, for contractual reasons, Spider must take on the slimy politics of the future with only his acerbic wit and cunning at his disposal.
The world of Transmetropolitan as created by Warren Ellis and Darick Robertson is filled with sex, drugs, and violence, and that's just the children's entertainment. But Transmet isn't great simply because it's shocking. The book easily manages to balance the crude (like Spider's signature Bowel Disruptor gun) with the emotionally powerful (Issue 8 features the tragic story of a women cryogenically frozen coming to terms with the overwhelming world of the future). And the entire series leads up to one of the best finales of all time. Want to know what a film adaptation of this one could be like? Imagine Fear and Loathing in Neo-Vegas. "˜Nuff said.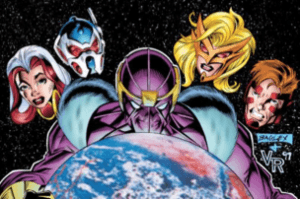 2. Thunderbolts
(Marvel Comics)
Not gonna lie, Thunderbolts (created by Kurt Busiek and Mark Bagley) is on here mostly because the Thunderbolts are, bar none, my favorite superhero team of all time. and, while I know they're probably never getting a film"¦ well, a guy can dream, can't he?
Here's the pitch: after the Avengers, X-Men, and Fantastic Four have all disappeared (due to a dumb comic book thing you don't need to know about) a brand new super team emerges: the Thunderbolts. As it turns out, however, these new heroes are not what they seem. In reality, they are the disguised members of super villain team The Masters of Evil, pretending to be heroes with the endgame of world domination. But what happens when some of these villains decide they like being heroes more? What happens when the media grows close to discovering their identities? And how do the best known super villains in the world try to redeem themselves after all of their attempted world domination?
The nigh-200 issue run of the Thunderbolts series answers all those questions while also telling a story of redemption and downfall that flowed from writer to writer and from team to team. There were rumors of a Thunderbolts series in the works at Marvel TV, but for me, this one needs a full movie behind it. But then, with original Thunderbolts leader Baron Zemo set to appear in Captain America 3, maybe we'll get one.
 
1. Supercrooks
(Icon)
Leinil Francis Yu and Mark Millar (yes, again) collaborate to produce a comic book that is basically a heist movie featuring super villains. After an aging super villain gets into trouble with a loan shark, he calls in every favor he can, bringing together a charming team of super criminals to steal the money he needs. Said team of super criminals decide, since America's all full of superheroes, why not just go to Spain instead? The series that follows is fun, charming, and enjoyable as hell.
I really don't want to give away too much of what happens, because the series is full of twists, turns, and a crazy-as-hell finale. It is a must read, for sure. And if "super villain heist movie" actually gets up there on screen, I dare anyone NOT to be interested in checking that one out.
And with that, I have to draw this list to a close and implore you to go buy one of these fine series. Honestly, I could have written a top 20.