We are well over a year out from DC Rebirth now, folks, so it's time to look back and see what worked best. Which books are the ones to buy, the ones that stand out from the herd? Which ones rock so hard, they're impossible to put down? Let's take a look and find out.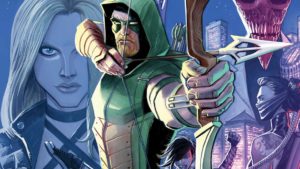 Source: dccomics.com
10. Green Arrow
If DC Rebirth got one thing 100 percent right, it was giving Oliver Queen his goshdarn facial hair back.
I don't want to see no baby-faced Green Arrow! That man has one carefully groomed, secret-identity-risking goatee, and I want to see it. More importantly, however, we got a another killer Green Arrow book.
The New 52 actually achieved this for a bit during Jeff Lemire's run, but Rebirth has kept it consistent. The most recent story was Hard Traveling Hero, a truly phenomenal series of team-ups as Ollie travels the country in alliance with the Justice League. Each issue spotlighted a different artist, which led to some amazing one-offs.
Stephen Byrne needs to draw a Flash comic tomorrow. Dude was born to do it. The fact that he hasn't yet is a crime against me. Oh, and that Juan Ferreyra Superman ain't too shabby either. And by "not too shabby" I mean, "If I could find a way to eat these gorgeous drawings with my eyes, I would have done it by now."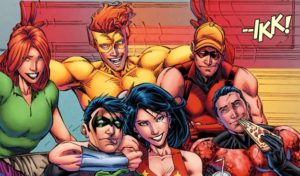 Source: newsarama.com
9. Titans
DC Rebirth was all about bringing back what people loved about pre-New 52 DC Comics. And the big thing that felt lacking was history. Well, Titans aims to give some of that back.
Reuniting the classic Titans squad, we now have a book starring Nightwing, Wonder Girl, Aqualad, Arsenal, and a newly returned pre-52 Wally West. I've always liked New 52 Wally, but bringing back the OG means we just get to have our cake and eat it too, and that's pretty sweet.
Reuniting the team made for a good comic that also served as a solid first chapter of the Rebirth Mystery. Plus – and I cannot say this with enough gravity – this comic book brought back classic Abra Kadabra, and I will never be able to adequately express my appreciation for that.
If I gave out medals at the end of every year, someone in the DC offices would be getting one for "best resurrection of some extremely old school s**t that is sorely missed".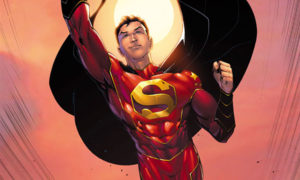 Source: comicstalkblog.com
8. New Super-Man
Gene Luen Yang is a treasure.
American Born Chinese is a book I think everyone should be required to read, because it's deeply excellent. And after ten issues of Superman, he was handed a book to create as he wanted. And that's how we got Kenan Kong, the Superman of China.
Because of course China would make their own versions of American superheroes. Kong is assigned to work alongside the newly formed Justice League of China, which includes Bat-Man and Wonder-Woman. The team dynamic is one of my favorite aspects of the book. It's unique, and the cultural elements of setting the comic in another country really add to the fun of it. Kong is a character who feels deeply unique. He does not start the series as a good person. In fact, he starts off as a very unheroic figure, a typical teenager. But as the book progresses, he learns his lessons and grows into his name.
Like a Spider-Man origin, but elegantly decompressed into something great and modern.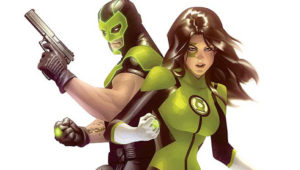 Source: dccomics.com
7. Green Lanterns
This comic came from a brilliant idea: If the Green Lanterns are space cops, why not do a book about partners?
In addition, this serves as a way to spotlight Earth's two newest Green Lanterns. Simon Baz is the least interesting part of Geoff Johns's New 52 Green Lantern run, but Sam Humphries makes me love him here. And I friggin' love Jessica Cruz. And her colloquial talking ring. J-Bird is the best. But the thing I love about the book is it is very much about Green Lanterns who have to learn to do their jobs.
They're able to overcome fear, but they aren't yet real GL material. Baz refuses to put faith in his ring, and he is far too quick to anger. On the other hand, Jessica struggles with  fear and anxiety, and at the series' onset, can't even make a contract with her ring.
But together, they learn to be GLs, which is something we haven't seen since Kyle Rayner became a Lantern.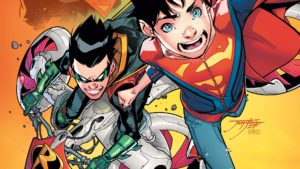 Source: newsarama.com
6. Super Sons
Two characters a bunch of people hate together in a book I can't help but love.
Damien Wayne is the son of Bruce Wayne and Talia Al Ghul. Jon Kent is the child of pre-Flashpoint Superman and Lois Lane. Together, they're Robin and Superboy, the Super Sons. Super Sons as a brand has some deeply weird context and history, so I'm glad to see it brought back.
In addition, I really love the way Damien comes across in this series. He's a child who was raised by A: assassins, and B: Batman. Of course, he doesn't know how to make friends. Of course, he meets another kid his age and just frigging pulls a Batman on him. Damien's try-hard attitude is one of the things that makes him lovable. He's like baby Batman, and who doesn't want that? And I love Jon Kent. Giving Superman a kid is one of those things that probably shouldn't work, but it kinda does.
It's a superhero team-up book that's also just about kids being kids. And that's kind of refreshingly fun.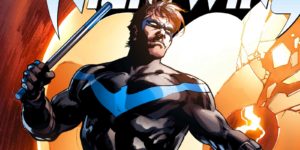 Source: imagecurl.com
5. Nightwing
Nightwing is maybe one of my all-time favorite Bat-family characters. And Grayson, in which Dick Grayson is a SPYRAL spy, is one of the best recent Dick Grayson stories.
So when I heard that the story would continue in a new Nightwing series, I was truly pumped. And the resulting book is a ton of fun. The first arc, the perhaps correctly titled Better Than Batman, sees Dick striking out to blend Grayson's spy work with some more superheroic elements.
Raptor is a great villain, and his theatrical attitude makes him a good match for the former Boy Wonder. And what results is a globetrotting adventure that kicks off the book with a bang. After that, the book takes itself to Blüdhaven (I'm never sure how to pronounce it, either) and brings in a whole new cast of characters. Later arcs bring in some recent characters, like Dr. Hurt, to much acclaim.
Full disclosure: I'm a bit behind on this one, but now that Seeley's wrapping up his run, I can't wait to catch up.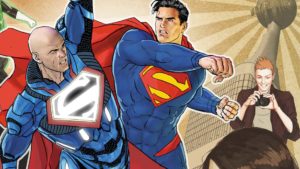 Source: dccomics.com
4. Action Comics
Dan Jurgens is so deeply underrated.
The guy spearheaded what feels like decades of Superman comics, and he created Booster Gold, who's one of the best superheroes of all time. So I was thrilled when I heard Jurgens was coming back  to lead Action Comics into its thousandth issue. So far, it's been a great set of stories. The first couple of arcs are excellent, and the mystery of the new Clark Kent – who appears with no connection to Superman – is great.
In addition, Superman Reborn did a lot of good toward bringing a lot of previously erased continuity back into the DC Universe. Since that time, we've had the blockbuster faceoff Revenge and the in-progress Oz Effect. I'm not quite sure how to feel about that last one, but it's not over yet, so we'll see.
It's a very good Superman run, and I hope it continues for a nice long while.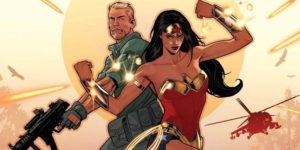 Source: insidepulse.com
3. Wonder Woman
Greg Rucka's Wonder Woman run is one of those legendary DC Comics could-have-beens. Rebirth gave him the chance to re-do things, and he nailed it.
Oh, and being partnered with Liam Sharp and Nicola Scott? Yes, please, Mr. DC Comics! More please, Mr. DC Comics! God Almighty (or Gods, rather), this book is pretty.
Wonder Woman's origin has always been complicated, and the one-two punch of The Lies and Year One tries to resolve that. And damn, do they go a long way! However, if you're going to read these, it's my rec that you buy both trades together and alternate between the two, so you can read the issues in release order. Reading them in the trade order keeps the arcs organized, but I personally felt that I was missing information and context while reading The Lies that I didn't get until Year One. Also, the trade order makes Year One feel a bit like a tangent, when it's a pivotal part of the story.
But again, this is one of the best Wonder Woman runs I've read, and it's well worth a spot on your shelf.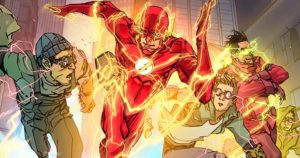 Source: thatcoolblacknerd.com
2. The Flash
I love the Flash. Deeply. He's my favorite DC Comics hero, and I've been buying Flash comics since I could buy comics.
I'm also a huge Joshua Williamson fan. After falling in love with Nailbiter, I got hooked on Birthright and Ghosted, and I'll follow whatever he wants to do next. So, when I heard one of my favorite new writers was going to take on one of my favorite superheroes, I almost passed out with joy.
The resulting series is phenomenal. The opening arc introduces us to super-fast serial killer Godspeed and the mysterious science terrorist organization known as Black Hole. As the series runs (pun most DEFINITELY intended), it introduces new versions of old Flash villains like Captain Cold and the Shade, but also brings in new guys like the recently added Bloodwork. Plus, that Christmas issue with Kid Flash and Tar Pit is awesome.
Oh, and The Button, the crossover with Tom King's Batman, is a really fascinating and interesting crossover that's clearly setting stuff up for November's Doomsday Clock. It's pretty great. And speaking of…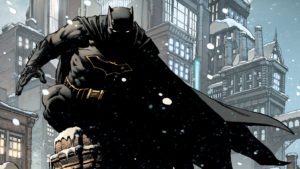 Source: dccomics.com
1. Batman
Tom King is the f***ing man. He's easily one of the best comic book writers of the era, and he's doing work on an unparalleled level. It's not easy to follow Scott Snyder. That's an unenviable task. But holy crap, he pulls it off.
I haven't seen a writer hand off so beautifully since Bendis to Brubaker for Daredevil. This is phenomenal.
The "I Am" trilogy is deeply interesting, and it gives us a great look at Batman as a character. "I Am Gotham", "I Am Suicide", and "I Am Bane" build and deliver like nothing else, and "I Am Bane" is a legitimate blockbuster. The issue in which Bane has to go through Arkham to get to Batman as a reverse mirror of Knightfall? Per-fect. And everything since then has been great, as well. The Swamp-Thing team-up? Flawless. The Ace the Bathound origin is the best Batman story Tom King has ever done. War of Jokes and Riddles is the best Riddler story since Zero Year. And the art teams on each new arc are wonderfully good.
And there we go. DC Rebirth is a breath of fresh air, and one that I can't wait to keep breathing.