Comic Books are an interesting medium, mostly due to their perpetual nature. We've been getting Superman comics month in and month out since 1938, and we'll keep getting them until deforestation makes it so there's no paper left to print them on. And then they'll go full digital.
But not every character is a Superman, or even a Jaime Reyes. Some characters pop up, reach for the stars, and then crash back to Earth, all without making much of an impact. So here's to them, the forgotten heroes of comics. Raise a glass.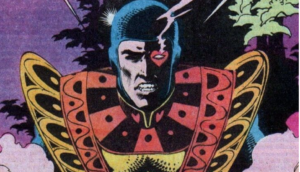 Source: pinterest.com
10. Jack of Hearts
(Marvel Comics)
Y'know, even a Marvel Team-Up guest spot and a four-issue miniseries can't make up for atrocious visual design.
That is a baaaaaaaad costume. Like, if you ever wanted to know how to make an asymmetrical costume work, this is not it.
Jack Hart was…Wait, really?
Jack Hart?
Ha! I friggin' love comic books.
So, Jack Hart was the child of a brilliant scientist and a woman who was a Contraxian. The Contraxians are an alien race that's even too weird for the Guardians of the Galaxy movies. They have weird asymmetrical skin, like Eclipso or the characters in that classic Star Trek episode about racism.
Anyway, Hart never knew about his half-alien parentage. He lived a normal life until his mother died in a car accident and corporate rivals murdered his father. Jack then doused himself in his father's greatest invention, a fuel known as Zero Fluid, and gained great powers to go with his Contraxian appearance.
Why Wasn't He Bigger: Jesus, look at him. I don't care what your origin is, that costume was going to be a trainwreck, no matter what.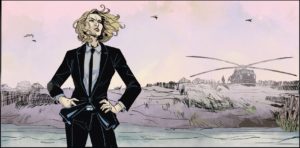 Source: comicvine.gamespot.com
9. Cameron Chase
(DC Comics)
Cameron Chase lost her father to his own superhero career. Afterward, she developed a hatred of superheroes, and went to work as a DEO agent keeping tabs on the DC Universe's superhero population.
The DEO, or Department of Extranormal Operations if you prefer, was the go-to for DC's SHIELD equivalent in the late 1990s and early 2000s. Sticking Chase in the mix was a good call. She investigated Batman, Green Lantern, the Suicide Squad, and numerous others during her incredibly brief solo series.
Said solo series, simply titled Chase, is one of those hidden gems of comic booking that people talk about a lot but most people haven't read.
Why Wasn't She Bigger: Honestly, it's probably a timing thing. If Chase had launched even five years later, she would probably be a huge part of the DCU. I'm nowhere near the first to compare her to Marvel's Jessica Jones; she just suffered by being ahead of her time.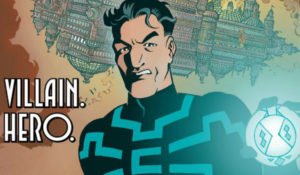 Source: dccomicsnews.com
8. Chronos (Walker Gabriel)
(DC Comics)
No, not that one.
Walker Gabriel (no, I didn't mix up his first and last names) was a thief who became friends with David Clinton, the original Chronos. Walker stole a time machine from STAR Labs, vanished into the timestream, and went on tons of fun adventures. Chronos bounced around through time in his solo series, which was one of those canceled-too-soon, coulda-been-something-big comics. People loved it. But after it was canceled, he never really did anything else.
Grant Morrison seems to like him. He popped up in Multiversity and Final Crisis: Superman Beyond 3D. He also showed up once in the Geoff Johns JSA run. In that one, Per Degaton, on a plan to rid the world of time travelers, went back in time and made sure that a car struck and killed ten-year-old Walker. Thus erasing all of the things I've written about so far. Harsh.
Why Wasn't He Bigger: I mean, he's not super interesting. If you want to do a time-travel story in the DC Universe, you could instead use Booster Gold or Rip Hunter, who are far better characters.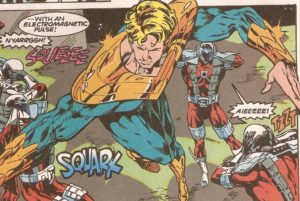 Source: comicvine.gamespot.com
7. Triumph
Ha ha, Triumph. Nothing says late-nineties DC Comics like friggin' Triumph.
Hey, do you like The Sentry, but wish he was EVEN LESS interesting? Well, boy, do I have a deal for you! When Triumph showed up, he revealed that he was actually a founding member of the Justice League of America before he sacrificed himself and was erased from history. Not only that, he FOUNDED the JLA. Yeah. So cool.
When he got un-erased during Zero Hour, no one remembered him, and he was relegated to working with the Justice League Task Force, which was the worst of the three Justice League teams of that time. Like the "˜90s X-Force of Justice League comics. He was eventually possessed by a Magic Thunderbolt Genie (roll with it), and the Spectre froze him. And then he exploded.
Why Wasn't He Bigger: Look, the Sentry didn't work for the same reason. Character you never heard about but they're secretly great is a really bad hook. It just makes me feel like I'm reading about someone's fanfiction OC.  In addition, Triumph doesn't feel like a fifties character. He feels like a nineties character who you're telling me showed up in the fifties. It's just silly.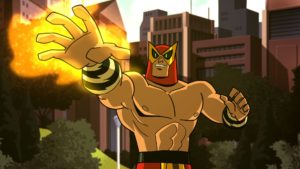 Source: comicvine.gamespot.com
6. B'wana Beast
(DC Comics)
Look, I'm aware of the unfortunate role that colonialism plays in our fiction and how problematic it is. But I also really like B'wana Beast. It's a tough internal conflict to have.
Mike Maxwell was a well-off white dude until his plane crashed into Mt. Kilimanjaro (don't know how you miss that) and stranded him in the jungle. He found a strange helmet, put it on, and suddenly had enhanced strength and speed. It also gave him a unique superpower that enabled him to fuse any two animals together into one horrific lovecraftian super-animal. This power is deeply terrifying. I hate it and love it in equal measure.
I'm still unclear on what level of consciousness the animals have when fused, but I'm going to assume it's full consciousness and that both are screaming the whole time.
Why Wasn't He Bigger: He showed up a handful of times before Grant Morrison figured, "Hey, maybe this African-powered superhero should be an actual African." He had Maxwell hand the powers and helmet off to Freedom Beast, who was a more popular successor. Also, the powers were too weird to ever catch on.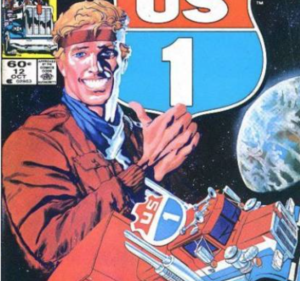 Source:comicvine.gamespot.com
5. U.S. Ace
(Marvel Comics)
There are few things I love more than weird, gimmicky superheroes who try to capitalize on specific trends. And there's at least one more on this list.
Of course, I need to discuss U.S. Ace, the trucker superhero. Ulysses Solomon Archer (get it?) was a trucker by blood. His mom and dad were both truckers, and he followed in their footsteps. That is, until both parents died in a horrific trucking accident.
Ulysses was adopted by his aunt and uncle…*squints at page*…Poppa Wheelie and Wide Load Annie.
"¦
Well, then. I hope this doesn't get any more ridiculous. Oh, wait. Ulysses was run off the road and had the top half of his skull replaced with metal that allowed him to control radio frequencies. He used this to turn his truck into a weapon he could control with his metal head, and I LOVE THIS.
Why Wasn't He Bigger: Honestly, literally everything about him.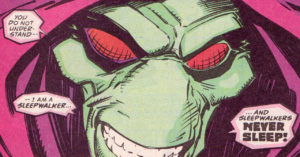 Source: wordpress.com
4. Sleepwalker
(Marvel Comics)
Hey, what if you had to be asleep to be a super hero? Can you see how that would maybe be a bad hook for a comic book? Marvel didn't!
Sleepwalker follows Rick Sheridan, who accidentally merges with a Sleepwalker, a weird dream monster who can move into the real world. The Sleepwalkers' deal? Whenever Sheridan is asleep, Sleepwalker gets to come out and use his superpowers to fight crime. Shockingly, this concept held down a thirty-three issue solo series.
I mean, it relied pretty heavily on cover appearances by bigger heroes, including Spider-Man, Ghost Rider, and Darkhawk (who barely missed this list). He went away almost completely after that, though, and he's seldom popped up since. He did appear in the Marvel Team-Up Relaunch, but we're not calling it that known as Avenging Spider-Man.
Why Wasn't He/It Bigger: Look, Sleepwalker was two characters, both of whom failed to connect with audiences. Plus, you have to be asleep to be a superhero is just silly.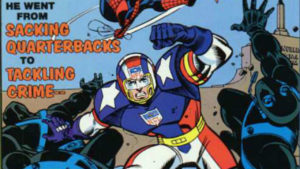 Source: comicbook.com
3. NFL Superpro
(Marvel Comics)
Twelve issues. TWELVE Issues. THAT'S MORE THAN STARBRAND AND NIGHTMASK HAD!
In the '90s, Marvel and the National Football League stuck a deal to create a new comic book character to sway comic book fans toward football and vice versa. It didn't work.
Phil Grayfield's promising football career ended with an injury, so he switched to the lucrative career of sports reporting. But after a violent incident, Phil found himself in possession of an enhanced supersuit that boosted his abilities to a superheroic degree.
In short, he's now a super powerful Football Man named The Superpro, which is a misnomer since he's…y'know, not a pro football player? But whatever. The comic added NFL branding, and there's your silly branded comic character. Sadly, we haven't seen much – or any – of Superpro in decades, but I'm holding out hope.
Why He Wasn't Bigger: Look, the crossover audience isn't there. There are tons of football fans who love comics but none of them want to read about a superhero football player. And it turns out that people who aren't into football also don't want that.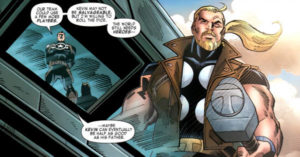 Source: dadsbigplan.com
2. Thunderstrike
(Marvel Comics)
Nineties-ified Thor!
Yup, Thunderstrike is the worst of the three Not-vengers (War Machine, USAgent, and himself), and he's the only one who hasn't stuck around. Eric Masterson was an architect who befriended Thor's Simonson-era Secret Identity Sig"¦Siga"¦Hang on. Sigurd Jarlson. I wonder why that name didn't stick. So Eric and"¦Sigmund the Sea Monster became very close.
When Eric was killed helping Thor, Odin saved his life by fusing the two together. After some time, they were unmerged, but since Eric had proven he could be a good Thor, Odin made him his own hammer-type weapon (a mace), and let him be a hero on his own.
You may recognize this as the same reason that inside-out horse alien has a Thor hammer. Eric's mace was called Thunderstrike, and unlike Thor and Beta Ray Bill, Eric failed to come up with his own name. He just took the mace's name for himself. When he died, his son became the new Thunderstrike in his stead.
Why Wasn't He Bigger: Look, he honestly wasn't different enough from plain ol' Thor to justify his existence. Jane Foster Thor was, Beta Ray Bill was, but Thunderstrike? Not so much.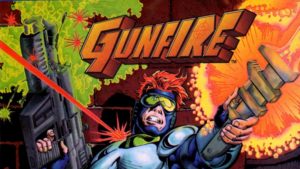 Source: looper.com
1. Gunfire
(DC Comics)
Andrew Van Horn sucks so hard.
He's a fusion of every one of the worst trends of his day, and is the worst creation from the DC Event Bloodlines, in which he made his first appearance. Andrew was a hip nineties teen who didn't want to go into the family's weapons development business . He wanted to help the environment, man. But he was attacked by an alien parasite, and came away from the experience with newly awakened superpowers. The power? He could turn anything he touched into a gun!!!!!!!!! Except for the things he turned into grenades.
I'll be one hundred percent honest, that made me giggle – a lot. I liked it, but it was terrible. Oh, but good ol' Gunfire wasn't confined to just one appearance. No, he had a series. Thirteen issues. Although the second-to-last issue was titled Shafted, so that's at least entertaining. Gunfire would eventually wind up having his hands cut off, which ended his career.
Why Wasn't He Bigger: The dude hit his peak in 1995, which was about as late as he could have been. A character as silly and over-ninetiesed as Gunfire just couldn't survive in an era other than the one he originated in.
And there you have it: Ten superheroes who could have – and in some cases should have – been bigger deals than they were. The forgotten D-listers who almost had a shot at stardom.