I'm a person who pretty clearly hates the grimdark-ification of comic books. It's often a juvenile attempt to expand the character's audience to include the type of people who still demand a Zack Snyder cut of Justice League. But when done right, a grim and gritty reboot can add unheard-of depth to a previously existing character or story. It can change any concept from light and trite to meaningful and deep. So, when does it work?
                                               Source: comicvine.gamespot.com
10. Vigilante
Sometimes, updating a character means throwing out pretty much everything about him. That's how Old West gunfighter The Vigilante was replaced with The Punisher, But For DC Comics Vigilante.
Adrian Chase was a lawyer who lost his family to violence, and responded by also turning to violence. He executed criminals; that was his deal. But his series was interesting because it believably showed the toll such actions took on his psyche, right up until the end of the series.
You aren't likely to see a Punisher book that eventually decides its protagonist is A: insane, and B: a danger to himself and those around him, but Vigilante sure ended that way. This is one of the only comics so dour and bleak that Alan Moore wrote two issues. They're good issues, too.
But yeah, if you're feeling down, don't grab a few issues of Vigilante as a pick-me-up. I can tell you that.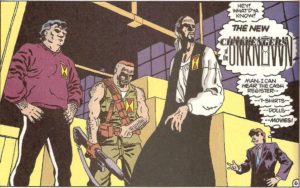 Source: ifanboy.com
9. The Challengers of the Unknown Must Die!
Jeph Loeb and Tim Sale are a kind of famous team. But before their work with Batman, Spider-Man, and Daredevil earned them fame, so they took a shot at one of DC's lesser-known super teams, the Challengers of the Unknown.
I always found the Challengers interesting, but never managed to make a real connection with them. But the Loeb/Sale series is a very modern interpretation that would be more at home under Vertigo or Young Animal than I think it was at the time.
The pitch was simple: All of the Challengers of the Unknown stories we've seen so far were fictionalizations of "real" people. The brave men living on borrowed time were actually a lot more sad and a lot less attractive than we'd been told. When Challenger Mountain exploded and killed June and the Prof, the remaining Challs (Rocky, Ace, and Red) had to find their places in the world.
It's a weird book that definitely has flaws, but also feels totally unpredictable.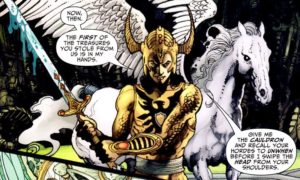 Source: blogspot.com
8. Seven Soldiers: Shining Knight
Grant Morrison ruuuuullllllleeeeeesssss! And Seven Soldiers also rules.
A reboot of multiple forgotten DC characters done up as a brand new series of miniseries, the book gave life to numerous awesome characters. For a favorite miniseries, I would personally go with Manhattan Guardian, but that wasn't really any grimmer or grittier than the original Guardian.
However, the new Shining Knight is very different. Sir Justin is kind of paint-by-numbers boring; he's an original Seven Soldier, but no one ever really did anything with him. He isn't even the best Knight-based DC character (that's Silent Knight, for the record). But Sir Ystina, the Olde English warrior child who fights viciously on a winged horse? That's a dude I can get behind. Or maybe not, since Ystina's gender queer nature is one of her best traits. It's neat to see a character like this, especially one from a high fantasy backdrop.
For the record, I'm using female pronouns for this entry. I've also seen male pronouns used for Ystina, and couldn't find a consensus as to which was correct. I defaulted to female, as that's what the DC Wikia uses, but if that's incorrect or offensive, I apologize.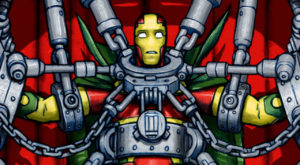 Source: comicbook.com
7. Mister Miracle
If this one were finished, it'd be near the top of the list. But it isn't yet, so this is where it goes.
Perhaps the best comic of 2017, Mister Miracle was a Tom King/Mitch Gerads collaboration, and that should be all you need me to say before you go buy it.
This is a trippy mindf*** of a book that will leave you doubting reality after you read every issue. When a book opens with the main character's attempted suicide, you know it's gonna be a bit intense.
Scott Free wanted to escape death itself. And maybe he succeeded. Or maybe he didn't, because afterward, his entire world fell apart. The darkness surrounded, and good people fell into corruption in a book that balanced horror and humor in equal measure. The trial issue alone is perfect comic booking. And the second issue, which includes the war for New Genesis? Ugh, so good. And well, that's all I have to say about that…
Darkseid Is.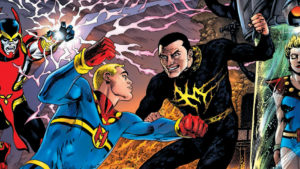 Source: marvel.com
6. Miracleman
Where would this list be without an Alan Moore reinvention?
Of course, if we're picking one, it's gotta be Miracleman. Waaaaaaaay back when, DC sued Fawcett to stop it from publishing Captain Marvel. The company that was buying that material for overseas reprints decided to just file off the serial numbers and create Marvelman which was based on exactly the same idea, but with a different name. That later became Miracleman, and when Alan Moore got his hands on it, his version was dark and brutal, as always.
Miracleman reverted to human form, and as Michael Moran, forgot about his life as a hero. When he accidentally remembered, he reawakened not only himself, but his old allies as well. But when he went to visit the man he thinks USED to be Kid Miracleman, it goes very badly.
Miracleman features some of the best characters and scariest villains in all of Moore's work. It's hardly even close. There is one particular panel in the first volume that's burned into my brain forever because of how much it scares me.
One hell of a good book.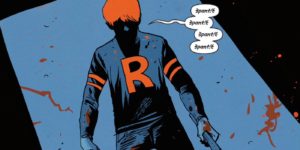 Source: cbr.com
5. Afterlife With Archie
Jesus Christ, this comic is good. When we get it, I mean.
Afterlife with Archie is a serious, grim zombie comic about how the residents of Riverdale dealt with an unholy apocalypse right on their doorstep. Roberto Aguirre-Sacasa is an incredibly fun writer whose style and voice has become the spear-tip of The CW's Riverdale. He's propelled that series into success. But if I'm picking the tone-setter for the mood of this book, it's gotta be Francesco Francavilla's haunting art, which sends a chill down your spine with every page.
Jughead's dog, Hot Dog, was struck by a car and killed. Distraught, Jughead went to Sabrina, the Teenage Witch, and begged her to bring his pup back to life. She did just that, but it went horribly, HORRIBLY wrong. Eventually, we got to Jughead, King of the Zombies versus battle-ready Archie Andrews. Oh, and the Manson murderers were actually Vampires.
This book is Incredibly Good. I just wish we could get more of it.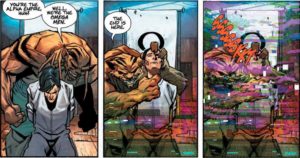 Source: businessinsider.com
4. Omega Men
Holy hell, Tom King knows how to write a deconstruction. He and the unmatchable Barnaby Bagenda produced the definitive Omega Men book together.
In Omega Men, a group of intergalactic terrorists tried to free the Vegan star system from tyranny. Kyle Rayner, aka the White Lantern, was dispatched to make peace, but the Omega Men captured and executed him"¦but not really. No, they kept him, and tried to show him the horrors they were fighting against.
Tom King's background was in counter-terrorism, and it clearly informed his work here. The book is a very gray depiction of people's reasons for turning to violence and how it leads them down a certain path. It's not an uplifting read, that's for certain.
I feel like a lot of people missed this one, but if you're enjoying King's Mister Miracle, this is one that you definitely need to read.
Got some of those good good nine-panel grids.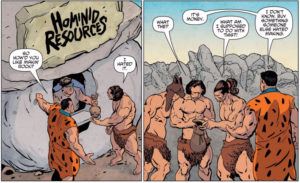 Source: dailydot.com
3. The Flintstones
It may not be grim 'n' gritty per se, but this book is definitely a much more adult take on a child-friendly property.
DC's Hanna Barbera books were a weird experiment, and The Flintstones was its greatest success. Mark Russell took the original series' premise as social satire and turned it up to 11 before he pointed it straight at the Modern Age. Capitalism, gay marriage, climate change, horrible treatment of workers…It was all there, sliced open with deeply funny work. It will make you laugh your ass off while deeply thinking about what you're reading.
Fred and Barney were war vets who'd participated in what was clearly a genocide. Culture was reduced to just buying whatever you can, and the appliances lived a dystopic existence of servitude.
But it was funny, especially because of Steve Pugh's artwork, which was excellent at communicating emotion and humor in an apparently effortless way.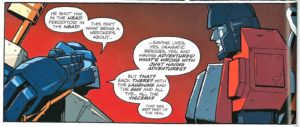 Source: blogspot.com
2. Transformers: Last Stand of the Wreckers
IDW is the most underrated comic book company going right now. They've been killing it on the license property comics for some time.
Their work with the Transformers franchise is a good example. IDW's ongoing universe has seen bitter violence, charming characters, and deeply affecting drama. In the last five years, I've cried more at Transformers comics than at any other series.
The real grim 'n' gritty one was Transformers: The Last Stand of the Wreckers, a brutal miniseries about the horrors of war. After a prison known as Garrus 9 was thrown into revolt and the vicious imprisoned warlord known as Overlord took over, Autobot high command sent in an elite squad to take care of business. That squad? The Wreckers, a Delta Force team with an insanely low survival rate. They went in, teamed up with some brand new members and one stowaway human, and things went horribly wrong.
A war story as horror story, it was scary, brutal, and sad - a story about good people who died in stupid, pointless ways.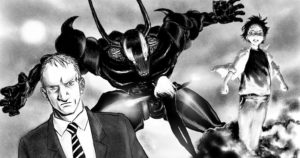 Source: cbr.com
1. Pluto
I've never enjoyed Manga, so this recommendation should count double coming from my lips.
Pluto was an incredible work of comic book-ing. It was deep and powerful and frightening and emotional. Pluto re-imagined one of the most memorable stories from Astro Boy (known as Mighty Atom in Japan), a classic example of Manga if there ever was one. But, while the original was a classic-recipe superhero story, Pluto was a sci-fi murder mystery about robots and what it meant to not be human. The series changed perspective from Astro and Co. to Geischt, the robot detective sent to uncover who was killing robots. And not just killing them, I'm talking True Detective Season One-style occult presentations of the bodies, too.
It was a creepy thrill ride that I don't want to give too much info about for fear of spoiling it. Just read the thing, even if you didn't give two craps about Astro Boy.
And there you go! See, sometimes dark 'n' gritty reboots are good! Most of the time they aren't, but hey, anything can be done well on occasion.