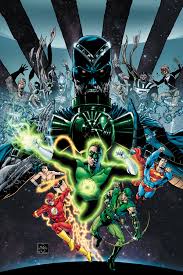 9. Blackest Night
Well, it's about time we had our first Green Lantern event. Blackest Night is a superheroes vs zombies story where the zombies are also superheroes. And yeah, that's a pretty great idea.
In the story, a mysterious force starts sending out Black Lantern rings, which find and resurrect dead heroes with the intention of murdering the hell out of all the living ones. It's a pretty good superhero horror story that turns into a big fun space-y punch-em-up by the conclusion. But, y'know, that's comic books for ya.
Here's the thing: Any comic that contains a bunch of color coded heroes punching a character who represents the abstract concept of death right in his face is fine by me. Hell, that's two degrees off just being Power Rangers.  It does falter at the end and many of the tie-ins were more than a little meh, which is why it isn't higher on the list. But, with a high-concept premise and some fun punch-y stuff, it earns a spot on the list for certain.