Everyone rags on Aquaman all the time, and I gotta be honest, it feels undeserved. He's the lord of all the oceans and a member of the Justice League. But maybe people just don't like him because he doesn't have memorable or fan-favorite villains. But what does he have? Well, here we go on that front!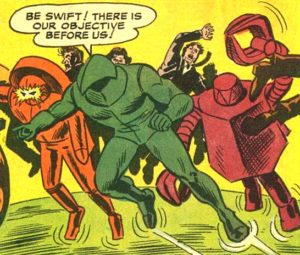 Source: comicvine.gamespot.com
10. The Awesome Threesome
Heh.
Man, I didn't want to just mock Aquaman villains, but that sure is a name for a group.
The Awesome Threesome was actually created for the classic Filmation cartoon that defined how my brain pictures Aquaman. Just a-ridin' that seahorse. Like Harley Quinn, they were eventually shifted into the comics. But instead of being a lady, they're a suggestively named team of robots that includes Torpedo Man, who turns into a torpedo; Claw, who has claws; and Magneto, who's a mutant who fought the X-Men…I mean, a robot with magnetic powers.
Yeah, maybe there's a copyright reason we haven't seen the Awesome Threesome recently. Also a standards-and-practices reason, but that's a different kettle of fish.
Why they aren't they more popular: Look, the name is a real deal-breaker. These guys aren't coming back, unless Grant Morrison has an especially weird day at the keyboard.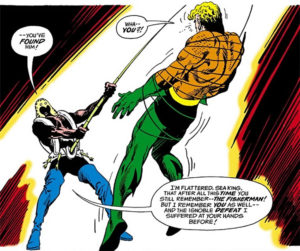 Source: writeups.com
9. The Fisherman
The Fisherman is a thief and a fence. With a dumb gimmick. He uses specialized fishing lures to fight superheroes and commit sea crimes. This is a bad gimmick. Fishing isn't scary. And neither is The Fisherman. Any of them.
Oh, yeah, there are multiple Fishermen. One appears in the perfect comic book, Gotham Central, in that series's penultimate story (and Infinite Crisis crossover) Sunday Bloody Sunday. A Fisherman appears on the streets of Gotham and attacks police officers as part of the Secret Society of Supervillains. He snags detective Crispus Allen with his fishing line in an attempt to strangle him to death. He would have succeeded if not for the fact that Driver and MacDonald immediately shot him to death. That's right, the Fisherman sucks so hard, he didn't even lose to a superhero.
He lost to the Gotham Police Department. An organization that can't even keep a scrawny professor who loves being afraid of things in jail, and they beat The Fisherman. Well, A Fisherman.
Why he isn't more popular: He just, like, sucks really hard? Not all of these entries are surprising. The others are better.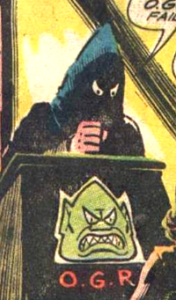 Source: dc.wikia.com
8. O.G.R.E.
Evil organization time!
O.G.R.E. stood for…ahem…Organization for General Revenge and Enslavement. Y'know, general revenge and enslavement. Not Specific Revenge and Enslavement, just the concept. I love that. They only appeared twice, and the FBI dismantled them shortly thereafter. They tried to nuke Atlantis with a bomb they tricked a wealthy millionaire from California into buying. Being from California, I find this totally believable. There are a lot of weirdos with money here.
Also, their logo is an actual Ogre, which raises a question. Why the acronym? Like, it's clearly incredibly forced as is, what do Ogres have to do with oceanic crime? Why not be the Department of Evil Egomaniacal Purloining? Or Witchcraft, Aquatic Terrorism, and Ecological Ruining? Or literally, anything better. O.G.R.E.? For real?
Why they aren't more popular: Honestly, comics have a lot of evil organizations, and most of them have better branding.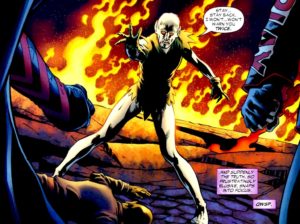 Source: dc.wikia.com
7. Qwsp
No, not the cereal mascot. Different dude. Plus, that one's spelled Quisp.
This Qwsp is Aquaman's Mr. Mxyzptlk, in that he's also a fifth-dimensional imp. However, Qwsp started off as a benevolent friend to Aquaman and Aqualad. He was just their good ol' buddy. They even teamed up to fight a villain who'd kidnapped Qwsp's twin brother imp, Quink. They also teamed up to fight the evil water sprite Quirk. Hey, what's up with these naming schemes? None of the other fifth-dimensional imps have the stupid Q thing going on. Mr. Mxyzptlk doesn't. Bat-Mite doesn't. What's the deal?
But you're wondering why Qwsp is on this list. Well, when he was brought back decades later, he went to go find his buddy Aquaman, only to find that he was darker and angrier now. So Qwsp followed that trend, and eventually became a straight-up supervillain. He almost destroyed the earth, and he would have if the Justice League hadn't petitioned the other imps to stop him. He came back later, and almost destroyed all of the genies. But the JSA stopped him in maybe my favorite (or second-favorite) JSA story ever, Stealing Thunder.
Why he isn't more popular: Look, if Bat-Mite doesn't show up anymore, this dude sure isn't gonna make a comeback.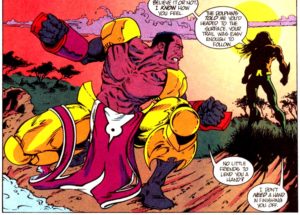 Source: dc.wikia.com
6. Charybdis
Why doesn't anybody know who Charybdis is? Not the mythological creature famous for giving Odysseus a hard time, but the DC villain.
The one who took off Aquaman's hand? Yeah, Aquaman lost a hand in the Nineties. It was eaten off by piranhas. Because of Charybdis. Charybdis is a power duper. Meaning he can copy people's superpowers. What makes him especially formidable, however, is that unlike other superpower duplicators, his powers aren't temporary. He keeps the powers he copies.
Yeah, that guy could be the most powerful villain in the DC Universe if he just got his s**t together. During a fight with Aquaman, he fell into a pit of piranhas and became Piranha Man. Sure is an origin. If that's all it takes to give him a new power set, I'd hope he never steps in dog poop.
Why he isn't more popular: His visual design is kind of boring and all over the place. And his personality is a nothing. That's why other media pieces credited other, more interesting, characters for Aquaman's lost hand.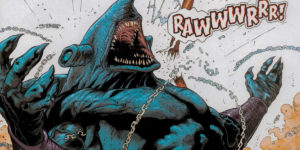 Source: comicbookmovie.com
5. King Shark
Nanaue!!!!! I love this dude.
He is the son of something called the King of All Sharks, which is the comic book-iest thing ever, and I love it with all of my flippin' heart. He's also from Hawaii, which…uh…screw you, King Shark. I've been to Hawaii. It's beautiful. Go enjoy that instead of wasting your time on shark crime. Also, calling yourself King Shark when your father is the King of All Sharks is just confusing. Don't mess with the branding, bro.
King Shark fought Superboy a whole bunch, and even got himself assigned to an iteration of the Suicide Squad, and even joined the Secret Six in his best-ever role. And he fought Aquaman or whatever; that's not as important as Secret Six being great as hell. In his latest appearance, King Shark faced off with the Teen Titans under the Black Manta's orders. That's right, Shark, working with a better Aquaman villain will bump up your profile.
Why he isn't more popular: Not enough people have read Secret Six.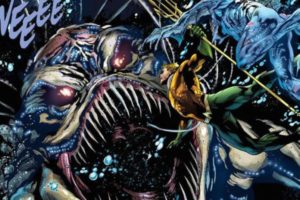 Source: flickeringmyth.com
4. King Trench
The Trench scare me to my deepest core.
I've never liked those freaky angler fish (probably rooted back to watching Finding Nemo a lot), and The Trench take that fear and map it onto a group of villainous monsters. Not much is known about the Trench, but they were once a kingdom of Atlantis. When their territory was cast to the bottom of…well…a trench, they evolved in order to cope with the environment they were dealt, which in this case meant evolving into bug-eyed aquatic tooth nightmares.
They eventually surfaced, and Aquaman had to punch each one in the face until they stopped being a problem. Their leader, King Trench, is basically just a bigger, scarier Trench. Which is already scary, so that's a big upgrade.
Why he isn't more popular: I don't know. This guy is a scary nightmare monster who fights Aquaman. He's pretty rad.

                                                         Source: dc.wikia.com
3. The Shark
Aside from looking like the mascot for a brand of Nineties fruit snacks, The Shark also made a name for himself fighting Aquaman and the Green Lantern.
A shark was minding its own business one day, swimming around the ocean and getting up to shark shenanigans (Shark-nanigans?), until it was irradiated and mutated into a shark-man. He then took up the bold and innovative name of…The Shark (YES, WE HAVE TWO SHARK GUYS ON THIS LIST, THERE IS NOT MUCH VARIETY HERE). He also took a human name, despite being very clearly a shark-man. That name? T.S. Smith. The T.S. stands for Tiger Shark. Tiger Shark Smith. Is it any wonder this guy lost to Aquaman?
He's much more frequently called Karshon, which is a minorly better name. He is a shark-guy. This is the extent of the information I can provide. He also fought Aqualad once.
Why he isn't more popular: Despite being the better shark guy, that dubious honor still can't make him cool. Sadly.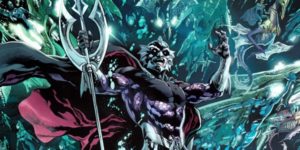 Source: comicsbeat.com
2. Ocean Master
Oh, thank God, we get to talk about the villains people actually know now. I don't have to struggle to reach my word limit.
Ocean Master is like DC's Loki, only he's not as cool and no one wants to f**k him. Orm Curry's origin was retconned multiple times, so here we go with the explanation. First, he was fully human instead of half human like Aquaman. Then he was fully Atlantean, and Aquaman was too. Then Aquaman was half Atlantean again, but Orm was fully Atlantean this time. It's a whole thing.
Regardless, Orm has always been Aquaman's angry usurper brother who wants the throne of Atlantis, and he'll murder his bro to get that done. Like I said, Water Loki. He only really fights Aquaman, which makes sense. When your name is Ocean Master, you aren't gonna make much of a career in Gotham.
Why he isn't more popular: I honestly don't know. His visual design is sub-optimal, but he's just Aquatic Loki, and people love Loki.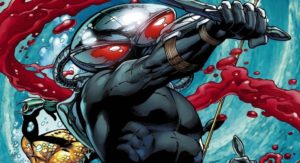 Source: denofgeek.com
1.Black Manta
Okay, here we go. Black Manta. THE Aquaman villain. The one everyone agrees is cool.
That is one killer design. And we should get more of him. He's awesome. An angry and troubled young man, Manta eventually became obsessed with Aquaman and finding a way to destroy him. He also scored maybe the greatest victory over a Justice Leaguer ever. He killed Aquaman's infant son. HE KILLED A BABY. WHAT THE HELL IS THAT?
Black Manta is hard freakin' core. At one point, he made a deal with Neron for more power. However, instead of asking for enhanced powers like Abra Kadabra or Blue Devil, he just asked to be turned into a manta ray monster hybrid. Real creative. This was until Aquaman turned him back to normal with his magic water hand. Also, he had a kid, who would later become Aqualad.
Why he isn't more popular: He is. Like, even people who don't like Aquaman like Black Manta. Dude's rad as hell.
And there you have it. Some Aquaman villains who are cooler and weirder than you realized. And then also some less cool ones; but whatever, I like them. Do you have a favorite Aquaman villain I didn't include? I doubt it, but if you do, let me know! And then just make fun of Aquaman or whatever in the comments. It's fine, I get it.