There are certain pieces of comic book iconography that just stick in the minds of both creators and fans: Thor's hammer. Spider-Man's web shooters, Wolverine's claws, Captain America's shield.
Cap's shield is perfectly designed. Hell, you could probably draw it from memory right now. That shield has been burned into our memories since the second we saw it bounce off some Nazi's skull. But it's changed over time. Not only did it start out as something completely different, it was often destroyed and/or replaced with other shields.
And Steve Rogers' weren't the only hands to carry it. For a variety of reasons, that shield has been in the possession of many a person over time. It's crossed dimensions and nations, and it's been snapped in half and reconstituted using different elements. And it continues to progress ever forward in time, from owner to owner and design to design. Because of this, it was adapted to accurately film pretty universally. People everywhere know Cap's shield. Hell, I have a bath bomb that's shaped exactly like it on my desk right now.
Let's look at the history of that shield, where it's been, and how it's evolved.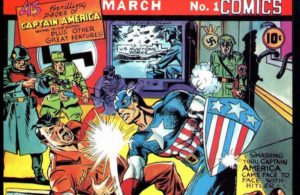 Source: talkingcomicbooks.com
Chapter One: The Triangle Shield
Of course, Captain America didn't start off with his classic shield.
No, he started with a design that was a little more, well, shield-like. That big triangle of metal became universal comics shorthand for This story takes place during World War 2. Although he'd replace the shield before he ever moved on from the war, the iconography sticks.
The triangle shield operated differently from the flying disk model in several key respects. It couldn't be thrown and bounced in quite the same way, and it didn't really cover the same distance as far as protection went. It was about the same width from top to tip, but it was noticeably narrower. And you could clearly see that its edges were much sharper by virtue of the fact that it actually had edges. That thing could gore a man. I wouldn't want to be the guy to have that shield brought down upon his neck in the heat of battle.
Also, since I won't have time for this in later entries, I want to talk about how much I deeply love the symbolism of Captain America. He's a soldier and a warrior, but he isn't equipped like one. He goes to war not with a gun, not with a sword, but with just a shield. He stands to protect people from injustice, not to wage war.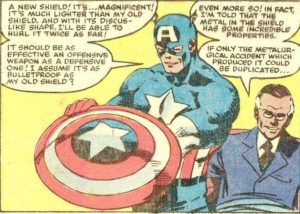 Source: quora.com
Chapter Two: The Debut of the Classic Shield
All things must change, and Captain America's look came together when President FDR himself gave Cap that good, good flying disc.
The shield was made out of a once-in-a-lifetime combination of adamantium and vibranium. When united, they created a shield that could absorb nearly any impact. It could also fly through the air with the greatest of ease.
That shield could take a lot. Hell, it survived being frozen in ice for 40 60 80 years between World War II and the Avengers' discovery of Cap. When he came out, that shield became an emblem for the Avengers and led them into battle alongside the man who carried it so well. It assaulted Nazis and Hydra and AIM alike.
It took Batroc the Leaper's kicks and  MODOK's blasts. It deflected The Taskmaster's sword swings and fractured The Red Skull's red skull. But that shield didn't always make it through its adventures in one piece…