There are certain pieces of comic book iconography that just stick in the minds of both creators and fans: Thor's hammer. Spider-Man's web shooters, Wolverine's claws, Captain America's shield.
Cap's shield is perfectly designed. Hell, you could probably draw it from memory right now. That shield has been burned into our memories since the second we saw it bounce off some Nazi's skull. But it's changed over time. Not only did it start out as something completely different, it was often destroyed and/or replaced with other shields.
And Steve Rogers' weren't the only hands to carry it. For a variety of reasons, that shield has been in the possession of many a person over time. It's crossed dimensions and nations, and it's been snapped in half and reconstituted using different elements. And it continues to progress ever forward in time, from owner to owner and design to design. Because of this, it was adapted to accurately film pretty universally. People everywhere know Cap's shield. Hell, I have a bath bomb that's shaped exactly like it on my desk right now.
Let's look at the history of that shield, where it's been, and how it's evolved.
                            Source: talkingcomicbooks.com
Chapter One: The Triangle Shield
Of course, Captain America didn't start off with his classic shield.
No, he started with a design that was a little more, well, shield-like. That big triangle of metal became universal comics shorthand for This story takes place during World War 2. Although he'd replace the shield before he ever moved on from the war, the iconography sticks.
The triangle shield operated differently from the flying disk model in several key respects. It couldn't be thrown and bounced in quite the same way, and it didn't really cover the same distance as far as protection went. It was about the same width from top to tip, but it was noticeably narrower. And you could clearly see that its edges were much sharper by virtue of the fact that it actually had edges. That thing could gore a man. I wouldn't want to be the guy to have that shield brought down upon his neck in the heat of battle.
Also, since I won't have time for this in later entries, I want to talk about how much I deeply love the symbolism of Captain America. He's a soldier and a warrior, but he isn't equipped like one. He goes to war not with a gun, not with a sword, but with just a shield. He stands to protect people from injustice, not to wage war.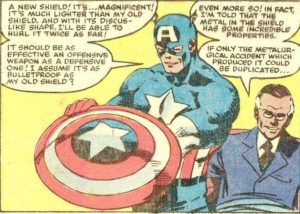 Source: quora.com
Chapter Two: The Debut of the Classic Shield
All things must change, and Captain America's look came together when President FDR himself gave Cap that good, good flying disc.
The shield was made out of a once-in-a-lifetime combination of adamantium and vibranium. When united, they created a shield that could absorb nearly any impact. It could also fly through the air with the greatest of ease.
That shield could take a lot. Hell, it survived being frozen in ice for 40 60 80 years between World War II and the Avengers' discovery of Cap. When he came out, that shield became an emblem for the Avengers and led them into battle alongside the man who carried it so well. It assaulted Nazis and Hydra and AIM alike.
It took Batroc the Leaper's kicks and  MODOK's blasts. It deflected The Taskmaster's sword swings and fractured The Red Skull's red skull. But that shield didn't always make it through its adventures in one piece"¦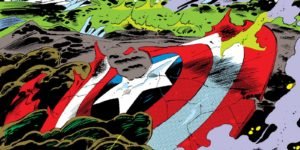 Source: screenrant.com
Chapter Three: Broken, Fixed, Broken Again, Fixed Again
Let's talk about Secret Wars. No, not the one from 2015. No, not the one from 2004; that was Secret War.
In the original Marvel Superheroes Secret Wars, a mysterious space god called The Beyonder yanked a bunch of good guys and bad guys off to a mysterious patchwork space country called Battleworld and told them to fight each other. Toward the end, Doctor Doom absorbed The Beyonder's powers and began to destroy everything. This included punching a hole through Captain America's shield.
The heroes defeated him and gave Beyonder his powers back. As a result, the planet was irradiated with some sort of wish wave that allowed strange things to come true when people wished for them. Cap wished his shield was fixed, and it was. It shattered again after it was lost beneath the ocean for some time, but a blast from Klaw's sound cannon fused its vibranium nanostructure back together.
Thanks, Klaw!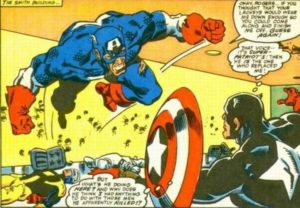 Source: marvel.wikia.com
Chapter Four: John Walker
Of course, the shield wasn't always in Steve Rogers' possession.
In Reagan's '80s, a government board sought to make Captain America accountable to the US Government, insisting that he stop acting without their explicit approval. Steve said, "Screw that." He turned in his badge and his gun – I mean, his costume and his shield. That done, he slipped on a new, black uniform and picked up an all-silver shield courtesy of Tony Stark (Black Panther replaced that one after Tony was an a-hole to Steve during Armor Wars), and called himself The Captain.
The Captain America gear was bestowed upon John Walker, an ultra-patriotic hardline conservative who put too much faith in his government and was not a great Captain America. He eventually ceded the original Cap uniform and shield back to Steve Rogers and let him regain the identity. But John didn't leave empty handed!
He walked away with Steve's The Captain uniform, and made it his own as The USAgent.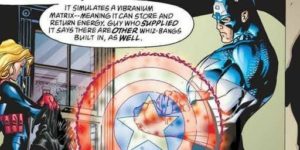 Source: aminoapps.com
Chapter Five: The Energy Shield
And now it's time for the shield to break again. And break it did.
But this time, Cap replaced it with something brand new: a plasma energy shield with a flexible containment matrix that allowed the shield to materialize out of thin air. The circuitry for the shield, contained in Cap's glove, enabled him to arm or disarm with just a thought.
He could also fire the shield from his arm rather than just throwing it. And it didn't have to be a shield, either! Because it was just plasma in a containment unit, Captain America could reshape it into other handheld weapons. Whether it was a staff, stave, sword, spear, or anything else the good Captain wanted, he could make it happen.
He did eventually ditch it when he got his old shield back. Old habits die hard, I guess.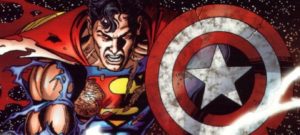 Source: looper.com
Chapter Six: Superman
Ah, JLA/Avengers, you're so good for these object history articles.
Throughout the majority of the series, Superman and Captain America had a burning, hateful rivalry that was spurred on by subliminal mind control from the series' antagonists. But the two legendary heroes had a bit of a talk as the teams prepared to go into battle in the last book. As a gesture of friendship, Cap offered Superman his shield to carry as he marched into battle on the front lines. The Big Blue Boy Scout also got to yell Avengers Assemble, which was fun.
He carried the shield through pretty much the entire battle (except for when the time waves reverted Cap to a time period when he used the energy shield). Unfortunately, this meant that we didn't get to see Electric Blue Superman wield the shield, which was a personal disappointment for me. By the end of the book, Superman was one of the few heroes left, and he wielded Captain America's shield in one hand and Thor's hammer in the other.
What a badass comic panel.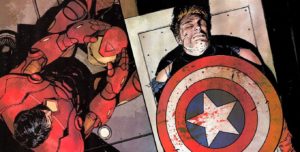 Source: screenrant.com
Chapter Seven: The Death of Captain America
Back to the regular comics.
Cap went through a lot as he led the Avengers throughout this time. Then the Brubaker/Epting Captain America run started in the mid-2000s, and it started with a bang, because Bucky was back. He wasn't just back; he was back as a deadly, robot-armed Soviet assassin named The Winter Soldier. He kicked all kinds of ass, but Cap eventually broke his mind control programming and freed him for good.
Soon after, he found himself dealing with a resurrected Red Skull and his head minions Crossbones and Sin. But all of that was interrupted by a little thing called Civil War. Iron Man and Captain America fought over superhero registration…blah blah blah…and in the end, Captain America realized that the superheroes had caused some property damage. He got all sad and surrendered.
As he walked to the courthouse for his trial, a sniper shot Steve Rogers through the shoulder and the stomach and killed him. But with Captain America dead, who would wield the shield?
It was obviously"¦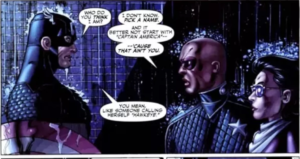 Source: quora.com
Chapter Eight: Hawkeye
Wait, what?
Yeah, Iron Man wound up with Captain America's shield, which he immediately tried to pawn off on the first blonde superhero he saw. Okay, so it was a little more than that, as Hawkeye was Steve Rogers' foil during his original run on the team.
Clint butted heads with him constantly, and went after him for every little thing. They eventually learned to respect each other, and Clint wound up really looking up to Steve. In fact, when Tony offered him the position, Clint accepted, wearing the costume and carrying the shield for one night.
At the end of that night, he ran into the Young Avengers, who didn't recognize him. They assumed that he was just some yahoo parading around in a dead man's clothes. At that point, Clint realized that he didn't want to disrespect Steve, and he returned the shield to Tony.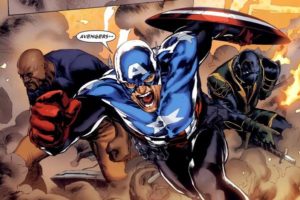 Source: comicvine.gamespot.com
Chapter Nine: BuckyCap
That shield eventually found its way into the capable hands (one flesh, one metal) of James Buchanan "Bucky" Barnes, aka The Winter Soldier.
Bucky abandoned his Soviet-chic assassin gear and decked himself out in the shiniest darn Captain America outfit you ever done saw. Jokes aside, I actually like the BuckyCap outfit; I think it's a fun modernization of the classic outfit.
The new Captain America introduced himself to the world during the Skrull Invasion. He continued to battle against Norman Osborn and Hammer until the Siege of Asgard, during which Steve Rogers made his public return after returning from the dead in a story that's way too complex to go into here. Anyway, Steve let Bucky keep the shield and the Captain America title, and once again took up the energy shield as the Director of SHIELD.
Bucky appeared to die during Fear Itself, but he really decided to take back his Winter Soldier identity and operate in secret. Steve once again donned the old outfit and retook the shield. Captain America was back, baby!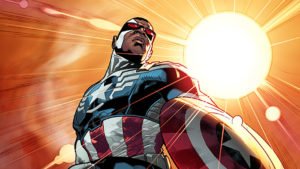 Source: marvel.com
Chapter Ten: FalconCap
The shield spent years with Steve Rogers, right up until he went into battle with the Iron Nail. During that battle, the Super Soldier Serum was sucked from his body, and he rapidly aged into an weak old man.
He had to give up being Captain America, but he had the opportunity to handpick his successor. He chose his old partner, Saw Wilson, aka The Falcon, who was a great Cap for about two years. Then a Cosmic Cube was used during the Pleasant Hill Standoff to restore Steve to his proper age. A side effect of this was that his personality was rewritten and he became a HYDRA sleeper agent.
This evil Steve – I call him Stevil – had his own sharpened shield, and Sam kept the classic model. Buuuuuuut real Steve eventually came back and beat up Stevil. Then Sam decided that he'd rather be Falcon than Captain America. Of late, Cap has fought for truth, justice, and the American way with that iconic shield in tow.
I hope it continues to stick around for a nice long while.