It's funny how the X-Men went from being one failing comic book that was close to cancellation to filling an entire corner of the Marvel Universe. Hell, it was the most successful corner for a couple of decades. And then came X-book after X-book. And with each of those books came another variation on the team.
And they weren't just Men; they were Women and Forces and Factors and Generations. And with this week's release of Deadpool 2, the X-Force made its big-screen debut. So I thought I'd give some love to the history of the X-Men, including all shapes and sizes, no matter how many chicken men were members.
But first, a quick Honorable Mention. While they aren't totally an X-Men team, the Avengers Unity Squad was an attempt on Captain America's part to unite X-Men and Avengers into one team that would be the public face of mutantkind. The team fought against Kang and Apocalypse's machinations, and managed to be a true fusion of the two Marvel Universe families. Havok and Wonder Man, side by side fighting crime: What more could you want out of Marvel Comics than that exact brand of interconnected silliness?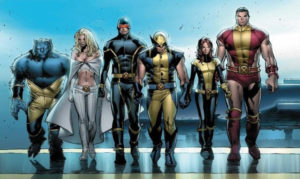 Source: austinbooks.com
10. Astonishing X-Men
The X-Men are superheroes. I know that seems obvious, but for a long time, they weren't really written that way.
They were students and teachers. They were soldiers and operatives. They were Matrix-like badasses in black leather, space travelers, and time pirates. But they hadn't been just straight-up no-frills superheroes in a long time.
And then Joss Whedon and John Cassaday came in and changed all that. Astonishing reads like their response to Grant Morrison and Frank Quietly's work in New X-Men, which took them out of spandex for a while. Then Whedon brought back Colossus, and put them right back in it. It also introduced SWORD and Danger, and gave us a hell of a lot of Lockheed. Honestly, it's one of the better jumping-on points for X-Men comics.
Reader-friendly and funny, this is a solid, self-contained little series for classic X-Fans and newcomers alike. And the team itself is a classic, and a perfect mix of original recipe X-Men and 2000s recruits. New and old: it brings two great tastes that taste great together.
Oh, and John Cassaday draws great costumes. His Wolverine is an all-time classic, and that Cyclops costume is fantastic. And he draws cat-Beast better than anyone else.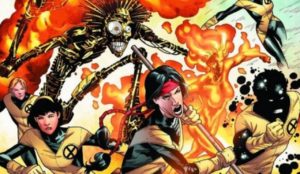 Source: comicbook.com
9. New Mutants
One of the problems with the X-Men is that there have been so many incarnations throughout the years that everyone kind of has a different perspective on what they should be.
So for everyone who loves watching the X-Men do superheroic things, there are just as many people who want to see them go back to being students. By green-lighting a second X-title, Marvel was able to have its cake and eat it too.
The New Mutants were a class of new students who were brought into the Xavier School so they could be trained to use their powers. Included among their number were long-running X-favorites like Moonstar, Cannonball, Sunspot, Magik, and Wolfsbane, plus Warlock and Cypher, who are just the best. There's some truly incredible writing and art in the original New Mutants series, especially the Demon Bear Saga and Issue 64, the saddest comic book of all time.
Give it a read if you get the chance.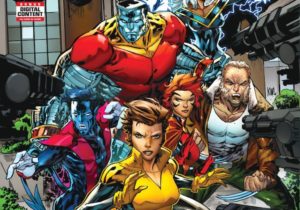 Source: multiversity.com
8. X-Men: Gold
I wanted to throw at least one current X-book team on this list, because the present-day X-books are pretty fun. I thought about adding X-Men Red, because the team's composition is really interesting. But the book is only four issues in at present, and I wanted to give credit to a team that's more tested and true.
The most recent incarnation of the Uncanny X-Men brand, X-Men Gold is a spiritual successor of the original All New All Different X-Men. Led by Kitty Pryde, the team includes Storm, Colossus, Logan, Rachel Grey, and Nightcrawler.
This is a real fun blend of '70s and '80s X-Recruits, most of whom have changed dramatically over time. It's cool to see Kitty leading an X-Men team at last. And seeing Rachel with something to do for the first time in a while is really nice.
I do wish she was still Phoenix, but Prestige is still a good code name, and the costume is great.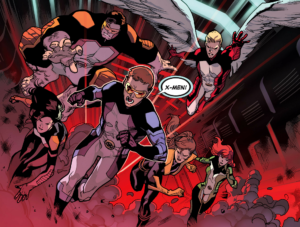 Source: pinterest.com
7. All-New X-Men
X-Men and time travel go together like chocolate and a jar of peanut butter that won't stop friggin' time traveling.
The other day, as I tried to explain to my girlfriend just how complicated the X-Men are, I came up with the following: "The X-Men are confusing, because half of the team members are just alternate-universe versions of – or children of – the other half of the team." The X-Men have been bouncing through time since Days of Future Past, although it's usually with a backward-jumping directional bent.
A character from a horrible future will come back in time, change the present, and then just sorta stick around with the team. But the reverse occurred in All-New X-Men. The original X-Men team were blasted into the present and were stranded. They've been there/here ever since. Seeing that original team react to what's happening now is fun, but when they see their own future selves, it's incredible.
It created great character dynamics that really played out across the series.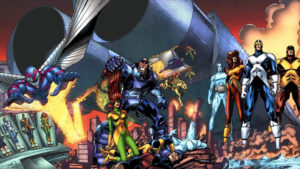 Source: comicbinding.com
6. X-Factor (Reunion Team)
You may have noticed that I didn't really talk about any specific characters in my last entry.
That's because I was waiting to get to it in this one! X-Factor launched as an excuse for reuniting the original X-Men team – Cyclops, Marvel Girl (because Phoenix was retconned into a different person to get her back alive), Iceman, Beast, and Angel – and giving them some new adventures.
Angel, who goes through the most interesting story arcs, is probably the stand-out of the early years of X-Factor. In this series, he dealt with Cameron Hodge; lost his wings; and got big, evil, metal wings from Apocalypse, who also made him a horseman. So, yeah, this comic introduced us to Apocalypse AND Archangel.
Practically half of what X-Men comics fans loved in the '90s started in the '80s in X-Factor. It's well worth your time if you really want some classic X-Men fun.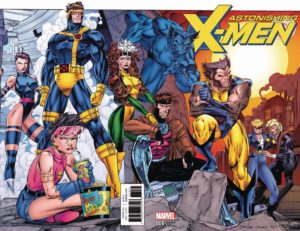 Source: shopify.com
5. X-Men ('90s Blue Team)
Comics in the '90s weren't all bad. Heck, they were occasionally pretty darn good.
The team in the Adjectiveless X-Men book from the '90s was pretty much THE iconic X-Team. That's mostly because they went with that team when they adapted the series for that FOX cartoon that I leave on in the background as I write this, since I literally ran out of Transformers cartoons.
The comic was pretty much THE X-book, since its team included everyone's favorite X-Men in those costumes everyone liked. I mean, it gave us my favorite Cyclops costume. Also, it was the most '90s X-book possible, and as a result spun some fun stories. The Ghost Rider crossover with the battle against The Brood in New Orleans was a silly, silly time that I still can't get enough of. And it had that rad Longshot story! I love Longshot.
And I love this team.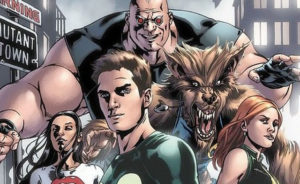 Source: houseofgeekery.com
4. X-Factor Investigations
I love mystery-solving teams. Throw on a Scooby Doo, and I'm happy. Hell, I'm even fine with Speed Buggy. But there aren't enough mystery-solving crews in comics.
There are quite a few private eyes, including Jessica Jones and Spider-Woman, but teams? Only one immediately springs to mind, and that's X-Factor Investigations.
Jamie Madrox was a kick-ass private eye who loved nothing more than a good mystery. He was also a mutant who could duplicate himself whenever he absorbed kinetic energy.
Essentially, you'd hit him, and he'd have twice the chance to hit you back. But he was kind of an idiot, so he needed people to get his back. Those people included former bodyguard and fellow kinetic energy absorption machine Strong Guy; the badass M; Banshee's daughter Siryn; former New Mutant Wolfsbane; and the mysteriously wise Layla Miller.
Together, they formed the greatest detective agency in Mutant Town.

                                       Source: vavel.com
3. Wolverine and the X-Men
I've always loved the school versions of the X-Men more than the superteam versions.
But Wolverine and the X-Men was a little bit of both, splitting the difference between the faculty and the student body of the Jean Grey School for Higher Learning. This series gave me my undying love for characters like Broo, Quentin Quire, Oya, and Glob Herman.
The characters were just so well-realized that they've become staples, coming to mind whenever I think of the X-Men. The book itself was laugh-out-loud funny at times, but it was harsh and violent at other times. It was essentially everything an X-Men comic should be, all wrapped up in a neat little package.
Also, every issue's Letters page was answered by one of the characters from the book, and that's my favorite thing. I miss good Letters pages.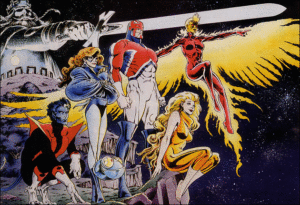 Source: marveldirectory.com
2. Excalibur
British Mutants are the best mutants.
There was a period of time during the '80s when the X-Men were thought to be dead, and Shadowcat and Nightcrawler had to get away. Griefstricken, they moved to England for a change of pace, and joined X-Men ex-pat Rachel Grey, aka Phoenix; England's premier superhero Captain Britain; and Captain Britain's wife Meggan to form another superteam, and they all lived happily ever after.
Except they didn't. They had harrowing adventures and fought crime and stuff. Excalibur was a great comic, and it's a lot of fun to read through it.
The Cross Time Caper in specific was just a rollicking good time that made me smile. Historically, Excalibur was the "fun" X-book, with a lot more wacky hi-jinx and fewer tragic mutilations. There were some tragic mutilations, but relatively few. Plus, the never-ending humiliations heaped upon Captain Britain never cease to be funny.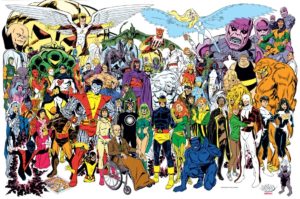 Source: themightyblog.fr
1. The Uncanny X-Men
Ah, yes, the classic squad.
The original X-Men were a metaphor for racism and discrimination, entirely composed"¦of white English-speakers. So, when they decided to revitalize the squad, they pulled characters like Storm the African Weather Goddess (a great character, even though comics tended to treat her origins as if Africa is one big country) from around the world.
The team also included Nightcrawler, the swashbuckling demon look-alike from Germany; Colossus, the big-hearted Russian metal man; Wolverine, the abrasive clawed Canadian; Banshee, the Irish flying screamer; Sunfire, the proud Japanese fire starter with a penchant for quitting; and Thunderbird, who died in the first issue. Okay, not true, but Thunderbird really did get shafted as far as the X-Men were concerned. His brothers still keep popping up, though.
This squad would eventually take in Rachel Grey, Kitty Pryde, Psylocke, Longshot, and more. Hell, along with Chris Claremont, this team was why anybody knew who the X-Men were. They turned the team into one of the best in the Marvel Universe. Hats off to them.
And there you go: the Top Ten X-teams of all time. Which ones would be on your list?