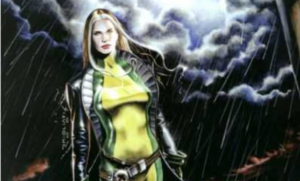 2. "Going Rogue, Part 2"
Writer: Robert Rodi
Artist: Cliff Richards
Aw hey, it's a nice little character piece!
After the weird encounter last issue, Rogue heads home to visit her father. But her father is nowhere to be found, and his house has been taken by Rogue's aunt, who helped raise Rogue and they do NOT have a good relationship. Apparently her father has bombed off somewhere and Auntie has no interest in helping her find him. They argue and eventually Rogue  has enough and grabs her aunt to get the information, but instead sees the events of their relationship from her aunt's perspective, finally understanding where she's coming from.
This understanding isn't helpful though because her aunt flips out because of the whole mutant thing and Rogue runs out. Outside though, she encounters someone: herself! What does this mean? We'll find out together next issue. Again, solid character piece and good backstory stuff.