Hey, everyone! Welcome back to the First 10, our regular series that looks at the first ten issues of a long or short-running comic book series to explore how it grew and matured. This time, it's our second DC Comic, the original Jack Kirby series of Mr. Miracle!
The current King/Gerads Mister Miracle comic is friggin' fantastic, so I want to dig back into the character's origin and first series, which ran 18 bi-monthly issues from April 1971 to March 1974. Every issue was written and penciled by Jack Kirby and inked by Mike Royer. Three years later, a different creative team revived the book, and that lasted another seven issues, bringing the total run to 25 issues. The run officially ended in September 1978. But for now, we'll go back to the original Kirby, starting with…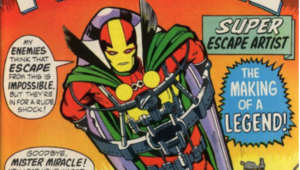 Source: comicvine.gamespot.com
1. The Murder Missile Trap!
Writer/Artist: Jack Kirby
And we start off with a bang.
Our first issue opens as super escape artist Mister Miracle and his faithful assistant Oberon prepare to do a stunt in the middle of nowhere and with no audience. Oberon chains up Miracle, locks him in a wooden hut, and blasts the hut with a flame thrower. A horrified bystander rushes in as the building burns, but before he can do anything, Mister Miracle escapes the trap with the greatest of ease, and takes off his mask to reveal his identity…and he's Thaddeus Brown!
The bystander introduces himself as Scott Free, adding that he was a foundling who'd been raised in some sort of orphanage. He has a bag loaded with weird, futuristic technology that helps him master and improve upon Brown's escape artist techniques. Scott comes on board as an assistant, and Brown reveals that he has to do one more big escape. Years earlier, he'd made a bet with noted Inter-gang crime figure The Steel Hand that he could escape the ultimate trap.
During the escape, The Steel Hand arranges Brown's murder, and Scott takes over the Mister Miracle identity to avenge him. And now, we end our incredibly action-packed story as Scott and Oberon ready themselves for their next adventure.
We learn shockingly little about Scott here. No Granny Goodness, no New Gods, just a dude on Earth with a Mother Box.