Matt Fraction and Salvador Larroca's run on Invincible Iron Man is easily my favorite run on the character ever. Four years of incredible comics with one unified writing and art team is something you don't see every day. And when you do, it's always something incredibly special. Having just read the entirety of the run in under a week, I've finally gotten a handle on the scope of the long run, and I found it easy to rank the best stories in the series. So buckle up, switch on the Iron Man, and launch.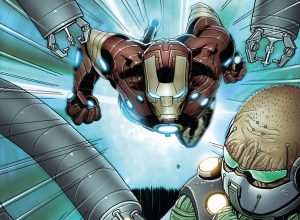 Source: comicsdune.com
10. Fix Me/The God Number
(Invincible Iron Man #501/502)
I always love it when superheroes fight each other's villains. Seriously, ask me about Acts of Vengeance sometime. I will write four freakin' columns on that thing. But this is the modern-day successor to that idea.
In Dan Slott's decade defining, and still ongoing, Amazing Spider-Man run, he completely reworks Doctor Octopus as a character. Turns out, years of head trauma from getting punched in the head by superheroes has resulted in lasting terminal brain damage. Oops.
As he slowly dies, Ock maes Spider-Man's life a living hell for a while. But he decides to get back at one other person he super hates: Tony Stark.
Trapping him in a dangerous situation, Ock tells Stark he has two options: find a way to save his life, or concede that he isn't as smart as he pretends to be. What ensues is an intense, character driven locked room tale that really and truly shows how different geniuses can be. And it has one of the most solid endings of any arc in the series.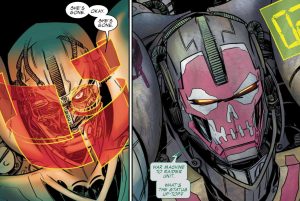 Source: comicvine.gamespot.com
9. The New Iron Age
(Invincible Iron Man #500)
Look, when you reach 500 issues, you get to throw yourself a big party and re-number everything.
And this is what seems like a big party that eventually turns out to be SUPER FRIGGIN' CRAZY IMPORTANT as you get toward the end of the series. Series regular Salvador Larroca is joined by a platoon of guest artists to tell a dual time period story. In the present, Iron Man and Spider-Man hunt down a cyber-terrorist group trying to build an unstoppable death machine that Tony Stark doesn't remember designing.
In the far future, Stark's children and grandchildren fight against The Mandarin and his robotic overlord masters. Masters who look eerily like the death machine Tony's been tracking.
The foreshadowing and set up in this one are really solid. In addition, it's mostly devoted to big fun and showy action. The kind you'd want out of a big anniversary issue. And it delivers.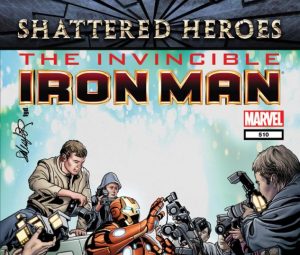 Source: marvel.com
8. Demon
(Invincible Iron Man #510-515)
Tony Stark is a recovering alcoholic. He also pilots a multi-million dollar weapon that flies. So what happens when he falls off the wagon?
And what happens when someone finds out?
In Demon, the shadier side of the government teams up with the Hammers to publicly embarrass Stark and regulate him until he's fully under their control. At the same time, former Iron Man foes start turning up with their powers cranked up to eleven by a mysterious benefactor. And, making things even worse, Sasha Hammer has taken up command of the Detroit Steel armor and is using it to take Stark's place. So, knowing he can be shut down at any time or any reason, Tony must figure out a way to get out from under the thumbs of those manipulating him.
But will his friends James "War Machine" Rhodes and Pepper "Rescue" Potts be able to help? Or will they be hurt in the inevitable crossfire?

                                               Source: carnedepapelytinta.com
7. Stark Resilient
(Invincible Iron Man #25-33)
The turning point in the series, and the source of the personally beloved Bleeding Edge armor, Stark Resilient was a tone setter that does a great job putting pieces in motion that will pay off later on.
After Tony lost his company, a directorship of S.H.I.E.L.D., and his armor during the horrors of Dark Reign, he had to build himself back up somehow. And that somehow was by creating Stark Resilient, a brand new company devoted to using repulsor technology to make the world a better place. As such, he completely dismantled the weapons-dealing facet of his company, pissing off the army. They turned to the Hammers – the daughter and wife of former Iron Man foe Justin Hammer – and they created a brand new weapon: Detroit Steel, a hyper-Americanized to the point of being jingoistic suit of murder-murder-death armor piloted by a redneck psycho.
This, as you'd expect, goes real bad.
This arc is also where we get Pepper Potts' new identity as the emergency responder powered superhero, Rescue. The Rescue armor is friggin' sweet.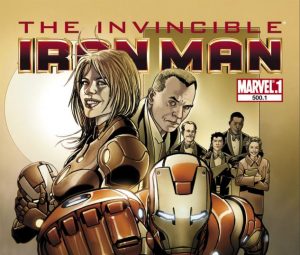 Source: marvel.com
6. What It Was Like, What Happened, and What It's Like Now
(Invincible Iron Man #500.1)
Sometimes, you just want a quick, simple, done-in-one-shot story out of your comic books. That's where What It Was Like, What Happened, and What It's Like Now comes in.
The story with a title too long for an acronym to help is one quick issue with a simple premise: Tony Stark tells his story at an AA meeting. It's an awesome recap of what the character's been through, with the added comedy of Stark's vague words being paired against comic book-y visuals.
It's a fantastic starting point for anyone who's doubtful about whether or not this comic is for them. If you like this issue, it is. If not, move along. The comic is also great for how much it frames Tony's decades-long story under one uniform light: addiction. Tony Stark is an alcoholic superhero.
That's ludicrously important to his character, and ignoring it does you no service toward writing him. This issue is the first Iron Man comic I've read in a long time that truly addressed that.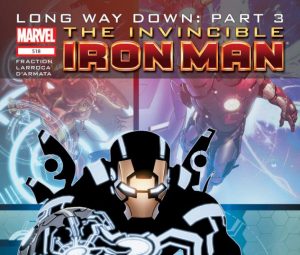 Source: marvel.com
5. Long Way Down
(Invincible Iron Man #516-520)
There is always a fall before the rise. And as such, this penultimate story arc sees Tony Stark's great fall.
Pursued by the U.S. Government for getting drunk during Fear Itself, hunted by the Hammers on a professional stage, forced to give up being Iron Man, Stark seems done for.
This is also the arc that gives us payoff for many of the longer set up plot threads from earlier on. Honestly, this is pretty much entirely on here for the payoff to the Spymaster story, which is haunting and unpleasant and darkly sweet in the most messed up way imaginable. Like, easily the best Spymaster story of all time.
But in addition to that, this is where The Mandarin rises back to prominence after his appearance in a story we'll talk about later on. Here we start setting him up to be the big bad he truly is. Which makes his actions later pay off even harder.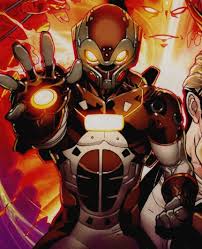 Source: angelfire.com
4. The Five Nightmares
(Invincible Iron Man #1-7)
The first story arc of Fraction's Iron Man run is an incredibly strong opening move.
The story is built around one simple idea: Tony Stark is a futurist, so what is he afraid of? And what happens when his nightmares start coming true? Ezekiel Stane, son of old Iron Man foe Obidiah Stane, the Iron Monger, arrives to avenge his father through terrifying uses of Stark technology. And Stark is in some serious trouble, for one big reason: Stane may be younger than he is, but he's far smarter, too.
So when Tony can't rely on being the smartest guy in the room, what does he turn to? How does he survive? This rip-roaring fun time is exactly the way to start off a series. It's hot, it's new, it's well-written and beautifully drawn, and it's exactly the Iron Man story you've always wanted.
Give it a read if you haven't already.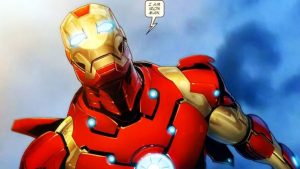 Source: moviepilot.com
3. The Future
(Invincible Iron Man #521-527)
The big, showy fireworks spectacular that ends this series with the earth-shattering kaboom it deserves.
As the Mandarin's final plot goes into effect, Tony Stark is helpless in Mandarin City, alongside former foe Ezekiel Stane. Can Tony inspire an insurrection of powered-up supervillains to stop his greatest foe from ceding control of the world to horrific tentacled death-mechs?
The Future is intense and fist pumping and funny. Everything pays off, and we get a much better look at Mandarin's rings than ever before, one that Kieron Gillen would later play off of in HIS Iron Man run. Blizzard, Whirlwind, and the Living Laser are all personal favorites of mine, so seeing them get to play in this arc is really satisfying.
The stakes run higher than ever before, and it feels like it. And when it all comes down to it, all of the character relationships feel strengthened by an entire series of work having been done by Fraction. Plus, failing to mention Larroca's beautiful art and GORGEOUS armor designs would be the biggest mistake of my professional career.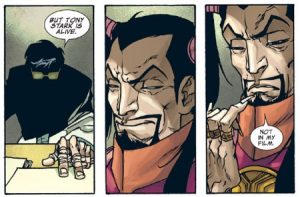 Source: comicsalliance.com
2. Mandarin: The Story Of My Life
(Invincible Iron Man Annual #1)
One of my favorite single issues of all time, and the best issue of this series by FAR.
With guest artist Carmine Di Giandomenico! And it's an issue that features literally zero appearances by Iron Man himself! Neat, huh?
This issue stars famous Chinese filmmaker Jun Shan, who is one of the favorite filmmakers of"¦The Mandarin!! That isn't a good thing, turns out, as he finds himself and his wife abducted by the villain for one purpose: so Jun Shan can make a movie about the life of the Mandarin. Under heavy watch in Mandarin City, and provided only with fake information that glorifies his kidnapper, Shan is forced to make the worst movie of his career. That is, until he comes up with an idea. Through the power of guerilla filmmaking, and the help of a group of willing contributors, Shan begins to make a new movie in secret. And this one is devoted to telling nothing but the truth and destroying the myth the Mandarin has perpetuated for himself. Of course, this project will most likely end in a death sentence.
Not only is this story great because it's loosely based on a true story involving North Korean dictator Kim Jong-Il's abduction of filmmakers, it's also a perfect reintroduction of the Mandarin to a modern audience. Turning him into a foreign dictator shaping his people into viewing him as a god? That's friggin' brilliant.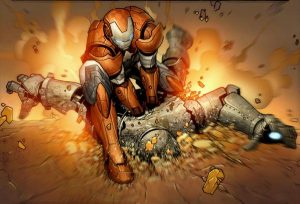 Source: comicritico.blogspot.com
1. World's Most Wanted
(Invincible Iron Man #8-19)
In the aftermath of the Skrull Invasion, Norman Osborn (yes, THAT Norman Osborn) is lionized as a hero and installed as the head of S.H.I.E.L.D., which he immediately renamed H.A.M.M.E.R., because that is indeed what you would do if you were a supervillain and someone put you in charge of S.H.I.E.L.D.
He confiscates as many Iron Man suits as he can, paints them in American flag colors, and calls himself the Iron Patriot. As a result, Tony Stark decides to destroy all of S.H.I.E.L.D.'s dangerous data to prevent Osborn from using it for evil. After doing so, the only data left is in Stark's brain. So he gives himself a degenerative brain disease. Stark is hardcore.
As he flies around the globe – pursued by Osborn and the collective forces of H.A.M.M.E.R. as he deletes data stashes – he must change into progressively older armor as he loses the brain capacity to operate newer versions of the Iron Man. What results is an intense, breathless chase across the globe with a dangerous ticking clock in the background.
Easily my favorite story of the entire run, and one I'd HIGHLY recommend reading. The best Dark Reign tie-in story ever, as well, that's for certain.
And there you have it, the best of the best from my favorite Iron Man run of all time. Solid, fun comic booking that will leave you wanting more. What more could you want out of a comic book? Straighten up and fly right, folks!