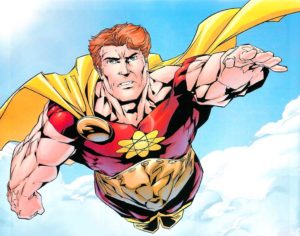 Source: marvel.wikia.com
4. Hyperion
The age-old Superman vs. Batman debate will ring throughout all of history, and it's unlikely that we'll ever have a definitive answer. But here's the thing that will always make it pointless: Superman will never go all-out in such a fight.
No matter how hard or how far he's pushed, Superman would never get himself to a point where he'd unleash his full power against Batman. On the other hand, Hyperion won't hesitate. He'll do whatever it takes to make the world a better place. And if it takes reducing the Dark Knight to a grease spot before he has time to ask what that swiftly approaching dot in the sky is, that's fine.
Hyperion may have started out as a typical Superman analogue, but once he and his Squadron Supreme cohorts decided to become more proactive, he lost that classic Superman-like restraint. And that's only true if we're talking about classic-recipe Hyperion, rather than the dumber, less subtle Supreme Power version. Or the less restrained Thunderbolts version. Or any of the Squadron Sinister versions.
My point is that Hyperion owns.