Batman. The Dark Knight Detective. The Caped Crusader. The Pointiest Justice Leaguer. Everyone likes to talk about how Batman could beat up anybody if he had enough prep time, but some Marvel Characters might be able to give him a run for his money – and even wipe the floor with him – whenever called upon to do so. Let's have some fun talking about these guys.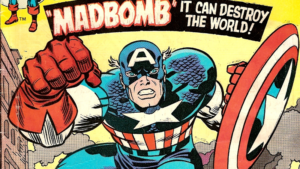 Source: gizmodo.com
5. Captain America
This is the only canonical item.
Bats and Captain America go toe-to-toe in Marvel vs. DC. They wind up in a tie, but the implication is that either one could have defeated the other. Steve Rogers is an all-around beast of a fighter, driven and powerful. Batman may be at the peak of human athletic perfection, but Cap takes it one step further.
In a one-on-one situation, Shield would beat Batarang nine times out of ten. Batman might be stealthy and well-equipped, but Cap fought the Nazis.
The big black bat would be a fool if he didn't fear someone who steps in front of a Tiger Tank armed with a metal Frisbee and wins. And your ability to be stealthy will be somewhat impaired when you can't walk straight due to having your skull bounced off a shield.
Batman is a strong fighter, but with the right conditions, the Red, White, and Blue always comes through.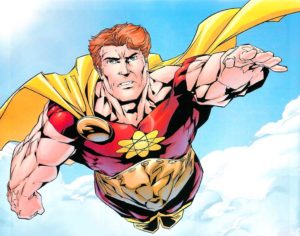 Source: marvel.wikia.com
4. Hyperion
The age-old Superman vs. Batman debate will ring throughout all of history, and it's unlikely that we'll ever have a definitive answer. But here's the thing that will always make it pointless: Superman will never go all-out in such a fight.
No matter how hard or how far he's pushed, Superman would never get himself to a point where he'd unleash his full power against Batman. On the other hand, Hyperion won't hesitate. He'll do whatever it takes to make the world a better place. And if it takes reducing the Dark Knight to a grease spot before he has time to ask what that swiftly approaching dot in the sky is, that's fine.
Hyperion may have started out as a typical Superman analogue, but once he and his Squadron Supreme cohorts decided to become more proactive, he lost that classic Superman-like restraint. And that's only true if we're talking about classic-recipe Hyperion, rather than the dumber, less subtle Supreme Power version. Or the less restrained Thunderbolts version. Or any of the Squadron Sinister versions.
My point is that Hyperion owns.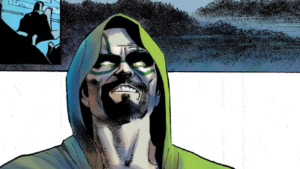 Source: I09.com
3. Karnak
Unfamiliarity gives any Marvel character an advantage over Batman.
Batman is smart, but a lot of that comes from meticulous research. Realistically, when confronted with a new threat, Bruce Wayne has a limited amount of time to consider it and come up with a response before it's too late and he gets his butt kicked. Karnak is a good example of a threat he wouldn't be able to prepare for.
Karnak is an Inhuman with a special Terrigen Mist-approved super power that enables him to sense the weakness in any human or object. No matter what, he'll find that flaw. And when you're dealing with Batman, that's a useful skill. Anyone thrown into a sudden conflict with Batman would probably have a single chance (if that) to hit him before they were battered with fists and batarangs.
The key here is that Karnak could make the most out of that single chance. Dude could make it count.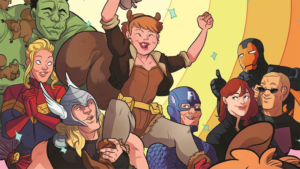 Source: I09.com
2. Squirrel Girl
LOL…haha…No, but for real.
Every comic book universe has its constants. The Infinity Gems have specific powers. Wolverine's healing powers ability works in a certain way. And no one can beat Squirrel Girl. That's her entire shtick. Whenever she's pitted against an opponent, the universe bends and turns that opponent into the silliest version possible, which is invariably the one that can be defeated.
Once a murder machine, MODOK transforms into a round man with little arms. Science wizard Dr. Doom becomes an egotist who loves to talk in the third person. And let's be honest; Batman has the capacity to be extremely silly.
No, Squirrel Girl couldn't beat Grim Avenger of the Night Batman, but she wouldn't fight him. She'd fight Takes Himself too Seriously and is Always Sad Batman. She'd basically be fighting Lego Batman. And she'd kick his ass.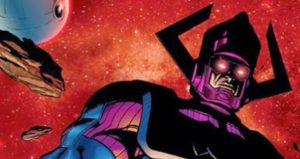 Source: totalcomicmayhem.blogspot.com
1. Galactus
I mean, duh.
Like, Batman is a badass through and through, but no matter how much time he has to prepare, he's not of the galactic tier. Galactus is an almighty being who could annihilate the Dark Knight with a single blast of the Power Cosmic. He would be painted across the cosmos like a smear of butter on your breakfast toast.
Bats' only hope is that Galactus will make him a new herald and give him some cosmic power. In that case, Batman wins. But that's very unlikely. It's far more likely that the big G will simply step on Batman by accident without even realizing that it's happened.
And there you have it: Five Marvel Characters who could defeat The Batman. But again, these are all fictional characters, so storytelling could necessitate any outcome for any fight. Regardless, these thought experiments are fun.