Once again, I figured I'd take some time to sift through another couple issues of Who's Who and pull out some great weird and/or obscure characters to make fun of for your reading pleasure. Once again, I kid because I love, so don't mistake my mocking for hatred or even dislike. My goal in these is to expose some of the stranger corners of the DCU and parade them about for all to enjoy. Because the weird parts are the fun parts.
FAIR WARNING: These are the most weird AND/OR obscure characters, so not all of them are all that obscure. You've probably heard of a couple of them. If you have, and would like to comment or message me telling me how totally not obscure these characters are, here's a handy guide of what steps to take to do this: Step 1: Don't. Cool? Cool. Now with that business out of the way, let's get on with the list.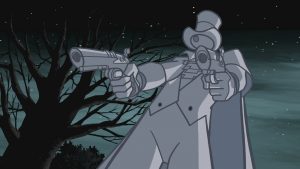 Source: comicvine.gamespot.com
10. Gentlemen Ghost
Look, the Gentlemen Ghost has been adapted multiple times and is the best known character on this list. But he is a ghost with a TOP HAT AND MONOCLE so he is going on this list whether you like it or not.
The Gentlemen Ghost is phenomenal. The Ghost wasn't always a ghost, however. He use to be a highwayman named Jim Craddock before he was caught thieving and hanged (Not hung, hanged.).
With his dying breath, Craddock promised to come back from the dead and"¦steal everyone's stuff. You'd think he'd, I dunno, threaten to murder them from the grave or something. But no, why do that when you can steal some stuff?
As far as vengeance ghosts go, Craddock has pretty low aspirations. Hence why he fights Hawkman all the time. You can't have high hopes and still be fighting Hawkman. He is not the target you aim for. He's more the target you settle for.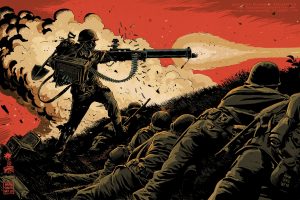 Source: francescofrancavilla.com
9. G. I. Robot
Introducing the Jungle Automatic Killer - Experimental. Or JAKE. Or G.I. Robot. He is a robot soldier, and I love him.
If someone asked me, "Hey, who is your favorite obscure DC character who you think deserves more love", I would shout "G.I. Robot" before you had finished the sentence. I would probably continue to shout G.I. Robot for a good while after.
Last list I did, I talked about the Creature Commandos, and I love G.I. Robot for many of the same reasons. DC's weird sci-fi horror war characters are so sadly forgotten, when they are such crazy awesome concepts that they need to make a comeback. I would kick a puppy for a Weird War Stories mini-series. Unfortunately, G.I. Robot was on the rocket that got lost in space with the Creature Commandos, so they spent a large amount of time just sorta tooling around the cosmos not fighting in wars.
Perhaps because it would've been tasteless to watch a vampire, a Frankenstein monster, a medusa, and a robot fight in the Vietnam War. I'd still read it though.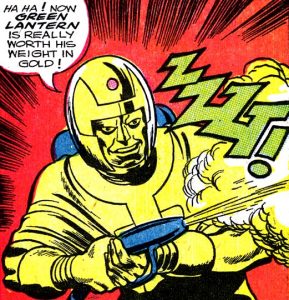 Source: dc.wikia.com
8. Goldface
Let's talk about supervillains who really shouldn't be supervillains.
Keith Kenyon was a professional criminal (love that distinction) who was trying to invent an invulnerability elixir. Unfortunately, he needed to steal a bunch of gold to do this. He wound up stealing several treasure chests from shipwrecks, which"¦is that actually stealing? Real question here; let me know if you know, because I just always assumed sunken treasure counted as salvage, not thievery.
Kenyon eventually accomplished his elixir, as well as a helmet that could turn anything he wanted into solid gold. At this point, you don't really need to keep stealing things. You could just, I dunno, USE YOUR GOLD-MAKING HELMET TO MAKE A BUNCH OF GOLD AND SELL IT. Just off the top of my head there. But then, Goldface doesn't seem like a brilliant man.
As evidenced by the fact he decided to call himself Goldface.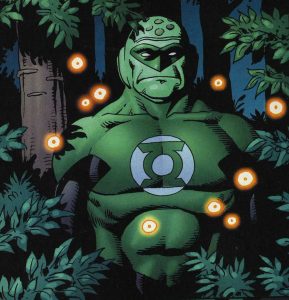 Source: gotham-news.com
7. The Green Man
So, I can't promise this entry ISN'T just going to be references to It's Always Sunny in Philadelphia, because it definitely will be.
At the very least, I'll put them in italics so you know they're references and not just nonsense. The Green Man was a Green Lantern supporting character which you probably shoulda guessed. He comes from a race where individuality and even names are scorned. Meaning that unlike on our planet, on his, there is no Pepe Silvia. You know, because none of them have names. Each one of Green Man's people are assigned a job at birth, which sucks since most of them are pretty much Charliework. Green Man longed for individuality, presumably slipping it into a dream journal of some sort.
Eventually, he was inducted into the Green Lantern Corps before he quit to join the Omega Men. He stayed as a reserve member though, so if some sort of villainous monster like, I dunno, a Nightman or something attacked, he'd be the first one on the scene. Poor guy's still single though. Coulda used some help from the DENNIS System. Um"¦ troll toll, somos extremos, wild card.
There we go. For people who aren't Sunny fans, the next entry should be back up to code. I'd say I'm sorry for this weird little diversion, but I'm not, it was fun.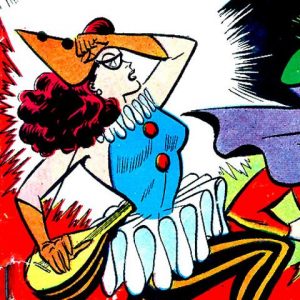 Source: pinterest.com
6. The Harlequin
No, not Harley Quinn.
Yes, it is a bit confusing, but understand right now. This is golden age Green Lantern villain The Harlequin, NOT HARLEY QUINN. I am making this clear up front because I know someone is probably gonna be confused in the comments.
This Harlequin is Molly Maynne, a strong willed athlete whose actual character motivation was that she was upset she couldn't get a man. I have"¦problems with that. For a coupla reasons. But whatever, golden age gender norms. In order to get a man, she took a job as the secretary of Alan Scott, head of Gotham City's radio network. But when she fell in love with the Green Lantern, and he told her that he was too busy fighting crime for love, she made a decision. She was going to become a supervillain so Green Lantern would have time for her.
This, uh, actually worked, and Green Lantern married her. Huh. So, believe it or not, I didn't originally put her on this list to talk about her depressing anti-feminist backstory, I did it to make fun of her costume. But, well, the anti-feminist thing was more interesting.
Wait, crap, I used the word "feminist" on the internet, didn't I? These comments are gonna be bad, huh?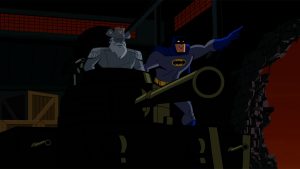 Source: comicvine.gamespot.com
5. The Haunted Tank
The Haunted Tank is the bomb. It is so rad.
The Haunted Tank is a tank protected by a ghost. The tank is commanded by Lt. Jeb Stuart and manned by his team. But Jeb's ancestor General Jeb Stuart, a Civil War soldier, has come back as a ghost to keep his descendant sa""wait. Jeb Stuart. That sounds like a southern name. Was he"¦he was.
So, uh, apparently the Haunted Tank is haunted by a confederate soldier. That, uh, that makes things uncomfortable. Man, now I have to wonder how super racist the Haunted Tank probably is. And since he's a confederate ghost haunting a tank from the forties, the answer is probably A LOT. Jeez, we've gone from sexism to racism in one entry, I feel bad for whoever moderates comments, because I'm not gonna do it.
The Haunted Tank's adventures were pretty much confined to World War II, meaning we thankfully didn't have to watch the ghost convince Lt. Stuart to take his tank to DC to restart the "War of Northern Aggression".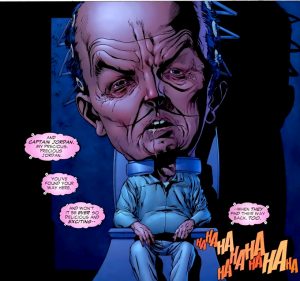 Source: dc.wikia.com
4. Hector Hammond
Hector Hammond was a career criminal on the run from the law near Coast City, California, when he stumbled across a meteor fallen from the heavens. The meteor exuded a radiation that "propelled everyone affected by it forward 100,000 years into the future evolutionarily".
He used it to mutate a group of scientists into future-men, and he sicced them on Green Lantern. After that failed, he irradiated himself and"¦got a really large head. He got telepathy too, but the more important part was the whole "can't stand or walk because he is a literal bobblehead" part. So that's what to expect out of the next hundred thousand years of evolution, huh? We'll all get massive heads and be able to read each others' minds? I am very glad I won't live to see that future; that sounds terrible.
Hammond is also immortal, by the way. He decided to blast himself with the meteor again, because that sounds like a GREAT idea. Just the best. How could that go wrong?
Have fun trapped in a immobile sadness-body you can never escape from, Hector. Real smart decisions there.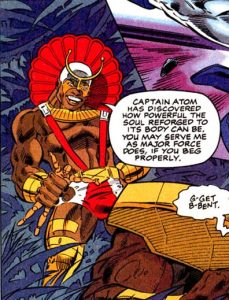 Source: comicvine.gamespot.com
3. Houngan
Believe it or not, that dude's a computer scientist. I know, right? You never would have guessed from that painfully stereotypical outfit he's rocking, huh?
After Jean-Louis Droo's father grew ill, he searched throughout all of western medicine for a cure, and found nothing. But voodoo worked, so in the logical next step, Droo became a supervillain. I"¦I feel like we're missing something here.
Droo decided to mix his computer science background with voodoo to become Houngan. He fought the Teen Titans a couple of times. But yeah, oh boy, is his costume hilarious and weird. Does not look comfortable. Not even sure how it stays on. The straps, I guess? What are those boots made of?
Ah well, he never did anything of note and was eventually forgotten about. Like you'd assume.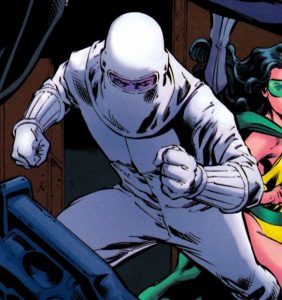 Source: comicvine.gamespot.com
2. Human Bomb
Well, that sure is a super power.
Blowin' yourself up is maybe third or fourth from the bottom in terms of terrible powers, but there are worse, so that can't be the only reason he's here. I also have to say that I don't think we'd ever get a superhero today named "The Human Bomb".
But for poor, poor Roy Lincoln, life took a horrible turn when he began working with his chemist father. His dad had developed an extremely powerful explosive formula to help the allies win World War II, and Roy was helping. But then Nazis attacked and killed Roy's father. In order to prevent the axis powers from obtaining the explosive formula, Roy"¦swallowed it. That, uh, that seems like a less than stellar plan, Roy.
Roy miraculously didn't die immediately and instead gained the power to explode at people. Good for him. So he took that power and went to war fighting a perpetual Nazi force on the Axis-ruled Earth X. Fightin' Nazis with explosions: If that isn't the comic-bookiest thing you've ever heard, I don't know what is.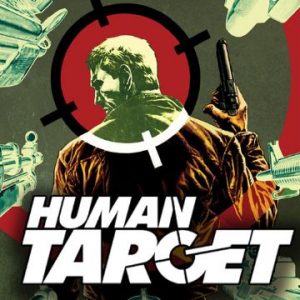 Source: comixology.com
1. Human Target
So, first off, this dude's name is Christopher Chance, which is friggin' rad. Second, we have his backstory.
Chris witnessed the death of his father at the hands of a professional assassin at a young age, and swore to stop others from befalling the same fate. Chance decided then to set up a profession for himself. If someone has taken a hit out on you, you can go and hire him and he will assume your identity and catch the assassin paid to kill you as"¦The Human Target.
This is just fantastic. I need Chris Chance to have a monthly series coming out from DC right friggin' now. Also I'll concede that "The Human Target" isn't the most optimistic of names, but that doesn't prevent me from loving it.
There was apparently a Human target TV series in the early 2010s but I just found out he didn't pose as the targets themselves but instead as their friends or whatever, which at that point, why even bother?
And there we have it, another list of very strange DC characters that I enjoy reading and writing about. Hopefully you've found a new favorite!