Once again, I figured I'd take some time to sift through another couple issues of Who's Who and pull out some great weird and/or obscure characters to make fun of for your reading pleasure. Once again, I kid because I love, so don't mistake my mocking for hatred or even dislike. My goal in these is to expose some of the stranger corners of the DCU and parade them about for all to enjoy. Because the weird parts are the fun parts.
FAIR WARNING: These are the most weird AND/OR obscure characters, so not all of them are all that obscure. You've probably heard of a couple of them. If you have, and would like to comment or message me telling me how totally not obscure these characters are, here's a handy guide of what steps to take to do this: Step 1: Don't. Cool? Cool. Now with that business out of the way, let's get on with the list.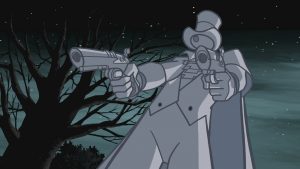 Source: comicvine.gamespot.com
10. Gentlemen Ghost
Look, the Gentlemen Ghost has been adapted multiple times and is the best known character on this list. But he is a ghost with a TOP HAT AND MONOCLE so he is going on this list whether you like it or not.
The Gentlemen Ghost is phenomenal. The Ghost wasn't always a ghost, however. He use to be a highwayman named Jim Craddock before he was caught thieving and hanged (Not hung, hanged.).
With his dying breath, Craddock promised to come back from the dead and…steal everyone's stuff. You'd think he'd, I dunno, threaten to murder them from the grave or something. But no, why do that when you can steal some stuff?
As far as vengeance ghosts go, Craddock has pretty low aspirations. Hence why he fights Hawkman all the time. You can't have high hopes and still be fighting Hawkman. He is not the target you aim for. He's more the target you settle for.