The Avengers"¦the Guardians of the Galaxy"¦the Fantastic Four"¦the X-Men"¦Marvel Comics has a fantastic array of superteams at its disposal that would make some truly great films. Admittedly, some are characters that Marvel Studios doesn't currently own, but there's nothing stopping Fox or Sony from making a movie based on one of them. I mean, besides the fact that no one from either of those companies would ever be reading one of my articles. But here are some amazing comic book teams that should be on the silver screen as soon as possible.
Oh, and I am purposely excluding any official Avengers or X-Men teams, because drawing the line between whether the New Avengers and West Coast Avengers are different enough to count as separate teams is honestly more trouble than it's worth. Also, it gives me more time to spotlight lesser known teams, like"¦
                                      Source: Marvel.com
10. New Warriors
The New Warriors spent years as an unimportant, seldom-used superteam of teenagers. And then came the 2005 miniseries that turned the team into a lovable band of superheroes starring in their own reality show.
I don't really watch any reality TV (unless you count Going Deep with David Rees), but this miniseries is incredibly wonderful, regardless. It's charming and funny and the team work off each other incredibly well. Plus, Nova and Speedball are there. I love Nova and Speedball. Sadly, this iteration of the team was decimated in the opening chapter of Civil War. Sad face. But a New Warriors film would work best as a straight up comedy, which we know Marvel can do, given their work with Ant-Man and Guardians.
And don't kill "˜em all this time, Marvel.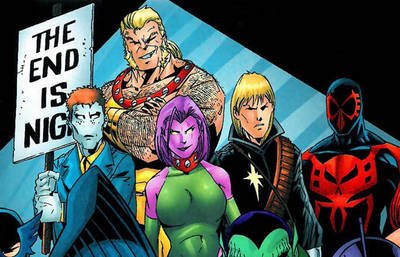 Source: comicvine.gamespot.com
9. Exiles
I loves me some Marvel alternate realities. In fact, I've been trying to figure out how to make an entire column out of "What if?" issues for some time now. But the Exiles are the only superteam based entirely on the concept.
The Exiles have had a rotating progression of members for some time, with the most consistent members being the minor X-Men characters Morph and Blink. I never really liked Blink all that much (nothing against her personally; I've just never really connected with her), but Morph's living cartoon character shtick never fails to make me smile a whole bunch.
Also, the Exiles collected a bunch of eminently lovable characters as they bounced from reality to reality. My faves were Longshot, Power Princess (who might be included in a later entry in this list, as well, wink wink), and especially Spider-Man 2099.
An Exiles movie will literally never happen, but as an idea, it would make a nice companion to the time traveling we already saw in Days of Future Past.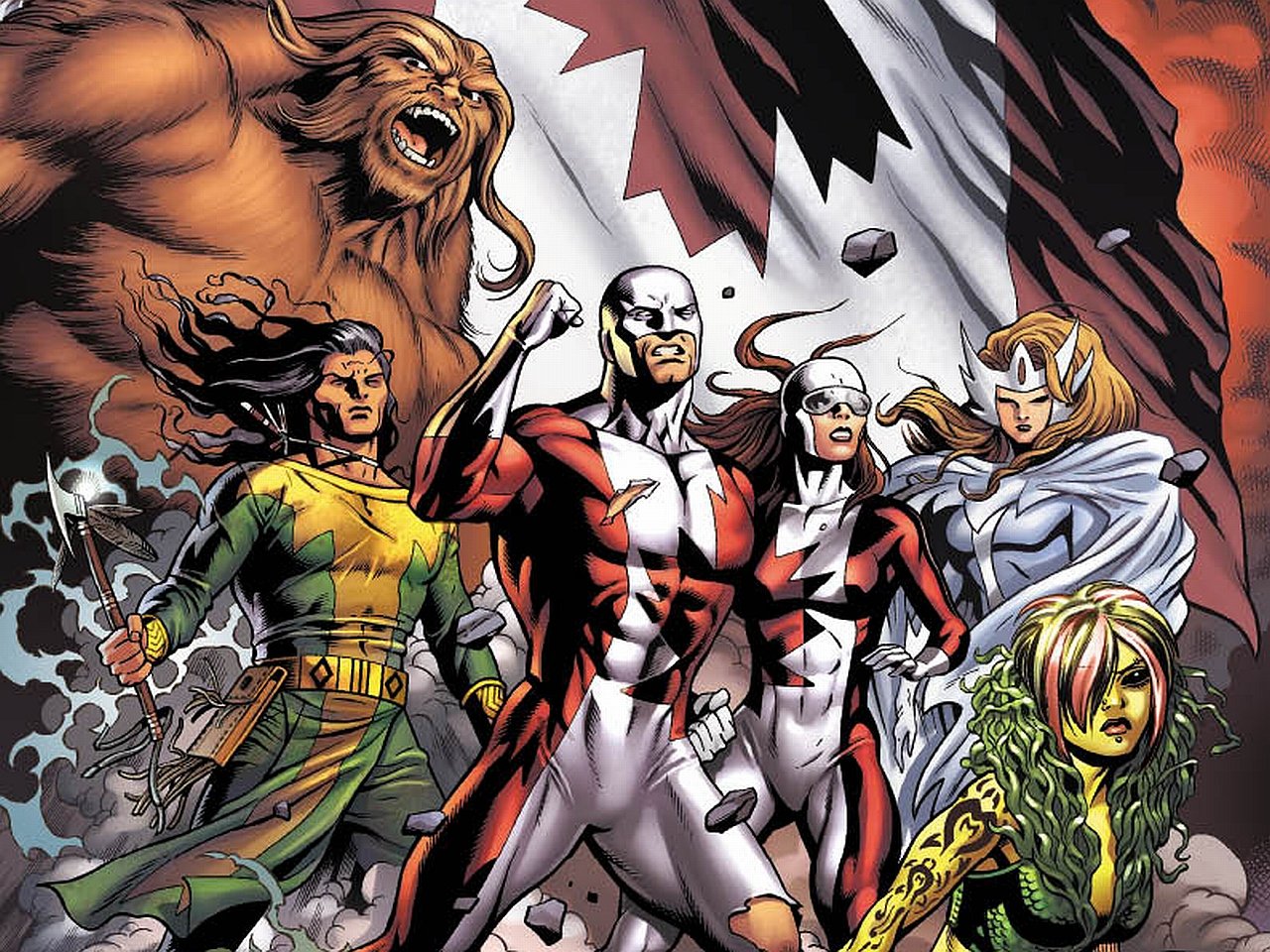 Source: wall.alphacoders.com
8. Alpha Flight
O Canada!
Our home and native land!
True patriot in all thy sons command.
With glowing hear""Ok, fine, whatever, I guess just writing out the Canadian national anthem in its entirety is "not something I'm allowed to be paid for."
Fine. I'm not even Canadian.
Alpha Flight is the premiere Canadian superteam, and they are wonderful. From Northstar and Aurora, to Puck and Sasquatch, the Alpha Flight team is as Canadian as Big Hero Six is Japanese. I've always loved Marvel's international teams, and the Great White North deserved one of their own. There've been quite a few Alpha Flight series over the years, so I have trouble picking a favorite, but come on. Canada rocks! Why can't we give them a superhero movie? Hell, we film half our comic book films in Toronto for tax purposes, why can't we just let them have some cool superheroes? Get on it, Marvel.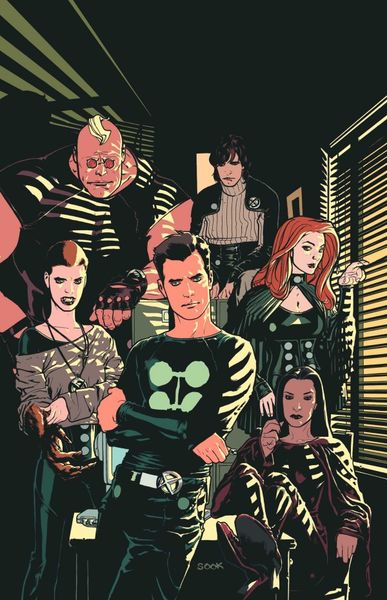 Source: marvel.wikia.com
7. X-Factor Investigations
Jaime Madrox, aka the Multiple Man, was a fun and charming X-Men character who hasn't really had a ton of time in the spotlight.
His only notable film role was in X-Men: The Last Stand, which is a movie that does not exist. I mean, he was the only good part of that movie that does not exist, but it's still not a great claim to fame.
Madrox, whose power is that he can clone himself when he absorbs kinetic energy, was the founder of X-Factor Investigations. The office was home to a kick-butt team of little-used X-Men, X-Force, and X-Factor team members, including Strong Guy and Wolfsbane. The series ran quite a while, and gathered a large number of devoted fans. My personal favorite arc involves Madrox hunting down some of the dupes he'd lost track of.
I know Fox is kinda focused on the Deadpool corner of the X-Men franchise right now, but a charming little detective film wouldn't be unwelcome.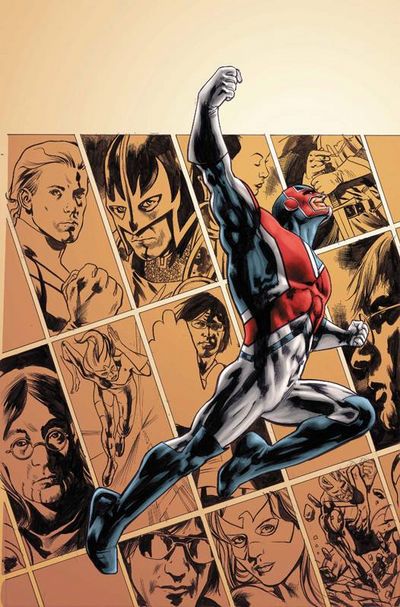 Source: forums.marvelheroes.com
6. MI-13
I've already explained my love for Marvel's international superteams, and MI-13 is the British equivalent of Alpha Flight. MI-13 is a governmental agency that can call on any and all British superheroes.
That means…Captain Britain? On the team. Union Jack? On the team. Blade? On the team. Didn't know Blade was British? Now you do.
MI-13 fought everything from alien invasions to Dracula. And Marvel Dracula is the bestest thing in the world. Dracula's base in that story is on the moon.
ON THE MOON.
How dare you not love that. That's the greatest thing in the whole wide world. Moon Dracula should be a movie NOW. But if we can't get that, MI-13 would be nice, anyway. Again, another opportunity for Marvel to step out of its MCU comfort zone and give us some different superheroes. MI-13's series, Captain Britain and the MI-13, sadly didn't last all that long. But it was something that could be absolutely fantastic source material for a film.

                                  Source: moviepilot.com
5. Young Avengers
You know how I said I wouldn't be including any official Avengers or X-men teams? Young Avengers is why I included the word "official".
The Young Avengers were a team of unsanctioned teenage superheroes, who were themed after the classic Avengers, but with a dark secret. The team was brought together by Iron Lad – secretly a young version of time-traveling Avengers foe Kang the Conqueror – who is trying to stop himself from turning into the villain he would one day become.
As the team fights crime and deals with personal strife, old-school Avengers threats like the Kree, and Kang himself, come a-knocking. Also, this is the series that gave us Kate Bishop, aka Hawkeye. And Kate kicks serious butt. Plus, Teddy (Hulkling) and Billy (Wiccan) are legit adorable together. So that's a major plus.
Young Avengers would be a great one-off film that would further expand the MCU, and in an interesting new direction. Plus, it would introduce Kang to the MCU. And Kang is goshdarn fantastic. Oh, and if the movie was based on the sequel series featuring America Chavez and Teen Loki, that would be MORE than acceptable.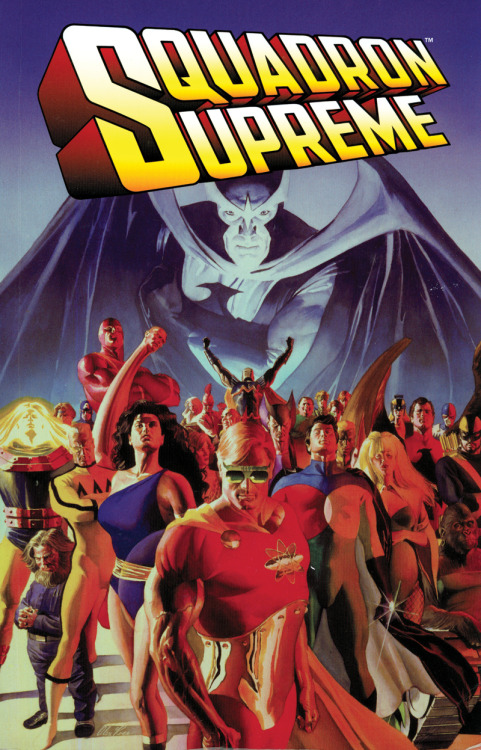 Source: comicblah.tumblr.com
4. Squadron Supreme
Well, if DC ain't gonna make us a good Justice League movie any time soon, why not let Marvel take a crack at it.
The Squadron Supreme were originally intended as a JLA parody, but in a miniseries written by the sadly departed Mark Gruenwald, they were given free reign in the most underrated comic book I've ever read.
Squadron Supreme is just as much a deconstruction of the superhero genre as Watchmen was, but taken in a different direction. Watchmen asks the question, "What would superheroes look like if they existed in our world?" But Squadron asks the question, "What would OUR WORLD look like with superheroes in it?"
Both are fascinating and valid questions. Squadron is about how power corrupts and at what point we should question authority. And, holy heck, would it make a great stand-alone movie. No MCU connections needed. So good.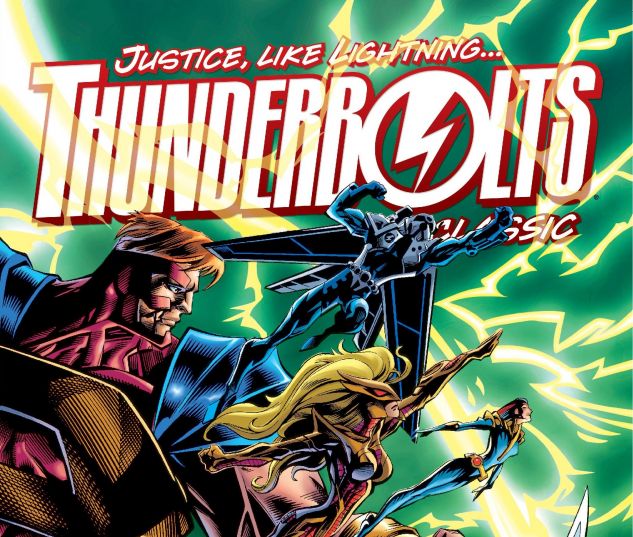 Source: Marvel.com
3. Thunderbolts
The Thunderbolts are my favorite superhero team of all time. They are not number one on this list only because I am not COMPLETELY biased.
Thunderbolts is one of the few long-running comic series I've been hunting down because I love it so much. The team began as the Masters of Evil masquerading as superheroes, but when the majority of the team decided they actually wanted to be heroes for realsies, best-Avenger-ever Hawkeye stepped in to help them reform.
The series that followed was a fantastic, character-rich tale about what it means to be a hero and the possibilities of redemption. Not to mention the fact that characters like Mach VII and Songbird have been fully inducted as Marvel mainstays by now.
A Thunderbolts flick could be not only a fun, irreverent movie, but a great character piece as well. Like Suicide Squad, but with a more positive outlook.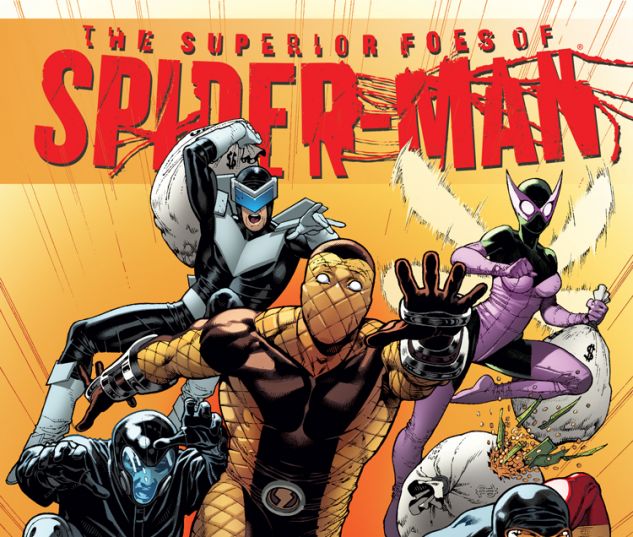 Source: Marvel.com
2. The Sinister "Six"
The T-bolts mighta been my favorite SuperHERO team, but they aren't my favorite team. That honor goes to The Sinister "Six" stars of Nick Spencer and Steve Lieber's Superior Foes of Spider-Man, which I'd easily rank as the best Marvel comic of the last ten years.
The "Six" are a team of five D-list Spider-man villains, who decided that it wasn't important to have their name be accurate, as long as it sounded cool. Led by former Thunderbolt Boomerang, the team tried nonstop to get the better of each other, the objective being to walk away with the most money It's an absolutely hilarious series.
I can't pick a favorite character between Beetle, Speed Demon, Shocker, Overdrive, and Boomer himself. I love Superior Foes so much, I have a page of original art from it hanging on my wall right now.
It's the funniest and best written Marvel comic in recent memory, and using it as source material could save Sony's planned Spider-Man film slate. It would be the Guardians of the Galaxy or Deadpool that Sony currently lacks.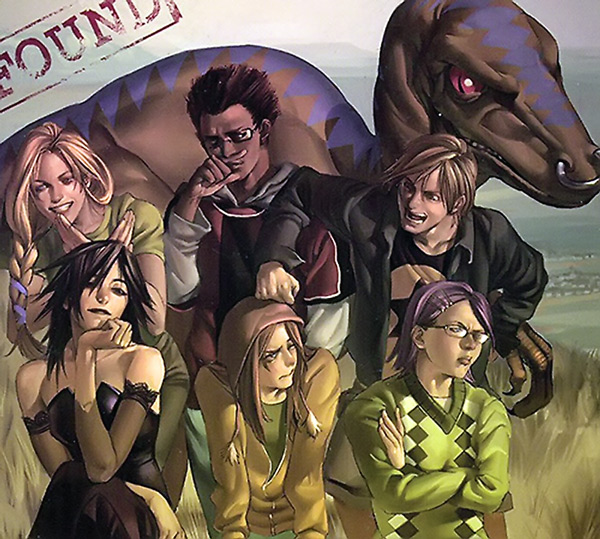 Source: writeups.org
1. The Runaways
Anyone who's read the instantly classic, first volume of this series should be smiling and nodding their heads right now.
Runaways is absolutely amazing in pretty much every way, and I've heard from more people who started reading comics with Runaways than any other series.
Runaways follows one simple premise: a group of teenagers, forced together because of their parents' friendship, accidentally discover the truth. Their parents are all honest to god supervillains. And so, spurred on by fear and anger, the teens"¦ well, Run Away, and decide to take their parents down once and for all. The team is incredibly likeable, with Chase and Karolina being my absolute favorites, with fan-favorite Molly as a close third. But if you disagree, it's only because EVERY character in Runaways is so great, everyone will have their own favorite.
If you haven't read Runaways, go do it as soon as possible! You'll see why a Runaways movie would capture the adult and young adult audiences alike, with a truly fantastic story and even better characters.
And that's my list. I assume many of you are thinking of teams I left out, as this was a hard list to narrow down, which kinda proves my point about just how many great superteams Marvel has at its disposal. Hopefully, they'll use some more of them.