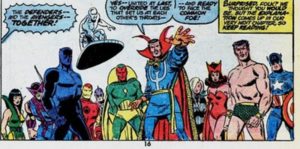 Source: comicvine.gamespot.com
8. Avengers/Defenders War
Included Titles: Avengers # 115-118 and Defenders # 8-11
Guys, it's one of the first ever classic style crossovers! The ones where you alternate which book you're reading to get the complete story. In this story, Loki and Dormammu team up to manipulate the Avengers and Defenders to fight each other to death. For clarification, this is the "Hulk, Valkyrie, Doctor Strange, Namor" Defenders, not the Netflix Defenders.
It's pretty simplistic and waaaaaaaayyyyyyyyy too long, but it's a fun little experiment, and a successful one as well. Heroes fight! Heroes team up!
Long-term Effects: None, lol.