No one is right all the time. As much as we all try to maintain a constant state of correctness, that's sadly impossible. And, when I look around the internet, I see a lot of people saying things that are patently wrong. Which is totally fine, it's okay to be wrong, but I thought it'd be best to help out the best I can by gently correcting some of those common misconceptions.
This article serves two purposes: one, if one of these misconceptions was a thing you didn't know wasn't true, you'll learn some cool comic book facts. And two, when someone you know goes off on a rant about how Batman has always killed people or DC has always been dark and gritty, you can just passive-aggressively send them the link to this article. Let's go!
                                                         Source: newyorker.com
10. Myth: "Batman Totally Shot/Killed People ALL THE TIME in the Comic Books."
The Truth:
Now this one is super interesting because it comes from a place of truth…sort of.
Yes, in Batman's first appearance in Detective Comics #27, he does carry a gun, and he does kill people. But here's the thing, Batman was still a work in progress at that point. Things about the character constantly changed across the first year of Batman comics, as writer-artist team Bill Finger and Bob Kane figured out what kind of character they were writing. And I don't mean things about the character changed, as in "bright purple gloves were a part of his costume in his debut" (although that's totally true). I mean things about the character changed, as in "He doesn't get an origin or backstory until Detective Comics #33".
Around that time, Batman stopped killing people and stopped carrying that gun. This culminates in Batman #4 in 1940, when Batman tells Robin, "We never kill with weapons of any kind." Wanna guess who wrote and drew that story? Bob Kane and Bill Finger. The character's creators. Batman's no-kill rule wasn't censorship, it was two guys looking at the character they'd created and realizing how to write him better. Any later Batman killing stories were all either retconned for being out of character or were out of continuity.
And to counter the two examples people are going to bring up to argue with me on this, Batman NEVER definitively kills anyone in Dark Knight Returns (As argued quite well in this linked article) and the whole "Batman kills the Joker at the end of the Killing Joke" theory has been disproved by the release of the original Alan Moore script which you can find here. Oh and "he kills in movies" isn't a refutation. This entire entry is pointing out why that's a bad adaptation of the character. In every case.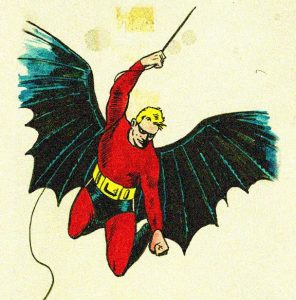 Source: io9.gizmodo.com
9. Myth: "Bob Kane is THE Creator of Batman."
The Truth:
While we're on the subject of the Dark Knight, let's talk about Bob Kane. Bob Kane is kind of a jerk, you guys.
Bob Kane was the sole creator of Bat-Man, a red suited, domino mask-wearing guy with giant fake bat wings on his back. His partner, Bill Finger, turned Bat-Man into the Batman we all know, creating the costume, origin, pretty much all the villains, and literally everything else you know about Batman.
Kane drew the comic for a long time, though. How long? We don't know, because at some point, he began paying artist Sheldon Moldoff to draw the stories for him as a ghost artist. Signing his name on things other people did was kind of Bob Kane's greatest skill.
But then why is he usually credited as Batman's only creator? Well, the truth was that Kane was an incredibly good businessman, who made sure his contract barred DC from ever crediting Finger as Batman's co-creator. Kane would also go on to claim credit for everything he didn't do, despite mountains of evidence. If you need to know who Bob Kane really was, read the infamous clown story, which is a bit too long to re-write here, so I'll link to it here.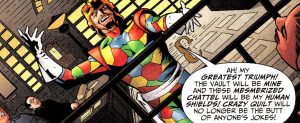 Source: dc.wikia.com
8. Myth: "DC Has Always Been Dark and Gritty"
The Truth:
I'm actually shocked at how often I see this one pop up online, usually spoken by people defending the grimdark films recently made from the company's IP. But I actually have no idea how people came to that conclusion, unless you've only been reading DC books since late 2011.
DC comics gave us Beppo the supermonkey. It gave us The Top and Crazy Quilt and that issue where Superman has a lion head. Plus, it brought us Superman himself, the single most optimistic character in modern fiction. True, DC has always had its dark stories, but those are the exceptions, not the standard.
Comics have always been a little bit goofy and a little bit fun loving. And while certain books got more grim since the New 52 reboot, the Universe has always kept its bright colors and fun characters.
I'm not saying fun is better than serious, because that depends on the story being told, but to say DC's always been dark ignores more than 75 years of comic books.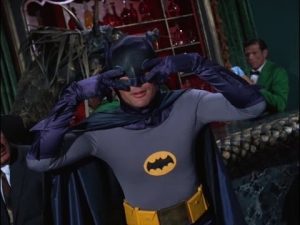 Source: youtube.com
7. Myth: "The Sixties Batman Show almost Ruined the Character Forever."
The Truth:
Batman '66, aka the Adam West Batman Show, has been an incredibly loved and hated part of the Batman canon. When criticizing lighthearted superhero fare, people frequently proclaim, "It's just like that terrible Adam West Batman."
Here's the thing: If you like Batman, you should be on your knees, thanking that silly show for existing.
Here's why.
While he was very popular in the 1930s, by the "˜50s, sales on all Batman titles were low. DANGEROUSLY low. Nearing-cancellation low. As hard as it is to believe, the Dark Knight just wasn't selling. But by the time the TV series premiered, hype was building for the Bat. The series turned Batman into an icon, and turned his comic book into the number one selling comic book in the country.
Without Batman '66, there's a chance that we wouldn't have had any of the Batman comics since. The show was also responsible for Batgirl, the third-best Batmobile, and the returns of villains like Mr. Freeze and the Riddler. Also, it's actually a really funny, charming show. It's okay if you don't enjoy it, but just know that without it, we probably wouldn't have The Dark Knight.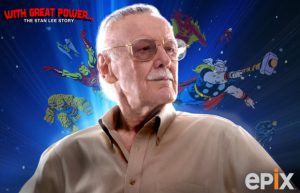 Source: awn.com
6. Myth: "Stan Lee Deserves All/None of the Credit for Marvel."
The Truth:
Here is one of the few misconceptions that happens in both directions.
People who don't know much about what happened behind the scenes seem to believe that Stan "The Man" Lee single-handedly created everything about Marvel Comics. The truth is that Stan worked with an amazing stable of artists, like Jack Kirby, Steve Ditko, and John Romita, who deserve as much credit as he does, if not a tiny bit more.
Since Stan was writing so many books, he tended to just give artists a loose plot summary and let them figure out the content of the issue. Then he'd come back and write in the dialogue. This was what's known as "The Marvel Style" of plotting. To be fair, Stan's presence is still very much in those comics and he was writing like ten comics every month, so I'd cut him a little slack.
But there are also people in the opposite camp who say that Stan did "nothing" and took all the credit. This is also not true. The tone of the Marvel universe, especially the "real people with real problems" angle and the realistic (for the time) dialogue is fully Stan Lee. And without him, a lot of those Marvel characters would not be nearly as interesting or successful.
Spider-Man co-creator Steve Ditko, while an amazing artist, was a serious Ayn Rand-ian objectivist. Like, If he'd been allowed to write the book it woulda been 18 pages of narration about the triumphs of the individual. At least give Stan credit for saving us from that.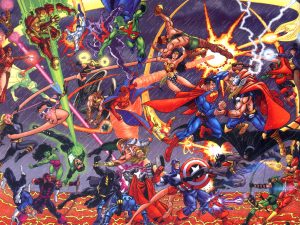 Source: comicscube.com
5. Myth: "Marvel is Better than DC/DC is Better than Marvel."
The Truth:
This one is easy to refute.
Neither one is better, you guys, both have released incredible comic books throughout their lifespans. Both are still producing good stuff to this day.
Preferring one over the other is fine, but insisting that one is factually – objectively – better than the other is stupid.
DC has Batman, Marvel has Spider-Man. DC has Crisis, Marvel has Secret Wars. DC has Starman, Marvel has Ultimate Spider-Man. DC produced Watchmen, Marvel produced Squadron Supreme. ALL ARE GREAT.
It's just weird to me that arguments I thought ended in the schoolyards have apparently still been going on online. Comics are great, why can't we all just get along?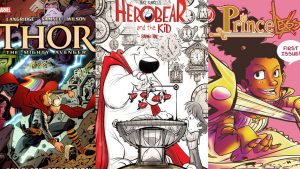 Source: nerdist.com
4. Myth: "All Ages Means 'For Kids Only'."
The Truth:
You wouldn't think I'd have to explain this one.
"All ages" means it's for"¦ALL"¦AGES. From birth to death. But a lot of people dismiss that stuff as kiddie faire.
And if you do that, you are missing out. Thor: The Mighty Avenger was All Ages as well as being the best Thor comic of the 21st century (opinion). Takio is wonderful as a teenage superhero standalone. Those Marvel Age and Marvel Adventures comics are really fun throwbacks to old-school Marvel. All of "˜em are All Ages.
But, because none of those comics contain a decapitation or a rape scene, some people won't give them the time of day. Comics CAN handle serious subjects, and can do it very well, but they can also be fun and wacky. So the next time you roll your eyes at an All Ages book, maybe consider giving it a chance. It might surprise you.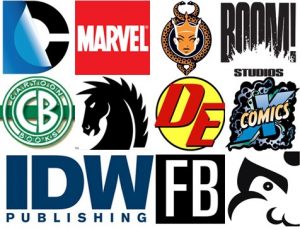 Source: comicsalliance.com
3. Myth: "Marvel OR DC, No Alternatives."
The Truth:
Here's the thing, I love Marvel and I love DC but you know what? There are other options.
Seriously, if I had to pick one publisher whose output is the most consistently great right now, it'd actually be Image Comics. Like, if you've ever wanted to expand your horizons a bit, head to your comic shop or bookstore and seek out any Image Volume One that looks interesting. At only ten bucks a piece for the first volumes, you can't go wrong.
Also, there's IDW, whose licensed comics are wonderful. Ghostbusters, G.I.Joe, Judge Dredd, they're publishing it all. Also, if you are a Transformers fan (like myself) but aren't reading More Than Meets the Eye, I'd rectify that ASAP.
Oni Press and Top Shelf both put out wonderful comics too. And if you want superhero comics, Valiant is KILLING IT on their books, and are also pulling the "ten bucks for volume one" thing in some cases. There is a wide world of great comics out there.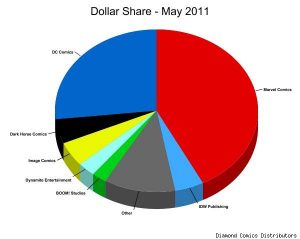 Source: comicsalliance.com
2. Myth: "The Comic Book Industry is Doing Better Than EVER BEFORE!"
The Truth:
*sigh*
I wish this one WERE true. And the truth is that comic sales ARE increasing currently, but sales and print runs are NOWHERE NEAR what they were in the 1990s. Let me give you some perspective right now. Star Wars #1, released a year or two ago by Marvel, was INSANELY high-selling, almost doubling the record for most comics sold in the 21st century and getting close to a million copies sold.
ONE. MILLION.
But what was the highest selling comic of the nineties, you ask? Well, that was X-Men # 1, which sold, reportedly, EIGHT MILLION COPIES.
Yeah. I know.
And it's not just sales, comic shops are less common and are having a harder time succeeding with fewer readers. Go ask your comic shop owner how their business is doing. They might be making bank, but odds are a lot of them are just breaking even. Again, in recent years, we've seen a decent influx of new readers thanks to digital sales and the movie boom, but we've got a long recovery ahead of us.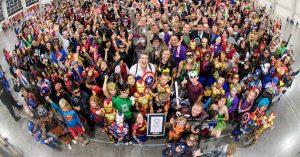 Source: robot6.comicbookresources.com
1. Myth: "You're Not a Real Comic Fan Unless You've Read/Done/Like…"
The Truth:
Look, I've been a comic fan for a long time. I've been reading monthly since 2004 and have done my best to read as much from before then as possible. I have shelves full of trades and showcases and omnibuses and a brain full of weird obscure characters and too many boxes of single issues to live comfortably. So I want to make it clear exactly what criteria you have to meet to be a "real" comic fan:
You have to like comics.
If you do, congratulations, test passed.
It's okay if you don't know every Robin's name and first appearance or if you sometimes mix up Marvel and DC characters; you'll learn eventually. Every angry superfan was once a newbie. We should be welcoming, not gatekeeping.
And to be honest, why the hell are we trying to turn people away when, like I've said, the industry NEEDS new blood. It needs men and women and children. And it needs us to welcome them with open arms, recommend good stories, introduce them to their new favorite character. There's never been such a thing as a fake geek girl and while comics aren't JUST for kids anymore, there should still be a place for them in the readership. Comic books are fun, so let's have fun with as many people as want to join in.
You want to be a comic book fan? Welcome aboard, friend, there's no entrance exam and for every person trying to turn you away, there'll be a bunch like me hoping you stick around.
So there we go! A bunch of misconceptions corrected. Now you may send this article to everyone who is wrong on the Internet. And please do, I don't get paid by the page view but I do want to stop hearing the same darn arguments, especially when they're provably wrong.