Comic book characters don't stay dead. Literally ever. And a lot of the time, that's not a problem. There are numerous characters who've been brought back from the dead to tell some of their best stories. For example, the Winter Soldier made Bucky Barnes a really valuable character, even after people had spent years saying that he should have remained dead. But here are some characters who probably should have remained dead.
WARNING: DOOMSDAY CLOCK AND ACTION COMICS POST-REBIRTH SPOILERS!!
                                                         Source: fjackets.com
10. Elektra
(Daredevil, Marvel Comics)
Elektra was created by Frank Miller, and killed by Frank Miller, and resurrected by Frank Miller. And one of those moves was a mistake.
Matt Murdock's former girlfriend re-entered his life as a Hand-developed ninja assassin, which is about par for the course for Daredevil Girlfriends. When you and Matt Murdock break up, the universe hands you a set of nunchucks and a pamphlet listing all nearby criminal organizations.
Elektra's brief life and death were excellent, but nothing she's appeared in has measured up, not even Miller's own follow-ups like Elektra: Assassin. I will say that if she's going to be "the girlfriend perma-killed by Bullseye", she should be the ONLY one. I'm sick of Matt's GFs getting fridged.
But if she'd come in and gone out quick and neat in one of the best comics to feature the title character? That woulda been one hell of a memorable anti-hero.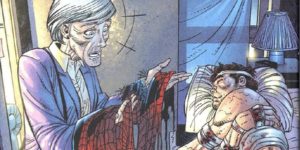 Source: cbr.com
9. Aunt May
(Spider-Man, Marvel Comics)
Yeah, this one might be controversial. But it's how I honestly feel.
Aunt May died during one of the worst periods for Spider-Man comics, but the quality of her death isn't why she shouldn't have come back. It's that she just shouldn't be around any more. I love Aunt May as a character, but having her still around forcibly regresses Spider-Man in ways that I don't like.
Let Peter Parker grow up. Let him be an adult and have his own life. Aunt May was already way past retirement age when Peter Parker was 15. Now that he's God-knows-how-old (22? 38?), are we really expecting Aunt May to still be spry and out and about? Hell, I've lost many similarly aged relatives this year, and I must be more than ten years Parker's junior. Comic book characters never get old, but they do need to get older.
Superman has a kid. Batman has a kid. But Spider-Man is still showing up on Sundays to get wheatcakes with his elderly aunt? Really?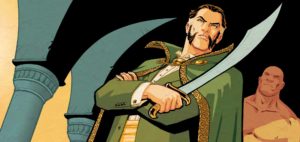 Source: cbr.com
8. Ra's Al Ghul
(Batman, DC Comics)
Sometimes a character should stay dead, not because he's a bad character, but because he's been successfully replaced.
Ra's Al Ghul was killed during Death and the Maidens, a Batman arc that introduced his (other) daughter, Nyssa Al Ghul. She took over the League of Assassins and"¦did pretty much nothing until she was car-bombed to death in the lesser part of a Robin run that was pretty good otherwise. Nyssa was a good character, and they could have used her very effectively. But people wanted Ra's back, and we missed out on that.
Ra's is a good character, but he'd been around for decades at that point. It was time for a breath of fresh air, but instead, it was snuffed out too quickly. Ra's died numerous times over the years, and used the Lazarus Pits to return, but the truth is that anyone could use the Pits.
It didn't have to be good old Ra's. and maybe it still shouldn't be.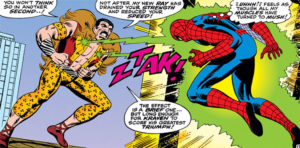 Source: writeups.com
7. Kraven the Hunter
(Spider-Man, Marvel Comics)
Sergei Kravinoff was a big game hunter who always sought bigger quarry. After years of this, he thought he'd found the world's greatest prey. Not a Spider. Not a Man. But a Spider-Man.
Kraven went full supervillain, going after Spider-Man in earnest. He pulled every last trick to get Peter Parker, and he always came away empty-handed. This slowly drove him insane, which led into one of the darkest Spider-Man stories of all time.
In Kraven's Last Hunt, Kraven tracked Spider-Man down, beat him, buried him alive, wore his costume, and shot himself in the head. He also ate some spiders. It was creepy, but that's how Kraven the Hunter went out. With maybe the best comic he'd ever been in. It was the platonic ideal of how to kill off a character. He even got replacements. He had a son, a daughter, a wife. All of them showed up to fight Spider-Man and others. Perfect! We get a Kraven, but Sergei's dead.
But then came The Grim Hunt, a good story that unfortunately brought Kraven right back.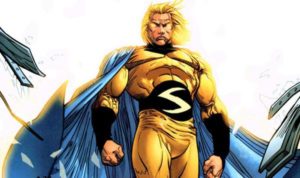 Source: comicvine.gamespot.com
6. The Sentry
(The Avengers, Marvel Comics)
You know, for a guy who very vocally hates The Sentry, I sure spend a lot of time writing about The Sentry.
The Sentry was originally marketed as a lost Stan Lee character who was finally added to the Marvel Universe. Of course, that was a lie. He was a new Paul Jenkins character. He'd ingested a serum that essentially turned him into Superman. Except, that was also a lie. Turns out that he was a mentally unstable drug addict who drank a serum and gained super powers, but at the cost of developing a dangerous new identity known as The Void.
The Sentry joined the Avengers, the Mighty Avengers, and eventually The Dark Avengers. Then he full-on lost it and ripped Ares in half. Thor beat him to death at the end of The Siege of Asgard, and he stayed dead for a while, until the Apocalypse Twins brought him back as a Horseman of Death, along with Daken, Banshee, and The Grim Reaper. But now, it seems he's alive and back to normal.
And it's sad, because the bounty on his head, which was formerly held by Killthesentry.com, is apparently no longer in effect.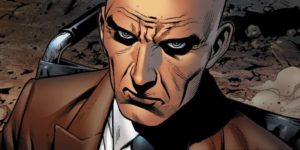 Source: cbr.com
5. Professor X
(The Uncanny X-Men, Marvel Comics)
Ah, yes. The patriarch of the X-Men.
Professor Charles Xavier was one of those characters who died and come back more times per year than I re-watch my favorite movie (Zodiac, if you were curious). He also bounded in and out of that chair like it's a playground hopscotch course. But I'll focus mostly on why he shouldn't still be around.
I recently read the absolutely incredible X-Men: Grand Design, which is Ed Piskor's X-Men historia that's done in a beautiful and fascinating way. It was fascinating to see Xavier as mentor and the way the other X-Men grew over time. I mean, we went from a five-student First Class to hundreds of X-People spread across numerous teams. So why is Xavier still around?
Let his dream live on, let new people lead. But him? He doesn't need to hang out anymore.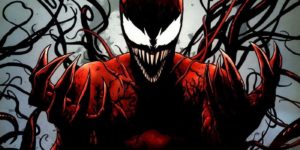 Source: cbr.com
4. Carnage
(Spider-Man, Marvel Comics)
Some characters are on this list because their deaths were so iconic that they shouldn't have been touched. Some are here because there just isn't a place in the comics for them to exist. But others are here because they sucked really hard, and they should have been dead. Carnage is one of those.
Venom was dark and gritty, and Carnage was an attempt to out-Venom Venom. What resulted was a character marked only by his appeal to edgy 13-year-olds, or those with their general taste profile. His characterization peaked at "crazy", but there was really nothing going on underneath.
He wasn't even scary in the intimate, personal way that Venom was at the beginning. Plus, that brand of over the top villain meshed very poorly with Spider-Man. The only way to make Carnage less interesting would be to feature him in a massive (and massively bad) crossover…Oh, wait.
So, when The Sentry ripped him in half in the opening arc of New Avengers, we all thought we were rid of the guy for good. Unfortunately, we were very wrong.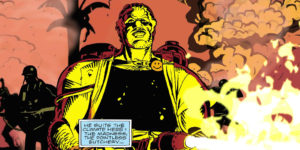 Source: syfy.com
3. The Comedian
(Watchmen, DC Comics)
(SPOILERS: A DUMB, BAD COMIC BOOK)
To be fair with this one, he might not actually have been back. If not, I'll retract this entry in its entirety.
However, the closing pages of DC's Doomsday Clock revealed a newly alive Comedian, and that was the wrongest of wrong decisions. I was optimistic about Doomsday Clock when it was announced, but the result was blisteringly atrocious. It was like watching an Olympic-level gymnast prepare for a routine and then proceed to eat it on every single obstacle, in order. The Comedian's death opened Watchmen, and having him be an exclusively posthumous character was a brilliant decision.
If he returned to life, and this wasn't some kind of trick, it showed the deepest possible misunderstanding of the source material. I didn't mind the use of the Watchmen characters in the DC universe, as long as the context was right, but having this book be 90 percent fan-fiction Watchmen sequel and 10 percent fan-fiction Watchmen sequel with Lex Luthor was a bad idea.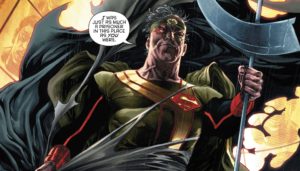 Source: insidepulse.com
2. Jor-El
(Superman, DC Comics)
Anyone who isn't current on DC Comics is probably pretty darn confused right about now.
But yeah, Jor-El is back. And he's evil. Look, I like Dan Jurgens a lot and I think his Action Comics run has been one of the better DC Rebirth books. Hell, it brought me some new Booster Gold. How the hell could I be mad about it?
Buuut with the recent revelation that Mr. Oz was actually a rescued Jor-El – seemingly spirited away from Krypton's destruction by SOMEbody *cough cough* Dr. Manhattan *cough cough* – we unfortunately have Superman's papa  back alive. Which was a very bad idea. Superman's birth parents and Batman's parents were in the Uncle Ben category of Don't bring them back, you idiots.
Having Jor-El back really didn't give us anything, but it sure as hell took something away from Superman as a character. Krypton's inaccessibility was an important part of Clark's humanity, and giving him a living breathing link really messed with that.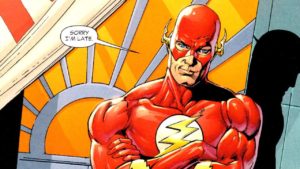 Source: youtube.com
1. Barry Allen
(The Flash, DC Comics)
I love Barry Allen. I REALLY love Barry Allen. But in the end, I love Wally West more.
His stories are better; he's a more dynamic character. He's just better all around. And he had fully claimed his place as THE Flash. But nostalgia reigned supreme, so Barry was running around again. To make it even more frustrating, Barry had the definitive comic book death. In the ultimate act of heroism, he gave his life to save the multiverse. And Wally stepped up and took his place as the new Flash. He joined the Justice League, kept his place with the Titans, and formed a generational bridge within the DC Universe.
He was a unique character in a way that Barry couldn't be. Superman and Batman weren't the ideal symbols of a Legacy-themed DC Universe, but Wally was. Barry's return really didn't add anything. I've loved having nine years of Flash comics, but there was nothing about those stories that needed Barry to be the Flash.
And there you have it; my picks for the ten characters who should have stayed dead. Whose reverse-funeral would YOU refuse to attend?