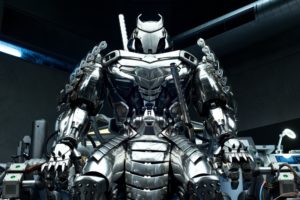 Source: villains.wikia.com
10. Sliver Samurai
The Wolverine (2013)
I don't actually dislike this movie.
It's not my favorite X-Men movie or even my favorite Wolverine movie but it's a fun enough time and you'll probably get at least something out of it. But its usage of the Silver Samurai is pretty terrible.
The original comic book version was a mutant powerhouse with the ability to focus powerful energy through the blade of his sword. And he had a great costume, a sort of mix of classical samurai armor and early superhero costume designwork with the Japanese flag emblazoned on his chest. It's a great, memorable, iconic design. And the film one hundred percent tanks it. Because it makes him an old man in a big robot suit. A badly CGI-ed robot suit. That doesn't even have a face.
He's just a big thing for Wolverine to hit and not a particularly memorable one at that. He just winds up being dreadfully boring.