With a movie coming up, I thought I'd dig deep into the Suicide Squad's roster of lovable characters. Supervillains commuting their sentences via dangerous missions from which some never return.
It is worth a mention, though, that my own personal experience with the Squad comes mostly from the original series and the spiritual successor Secret Six, so if you're looking for recent additions to the team, like Black Manta or Harley Quinn, you're gonna have to check someone else's list. Not saying I don't like those characters, but when I think of Suicide Squad cast members I tend to think of characters like…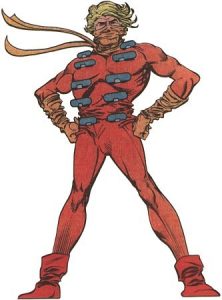 Source:dc.wikia.com
10. Cluemaster
Cluemaster hails from the second Suicide Squad team (or the third, if you count the unrelated WWII version), which began as a revitalization of the Injustice League used in the Justice League International years. Alongside villains Major Disaster, Clock King, and Big Sir, Cluemaster went in on a mission, only to find himself shot multiple times in the chest and sent to a hospital. You know, like most Suicide Squad team members.
Poor Cluemaster wanted to do good, however, mostly for his daughter, Stephanie Brown. If that name sounds familiar to you, it's because it belongs to Spoiler/Robin/my favorite Batgirl.
Arthur Brown was a failed game show host who turned to crime. In his first appearance, he tried to find Batman's secret identity, but was tripped up by his internal compulsion to leave clues behind, kinda like the Riddler. He spent a lot of time in and out of Blackgate before becoming an also-ran Batman villain. But poor Arthur continued to commit crimes and occasionally murder, only to be stopped half the time by his teenage daughter.
He's kind of a loser, but that's why I love him. He would've made a great regular addition to the Squad, it's only a shame he didn't last longer.